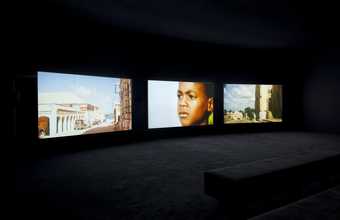 Our role at Tate is to share art in all its complexity and diversity. In recent years we have made progress in better representing artists of colour in our collection and our programmes, but that work must go much further. We know, too, that not everyone has equal access to art and its benefits. We are committed to changing this through our work, and to challenging ourselves to dismantle the structures within our own organisation which perpetuate that inequality.
The founding of our gallery and the building of its collection are inextricably connected to Britain's colonial past, and we know there are uncomfortable and inappropriate images, ideas and histories in the past 500 years of art which need to be acknowledged and explored. We also recognise the intersections of race, gender, sexuality and class in the experience of inequality.
These are not new aims for Tate. We have a stated objective to become a more inclusive institution that reflects the world we live in now. But progress has not been fast or significant enough.
This page details Tate's ongoing commitment to race equality. It will be regularly updated with information about what we are doing to address structural racism, charting our progress towards becoming a more inclusive organisation as part of an open and transparent process. It uses 'Black, Asian and/or minority ethnic (BAME)' as a signifier, however we recognise the discomfort that this terminology produces in reducing individuals of diverse heritage to a single category, and we are working to address this.
December 2021
Tate's Race Equality Taskforce (RET) continues to accelerate our progress towards being an anti-racist organisation, with a focus on generating recommendations that enable structural change. Meeting frequently since September 2020, their work builds upon that initiated by colleagues in Tate's BAME Staff Network, among others. In April 2021 an Action Plan covering Tate's people, public and programmes was agreed with Directors and signed off by Trustees, with progress reviewed regularly. This plan is not exhaustive; rather it is the continuation of a long-term process of sustained change, with actions reconsidered and reformulated as the organisation progresses. All Tate departments are continuing to advance local and individual level actions they have identified in order to further the goals and objectives set out in the Action Plan.
Developments over the past six months include:
Tate's Autumn 2021 programme is perhaps one of the most diverse in the institution's history, featuring major exhibitions and collection displays that deal directly with race and cultural heritage. Tate Modern is currently showing the largest ever solo exhibition of work by Lubaina Himid, while visitors to Tate Britain can view the landmark show Life Between Islands: Caribbean British Art 1950s–Now, exploring the extraordinary breadth of Caribbean-British art over four generations. Displays including Sixty Years: The Unfinished Conversation at Tate Britain, which explores the evolving nature of diasporic identity through art, A Year in Art: Australia 1992 at Tate Modern, which brings together works responding to debates around Aboriginal and Torres Strait Islander land rights in Australia, and Whose Tradition? at Tate Liverpool, which rethinks inspiration between different cultures, also present a more diverse range of works from Tate's collection.
Tate Britain has seven new acquisitions featured in Life Between Islands, reflecting the museum's ongoing commitment to strengthening the representation of Caribbean-British artists and themes in its national collection. This includes Talking Music 1963 and Self-portrait 1979 by Paul Dash, which are the first works by the Barbadian-born artist to join a major public collection. They are joined by three newly-acquired works by Guyanese-born artists: Donald Locke's Plantation K-140 1976 and Dageraad From the Air 1976–8, and Denis Williams' Painting in Six Related Rhythms 1955.
The RET is supporting strategic consultancy The Unmistakables in the research and writing of a 'Guide to Allyship' for Tate colleagues. Created in collaboration with staff from across the organisation, it's aim is to help create safer spaces for colleagues of colour and shape positive practice throughout the organisation. As part of this work, workshops on allyship were offered to colleagues from all departments.
Following a key recommendation outlined in the RET Action Plan, a new Head of Equality, Diversity & Inclusion was appointed in November 2021. This role further builds on work already underway in supporting Tate's aims to drive equality and representation in our workforce and audiences and is responsible for developing an overarching strategy for Diversity and Inclusion at Tate.
In July 2021, Tate announced the launch of a new apprenticeship programme aimed at making careers in the arts more inclusive and accessible for all. Over the next three years, Tate's ambition is to recruit 50 paid apprenticeships. This fully funded apprenticeship programme forms part of Tate's commitment to increasing the diversity of our workforce, to better reflect the diversity of the audience we serve. Current apprenticeships are in place across Tate's Library & Archives, Curatorial, Conservation, Digital, Marketing, Development and Director's Office teams. Further Kickstart internships are also in place at Tate Liverpool, as part of a Government-funded scheme offering 6-month trainee placements for 16- to 24-year-olds on Universal Credit, who are at risk of long-term unemployment.
Mandatory Diversity & Inclusion training in place across the organisation now includes a new course equipping colleagues with the tools to navigate unconscious bias and microaggressions in the workplace, helping everyone identify how they can contribute to making Tate a more inclusive place to work, volunteer at, and visit.
Updated Visitor Behaviour Policies have been rolled out across front of house teams, including additional training on support available. Quarterly reports now detail the issues and incidents recorded that relate to race and the resulting actions, which are to be shared quarterly and annually with the Director of People and the Head of Equality, Diversity and Inclusion.
Further actions and progress can be viewed in the dropdown sections below.