You are invited to create, play and have fun! Can you do something that has never been done before?
This summer, UNIQLO Tate Play invites you to draw on banners and all over the floor of the Turbine Hall in an ever-changing artwork, Mega Please Draw Freely, by artist Ei Arakawa. Your drawings will combine with the drawings of others – those who came before you and those who came after you – to create this living mega artwork! We will hang the banners up each Monday for everyone to see.
Inspired by the Gutai group – radical Japanese artists who wanted to change the world through painting, performance and children's play – everyone of all ages is welcome to scribble, sketch and become part of this collective artwork.
Want to be the first to know about upcoming events for families? Sign up to our newsletter.
UNIQLO Tate Play in partnership with UNIQLO.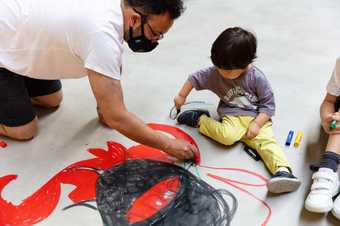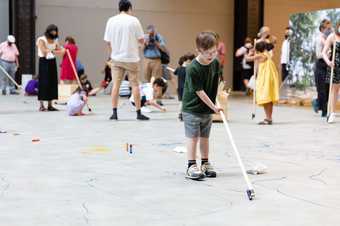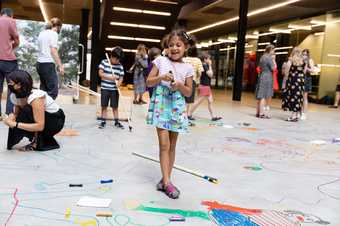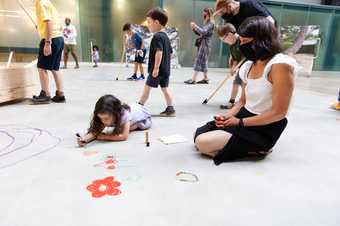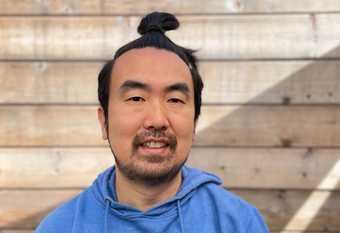 About Ei Arakawa
Ei Arakawa is a Japanese American artist, born in 1977. He makes collaborative art inspired by art history – art made with other people, involving art from other times and places. Many of his artworks are performances, which he sometimes makes by working with other artists and with art historians. Arakawa removes the boundary between audiences and performers by inviting the audience to participate.
Credits
Performed by Family Engagement Assistants with Ei Arakawa
Music by Sergei Tcherepnin and Stefan Tcherepnin
Reproduction of Noh theatre pine tree paintings by Matsuno Hideyo and Dōmoto Inshō, Kanze Noh Theatre, Tokyo and Kyoto
Board layout design by Cameron Leadbetter
Ashiya park photographs by Yuki Kimura and Nakagawa Ai
Magazine covers from Kirin (February 1948 to May 1964), edited by Ukita Yozō and Hoshi Yoshirō
Essay, Kirin & Gutai, 1995, written by Katō Mizuho
Translated by Reiko Tomii
Reproduction of Paul Cézanne The Great Pine near Aix c. 1895–97, The State Hermitage Museum collection
Production assisted by Mashiyama Takayuki, Taka Ishii Gallery
Special thanks to Katō Mizuho, Takahashi Kenji, Tanaka Kazuhito, Yamashina Yaemon and Ukita Yozō