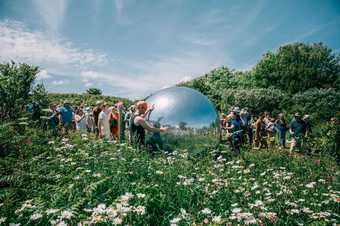 The programme offers a platform for artists to engage in residential, practice-led activity based in and around Tate St Ives, engaging with our context, our programmes, our community and our audiences.
Continuing the legacy of the artists' colony in St Ives, we provide a range of opportunities for artists and creatives. Each opportunity is connected to a site or given context, ranging from a studio based residency, to other working and public spaces. The programme provides participants with the opportunity to develop their practice in a context that engages the public and is supported by artists, curators and creatives working close-by.
Participating artists and organisations
Allard Van Hoorn, 2019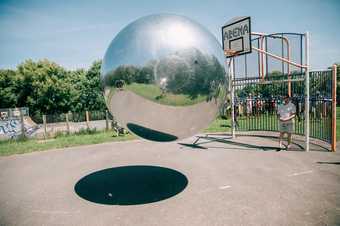 Allard van Hoorn is a sound, installation and performance artist creating musical scores and performances for public spaces. He was artist in residence at Porthmeor Studios throughout February and June 2019, during which time he created 063 Urban Songline (Another Hurling of the Silver Ball) | Latitude: 50.204794° N – 50.214926° N / Longitude: -5.482636° W – -5.493938° W.
'Songlines' are a spiritual system of songs and storytelling relating to land practiced by Aboriginal and Torres Strait Islander people in Australia. Influenced by this tradition, van Hoorn researches and consults with communities around the world to produce Urban Songlines projects. They result in performances, scores or audio recordings, focusing on our relationship to place.
In St Ives, van Hoorn was inspired by the local Feast Day tradition of 'hurling', where a small silver ball is chased through the town as part of the celebrations. He reimagined this silver ball at a much greater scale, collaborating with residents to create a unique procession that celebrated the communities of St Ives and their relationship to the town they call home. Many of these residents took part in the performance on 22 June 2019, seeing themselves mirrored in the Silver Ball with their town and community behind them.
Following the residency and performance, Tate St Ives is displaying the film of 063 Urban Songline (Another Hurling of the Silver Ball) | Latitude: 50.204794° N – 50.214926° N / Longitude: -5.482636° W – -5.493938° W and a selection of other Urban Songlines from the first decade of the project, as part of the summer season.
Allard van Hoorn (born 1968 Leiden, the Netherlands) lives in New York. Selected solo and group exhibitions include: 2019 ISCP Residents, ISCP Open Studios, New York (2019), Where Are We Now? 360 Land Art Biennial Mongolia, Ulaanbaatar (2018), Common Ground, AkzoNobel Collection, Amsterdam (2018), 065 Urban Songline, Kaunas in Art, Kaunas (2018), Twilight, Borusan Contemporary, Istanbul (2018), 052 Urban Songline, Museum for Art, Architecture and Technology (MAAT), Lisbon (2017), Artport, Sunrise/Sunset Haiku Engine, Whitney Museum of American Art, New York (2017), There And Not There, 11th Kaunas Biennial, Kaunas (2017), Time, Space and Architecture, CityScapes Foundation, Amsterdam (2017), Overture: Selections from the Borusan Contemporary Art Collection, Borusan Contemporary, Istanbul (2017).
Rana Begum, 2018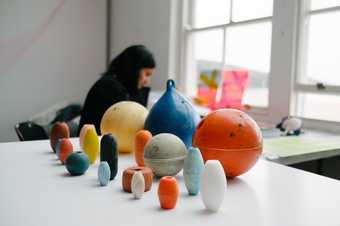 Rana Begum's work blurs the boundaries between sculpture, painting and architecture, her work ranges from drawings, paintings and wall-based sculptures to large-scale public art projects.
Influenced by the geometric abstraction of Minimalism and Constructivism as well as by the use of pattern, symmetry and repetition in Islamic art and architecture, Begum is interested in colour, light, and form and the way in which these interact. The colours used in her work absorb and reflect varied densities of light creating an experience that shifts, sometimes dramatically, with the movement of the viewer. Focusing more on the relationship between light and form, and less so on colour, this residency initiated new directions in her research, inspired in part by the contexts she encountered during this time.
Following this residency, which took place over March 2018 in No.9 Porthmeor Studios, Tate St Ives will display new and recent work by Begum as part of the Summer 2018 season, including work developed out of this residency.
Rana Begum (born 1977, Bangladesh) lives and works in London. In 1999, she graduated with a BA in Fine Art from Chelsea College of Art and Design and, in 2002, gained an MFA in Painting from Slade School of Fine Art. Recent solo and group exhibitions include: Actions. The image of the world can be different (Part 1), Kettle's Yard (2018); Occasional Geometries, Yorkshire Sculpture Park (2017); Space Light Colour, Sainsbury Centre for Visual Arts, (2017); Tribute to Sol Lewitt, Gemeente Museum Den Haag, Netherlands (2016); Flatland/Narrative Abstractions, MRAC Sérignan, France (2016); 11th Gwangju Biennale, Korea (2016) and Geometries of Difference: New Approaches to Ornament and Abstraction, Dorsky Museum, New York, USA (2015). Begum was awarded The Jack Goldhill Award for Sculpture 2012 and the Abraaj Group Art Prize 2017.
Lucy Joyce, 2017-18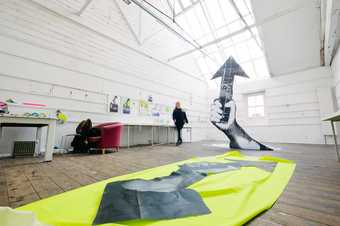 Lucy Joyce works in a variety of contexts including public spaces. For this residency Joyce initially spent two weeks in No. 5 Porthmeor Studios in early 2017, returning across the year to undertake further research visits that culminated in a second residence over January 2018 in No. 11 Porthmeor Studios which concluded with a public event.
Interested in seasonal changes to the St Ives population at different times of the year due to the influx of visitors in the summer months, Joyce's work embraced a shared action celebrating those present at the quietest time of the year. For one grey winter's day residents of St Ives collectively created a new view of the coastline with neon pink fabric displayed from their own windows - a constellation of gestures in the landscape inviting the onlooker to reimagine their surroundings, to look up, out and beyond their usual viewpoint. The opening and closing times of Tate St Ives were also marked by a special performance undertaken by local surfers, in wetsuits, bearing large black wooden arrows signalling the onlooker to look up. During this final stage of residency, Joyce actively collaborated with over 200 local people to create this new work, I Becomes You, Becomes We, Becomes Us that took place in and around St Ives on 26 January 2018.
Lucy Joyce (born 1978, UK) graduated with a BA in Fine Art from Chelsea College of Art in 2009 and, in 2013, gained an MA in Sculpture from Royal College of Art. Based in London, Joyce has previously developed a series of public art commissions in towns undergoing major redevelopment, including Sittingbourne, North Woolwich and Milton Keynes. Her recent solo and group exhibitions include: On Board Crispr Project Space, Bogota, Colombia (2017); Proposals + Props, Chalton Gallery, London (2017); House Work 53 Beck Road, London (2017); Buffet D'Art Ambika P3, London (2016); Concrete Matters Bank Space Gallery, London (2016); The London Open, Whitechapel Gallery, London (2015); Parallax Academy of Fine Arts, Katowice, Poland (2015); Bloomberg New Contemporaries Newlyn Art Gallery, Cornwall (2015) and Bloomberg New Contemporaries ICA, London (2015).

Ella Frears and Ben Sanderson, 2017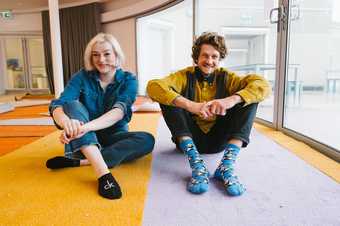 Ella Frears and Ben Sanderson were resident at Tate St Ives over September 2018. This new collaboration enabled a special artist's intervention with the Clore Sky Studio, a new learning space at Tate St Ives, which opened as part of the launch of the new Tate St Ives in October 2017.
Embracing the story of modernism, and the special relationship it has with St Ives, Frears and Sanderson playfully drew on the language of modern art, design and architecture to create an alternative modernist lounge. This new work, The Six Pillars of Modernism, presents a bespoke carpet which disrupts notions of taste and representation by borrowing from these languages to become a pastiche of modernism. Through poetry and text each of the pillars in the studio were reinterpreted to stand for a principle of modernism: ideas of piercing forms, use of colour, international networks, a sense of being in this landscape (and at the right social gatherings) at a key moment in the development of modernism. The final pillar gave nod to the Festival of Britain 1951, which aimed to promote the feeling of recovery in post-war Britain and lift the spirits of the nation, here Frears and Sanderson hope to lift the visitor's spirits in jest. The Six Pillars of Modernism is on display at Tate St Ives until the end of 2018.
Ella Frears (born 1991, UK) is a poet, visual artist and curator based in London. She has had poetry published in The Rialto, Poetry London, POEM and the Moth, among others. Ella is a trustee and editor for Magma Poetry, was shortlisted for Young Poet Laureate for London 2014, was a Jerwood/Arvon Mentee 2016/7 and was Poet in Residence in 2017 at Royal Holloway University writing about the Cassini Space Mission. Ella's debut pamphlet Passivity, Electricity, Acclivity 2017 is with Goldsmiths Press.
Ben Sanderson (born 1987, UK) is an artist working with painting and sculpture, based in Cornwall. He graduated with a BA in Fine Art from Falmouth School of Art in 2009. Selected exhibitions include: Wet Socks, Hardwick Gallery, Cheltenham (2018), What is this Place?, Newlyn Art Gallery, Cornwall (2017), Smile Orange, Cubitt Gallery, London (2015), Testing Tropes, Kestle Barton, Cornwall (2015) and First Eleven, CAST, Cornwall (2013).

Aaron Angell, 2017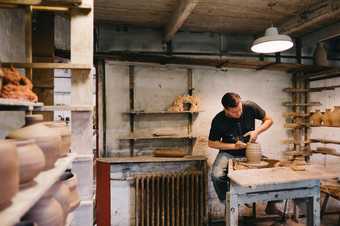 Aaron Angell works in ceramic sculpture and a variety of other media. He is the founder of Troy Town Art Pottery, a radical and psychedelic ceramic workshop for artists in London. Angell set up Troy Town in response to the increased levels of artists working in ceramics in London, without access to kiln processes. His ambition with Troy Town was to create a non-craft specific workshop for artists working in ceramics to be able to work with this medium. He is interested in ceramics within the expanded notion of sculptural practice, divorced from the terrain of craft and design.
Angell undertook a residency based at Leach Pottery, St Ives from June to August 2017. Over this time he developed new work utilising the facilities provided by Leach Pottery and becoming part of their on-site community. Through a collaboration with Back Lane West, Redruth he also engaged with six visual artists from the Cornwall and Devon area, providing a small scale opportunity to that of Troy Town, supporting them to use clay as an alternative sculptural material within their practice.
Running parallel to this residency, Tate St Ives presented an exhibition co-curated with Angell, That Continuous Thing: Artists and the Ceramics Studio 1920 – today, examining the changing nature of the ceramics studio across the 20th century and how a new generation of UK based artists are looking again at ideas of art and craft. Other selected solo and group exhibitions include: Glasgow International, Glasgow (2016); Grotwork, Studio Voltaire, London (2015); A merman I should turn to be, Laura Bartlett Gallery (2014) ; Woman expecting triplets returning home from the cinema, SWG3, Glasgow (2013); A History of inspiration, Palais de Tokyo, Paris (2013) and Hide on All Sides, Torrance Winter Gallery, New York (2013). Aaron Angell (born 1987, UK) lives and works in London.

France-Lise McGurn, 2017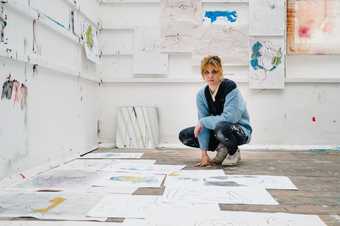 France-Lise McGurn's paintings and drawings grow out of her personal archive of collected imagery found in film, art, advertising and television. Often working directly onto walls and floors, McGurn is also interested in the history of mural painting, from the domestic murals of Bloomsbury and her own mother, artist Rita McGurn, to the swinging 'Christy Girls' of American artist Howard Chandler Christy.
McGurn was resident at No 5 Porthmeor Studios, for two weeks in January 2017. Over this time she gave thought to the function of gossip, anecdotes, parties and the stories that circulate in an artists' colony and through this research developed a series of studies that led to transforming the stairwell at Tate St Ives, where she created a wall painting over the weeks following the residency. This new work, Collapsing New People, is on display until June 2018. As she says about the stairwell: 'it is as though there could have been a party here'. However, while all of her characters cavort and intermingle, each fragment of her painting here references a different story or myth, from various histories and tales.
McGurn also associates the form of the stairwell to that of an actual well, suggesting bodies of water, reflective surfaces, and the fluidity and leakage of gossip. The colours in her palette quote both rust and moss, substances that are cultivated by waterlogged environments and which leave a stain or mark on a surface. Created to be read vertically, rather than horizontally, McGurn's mural uses both spontaneous lines and repeated gestures to create loose associations about place, history and storytelling, almost as though we are peeling back the layers of a past.
France-Lise McGurn (born 1983, Scotland) lives and works in Glasgow. She graduated with a BA from Duncan of Jordanstone College of Art in 2005 and with an MA from the Royal College of Art in 2012. Selected exhibitions include: Felicity Black, Vertical Vulnerability, Caustic Coastal (2016); The Old Things, Crévecoeur, Paris (2016); Sexting, Kate Werble Gallery, New York (2016); At Home Salon: Double Acts, Ascot (2016); Only with a light touch will you write well, freely and fast, Supplement, London (2016) and Only with a light touch will you write well, freely and fast, David Dale Gallery, Glasgow (2015); NEO-PAGAN BITCHWITCH! Evelyn Yard, London (2016); 3am, Collective Gallery, Edinburgh (2015); and A collaboration with Marianne Spurr, Studio Leigh, London (2015).

Jessica Warboys and Martin Norbye Halvorsen, 2017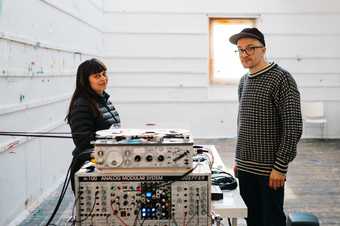 Morten Norbye Halvorsen and Jessica Warboys work together across film and performance. Resident in No. 5 Porthmeor Studios for two weeks in January 2017, Halvorsen and Warboys developed a new live work that was presented as part of the opening of Jessica Warboys solo show at Tate St Ives on 31 March 2017.
During the residency the studio was used as a test ground and site for collaboration. Halvorsen and Warboys utilised language, sound and light as theatrical devices to create a live experience that activated the Loggia at Tate St Ives throughout the exhibition preview.
Morten Norby Halvorsen (born 1980, Norway) is an artist and composer, whose work incorporates sound, sculpture, film, and performance. He has received a BA in Fine Art from Falmouth School of Art, Cornwall in 2002 and MFA in Fine Art from Kunst Akademiet, Trondheim, Norway in 2006. Selected solo and group shows include: The Oslo Museum of Contemporary Art, Kunsthall Oslo (2017) ; 9th Norwegian Sculpture Biennial, Vigeland Museet, Oslo (2017) ; Wave Table Concert, Kunsthall Stavanger, Stavanger (2016) ; GAIN VAPOR RISE, Gaudel de Stampa, Paris (2016) ; Helsinki Group, HIAP, Gallery Augusta, Helsinki (2015) ; All the Instruments Agree, Hammer Museum, Los Angeles (2015) ; DOUBLE BIND, Rupert, Vilnius, Lithuania (2015) (touring to The Living Art Museum, Reykjavik, Iceland and Oslo National Academy of the Arts, Oslo, Norway) and RIDEAUX / blinds, Institut d'Art Contemporain, Villeurbanne / Lyon, France (2015).
Jessica Warboys (born 1977, Wales) received a Master of Fine Art from Slade School of Art in 2004 and a BA Fine Art from Falmouth College of Arts in 2001. Selected solo exhibitions include: Kunstverein, Amsterdam, (2016); M-Museum, Leuven, Belgium (2015); Films, Gaudel de Stampa, Paris (2013); Ab Ovo, Spike Island, Bristol (2013); Artists' Film International: Jessica Warboys, Whitechapel Gallery, London (2013); A painting cycle, Nomas Foundation, Rome (2012); Victory Park Tree Painting Cell Project Space, London (2011) and Land & Sea at Le Crédac Ivry-sur-Seine, France (2011). Her work has been included in numerous group exhibitions including British Art Show 8 (2015-16); 1857, Oslo (2015); dOCUMENTA 13, Kassel, Germany (2012); Camera Britannica at Centre Pompidou, Paris (2012) and Los Pasos Perditos at Galerie Andreas Huber, Vienna (2012).
Halvorsen and Warboys live and work between Suffolk in the UK, Berlin in Germany and Stavanger in Norway.

Lucy Stein, 2015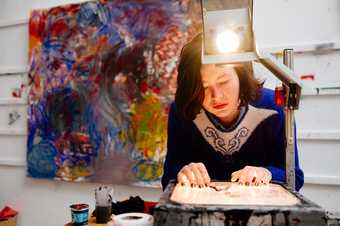 Lucy Stein (born 1979, UK) was resident at Porthmeor Studio 5, from January to June 2015 as part of the Tate St Ives Artist Programme. Stein's work builds on an engagement with British modernist painting, feminist theory and women's literature. Her work ranges from painting to performance and film.
Stein describes her painterly language as less a postmodern play with visual codes than an extrapolation of a contemporary female painter's relationship to painterly traditions. Personal history and art history are given equal significance, and the mimetic relationship between the female artists and the landscape bind ideas together.
Throughout the residency, Stein utilised the studio as a space for her painting practice while embracing a steady flow of public facing activity ranging from talks and film screenings to performance rehearsals in the studio itself. In the development of her practice she also worked towards a new performance work The Wise Wound which culminated the residency in June 2015.
The Wise Wound, a collaboration with artists, musicians and others, explored the concept of the underwater woman and ideas of female sexuality in relation to the sea. Performances included a mixture of songs and improvisation, poem reading, visitor participation and a performance by Stein's band Death Shanties.
For the participant, it was an immersive experience – Stein and her collaborators used sound and imagery to create a psychological landscape built on the histories of the sites of Porthmeor Studios and the Island, St Ives, and drew on common folk traditions and imagery. Over the course of the evening, the performers moved from the Island to Porthmeor studios, taking in poetry, free jazz, video projections, a mannequin called Lynda and an extremely pungent bouillabaisse (a traditional Provençal fish stew), making for a truly multi-sensory experience.
Stein studied at Glasgow School of Art and de Ateliers, Amsterdam. Recent solo exhibitions include Moonblood/Bloodmoon, Gregor Staiger, Zurich (2015), Retention (with Shana Moulton), Gimpel Fils, London (2014) and On Heat, Galerie der Stadt Schwaz, Schwaz / Tirol (2014). Recent group exhibitions include Stopping the Sun in its Course, curated by Jesse McKee, François Ghebaly Gallery, LA(2015) and In Search of an Author, curated by Chiara Giovando and Andrew Berardini, UKS, Oslo (2015). Alongside The Wise Wound other recent performances by Stein include You can't hide your lying eyes without a face, (with Shana Moulton and Andrew Kerton), Silencio, Paris (2015) and The White Hotel Revisited with Andrew Kerton, Migros Museum für Gegenwartskunst, Zurich (2015). Stein has written for various publications including MAP magazine and Turps Banana. She regularly performs live paintings with her band Death Shanties.
Sara Wookey, 2015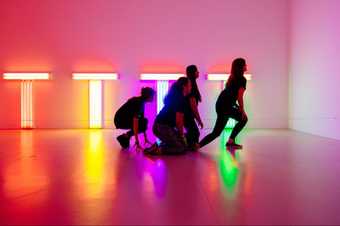 Sara Wookey (born USA) is a choreographer based in London. Her practice is interested in ways to prompt intimacy, social connection and a sensitivity to being together in a shared cultural space. Wookey activates ways of engaging the body, play and social interaction, often opening up a discourse around the experience of the museum and the engagement of artworks, architecture and each other.
From January to June 2015, as Associate to the Artists Programme, Wookey engaged Tate Collective in activating conceptual thinking around liveness, play and engagement. Utilising movement, conversation, drawing and writing to collaboratively explore and test out ideas around curating the space of the gallery building.
As a culmination of the project, Tate Collective presented Re-A-Line, leading performative 'drifts' through the galleries during Late at Tate and Young@Tate in June 2015. A talk followed each 'drift', led by Wookey in conversation with Tate Collective, followed by an invitation to the public to take part in a 'drift' themselves. Find out more about the thinking behind the 'drifts' in the words of Tate Collective.
Prior to her move to the UK Wookey was based in Los Angeles, USA and in Amsterdam, the Netherlands. Wookey is one of five certified transmitters of Yvonne Rainer's repertoire and performed recently in Yvonne Rainer: Dance Works at Raven Row gallery. She has presented her own choreographic work at the Hammer Museum, Museum of Contemporary Art San Diego, REDCAT, Perth Institute of Contemporary Art, Performance Space, Sydney, and the New Museum, NYC. Sara holds a Master of Fine Arts degree from the University of California.
Nicolas Deshayes, 2014-15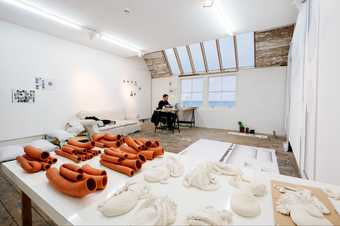 Nicolas Deshayes (born 1983, France) is a sculptor who uses materials such as annodised aluminium and vacuum-formed-plastic to explore industrial processes. Despite their production, his works maintain an organic or humanlike quality that belies the synthetic materials they are created from. Deshayes' work represents a joy in material; it situates malleable, natural forms against the slick plasticity of many of today's industrial products. In doing so, it offers a purposeful contradiction between the permanence of the materials used, and the corporeality and destructibility of the natural world.
Deshayes was residence in No.9, Porthmeor Studios, St Ives, from October to December 2014 as part of the Tate St Ives Artists Programme. He was also one of a series of artists represented in the Summer 2015 displays at Tate St Ives. During his residency Deshayes developed a new body of research informing the production of new work, some of which was included in the Summer show and others which have since been displayed in the exhibition Darling, Gutter at the Glasgow Sculpture Studios. He drew on local manufacturing resources, developing ideas and detailed plans for the making of this work. Within this time he also selected artworks from the Tate collection to be included alongside his work in the Summer 2015 exhibition at Tate St Ives. Whilst in St Ives, Deshayes worked with materials including drawings, computer generated plans, ceramics, plaster and printmaking.
Following the residency, Deshayes' also undertook a further project creating a special participatory environment, titled A Slippery Drama, for families visiting the Summer 2015 show. Deshayes made a generous invitation to experience the malleability of clay in making individual sea creatures prompted by a specially commissioned wall drawing in chalk (by illustrator Cassie Penn) which included representations of Deshayes' work, then on display in the gallery, being tossed into a stormy sea. Families could also write their own drama to accompany the works.
Deshayes is a graduate of the Royal College of Art and Chelsea College of Art, London. In recent years he has exhibited widely and internationally, with solo and group exhibitions in the UK, Europe and North America.
Bryony Gillard and Oliver Sutherland, 2014-15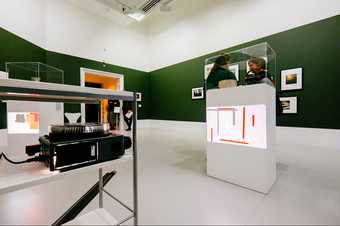 As Associates of the Artists Programme, artists Bryony Gillard and Oliver Sutherland developed C~C, a new cross-disciplinary project utilising Late at Tate St Ives as a platform to present performance, artworks, research material and music from a number of contributors including artists, theorists and musicians.
C~C explored the coincidental, tangential, formal and informal similarities and links between the Cornish Coast and Pacific Coast (California) as sites for the production of art. A series of artworks and performances were presented throughout the gallery, overlaying The Modern Lens exhibition and intervening into the fabric of Tate St Ives.
For further information about the contributors and artwork included along with a text written by Gillard and Sutherland, download the event programme, (PDF, 3.3 Mb).
Bryony Gillard (born 1984, UK) works across a wide range of media including writing, performance, installation and music. She studied at the University of East London, Docklands (2003–2006) and at the The Dutch Art Institute – School for Art Praxis, Netherlands (2013–2015).
Oliver Sutherland (born 1985, UK) utilises new technologies to examine the languages of digital culture and the materiality of digital processes. He is currently undertaking a Collaborate Doctoral study within Digital Games, as part of the 3D3 Consortium.
Marie Toseland, 2014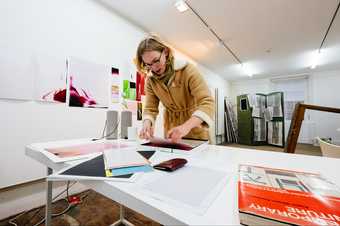 Marie Toseland (born 1987, UK) works across a wide range of media, producing objects, images, texts, sound and performance. Toseland was resident at No. 11, Porthmeor Studios from October to December 2014. Selected through an open call to artists based in the South West of England, Toseland proposed to begin developing a new work in the form of a live experimental opera, La Bouchée, produced with rappers, musicians, actors, costume designers, grime MCs and a UK Beatbox champion. Taking battle rap, Nouveau Roman literature, and the plays of Luigi Pirandello as its point of departure, Toseland explored oral communication and the ambiguities of language with an interest in the disconnect between the performed and felt, and the disquieting nature of control.
During this period of research and reflection, Toseland also led a series of related reading groups with a small group of artists, curators and academics based in the local area. Her research also lead to working with ceramics at Plymouth College of Art and photography at Falmouth University where she created a set of colour photograms. These were later animated and developed into a video. Alongside this Toseland conducted conversations with Source FM which subsequently fed into a collaborative sound project titled Live ASMR with Sophie Mallett which was broadcast on Resonance FM, and Radia.
Toseland studied at Chesterfield College (2006–2007) and the University of the West of England (2007 - 2010). Selected exhibitions include: Rotate: The Potential for Windows and Scale, The Contemporary Art Society, London (2011); Plan for a Ruin, with Heather & Ivan Morison and Melanie Counsell, Islington Mill, Manchester (2013); Art Rotterdam with Works/Projects, Netherlands (2014) and Emotional Resources, NGCA, Sunderland (2014). Following the residency, Toseland was included in Southwest Showcase at Plymouth College of Art, with her solo show pushin' sumthin' nice, feat. Kinlaw (February – March 2015) which presented a body of work including some new work developed during her Artists Programme residency. She has also been included in the exhibition Breaking Up Is Hard to Do at KARST (February - March 2015). In addition she has gone on to undertake an experimental post-graduate programme at Open School East (January – November 2015), as well as the three year post-graduate programme at the Royal Academy Arts Schools (September 2015 – June 2018).
Jonty Lees, 2014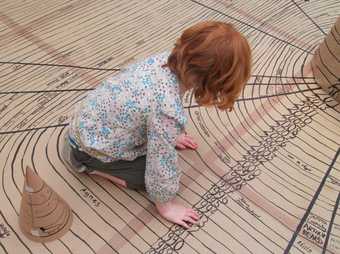 Jonty Lees multi-disciplinary projects engage a range of media, including video, sculpture and performance. By turns playful and inventive, his work employs materials as diverse as turntables and bicycles, Blu-Tack and Bratwurst. Drawing out whimsical moments from the everyday, Lees' work is shaped by everything from daydreams to childhood memories.
Commissioned as an Associate of the Artists Programme, for the Tate St Ives' 21st birthday weekend in June 2014, Lees produced a themed edition of Art Base for the Courtyard. His room-sized installation transformed the space into an interactive diagram, tracing a playful map of both international modernism and Tate St Ives itself. Visitors of all ages were able to make their own mark by drawing directly on the structure that Lees conceived. The installation changed shape over the birthday weekend and Lees himself was on hand for some of the time, making cone-shaped party hats for Art Base visitors.
Lees studied at Falmouth University and the Slade School of Fine Art, University College London. He is currently researching his doctoral thesis titled Can we create a creative community?, an AHRC-funded Collaborative Doctoral Award partnership, between Winchester Centre for Global Futures in Art and Design, University of Southampton and Tate Liverpool. The practice-based research explores the potential for artist, organisation and audience to have interchangeable roles, and poses the question, 'What happens when the band members swap instruments?' For more information on the project please click here.
Can we create a creative community? Discover Jonty Lee's doctoral thesis
Jonty Lees (born 1971, Wales) works between Zennor, Cornwall and Liverpool. He was the fifth artist in the Tate St Ives Residency Programme (2006- 2007). Lees's solo exhibitions include: Lightening never strikes the same abstract wooden sculpture twice, Newlyn Art Gallery, Cornwall (2013), Lodger, Tate St Ives, Cornwall (2007) and Jonty Lees, Moot Gallery, Nottingham, (2006). His work has been included in a number of group exhibitions, including: Quiet Works, Temple Contemporary, Philadelphia (2015), Outrageous Fortune, Artists remake the Tarot, Hayward Touring / Focal Point Gallery, London/ touring (2012), Cabaret Futura, Cell Project Space, London (2008) and Nought to Sixty, ICA, London (2008). In summer 2016 he will present new work at Zennor Village Hall, Cornwall. In 2013 he was artist-in-residence for the European Centre for Environment and Human Health (supported by The Leverhulme Trust).
Linder, 2013-14
Linder's interest in Barbara Hepworth began in 2009, when Tate St Ives first worked with her to present a new performance work Your actions are my dreams as part of the exhibition The Dark Monarch: Magic and modernity in Britain 1900 – 2009. Whilst in St Ives, Linder visited the Barbara Hepworth Museum and Sculpture Garden for the first time, at the invitation of Tate Collective (then known as Young Tate). Seeing the works in situ enabled Linder to fully comprehend the legacy of Hepworth's work and how that legacy could be projected forward into areas of contemporary practice and debate.
During her residency at No. 5 Porthmeor Studios, as part of the Tate St Ives Artists Programme, Linder further researched the life and work of Hepworth, specifically Hepworth's participation in the annual Penwith Arts Ball, her friendship with the composer Priaulx Rainier and Hepworth's costume and set designs for opera. Linder also became interested in other female artists and writers who had spent time in the locale – Virginia Woolf, Romaine Brooks, Gluck, Marlow Moss, Daphne du Maurier et al. During this time Linder started her blog I am the Landscape, which documented many of these interests and created her Fossil 2014 collage series. She also began a further set of collages for Archi Dior 2014.
Throughout her residency Linder collaborated with Tate St Ives on a series of public facing activities including the presentation of a major new performance piece, The Ultimate Form 2014, in St Ives Theatre. Based on Hepworth's monumental sculptural work The Family of Man 1970, it is a ballet choreographed by Linder and Kenneth Tindall of Northern Ballet, performed by dancers from Northern Ballet, featuring costumes created by fashion designer Richard Nicoll and a score by Stuart McCallum of The Cinematic Orchestra.
The Ultimate Form 2014 by Linder, a major new performance piece, was presented on Saturday 8 February, in St Ives Theatre and watched by over 200 people. Based on Hepworth's monumental sculptural work The Family of Man 1970, it is a ballet choreographed by Linder and Kenneth Tindall of Northern Ballet, performed by dancers from Northern Ballet, featuring costumes created by fashion designer Richard Nicoll and a score by Stuart McCallum of The Cinematic Orchestra.
Linder also invited collaborators to deliver workshops with her. Choreographer Kenneth Tindall for Workshop: Performing Art, a one day workshop where participants developed a performance inspired by Ben Nicholson's 1934 project for Massine for Beethoven 7th Symphony Ballet. The workshop took place in No. 5, Porthmeor Studios, used by Linder during her residency and occupied by Nicholson from 1949 to 1958. Also stylist Clare Buckley, collaborated for Workshop: The Arts Ball, where a collection of 20,000 costumes from the St Ives Theatre and a photograph of Barbara Hepworth and Priaulx Rainier at the Penwith Arts Ball, St Ives in 1952 became the starting point for participants to explore creating another self.
Working with CIRCUIT, Linder invited the Wigan Young Souls dancers to collaborate with Cornish teenagers and a visiting student from the Royal Ballet. Filming of this collaboration took place in locations associated with Barbara Hepworth and Ben Nicholson, at No. 5 Porthmeor Studios and at the home of the Crypt Group, as well as at the St Ives Theatre, St Ia's Well and Porthmeor Beach.
Linder (born 1954, UK) played a key part in the late 1970s punk and post-punk scene in Manchester, creating the photomontage used for the Buzzcocks' debut single Orgasm Addict in 1977. She has had numerous solo exhibitions since with major retrospectives at the Musée d'Art Moderne de la Ville Paris and at Kestnergesellschaft Hanoverin 2013, she also had solo shows at Hepworth Wakefield, Blum & Poe Los Angeles and Tate St Ives. In July 2012, Linder won the third Latitude Contemporary Art prize with her Stringed Figure (Octobass for the 21st Century) (Version I), a sculptural instrument inspired in part by Barbara Hepworth and composer Hector Berlioz.
Between 2013 and 2018 the Tate St Ives Artists Programme was supported by private donation.
Allard van Hoorn's residency in 2019 was supported by National Heritage Lottery Fund and The Mondriaan Foundation.