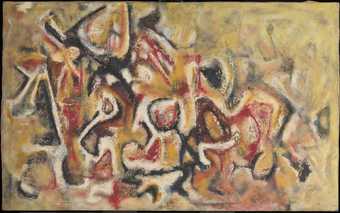 Introduction
Négritude was lead by the Martinican poet Aimé Césaire, French Guianese poet Léon Damas and the future Senegalese President (who was also a poet) Léopold Sédar Senghor. It was influenced by a range of styles and art movements including surrealism and the Harlem Renaissance. With the outbreak of the Second World War and the dispersal of its artists and intellectuals from Paris, Négritude became a global art movement.
Origins and development of the movement
In 1937 Paris, with its diverse and tolerant art scene, became the centre of the international Négritude movement. In the face of growing fascism, black students, scholars and artists from French colonies in Africa and the Caribbean got together with the aim of promoting an appreciation of the history and culture of black people. They also wanted to draw attention to the experience of those who had lived under colonial rule, including slavery. At the outbreak of the Second World War its leaders left Paris for the Caribbean and Africa and new forms of Négritude arose in these locations, including creolisation in the Caribbean and the Natural Synthesis movement in Nigeria. After the war Paris again became the centre for Négritude activities. Many artists from Africa and the Caribbean came to Europe to study and gravitated to Paris, meeting at the Clamart tea-shop, the Négritude base on the Left Bank. Among these were London students Frank Bowling, Aubrey Williams, Donald Locke, Ben Enwonwu and Uzo Egonu.
Négritude ideas and style
Négritude artists incorporated concepts and characteristics derived from a diverse range of sources and studies in order to critique imperialism and imperial art and to assert a new world avant-garde.
In 1956 one of the movement's leading voices, Léopold Sédar Senghor, argued that for black culture to transcend its past and reflect modernity it must acknowledge its own traditions but combine this with an open approach to new ideas and developments in art. Artist Ben Enwonwu put it clearly in an important article Problems of the African Artist Today which was published in the journal Présence Africaine the same year. He argued that while West African culture was seen in terms of ethnography and anthropology and African art characterised as primitive, an 'intellectual barrier' existed 'which makes it extremely difficult for most Africans to be considered qualified to play an important part in the development and preservation of their art'. He called for an international African art, that responded to contemporary life and times but was also aware of traditional, local and global influences:
I will not accept an inferior position in the art world…European artists like Picasso, Braque and Vlaminck were influenced by African art. Everybody sees that and is not opposed to it. But when they see African artists who are influenced by their European training and technique, they expect that African to stick to their traditional forms … I do not copy traditional art. I like what I see in the works of people like Giacometti but I do not copy them… I knew he was influenced by African sculptures. But I would not be influenced by Giacometti, because he was influenced by my ancestors.
World Festival of Negro Arts
In 1966 Senghor organised the World Festival of Negro Arts. This provided the first occasion for many black artists, musicians, writers, poets and actors to participate in a global examination of African culture. It was Senghor's first opportunity to promote the concept of négritude, and he hoped that the festival would promote négritude as a viable philosophical model.
The festival was also a chance for a complex revaluation of African tribal art, which had until then been viewed with a certain indifference by the African diaspora. For the first time in Africa, tribal art was to be examined as art.
The event led to the beginnings of the international black arts movement.
Négritude artists in focus
Ronald Moody
Jamaican-born British artist Ronald Moody moved to Paris in 1938 where he met artists and intellectuals associated with Négritude. He enjoyed two years of increasing recognition before being forced to leave the city and abandon his sculptures two days before it fell to the Germans. Using direct carving he created sculptures that showed the influence of Asian and Egyptian art which he had seen in the British Museum in London; while also looking to the present and future by representing 'the exploration of the inner life of man and the possibility of evolution through self-awareness'. He later stated: 'My present is the result of the friction of Europe with my past,' which itself is 'a mixture of African, Asian and European influences'.
Wifredo Lam
Wifredo Lam was perhaps the most prominent and successful of the Négritude artists. Born in Cuba he moved to Spain in 1924, and then to Paris in 1938 where he met Pablo Picasso, André Breton and other surrealist artists. His paintings combine African art motifs and references to Afro-Caribbean culture with cubist and surrealist 'primitivism'.