17 rooms in Historic and Early Modern British Art
Artists in Britain turn away from Victorian values, finding inspiration in individual experience and 'art for art's sake'
In the late 19th century, Victorian moral certainties and social hierarchies start to crumble. Artists explore more fluid notions of personal identity, creating artworks that reflect their own experiences and desires. New ideas about psychology and the 'self' become popular. Artists foreground ideas of pretence and performance.
A progressive artistic culture emerges in opposition to the mainstream Victorian establishment, supported by new galleries, publications and meeting places. British artists find ways to portray subjects that were previously overlooked or actively supressed. Despite increasingly repressive legislation passed by the British parliament, queer identities become more visible through figures such as the writer Oscar Wilde. Some artists use dream-like symbolism to place concealed stories and narratives in their work, while rejecting the explicit moral values of 19th-century art. These artists argue that art should be judged by how beautiful it is, or how it engages the senses, calling this 'art for art's sake'.
These artists rarely address commerce, industry and empire explicitly, despite the increasing ease of international travel. Instead, they borrow styles and subjects from around the world, particularly Japan, which has recently resumed trade with Europe.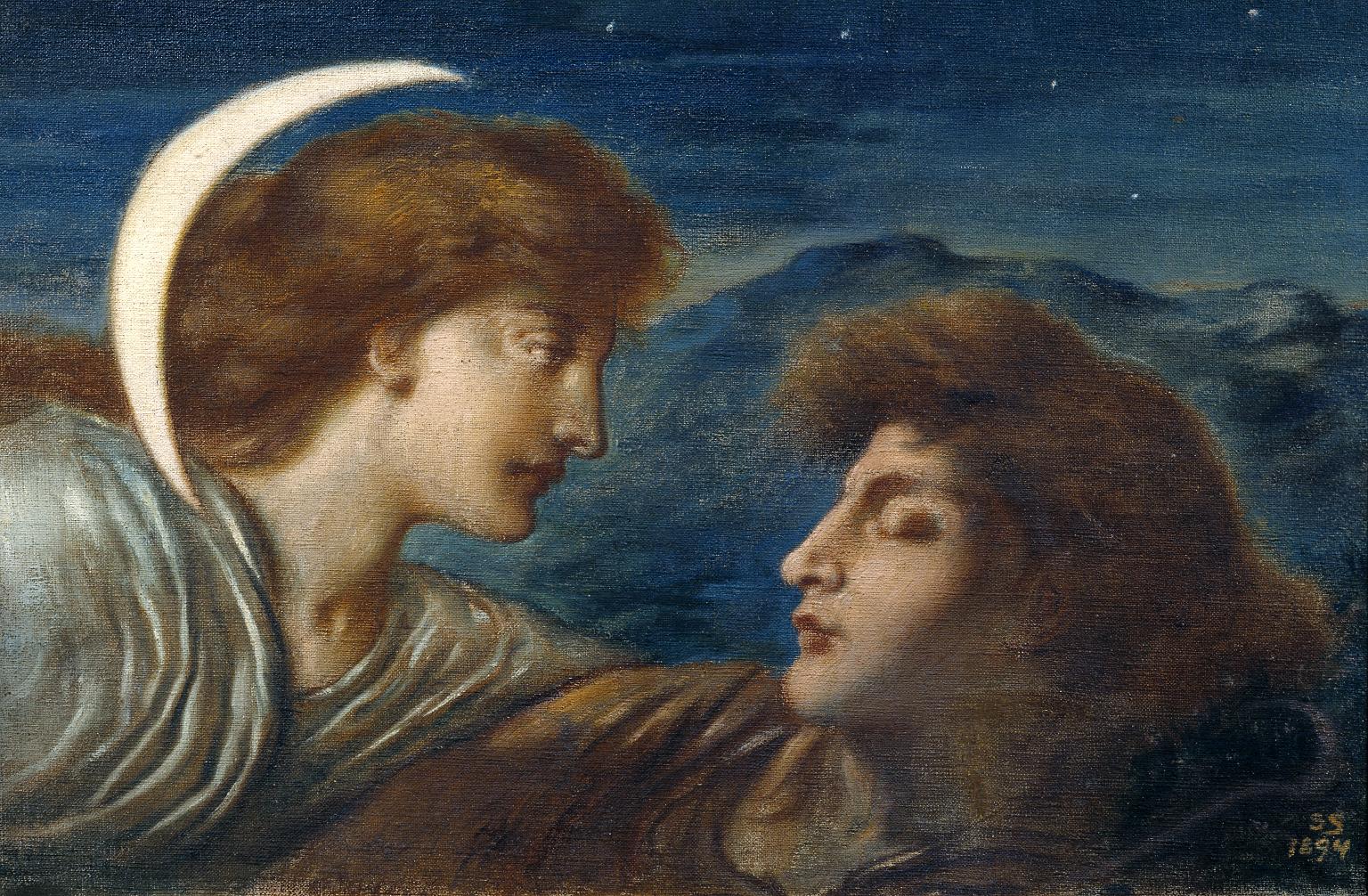 Simeon Solomon

,

The Moon and Sleep

1894

The subject of this painting was inspired by the Greek myth of Endymion who, having been granted the gift of eternal youth by Jupiter, is sent to sleep forever. Solomon here shows the moon goddess Luna visiting Endymion, as she does every night.

Gallery label, August 2021
1/18
artworks in Sensation and Style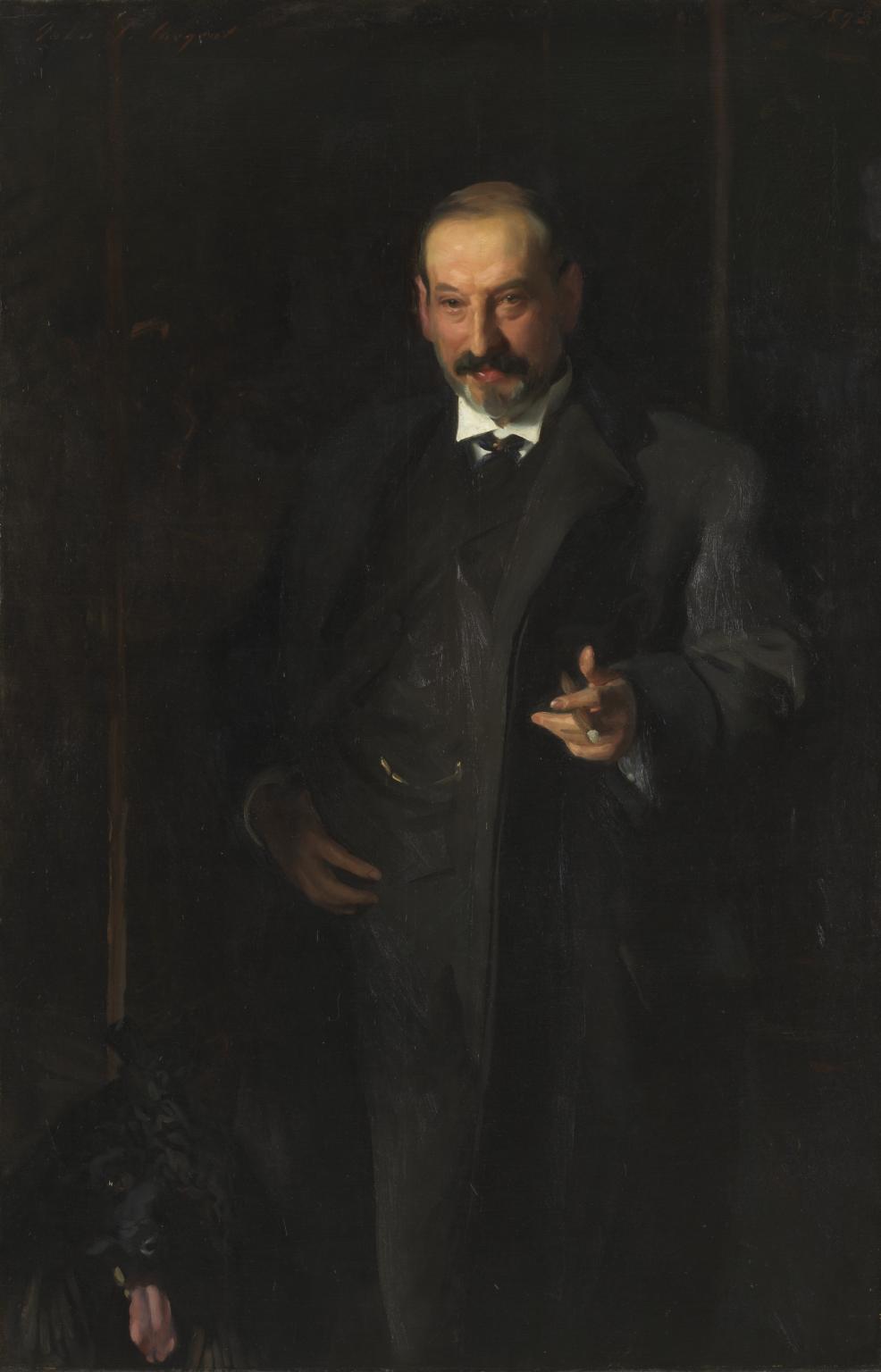 John Singer Sargent

,

Asher Wertheimer

1898
2/18
artworks in Sensation and Style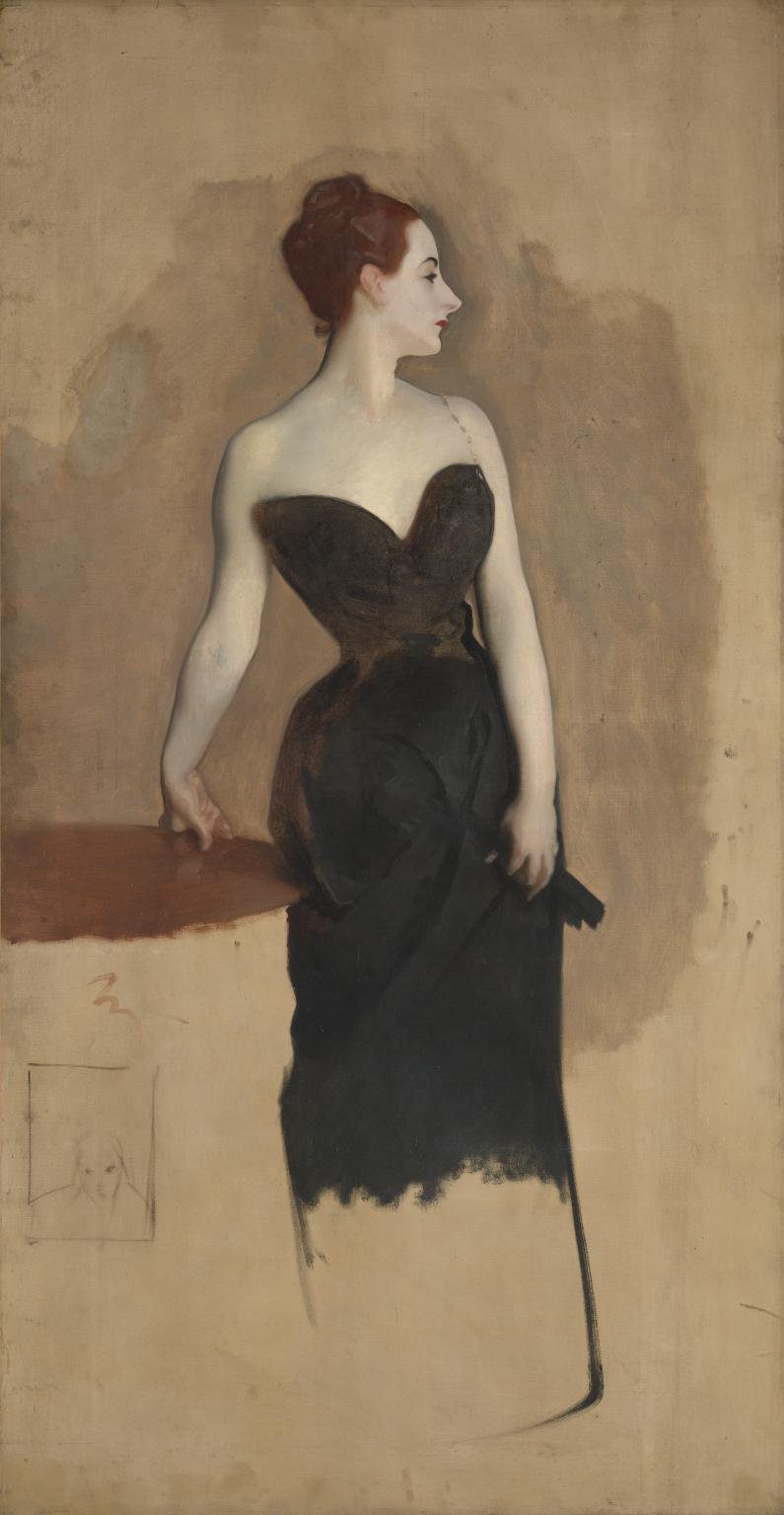 John Singer Sargent

,

Study of Mme Gautreau

c.1884

The finished portrait, which was exhibited as 'Madame X', belongs to the Metropolitan Museum in New York, and Tate's version is a full-size sketch. The sitter was the American wife of a French banker in Paris. Sargent deliberately planned a sensational portrait with an unconventional pose. Her head is shown in sharp profile emphasising her nose; her right arm is twisted and her shoulders exposed. The adverse criticism of the finished portrait at the Paris Salon of 1884 so damaged Sargent's reputation that he decided to move to Britain.

Gallery label, November 2016
3/18
artworks in Sensation and Style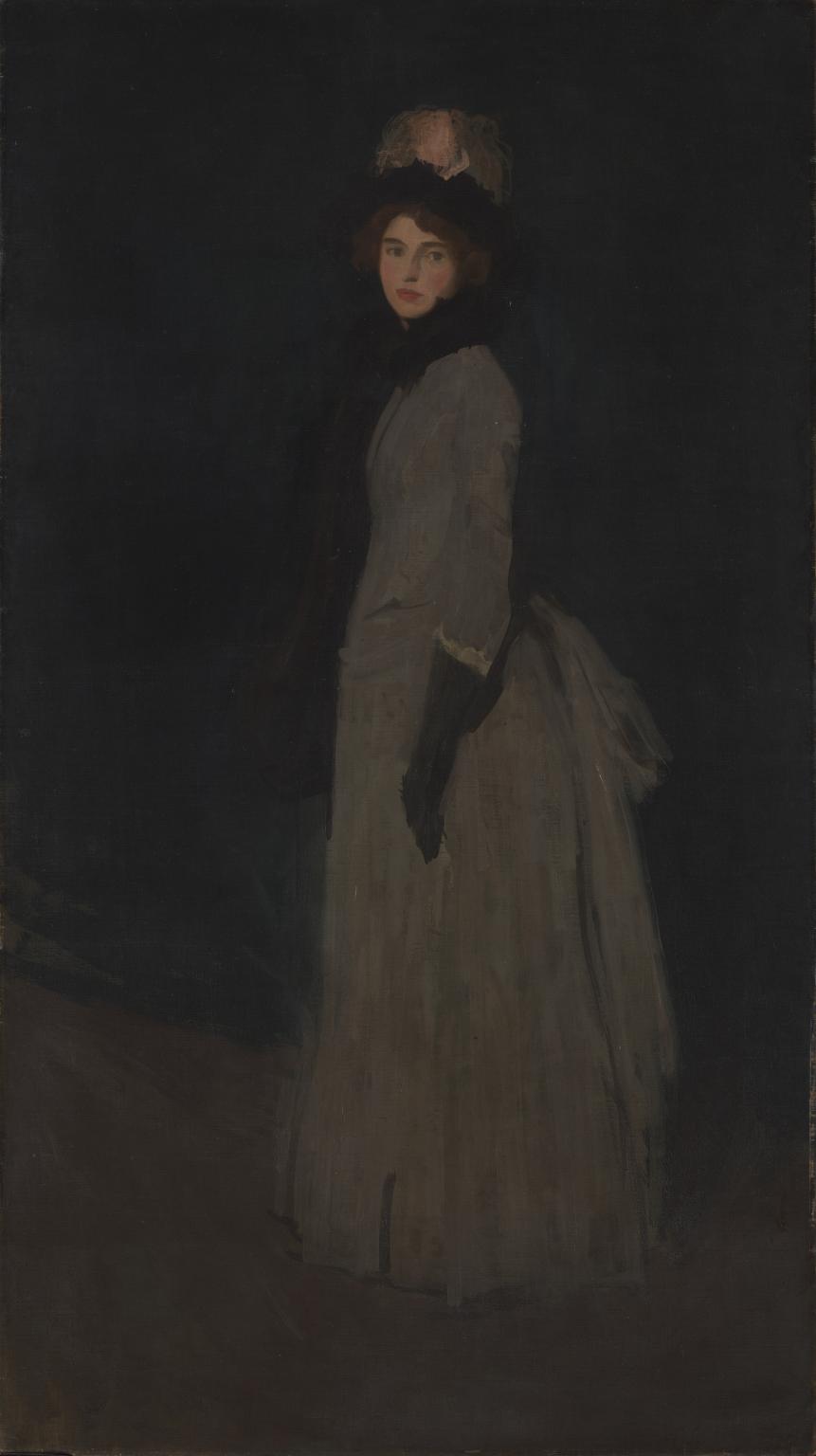 Sidney Starr

,

Study in Blue and Grey

1891

The sitter for this painting is unidentified, and the title suggests Starr's focus is colour and tone. An early reviewer said it 'scarcely calls for comment except from its reticence and a certain sense of quiet harmony.' Starr was a pupil at the Slade School in London in its early years. He was one of the chief exhibitors at the 'London Impressionists' exhibition of 1889. In 1892 he emigrated to the United States, and became a successful painter and decorative designer in New York.

Gallery label, October 2020
4/18
artworks in Sensation and Style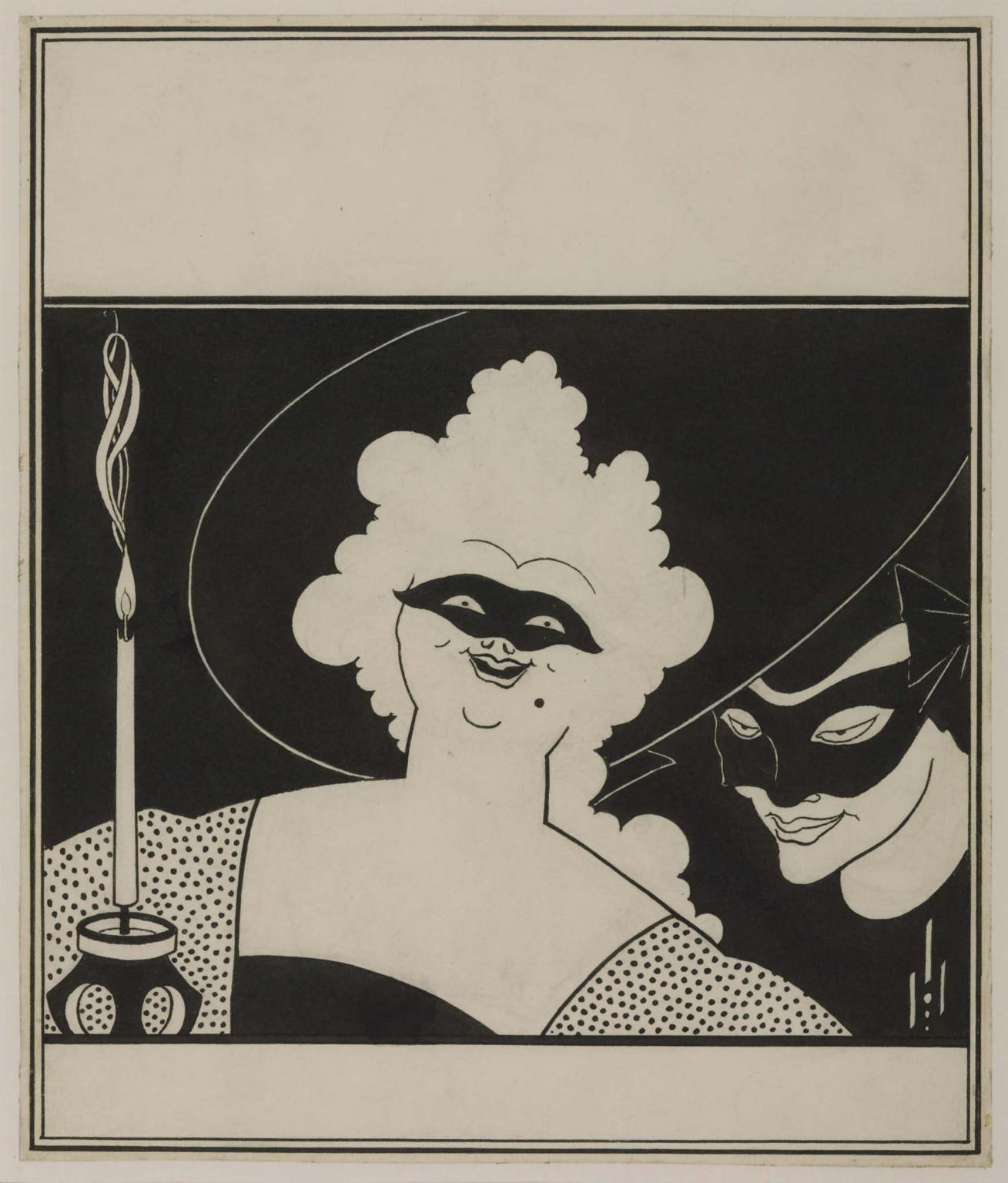 Aubrey Beardsley

,

Cover Design for 'The Yellow Book' Vol.I

1894

In 1894 Beardsley was appointed art editor of what he described as a 'new literary and artistic quarterly' aimed at artists and writers who 'cannot get their best stuff accepted in the conventional magazines'. All the cover designs were printed in black on yellow cloth boards, in imitation of French novels. This design for the first number shows a pair of masked carnival-goers who, in keeping with the subversive character of the journal, appear both lewd and sinister. From the start the new magazine provoked an outcry. The Times remarked on the 'repulsiveness and insolence' of the first cover.

Gallery label, February 2004
5/18
artworks in Sensation and Style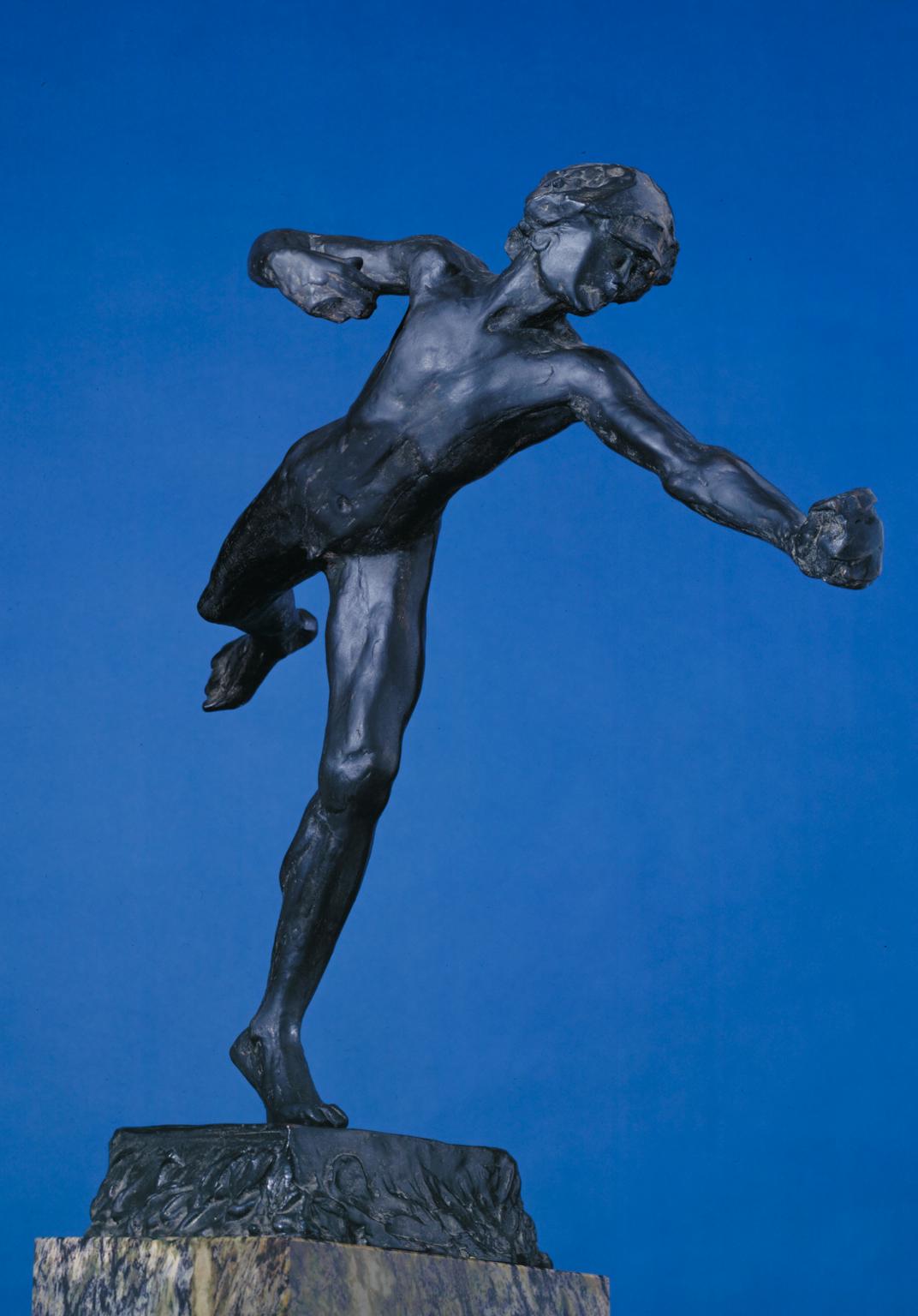 Sir Alfred Gilbert

,

Model for 'Eros' on the Shaftesbury Memorial, Piccadilly Circus

1891, cast 1925

This is a model for the well-known statue 'Eros' (or 'Anteros') which stands in the centre of Piccadilly Circus, London. It crowns the memorial fountain to the Victorian social reformer, Lord Shaftesbury. The sculptor wrote of 'blindfolded Love sending forth indiscriminately, yet with purpose, his missile of kindness, always with the swiftness the bird has from its wings'. The monument was unveiled in 1893 and was the first London statue to be cast in aluminium.

Gallery label, September 2020
6/18
artworks in Sensation and Style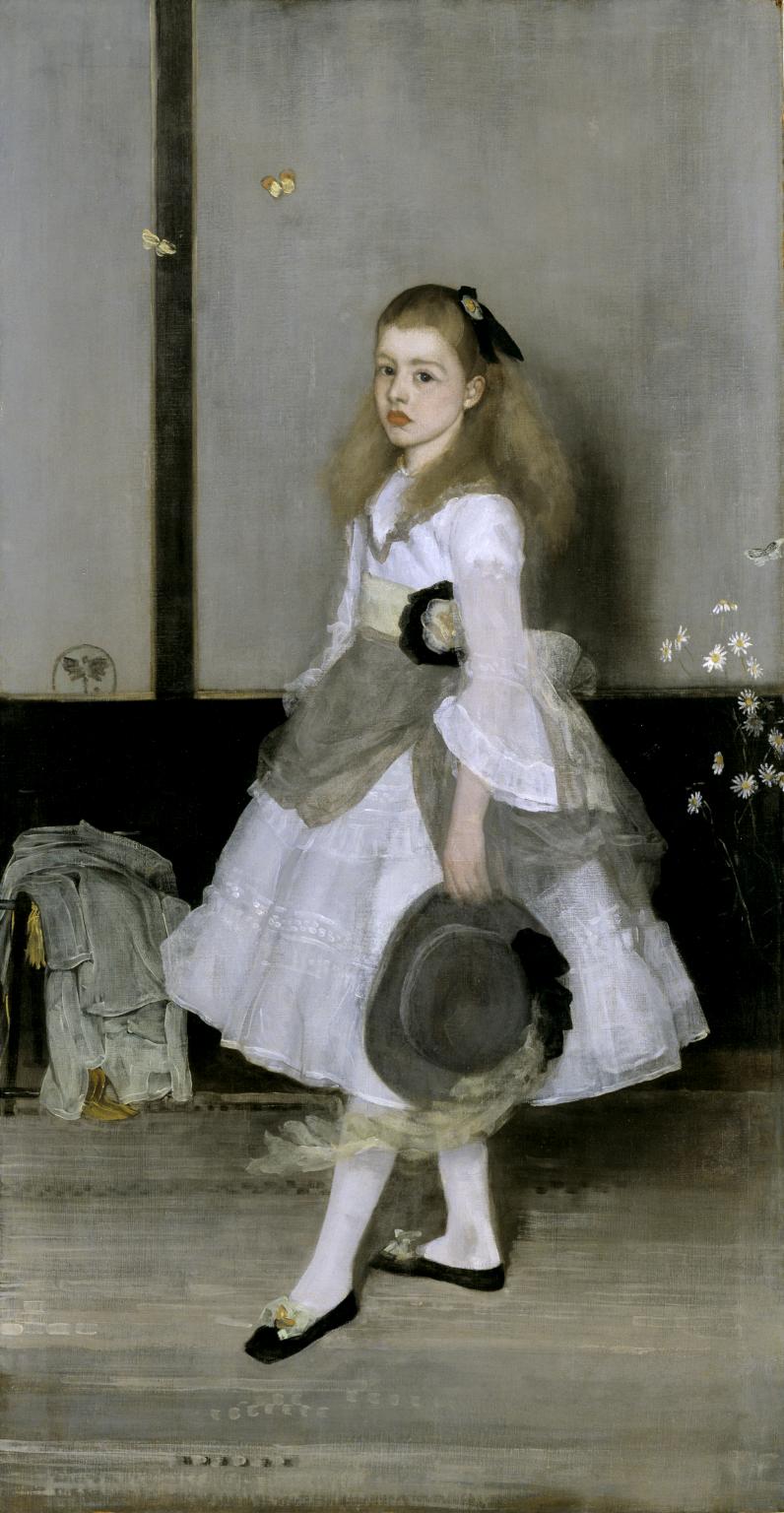 James Abbott McNeill Whistler

,

Harmony in Grey and Green: Miss Cicely Alexander

1872–4

Cicely Alexander, daughter of a London banker, was eight years old when Whistler painted this portrait. The artist exerted considerable control over the picture, posing the girl in the attitude of Manet's Lola de Valence 1862, and designing her dress in detail.

The portrait demanded over 70 sittings each lasting several hours. Cicely recalled: 'I used to get very tired and cross, and often finished the day in tears.' Not surprisingly, the picture was criticised for its departure from the more informal formats usually adopted for child portraiture. One critic called it 'a disagreeable presentation of a disagreeable young lady'.

Gallery label, February 2010
7/18
artworks in Sensation and Style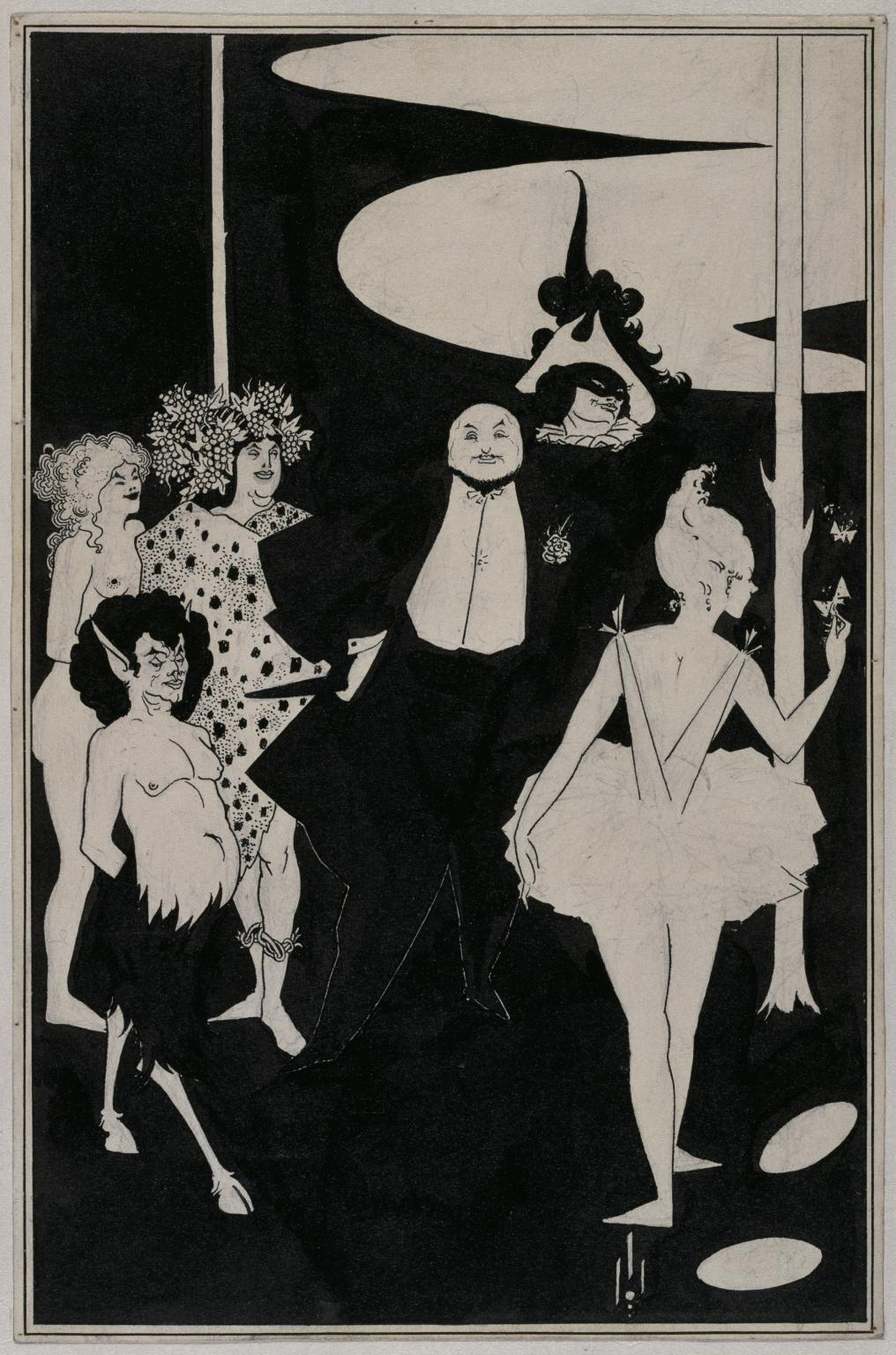 Aubrey Beardsley

,

Design for the Frontispiece to John Davidson's Plays

1894

This does not apparently show a scene from one of Davidson's plays, but is instead a series of caricatures of notable figures of the day. At the centre, the cloaked figure is Sir Augustus Harris, the manager of the Covent Garden, Drury Lane and Her Majesty's theatres. A corpulent Oscar Wilde is portrayed as Bacchus, and beside him the nude woman is Beardsley's sister Mabel, an actress. The faun is Henry Harland, literary editor of the 'Yellow Book', the masked figure is the poet Richard Le Gallienne, and the ballerina is the dancer Adeline Genee.

Gallery label, August 2004
8/18
artworks in Sensation and Style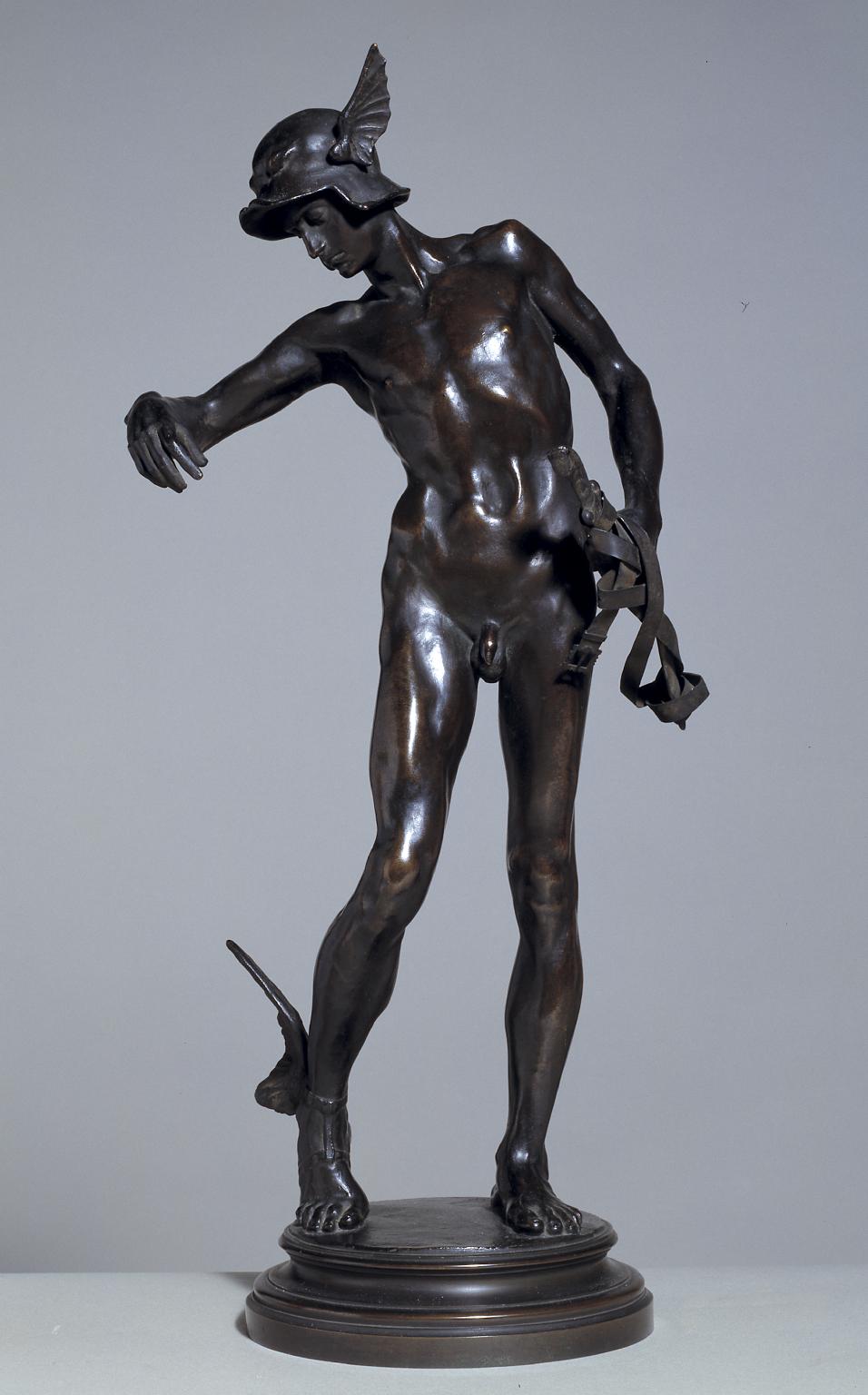 Sir Alfred Gilbert

,

Perseus Arming

1881–3

The deeds of the Greek hero Perseus included slaying the snake-haired Gorgon, Medusa, and rescuing the beautiful maiden Andromeda from a sea-monster. Gilbert's statue shows Perseus preparing himself for action. The artist wrote: 'at that time my whole thoughts were of my artistic equipment for the future [so] I conceived the idea that Perseus, before becoming a hero, was a mere mortal and that he had to look to his equipment'. The work was essentially an allegory of Gilbert's sculptural ambition.

Gallery label, November 2016
9/18
artworks in Sensation and Style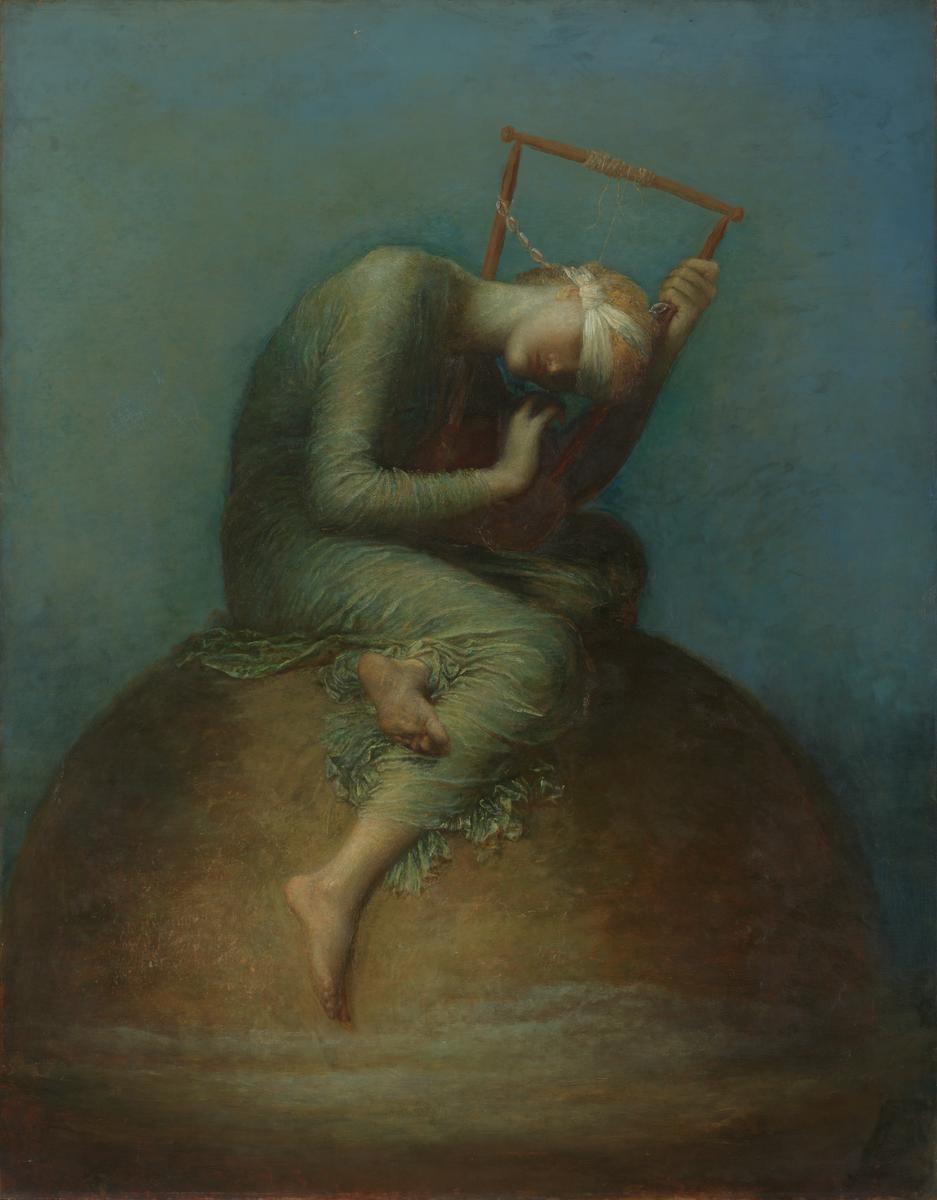 George Frederic Watts and assistants

,

Hope

1886

Watts shows the figure of Hope blindfolded on a globe. She is playing a lyre, of which all the strings are broken except one. Several critics argued that Despair would be a more fitting title. Watts clarified: 'Hope need not mean expectancy. It suggests here rather the music which can come from the remaining chord.' The painting was much admired at the 1889 Paris Exposition Universelle, the world fair that celebrated France's empire. It was widely reproduced in print and often seen in Victorian households. Picasso used the painting as a source for The Old Guitarist (1903–4). More recently, Barack Obama claimed it inspired him to enter politics.

Gallery label, June 2021
10/18
artworks in Sensation and Style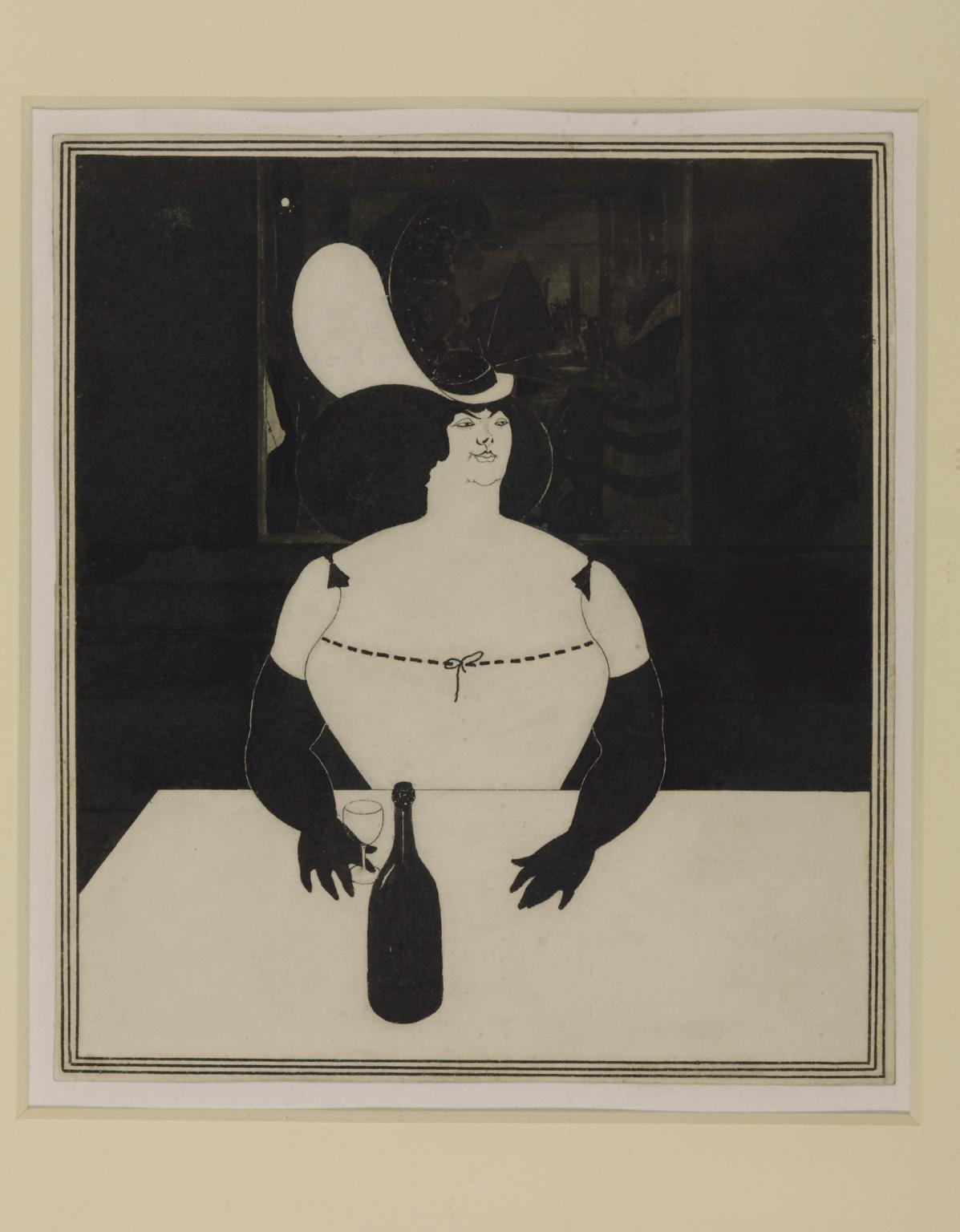 Aubrey Beardsley

,

The Fat Woman

1894

This design is partly based on Degas's Absinthe, a depiction of the ravages of alcohol which caused outrage when it was exhibited at the Grafton Galleries in 1893. However, where Degas's woman is wasted and downcast, Beardsley's is plump and assertive. It was thought at the time that she was a caricature of Whistler's wife, Trixie, whom Beardsley considered to be as arrogant as her husband. The setting is probably the Café Royal in London which was then a favourite haunt of avant-garde artists and writers.

Gallery label, August 2004
11/18
artworks in Sensation and Style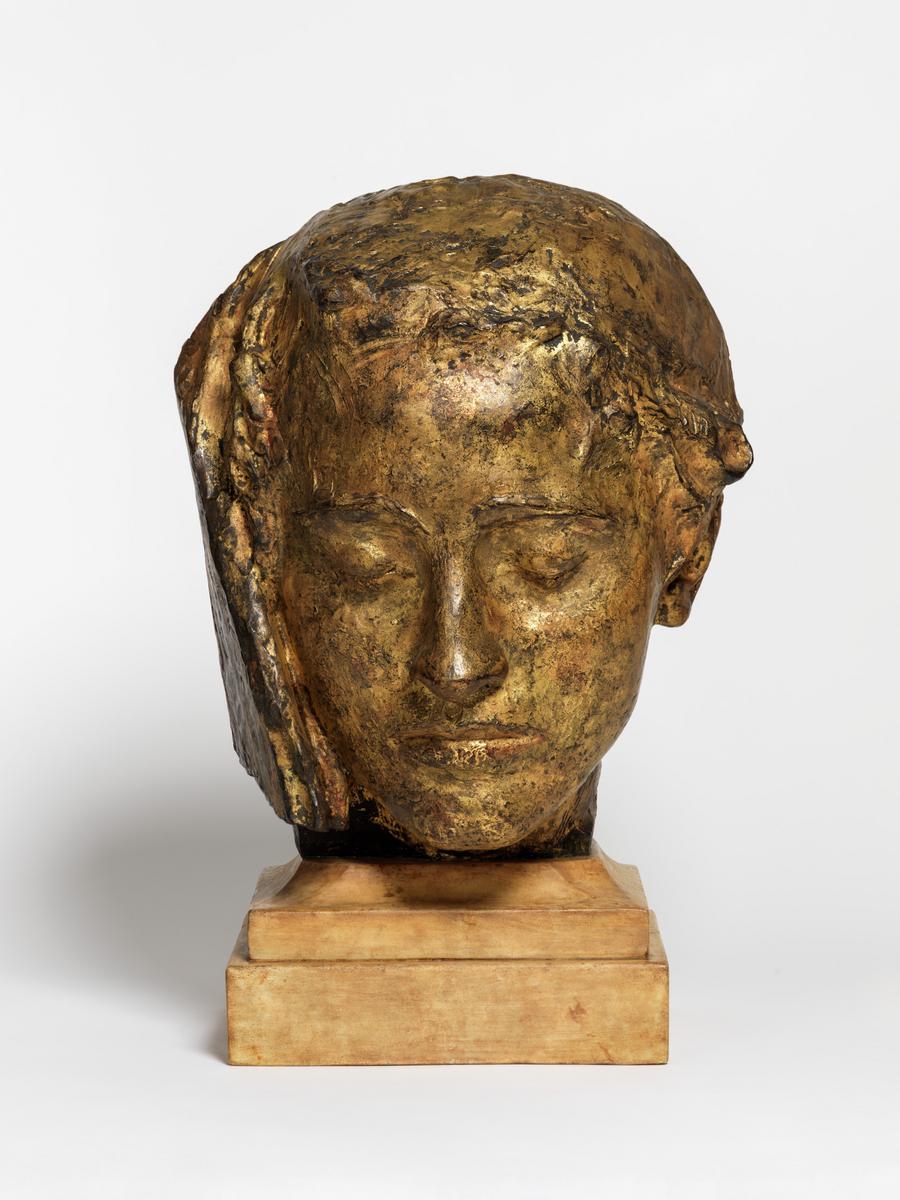 Andrew O'Connor

,

The Golden Head

1905

O'Connor was an American sculptor who specialised in funerary and public monuments, and portrait busts. He lived in Paris from 1903 to 1914 where he came under the influence of Rodin and Dalou. This head is an idealised portrait of O'Connor's second wife Jessie, who was the model for many of his sculptures. A version of this head crowns the funerary figure in the monument to General Thomas in Sleep Hollow cemetery, near Tarrytown, New York. This funerary figure is a seated female shown in an attitude of mourning and reflection.

Gallery label, August 2004
12/18
artworks in Sensation and Style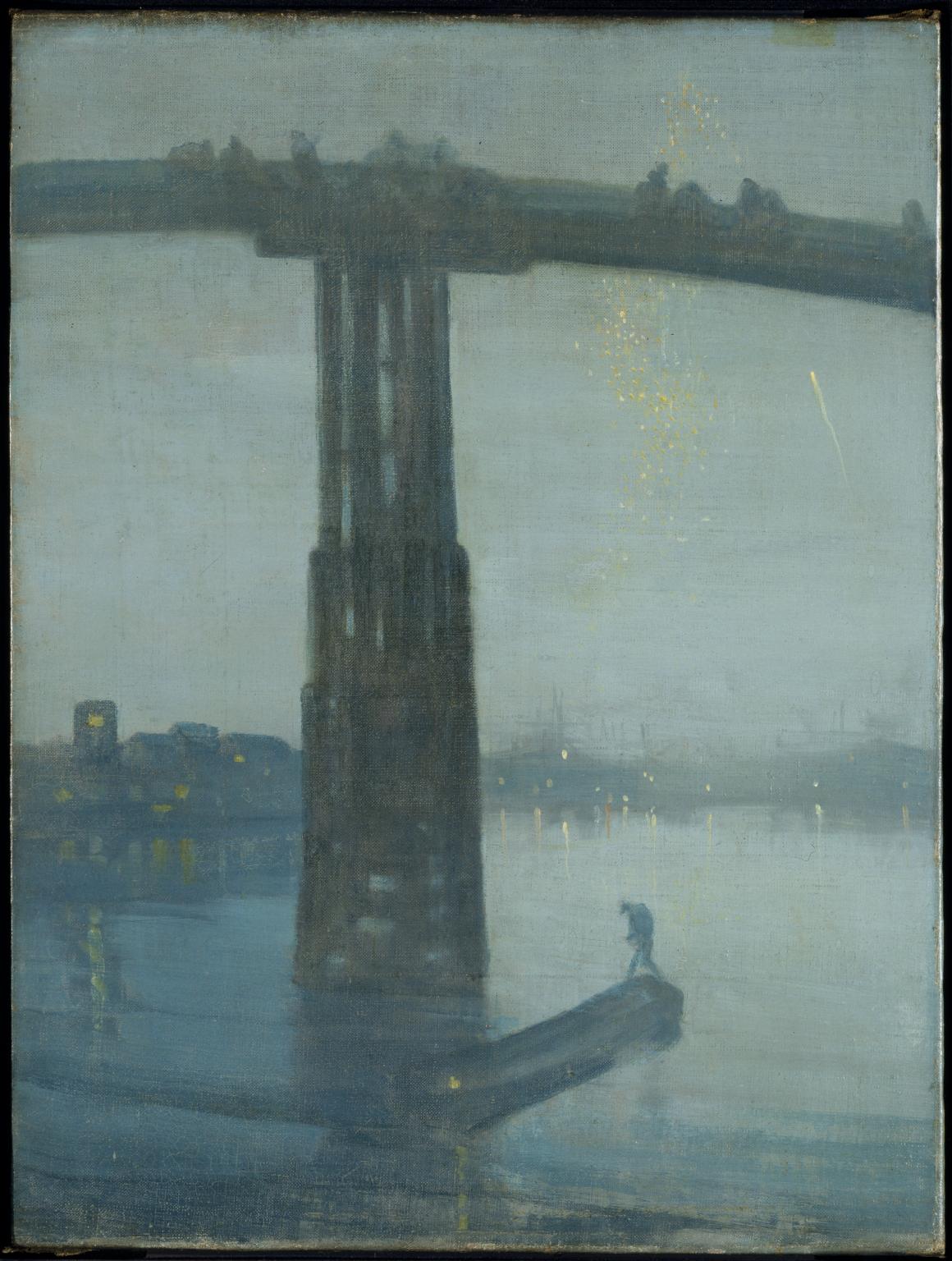 James Abbott McNeill Whistler

,

Nocturne: Blue and Gold - Old Battersea Bridge

c.1872–5

Whistler preferred the calm of the River Thames at night compared to the noise and bustle of the day. Setting off on a boat at twilight, he sometimes stayed on the river all night, sketching and memorising the scene. He would later paint from memory in his studio. Here, London's Battersea Bridge can be seen in the foreground. Chelsea Church and the lights of the newly-built Albert Bridge are visible in the distance. Whistler explained 'I did not intend to paint a portrait of the bridge, but only a painting of a moonlight scene ... My whole scheme was only to bring about a certain harmony of colour'.

Gallery label, April 2019
13/18
artworks in Sensation and Style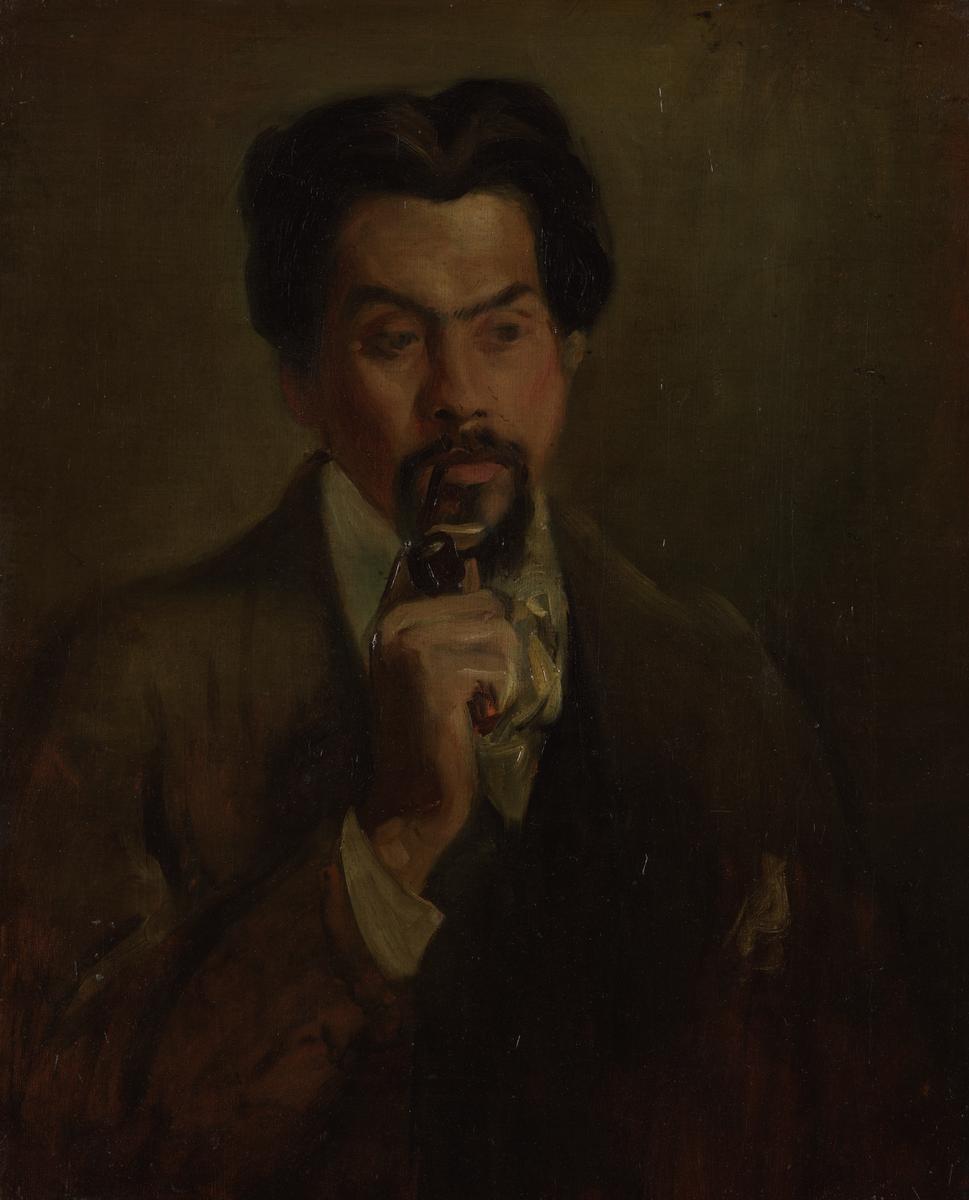 Sir William Rothenstein

,

Jan Toorop

1894

This is a portrait of the Dutch symbolist painter, Jan Toorop, who came to England in 1885. Rothenstein later recalled that he had a 'magnificent head' and the 'physical glamour of a portrait by Titian or Tintoretto'. Rothenstein emphasises Toorop's distinguishing features, including his thick black hair and penetrating eyes.

Rothenstein wrote that Toorop was one of his first models when he settled in London, and that the study was done in one sitting as he 'didn't know how to repaint'.

Gallery label, August 2004
14/18
artworks in Sensation and Style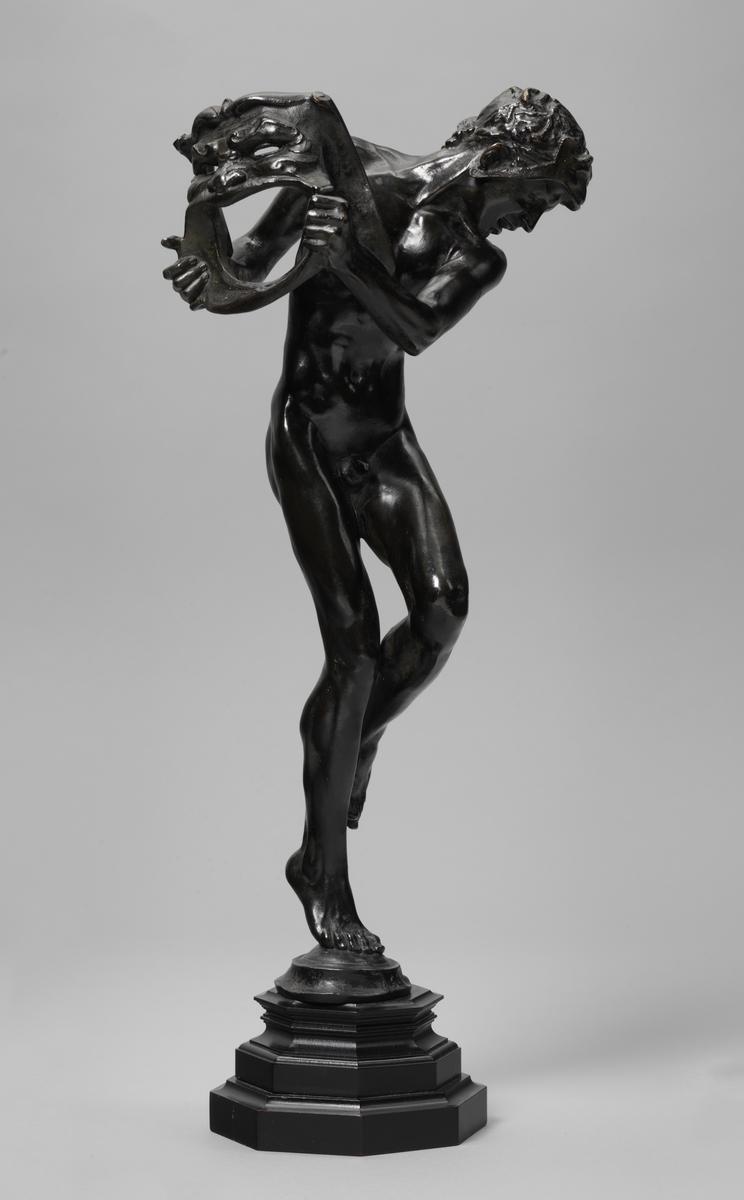 Sir Alfred Gilbert

,

Comedy and Tragedy: 'Sic Vita'

c.1890–2

The Latin subtitle to this work means 'Thus is life'. Gilbert explained that the sculpture represents a prop-boy carrying the mask of Comedy: 'He is stung by a bee - a symbol of love. He turns and his face becomes tragic. The symbol is in reality fact. I was stung by that bee, typified by my love for my art, a consciousness of its incompleteness'. While outwardly successful, Gilbert was trapped in a spiral of debt, disputes over uncompleted commissions and anxiety about his sick wife. He saw this sculpture as 'the climax to my cycle of stories' begun with Perseus Arming and Icarus. From a certain angle the face of Tragedy can be seen through the grinning mouth of Comedy.

Gallery label, February 2010
15/18
artworks in Sensation and Style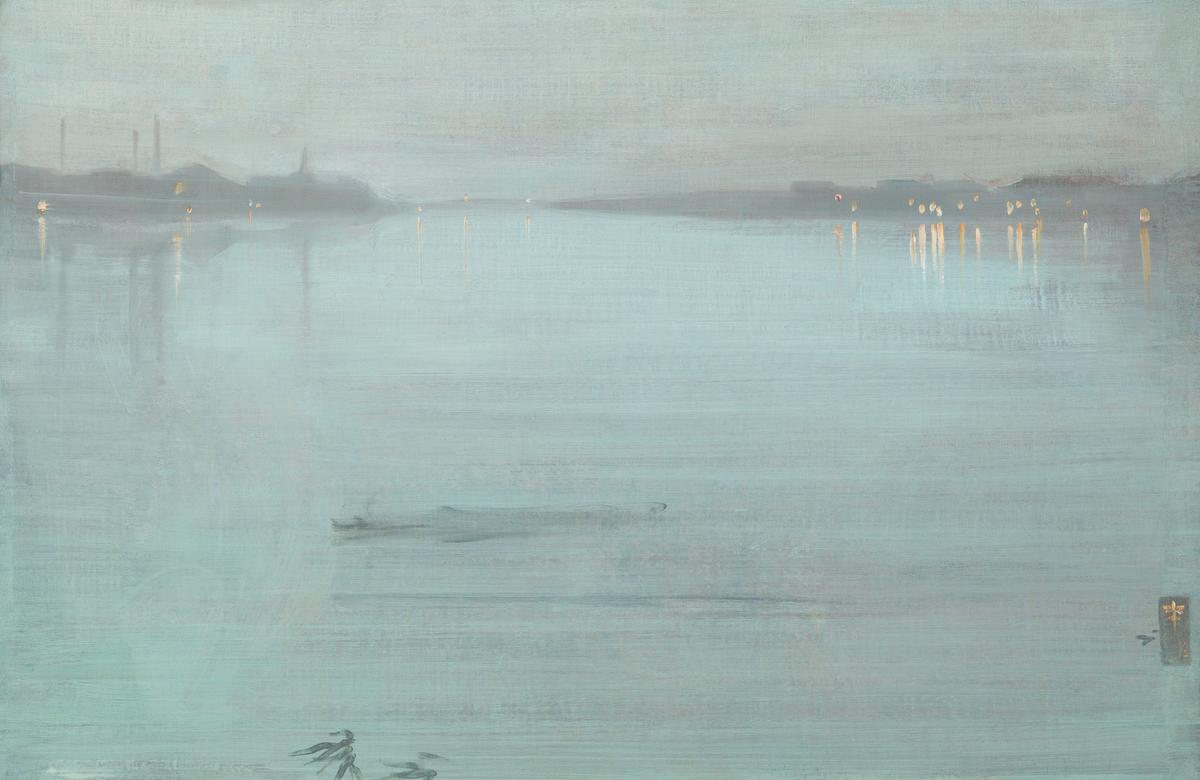 James Abbott McNeill Whistler

,

Nocturne: Blue and Silver - Cremorne Lights

1872

Whistler's viewpoint is from Battersea Bridge, looking up river. The industrial chimneys of Battersea on the left are balanced by the lights of Cremorne pleasure gardens on the other side of the Thames. Whistler frames his composition so the river spreads out as a panoramic expanse of water, leading to the vanishing point of the horizon. The paint was applied quickly, wet on wet, to produce the smooth sheen of its surface. Whistler has decorated the frame himself, using a motif of gold fish scales.

Gallery label, February 2010
16/18
artworks in Sensation and Style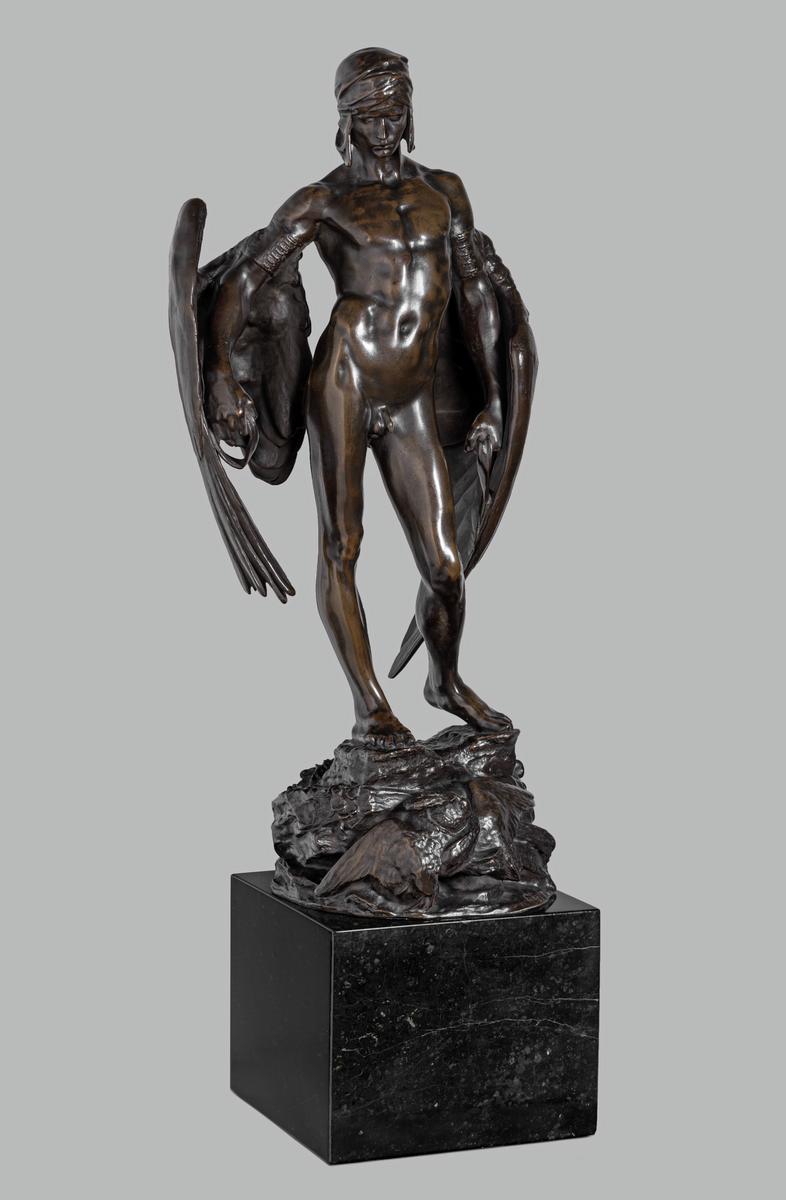 Sir Alfred Gilbert

,

Icarus

1882–4

Icarus and his father Daedulus escaped from prison from the Greek island of Crete by using pairs of wings which they made from feathers and wax. Icarus, however, flew too near to the sun, the wax melted and he fell into the sea and drowned. Gilbert stated that he chose the theme because, 'It flashed across me that I was very ambitious: why not Icarus with his desire for flight?' The subject represented the risk of his own ambition. The vibrant surface and themes of death and the recklessness of youth, lend Gilbert's nude a dimension of sensual eroticism.

Gallery label, February 2010
17/18
artworks in Sensation and Style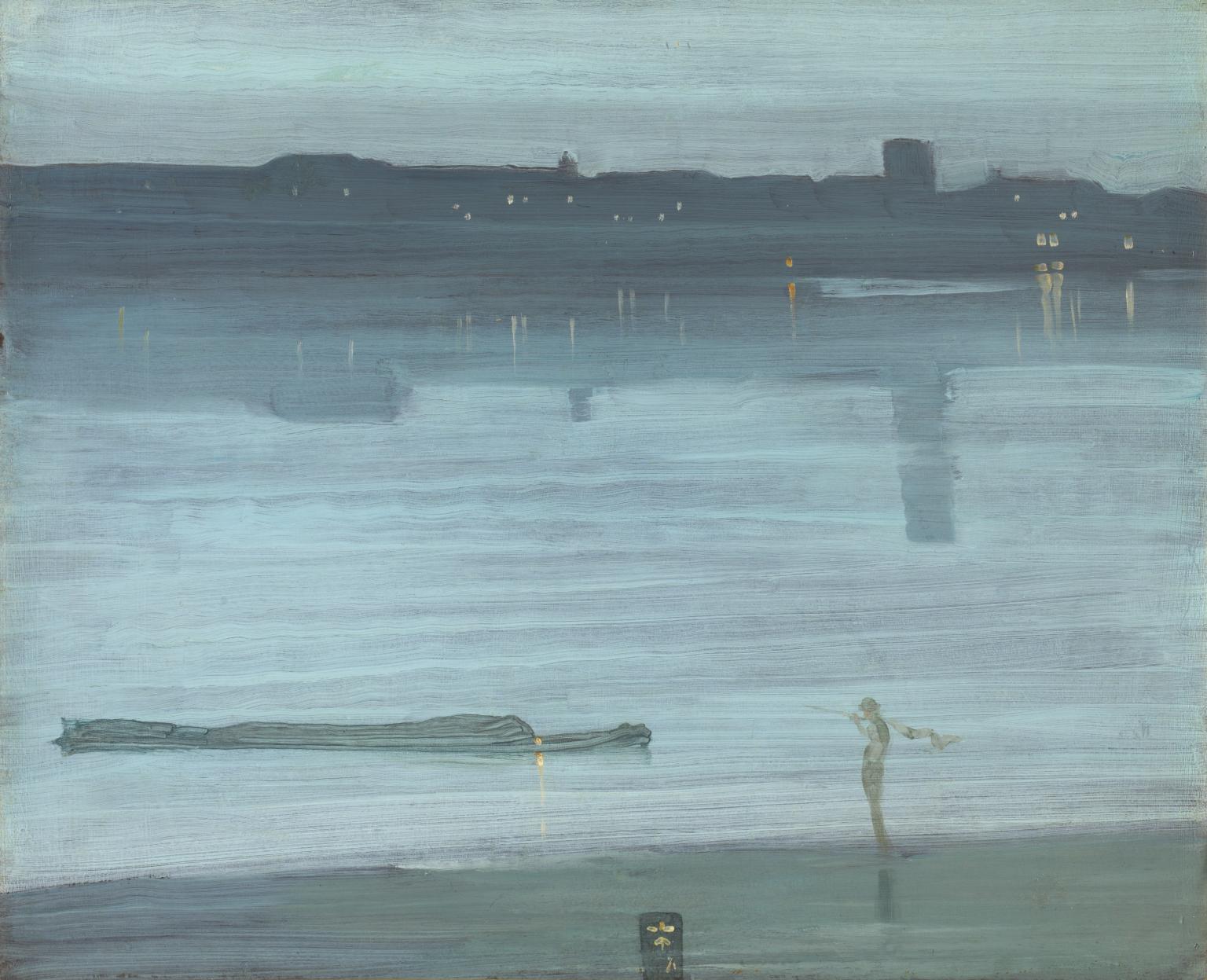 James Abbott McNeill Whistler

,

Nocturne: Blue and Silver - Chelsea

1871

Whistler painted this view from Battersea Bridge looking across the Thames towards Chelsea. The tower of Chelsea Old Church is just visible on the right, and a fisherman stands in the foreground looking out to a low barge. It was the first of Whistler's series of nocturnes: paintings intended to convey a sense of the beauty and tranquillity of the River Thames in the evening or by night. The influence of Japanese woodblock prints is evident from the relatively small range of colours and the butterfly device at the lower centre, which Whistler used as his signature.

Gallery label, November 2016
18/18
artworks in Sensation and Style
Art in this room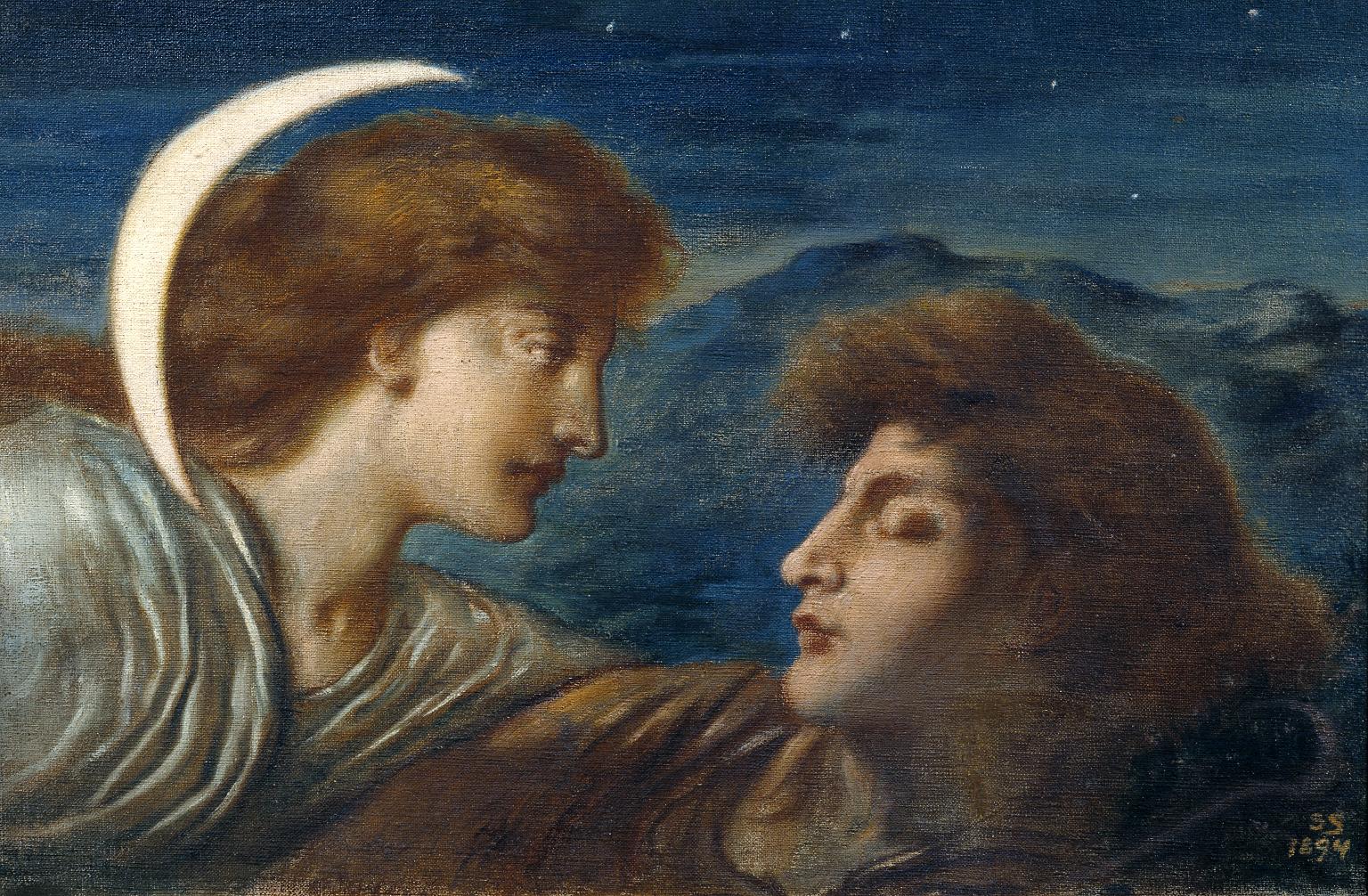 Simeon Solomon
The Moon and Sleep
1894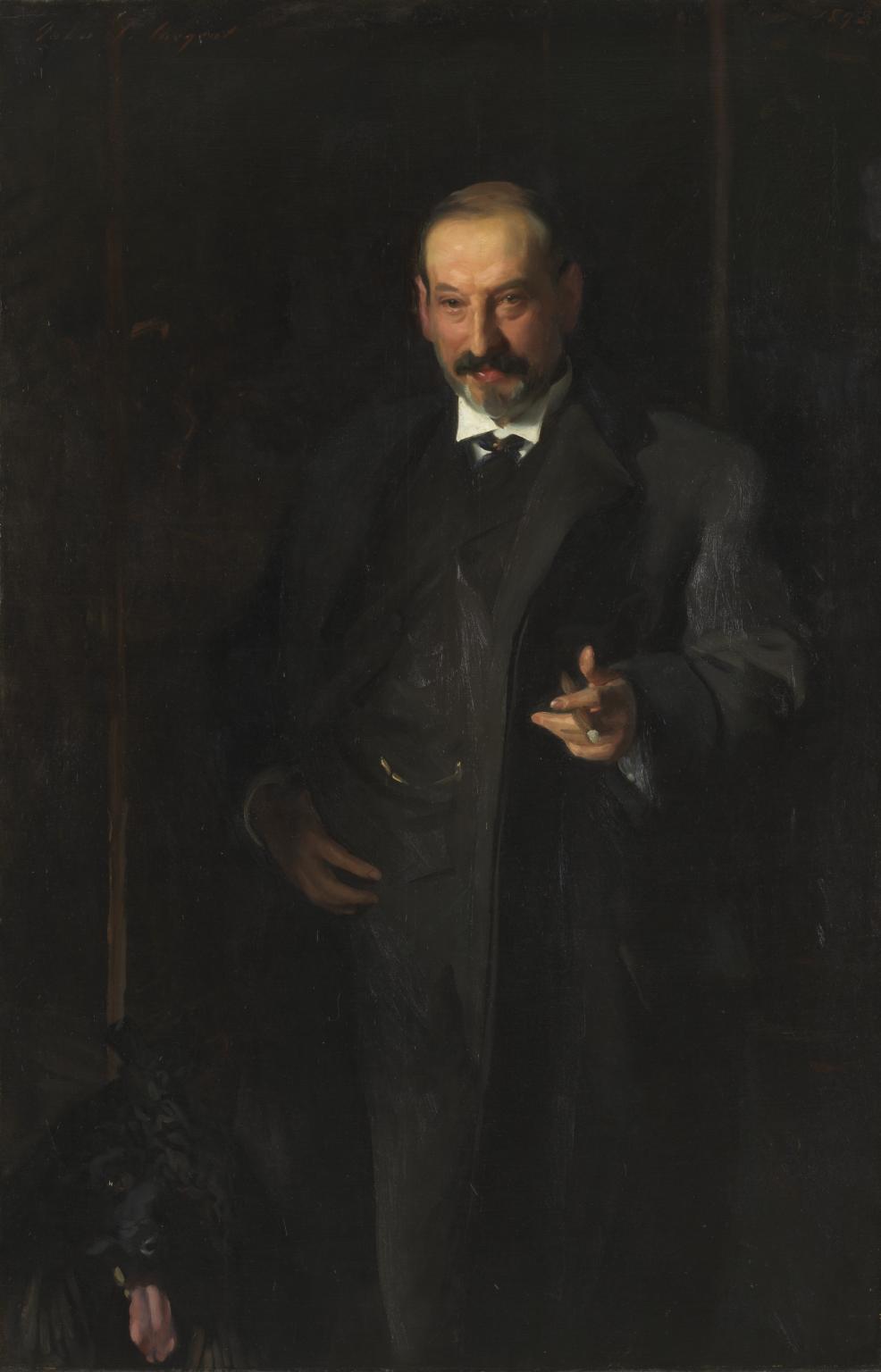 John Singer Sargent
Asher Wertheimer
1898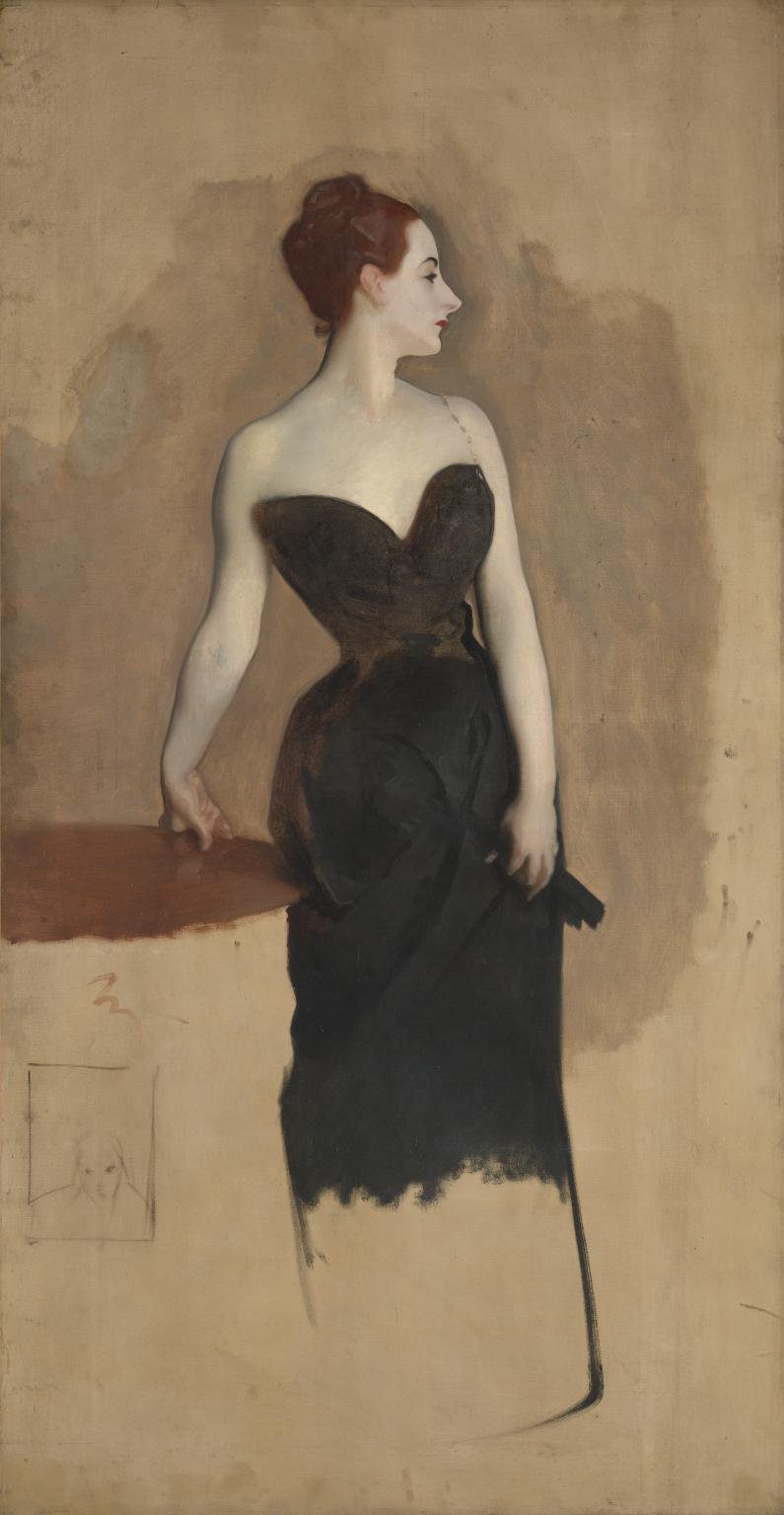 John Singer Sargent
Study of Mme Gautreau
c.1884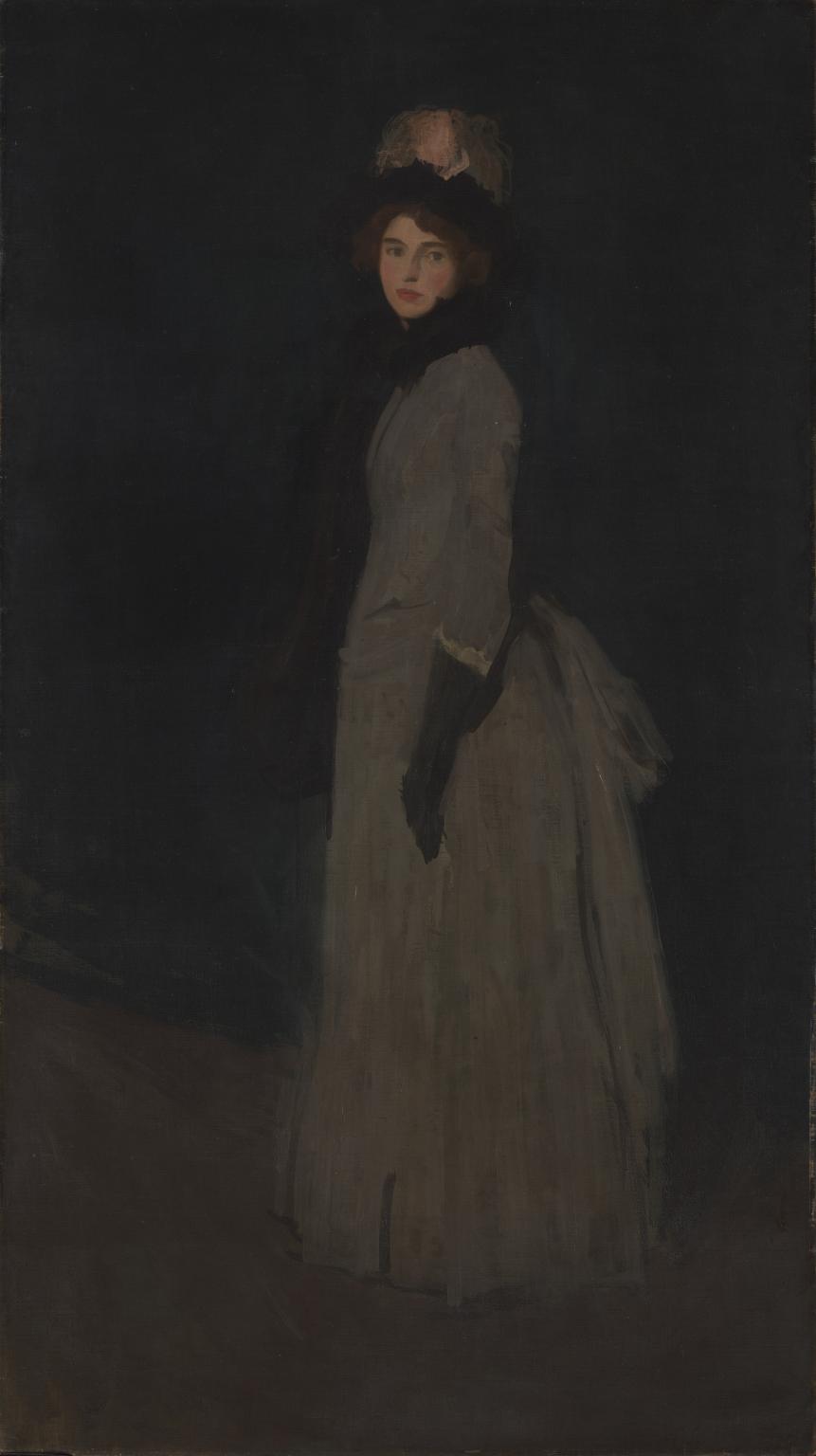 Sidney Starr
Study in Blue and Grey
1891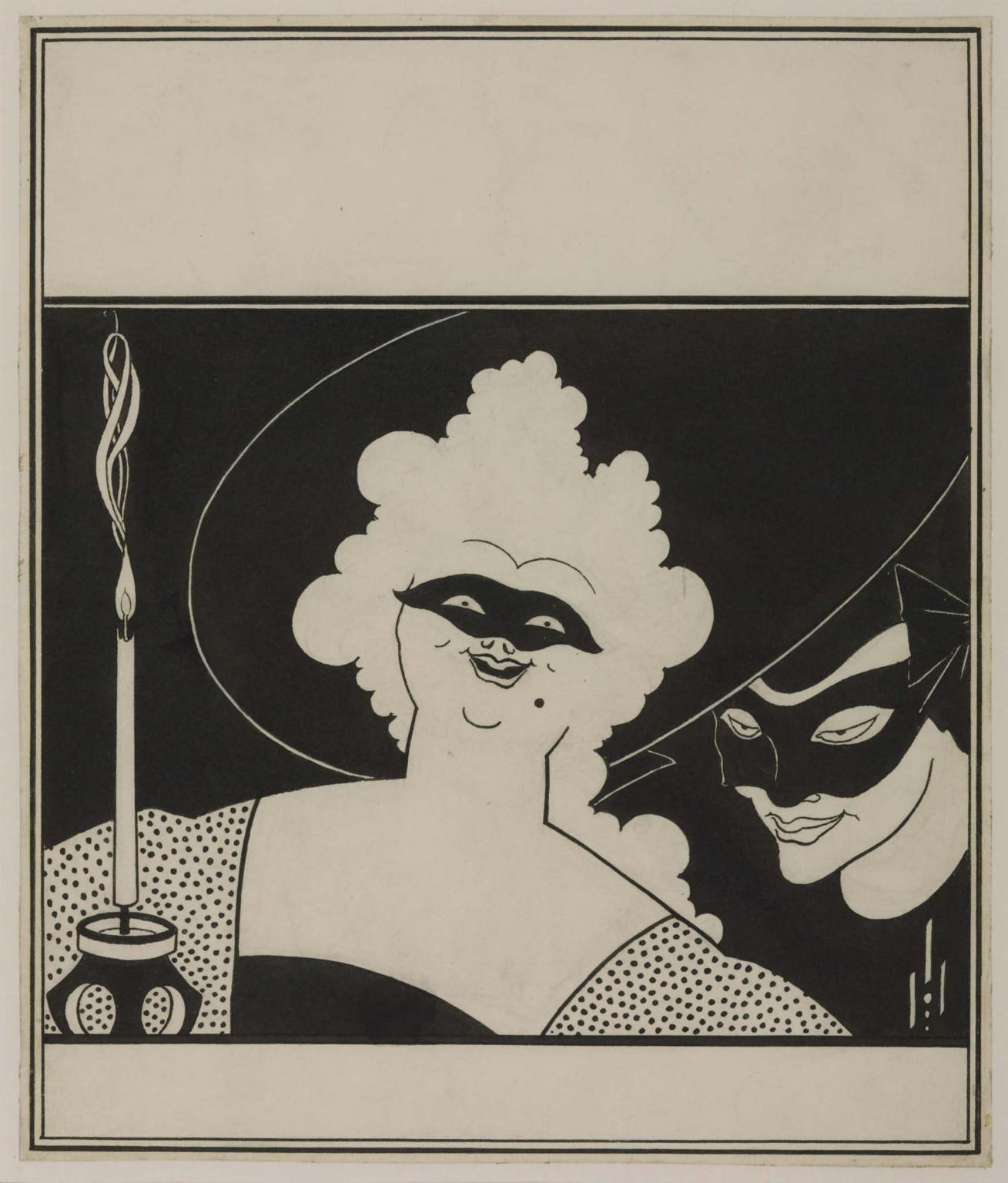 Aubrey Beardsley
Cover Design for 'The Yellow Book' Vol.I
1894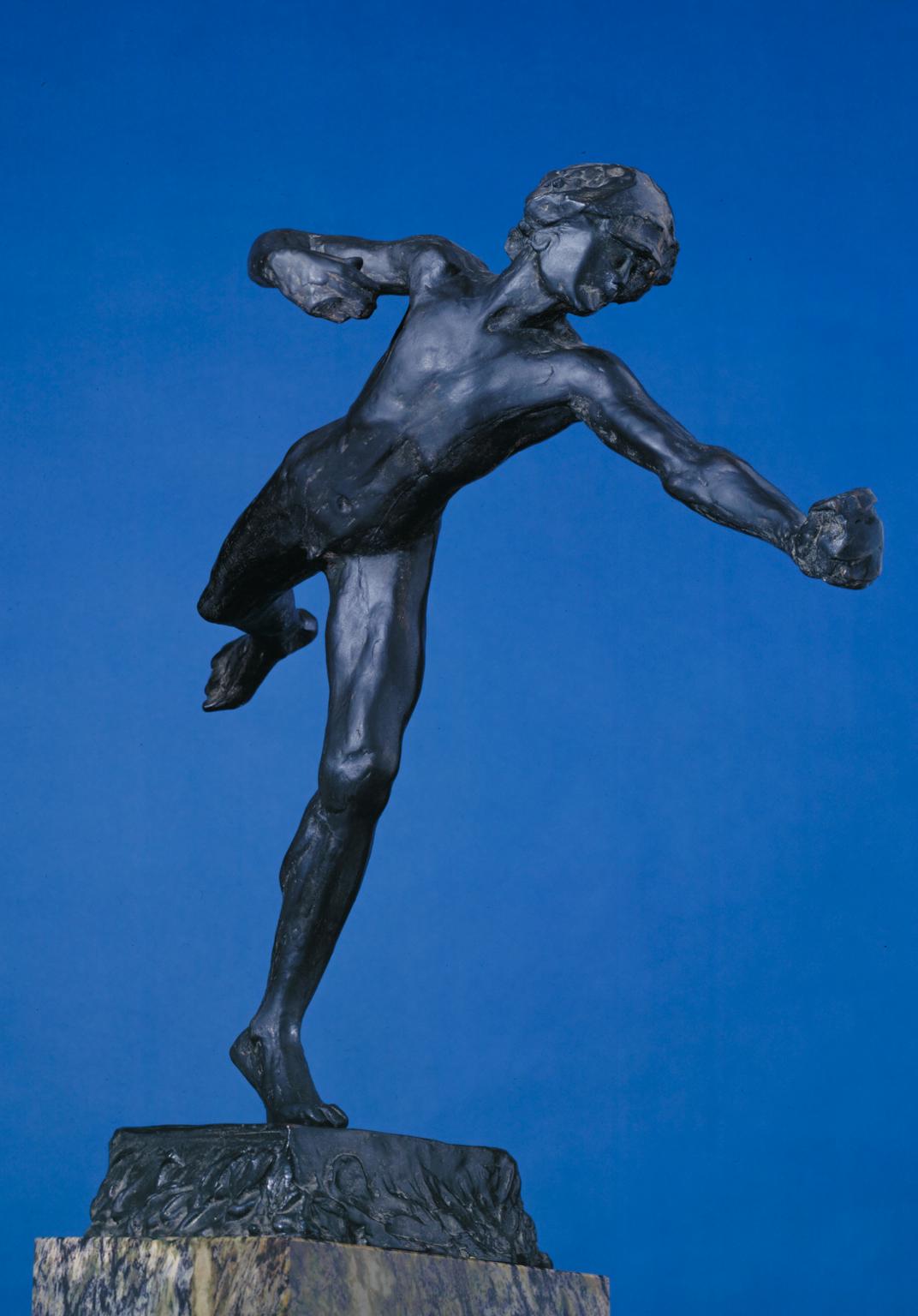 Sir Alfred Gilbert
Model for 'Eros' on the Shaftesbury Memorial, Piccadilly Circus
1891, cast 1925
You've viewed 6/18 artworks
You've viewed 18/18 artworks