17 rooms in Historic and Early Modern British Art
At first glance this room presents a glamorous image of 18th-century society. However, the lives and places pictured give clues to the underlying tensions of the time
The 18th century is often called a 'Golden Age' of British painting. Artists like Thomas Gainsborough, Joshua Reynolds and George Stubbs are famous in their lifetimes. They paint flattering portraits, scenes of contented workers, and idyllic landscapes. These pictures seem to show a wider range of society, both in Britain and in some British colonial territories. They promote a sense of harmony, order and elegance. Even the growing variety of styles and techniques seems to evoke an idea of British freedom of expression and political liberty.
However, British society, both here and across an expanding empire, is far from cohesive or peaceful. This is an era of heightened conflict and class division. Britain becomes a dominant world power through the toil of workers in fields and factories, the sacrifices of people in the army and navy, the unpaid labour of enslaved Africans in Caribbean plantations, and the military and commercial exploitation of people across India. Advances in industrial technology boost trade, but the wealth and commodities circulated come at a human cost. Some working people in Britain begin to protest and there is a new sense of class consciousness. Among some of the wealthiest there is growing unease about the morality of their luxurious lifestyles.
These tensions are rarely explicit in the art of this time, but they lie under the surface, in the stories of who commissions paintings, where their money comes from, and the choices artists make about what is or is not pictured.
Sorry, no image available
Keith Piper

,

Running Away: An Escapee's Guide to Navigation

2007
1/28
artworks in Troubled Glamour
Sorry, no image available
Keith Piper

,

Working Methodologies for Smashing and Burning

2007
2/28
artworks in Troubled Glamour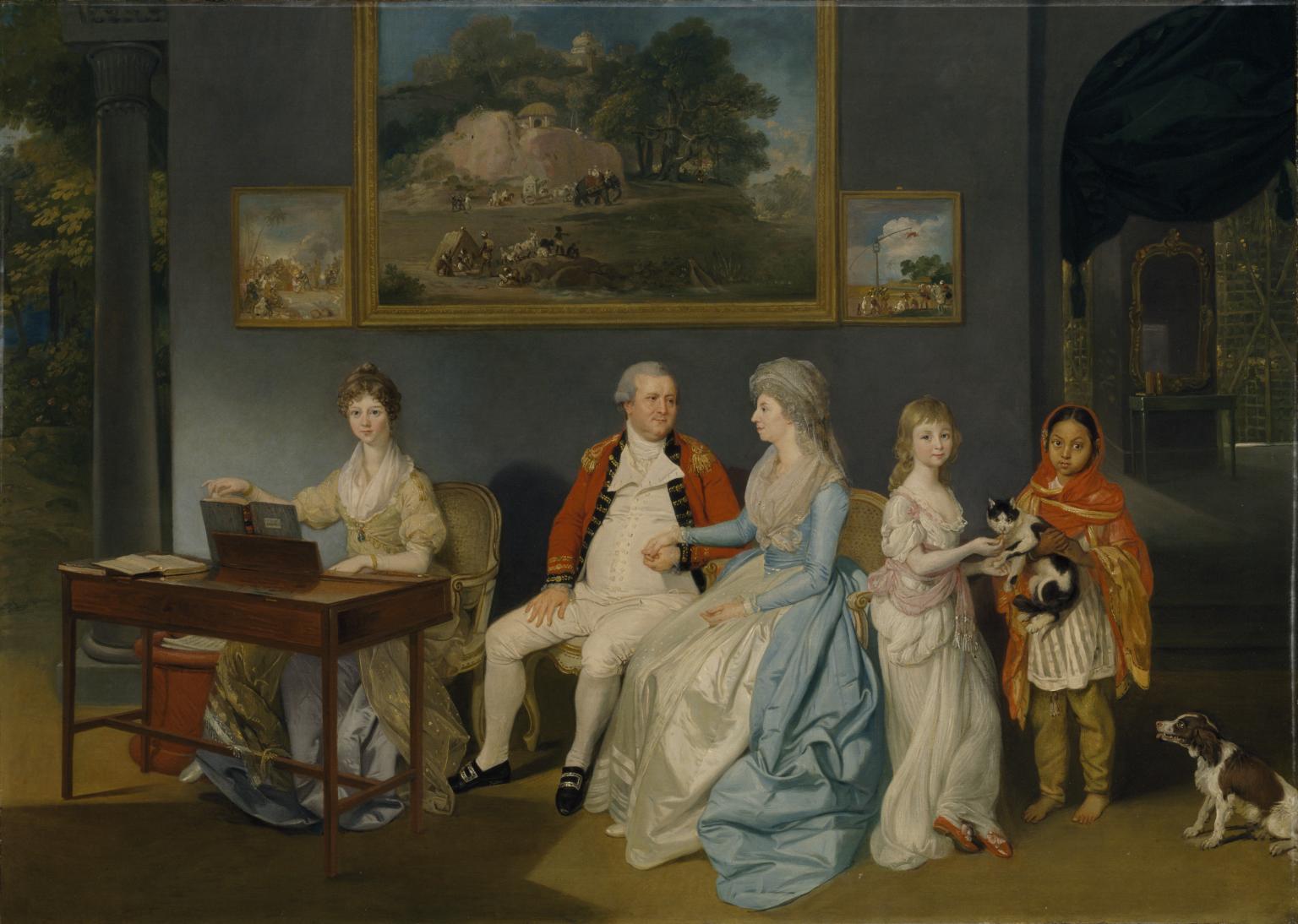 Johan Zoffany

,

Colonel Blair with his Family and an Indian Ayah

1786

Colonel Blair served in the Bengal army in colonial India. He sits in the centre of this painting in a lavish interior setting alongside his wife and daughters. On the right, a young Indian girl holds a cat. Her identity and relationship to the family remains unknown. It is possible she is an ayah (a housemaid), or perhaps Blair's child. The child is positioned as an outsider welcomed into the group, echoing colonial sentiment in the British Empire. The paintings on the wall intentionally portray Indian customs as both captivating and outside British ideas of civilisation.

Gallery label, April 2023
3/28
artworks in Troubled Glamour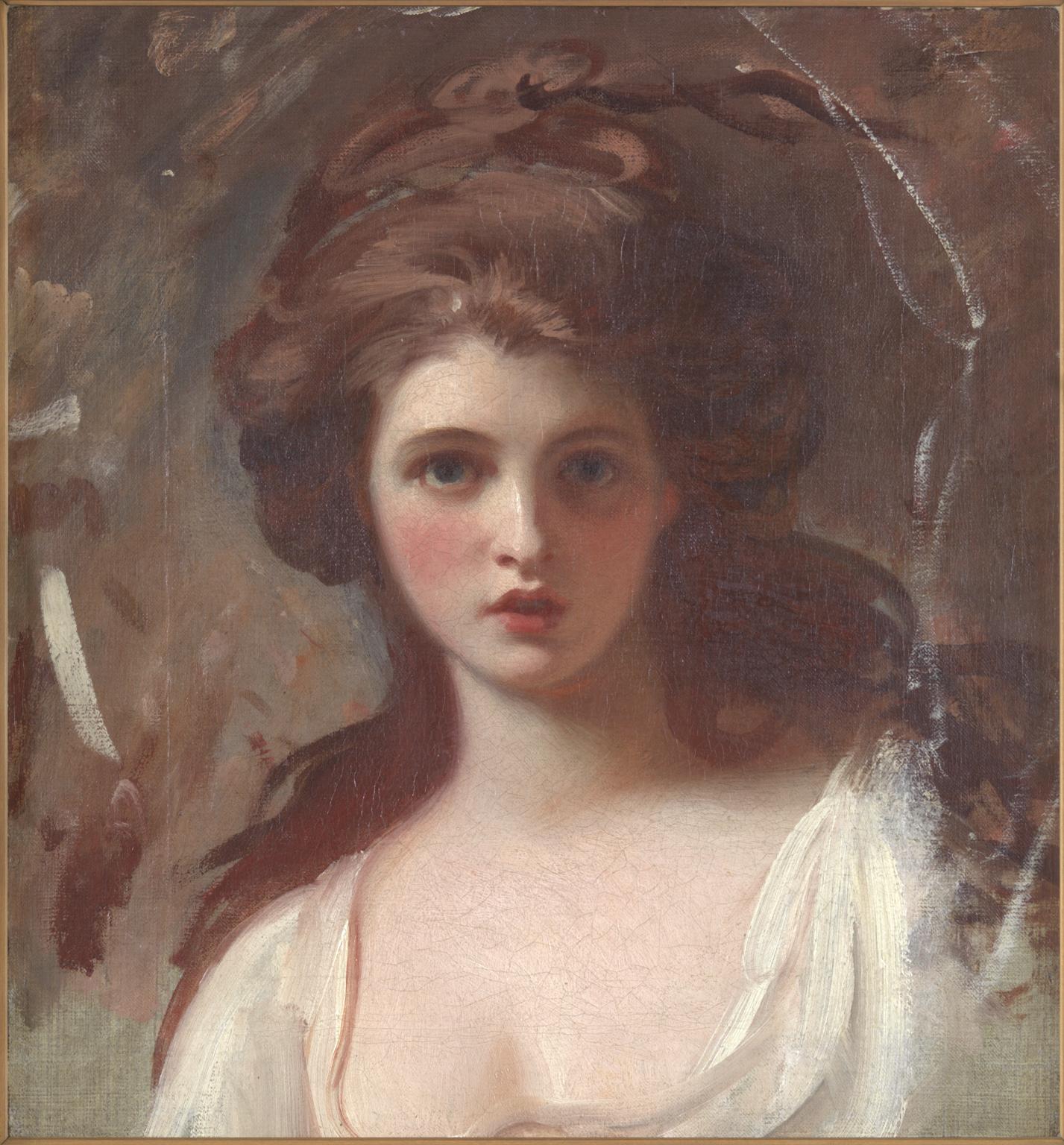 George Romney

,

Emma Hart as Circe

c.1782

In Greek mythology, Circe is a powerful sorceress best known for transforming her enemies into animals. This unfinished sketch is one of George Romney's first portraits of Emma Hart, who quickly became his favourite model. His decision to paint the 17-year-old Hart as an enchantress is telling. It marked the beginning of her highly theatrical public persona and immediately signalled her sexual allure to 18th-century viewers. Such images helped raise both Romney's reputation as a painter and Hart's as a sensual beauty. From a working-class background, Hart's personal fortunes rested on her celebrity.

Gallery label, April 2023
4/28
artworks in Troubled Glamour
Sorry, no image available
Joseph Wright of Derby

,

Three Children of Richard Arkwright with a Goat

1791

This painting of Richard Arkwright Jr's children playing spontaneously on their Derbyshire estate is one of a series of monumental portraits Joseph Wright made for the family. Collectively, the paintings demonstrated the Arkwrights' increasing social and financial standing. Arkwright Jr was a cotton manufacturing entrepreneur who helped Derbyshire's cotton mills become a leading site for Britain's textile industry. He significantly improved machinery design and working conditions. When he died, Arkwright was described as 'the richest commoner in Europe.'

Gallery label, April 2023
5/28
artworks in Troubled Glamour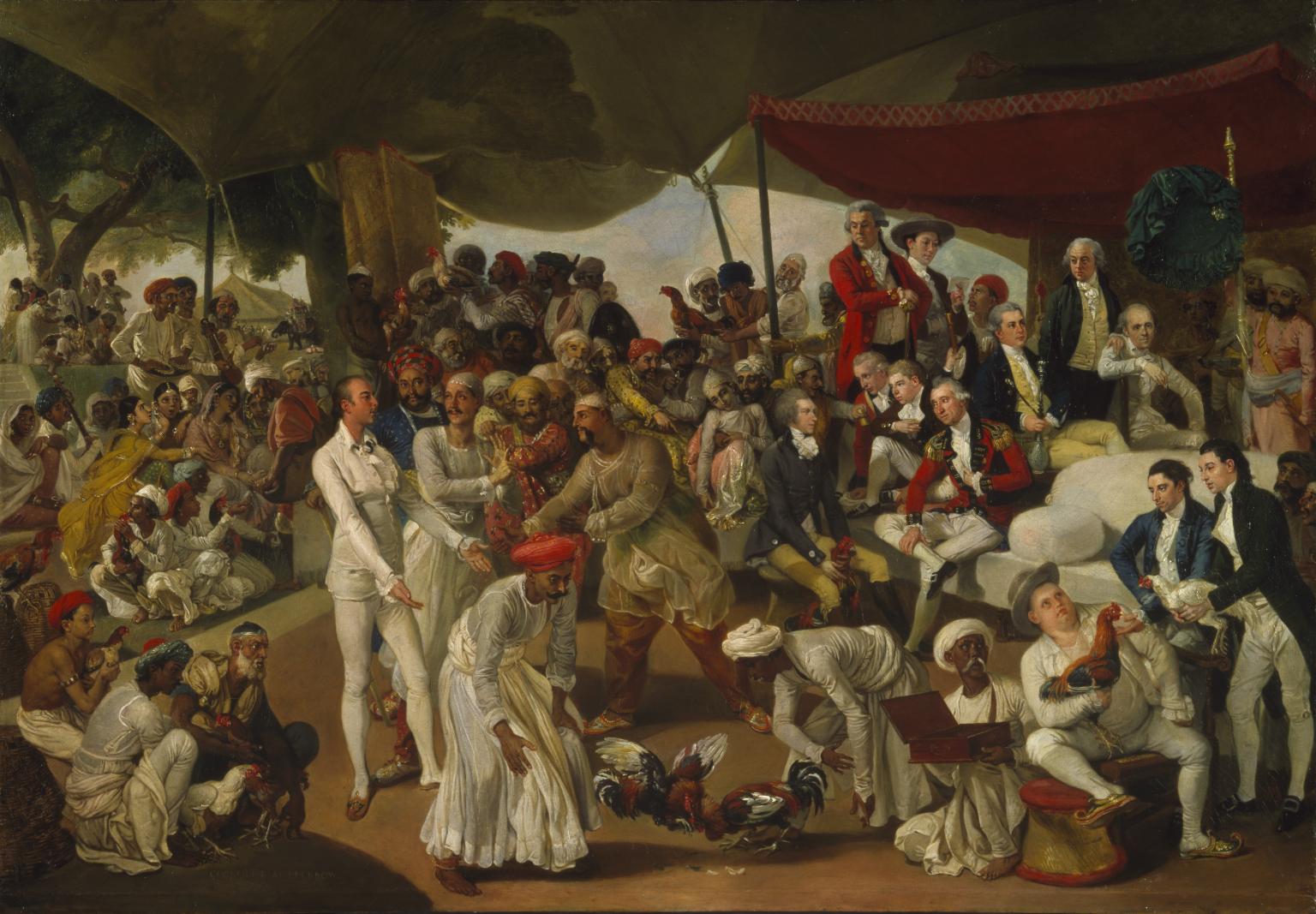 Johan Zoffany

,

Colonel Mordaunt's Cock Match

c.1784–6

This ambitious painting shows a cock fight held at Lucknow, India, in 1784. The birds belong to Asaf-ud-Daula, the Nawab Wazir of Oudh, and John Mordaunt, an East India Company employee and colonel in Asaf's personal bodyguard. They are surrounded by a cosmopolitan crowd including Indian courtiers and Company officials. The convivial scene evokes a Company culture of 'taking part' rather than 'taking control'. However, Asaf had actually been stripped of any real power by the Company. Zoffany subtly hints at this imbalance in Anglo-Indian relations through the British bird's domination over the Indian cockerel.

Gallery label, April 2023
6/28
artworks in Troubled Glamour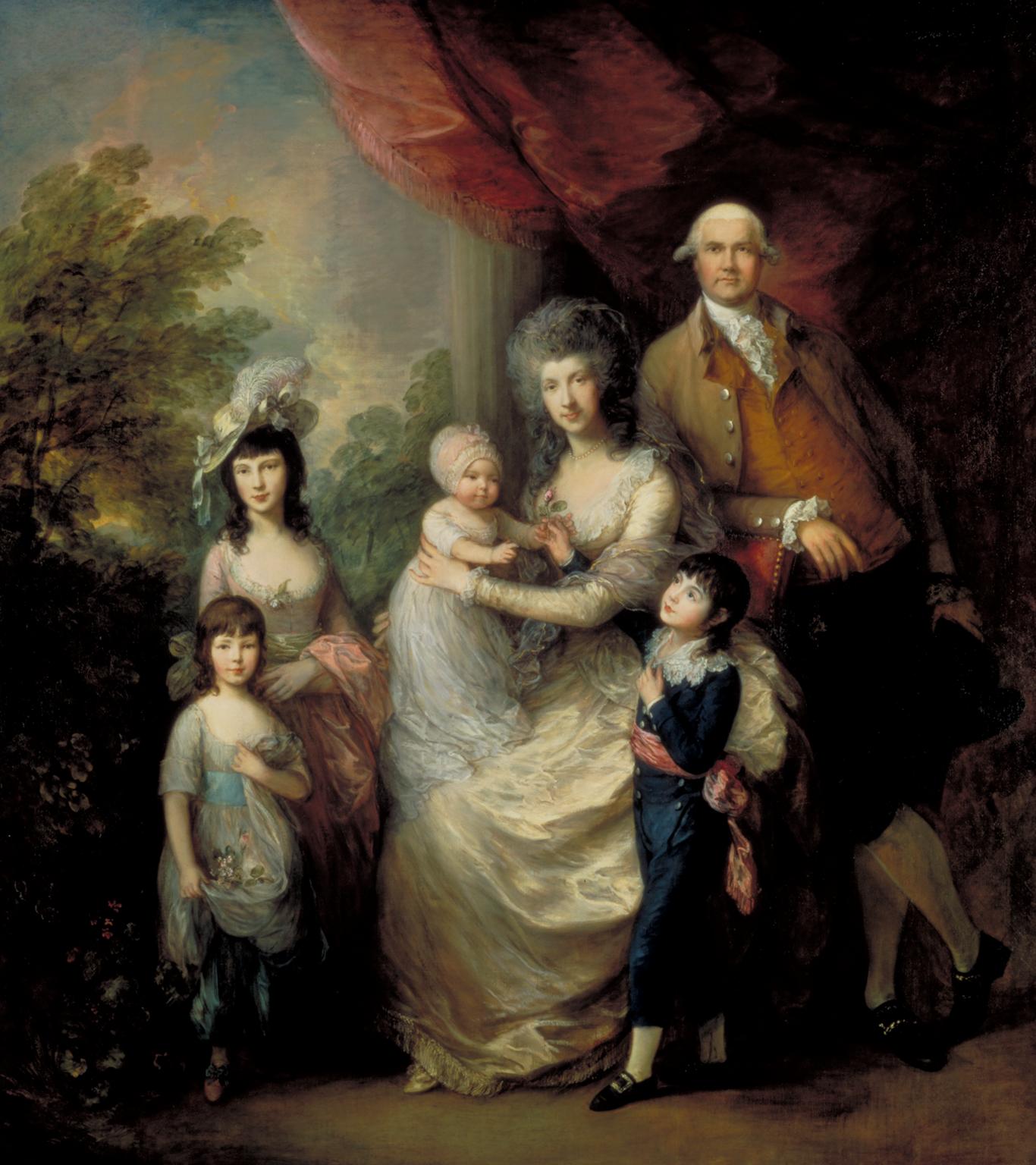 Thomas Gainsborough

,

The Baillie Family

c.1784

This imposing portrait reflects Thomas Gainsborough's artistic ambitions and the social aspirations of the sitters. James Baillie and his family present an elegant, affluent image of domestic harmony. This was underpinned by the wealth Baillie amassed through Atlantic trade and plantations in Grenada and British Guiana, laboured by enslaved people. At his death, he left his son Alexander (in blue), the Grenada sugar plantation, and each child £10,000 – worth about £1.1 million today. Some of the children later claimed compensation following the Slavery Abolition Act in 1833.

Gallery label, April 2023
7/28
artworks in Troubled Glamour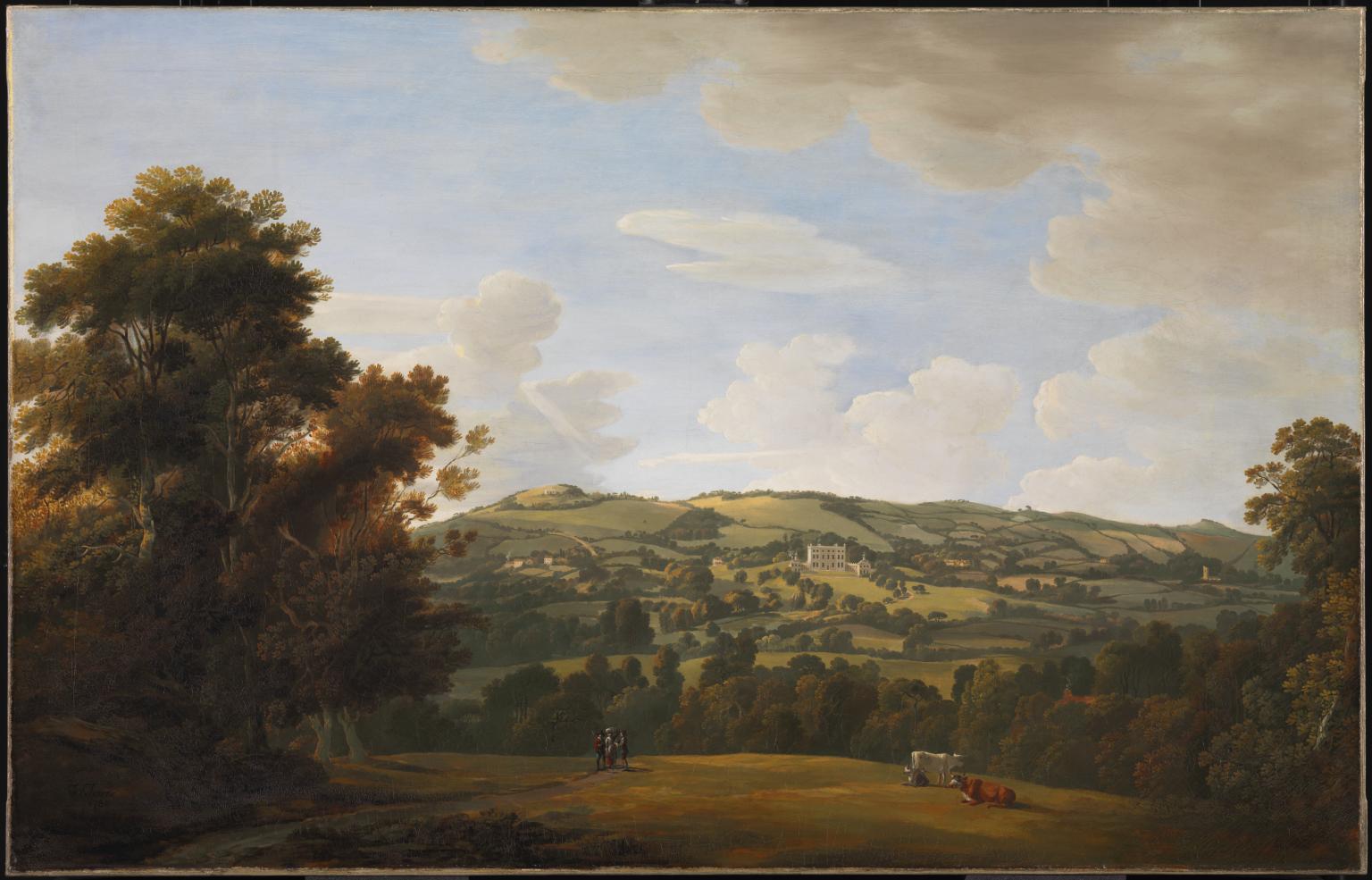 Francis Towne

,

Haldon Hall, near Exeter

1780

At the heart of this picture is Haldon Hall in Devon, bathed in summer sunlight. Sir Robert Palk had bought the estate in 1769 and the painting shows his redesign of the house and landscape. This was funded by the large fortune he had made working for the East India Company, including as governor of Madras (now Chennai) from 1763–67, before returning to England. This painting signals his power as a landowner and his wealth. Indeed, Towne's deliberate choice of an elevated vantage point gives the impression of surveying the landscape.

Gallery label, April 2023
8/28
artworks in Troubled Glamour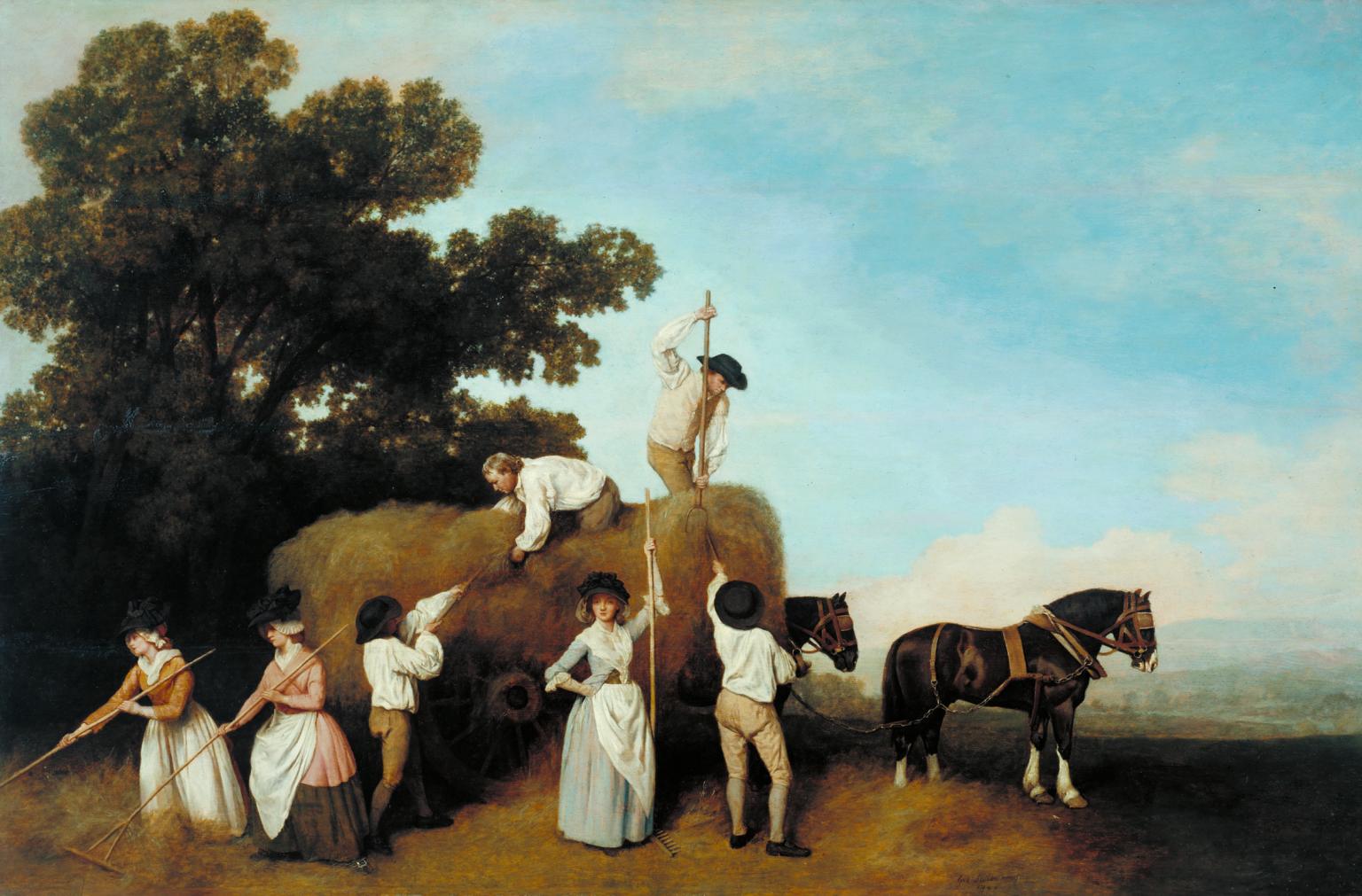 George Stubbs

,

Haymakers

1785

Painted as a pair with Reapers (shown nearby), George Stubbs may have been responding to the popularity of picturesque rural subjects at this time. He creates a sense of realism through closely observing haymaking and the distinct tasks involved. But Stubbs is also careful to convey a sense of harmony. The labourers themselves are serene, elegant and spotlessly clean. This emphasises their dignity while also offering a reassuring image of working conditions for wealthy consumers of this art. Such idealised images of labour rarely depict its harsh realities, whether in Britain or abroad.

Gallery label, April 2023
9/28
artworks in Troubled Glamour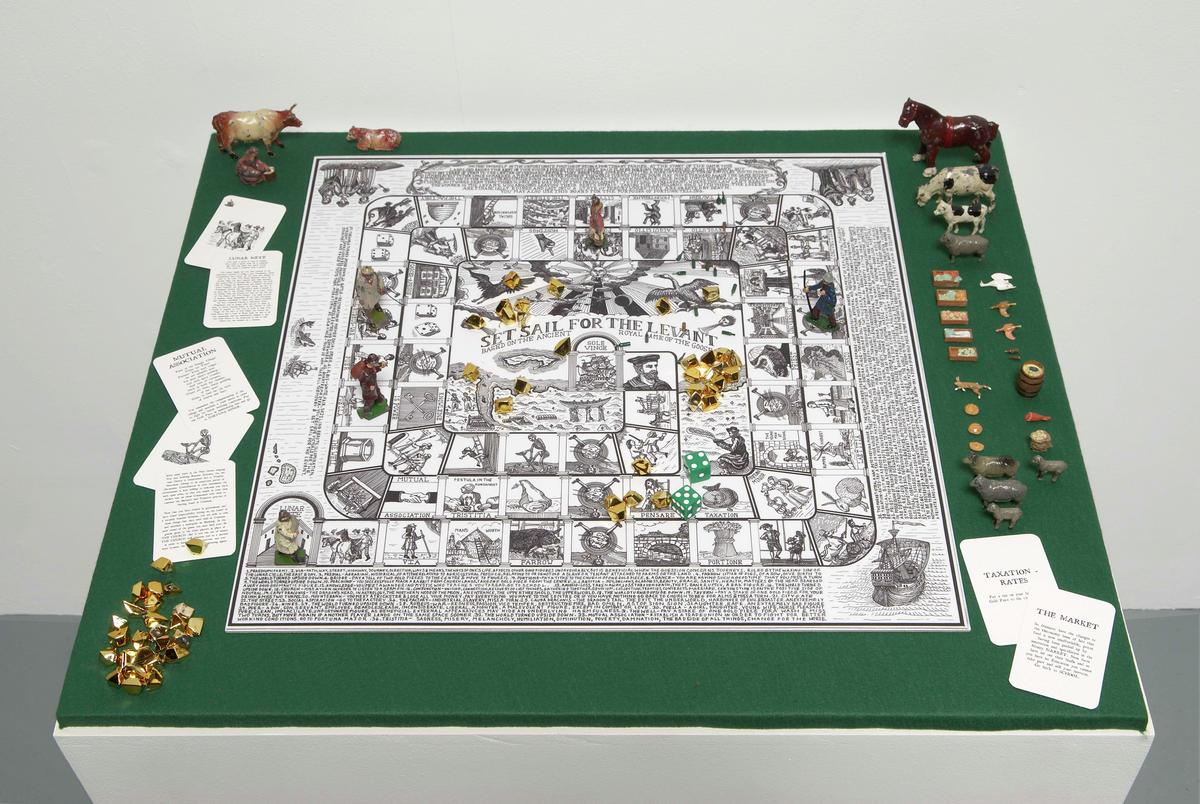 Olivia Plender

,

Set Sail for the Levant: A Board Game About Debt (or a Social Satire)

2007

Olivia Plender's Set Sail for the Levant: A Board Game About Debt (or a Social Satire) 2007 is a board game based on the sixteenth-century British 'Royal Game of the Goose', the earliest commercially produced board game involving dice. Plender's game parodies the historical struggle of the commoner to achieve social and material success in life by presenting debt as the only realistic outcome in life. The game tells the story of the 'enclosure of the commons', which began in Britain during the sixteenth century and continued into the nineteenth century. It was the legal process of consolidating (enclosing) small landholdings into larger farms. Once enclosed, use of the land became restricted to the owner, and it ceased to be common land for communal use. This was a period when wealthy landowners used their control of state processes to appropriate public land for their private benefit. Enclosure was essentially a privatisation of the land, whereby 'commoners' lost their traditional rights of access to 'the commons'.
10/28
artworks in Troubled Glamour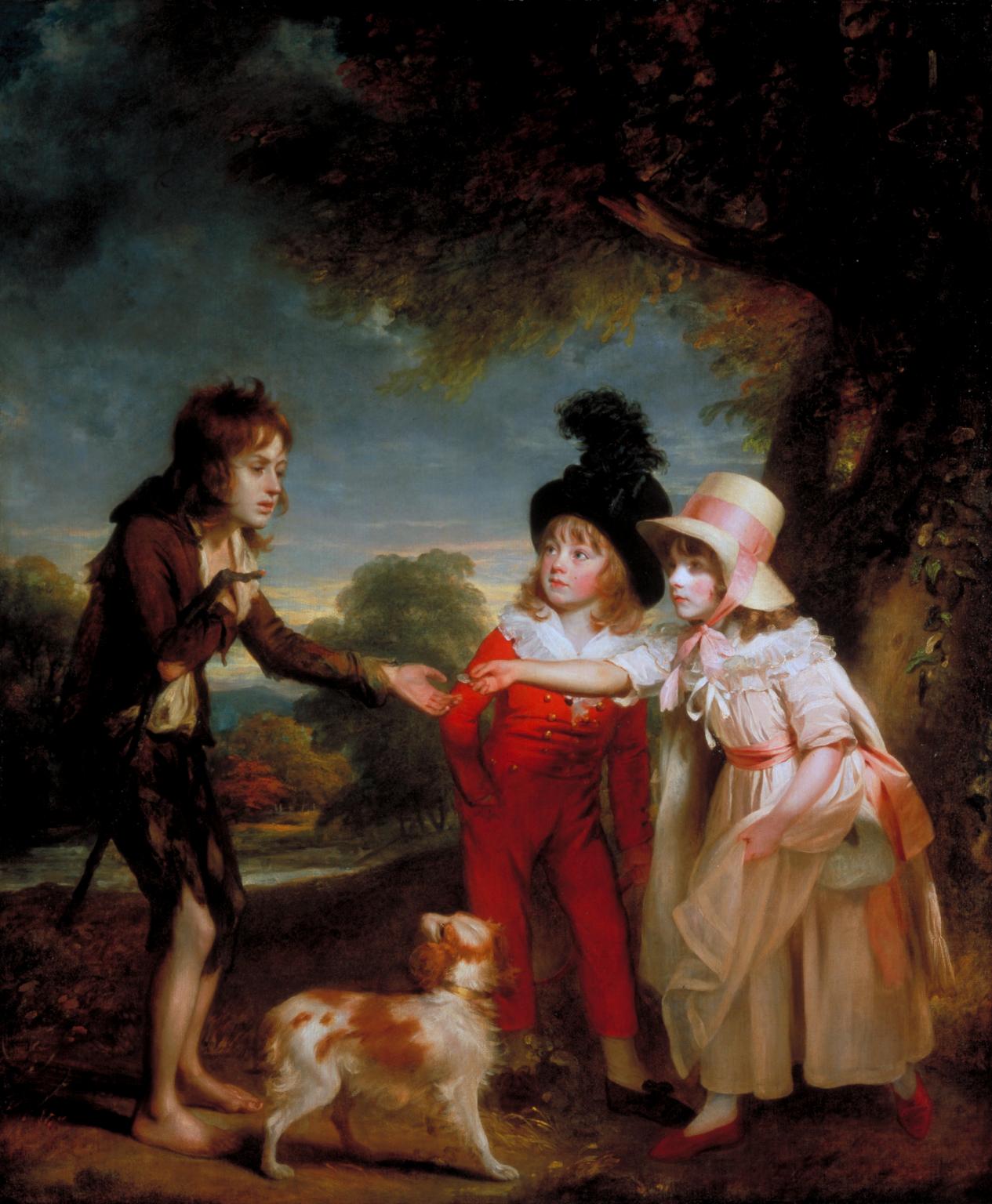 Sir William Beechey

,

Portrait of Sir Francis Ford's Children Giving a Coin to a Beggar Boy

exhibited 1793

William Beechey exhibited this painting in 1793. |t shows Mary and Francis, the children of Sir Francis Ford, a wealthy politician and Barbadian plantation owner. This sentimental scene was perhaps a response to growing concerns about poverty in Britain, showing landowning families like the Fords in a benevolent light. But in 1793 Ford also spoke in parliament in favour of 'procrastinating' the abolition of the slave trade. The unusually stark portrayal of the beggar boy's distress may allude to the pro-slavery claim that enslaved people in the Caribbean had better lives than British people living in poverty.

Gallery label, April 2023
11/28
artworks in Troubled Glamour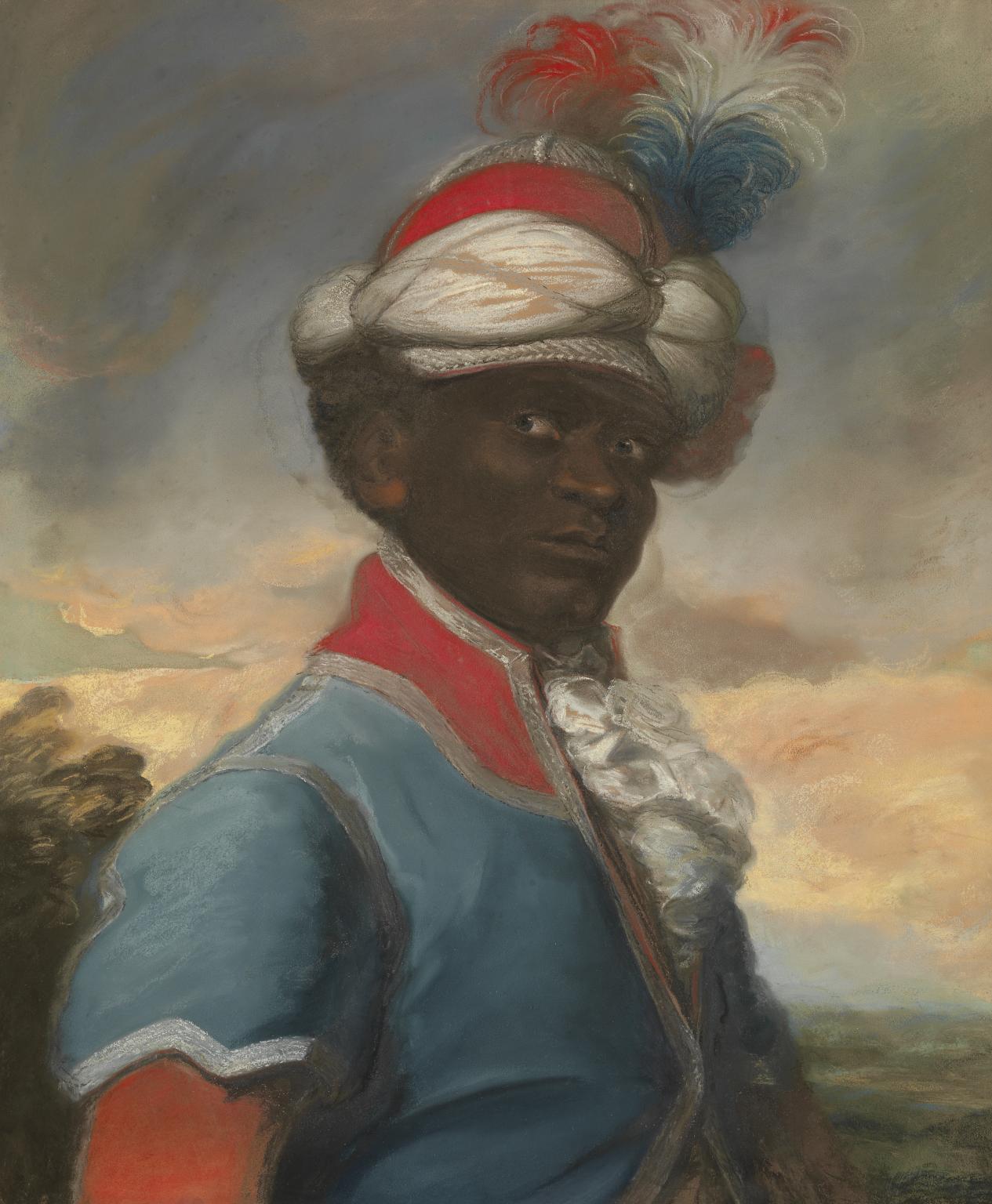 Ozias Humphry

,

Christiaan van Molhoop

c.1795

Christiaan van Molhoop was the running footman to Baron Nagell, the Dutch ambassador in Britain. He wears a flamboyant uniform, which was typical for Nagell's servants. Despite the painting's landscape setting, Molhoop was based in London from 1788–1803. His presence in the city speaks to the global movement of people during this period. Enslaved at birth in Suriname (a former Dutch colony), he was taken to Amsterdam in 1761. After his freedom was formally recognised in 1779, Molhoop travelled to Guyana, probably Suriname, and then London, before returning to the Netherlands.

Gallery label, April 2023
12/28
artworks in Troubled Glamour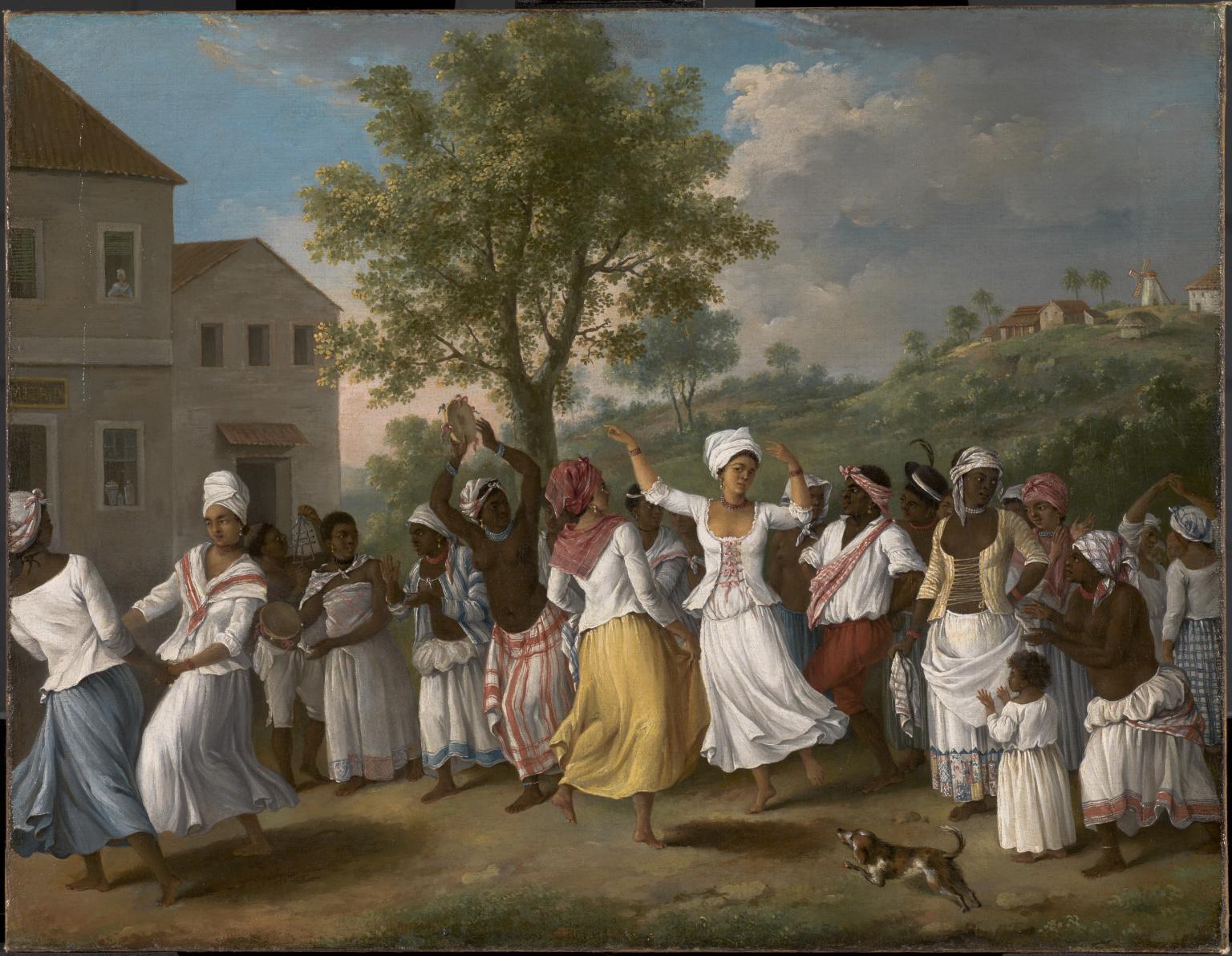 Agostino Brunias

,

Dancing Scene in the Caribbean

1764–96

This idealised scene shows mainly women of African and African European descent, both free and enslaved, dancing gracefully together. Agostino Brunias mainly painted such appealing images of plantation life for plantation owners and colonial administrators. Any reference to the forced labour and violence underpinning this is erased, as are his patrons' roles in this oppression. Yet reading this picture against the grain reveals aspects of Black Caribbean culture. Details like the women's clothing and African drum suggest this community's agency, struggle for personhood, and resistance to slavery.

Gallery label, April 2023
13/28
artworks in Troubled Glamour
Sorry, no image available
Keith Piper

,

Micro-Resistance Toolkit

2007
14/28
artworks in Troubled Glamour
Sorry, no image available
Thomas Gainsborough

,

Lady Bate-Dudley

c.1787

Mary Bate-Dudley was married to Gainsborough's friend and champion, Henry Bate-Dudley. She's shown here in a romantic woodland setting, leaning on a classical pedestal and an urn. Her pose is languid yet statuesque and the gesture of her left hand suggests a refined sensibility. Unusually in Gainsborough's art, Lady Bate-Dudley's head is shown in profile. This is a dramatic ploy intended to elevate the painting beyond the everyday world of conventional portraiture to the realm of High Art.

Gallery label, February 2016
15/28
artworks in Troubled Glamour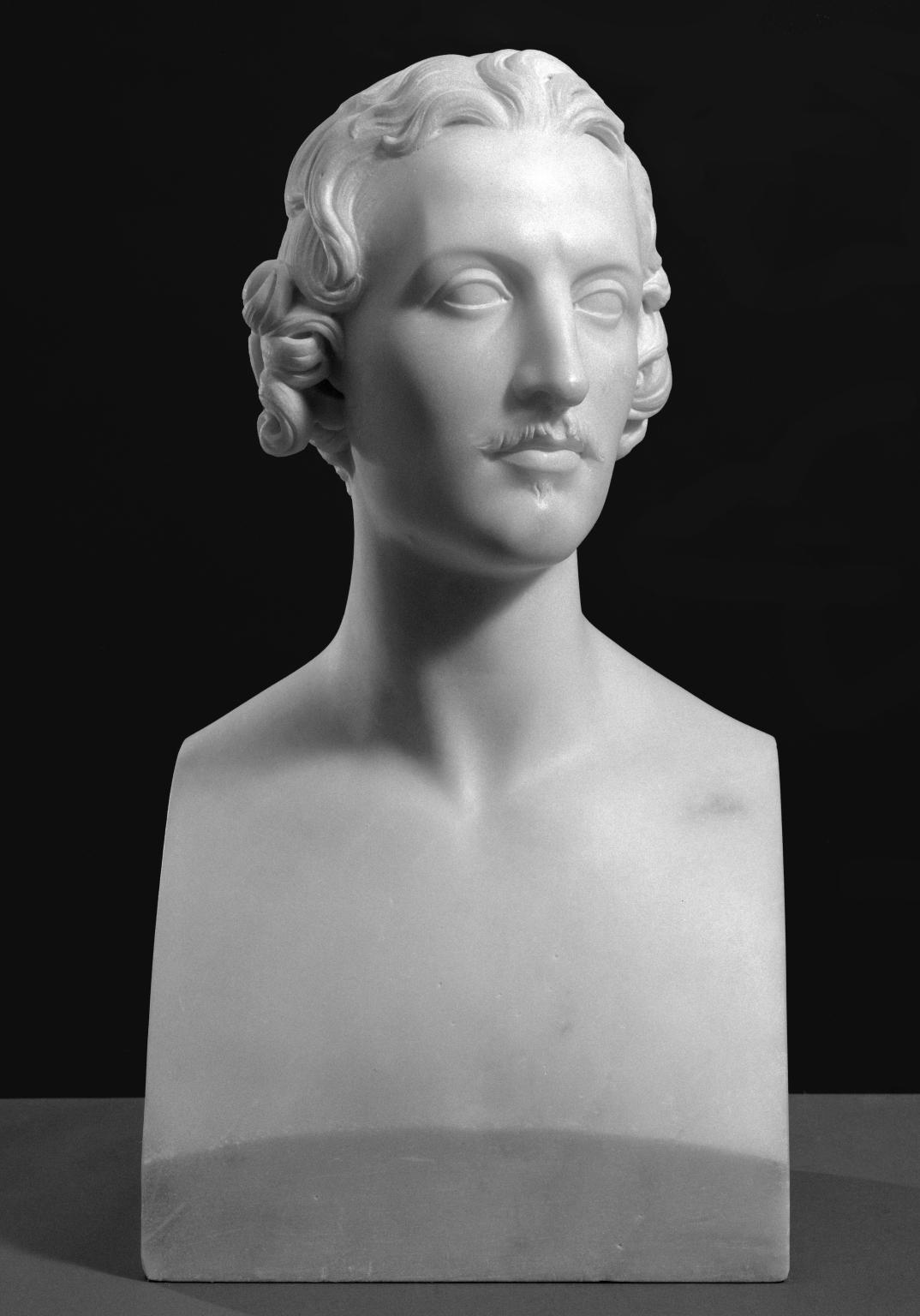 John Gibson

,

Bust of William Bewick

1827–53

This is a portrait of the British painter William Bewick (1795–1866), whom John Gibson met in Rome. During this period, many British and European artists visited or lived in Rome, where they studied classical and Renaissance art, and exchanged ideas. When Bewick visited Rome (from 1826–30), Gibson had already been there for ten years. This portrait's simplicity and harmonised features are typical of Gibson's neoclassical style. According to Bewick, the bust was begun 'not at all by my desire'. It was instead likely a token of friendship.

Gallery label, April 2023
16/28
artworks in Troubled Glamour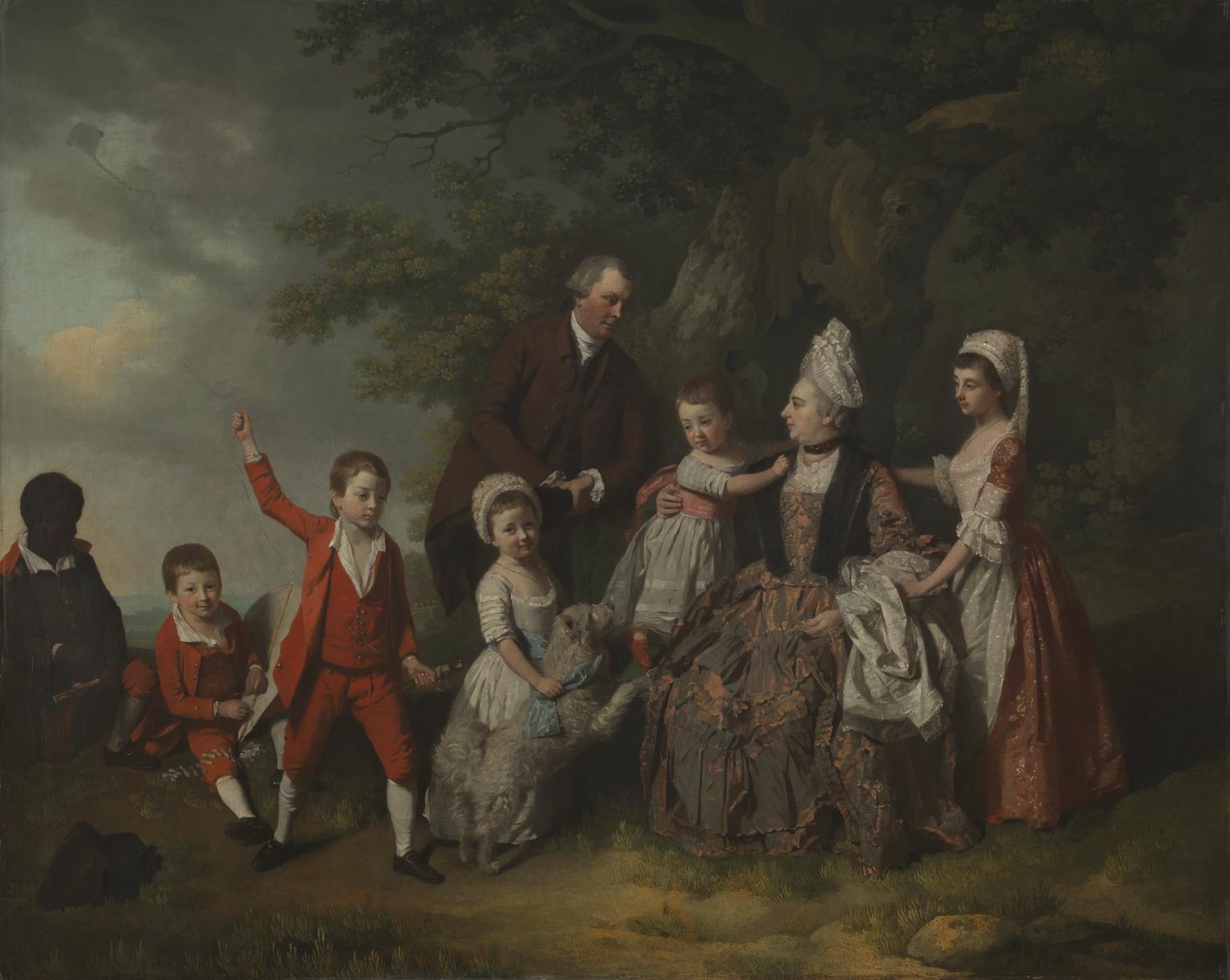 Francis Wheatley

,

A Family Group in a Landscape

c.1775

Very little is known about the family represented here. The picture gives the impression that they are unposed, spending time together outdoors. Their careful arrangement, however, conveys a sense of hierarchy. At the edge, is a young Black boy. While visually linked by the kite winder he holds and his red clothes, he is physically detached and shown in shadow. These elements may reflect the marginalised position of free and enslaved African domestic servants in Britain during the 18th century. Here, his inclusion is likely intended to signify the wealth and status of the family.

Gallery label, April 2023
17/28
artworks in Troubled Glamour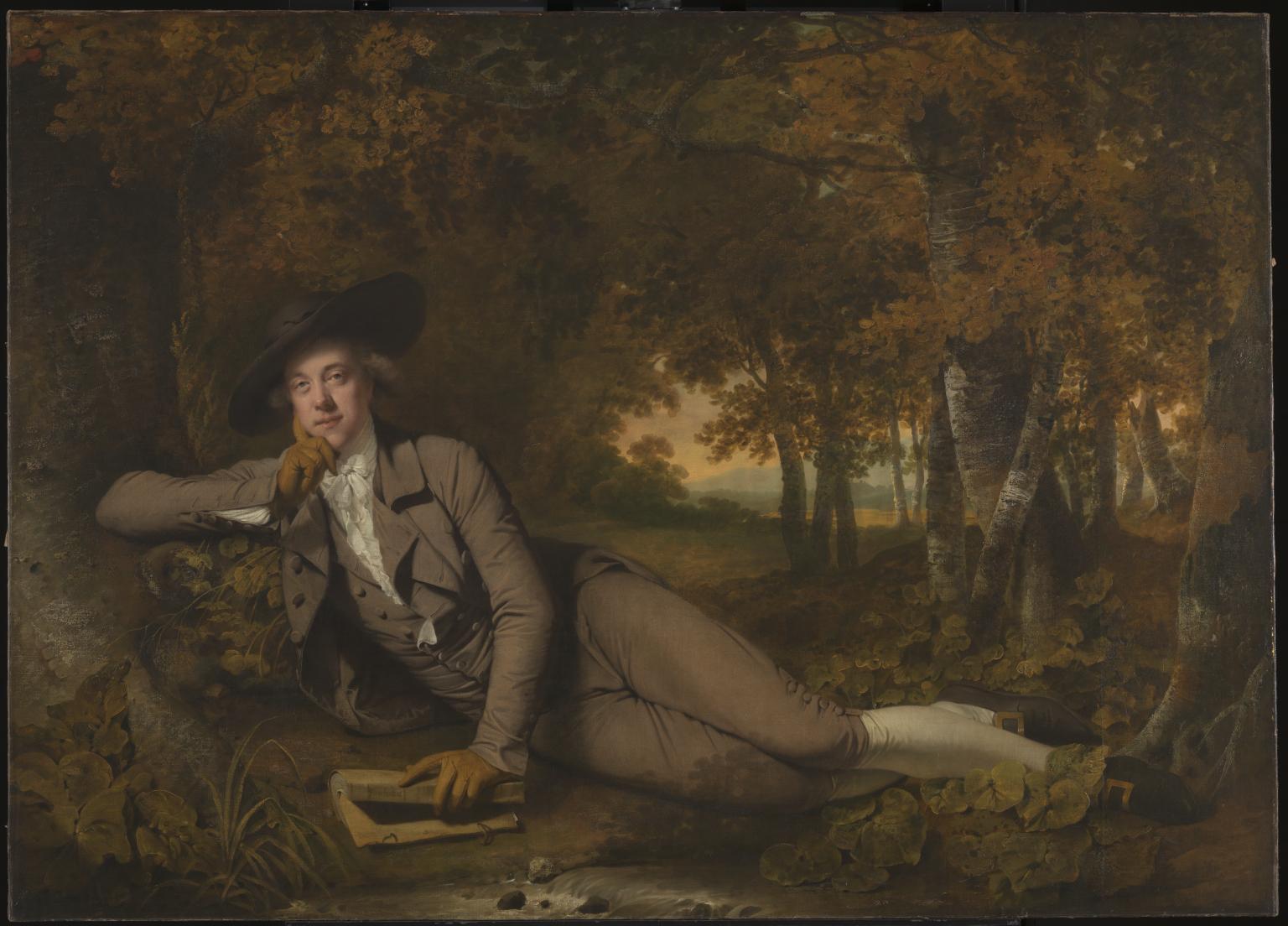 Joseph Wright of Derby

,

Sir Brooke Boothby

1781

Brooke Boothby was a Derbyshire landowner, and an amateur poet and philosopher. Wright depicts him fashionably dressed, reclining by a stream in woodland. His hand rests on a book, his forefinger pointing to the name 'Rousseau' on its spine. Boothby was very proud of his associations with the Swiss philosopher. He published the first volume of Jean-Jacques Rousseau's autobiographical Dialogues in 1780. Shown here deep in thought, this portrait expresses Boothby's sympathy with Rousseau's philosophies, especially the ideals of harmony with nature and solitary contemplation.

Gallery label, October 2020
18/28
artworks in Troubled Glamour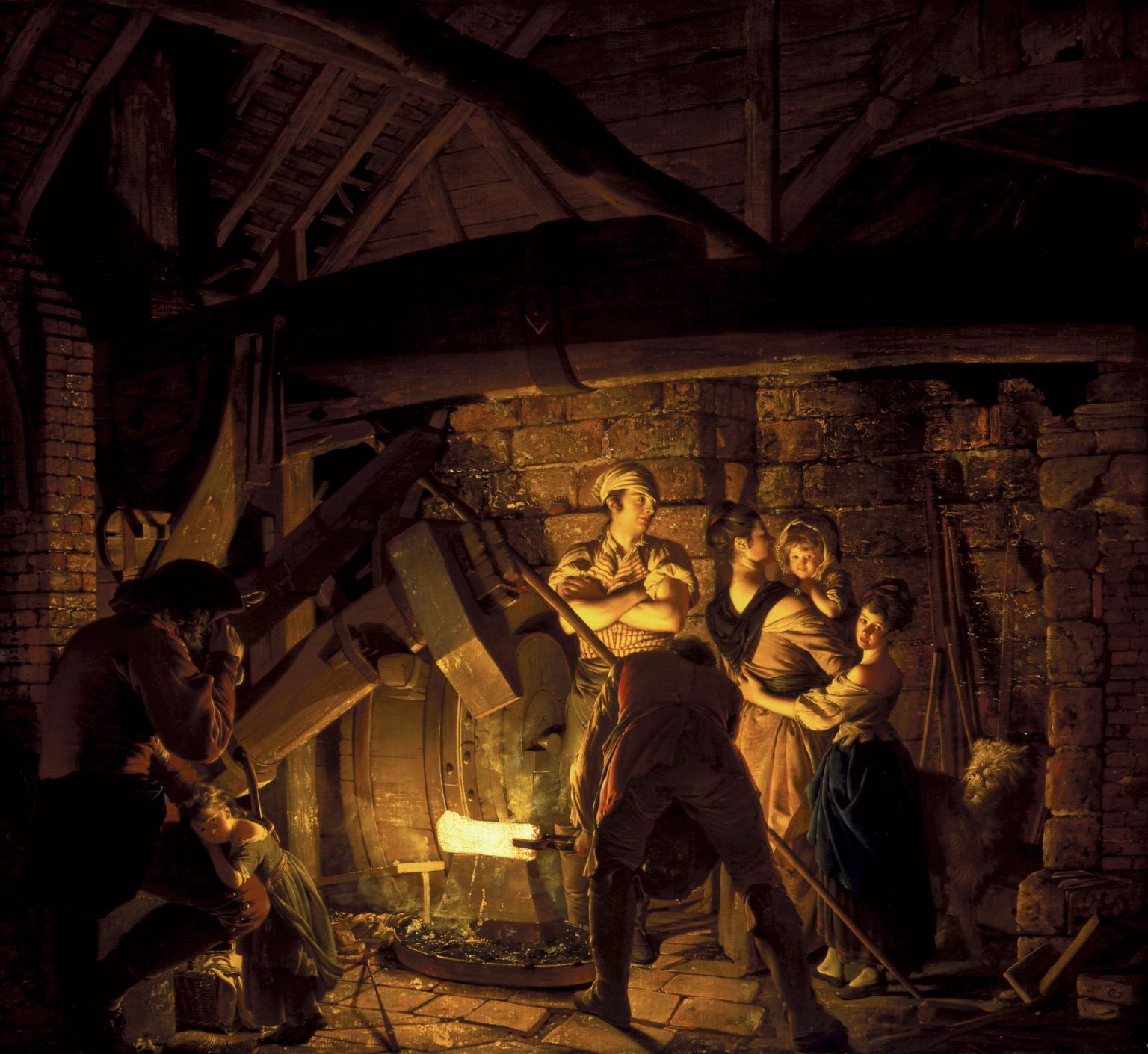 Joseph Wright of Derby

,

An Iron Forge

1772

The strong lighting lends drama and grandeur to this forge scene. While a worker labours over the white-hot iron, the overseer stands proudly with his family. This may express middle-class ideas about the dignity of 'honest labour'. It might also reflect the increasing value given to industrial labour as a source of Britain's wealth. Joseph Wright depicts the industry's gradual modernisation. During this period, iron manufacturing became ever more important in Britain's industrialisation and expanding Empire. Iron was used for machinery, transport, and to meet the growing Atlantic export market.

Gallery label, April 2023
19/28
artworks in Troubled Glamour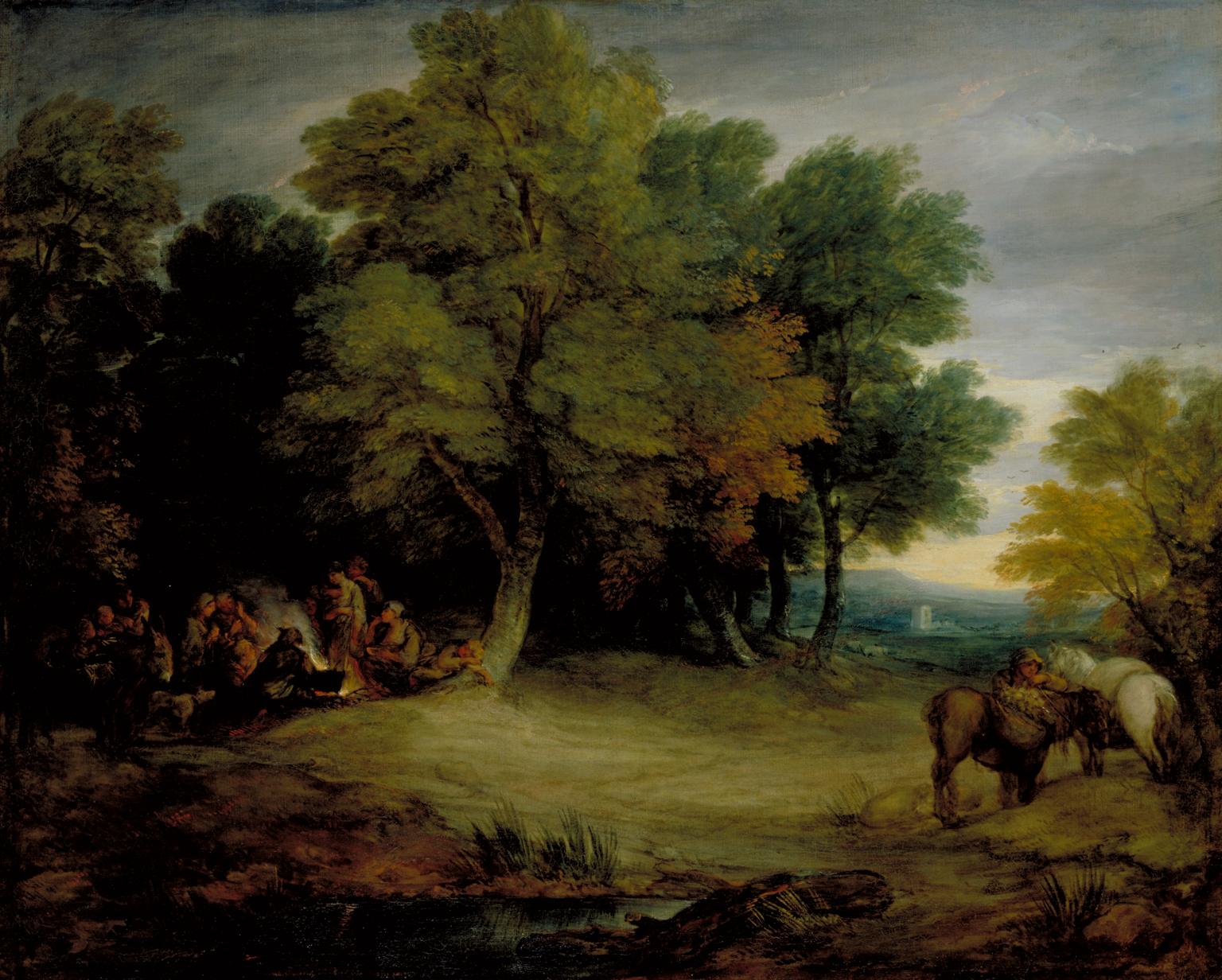 Thomas Gainsborough

,

Encampment at Sunset

c.1778–80

This atmospheric scene by Thomas Gainsborough seems to engage with ideas about the picturesque – an ideal landscape, characterised by its variety and wildness. The figures around the campfire have traditionally been identified as Travellers, a historically marginalised community. Gainsborough likely included them as a feature of the 'wild' landscape. Their placement at the edge of the clearing suggests their position on the fringes of 18th century society. For Gainsborough's contemporaries, their presence may have implied freedom from the metropolitan social order, or a challenge to the status quo.

Gallery label, April 2023
20/28
artworks in Troubled Glamour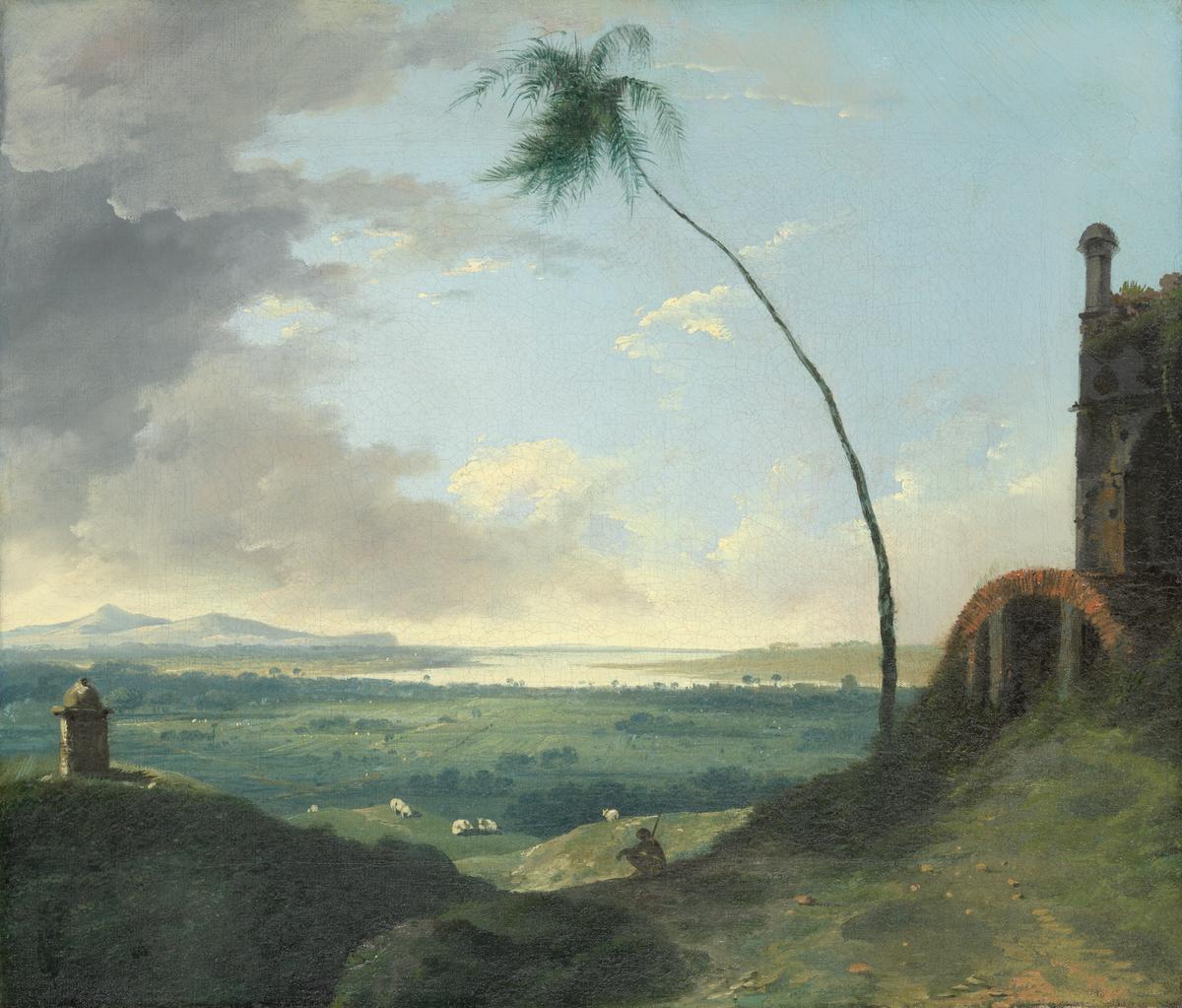 William Hodges

,

Tomb and Distant View of Rajmahal Hills

1782

William Hodges worked in India for six years, unusually receiving a salary from the East India Company. This landscape was probably painted while touring Bihar, a region he described as a 'perfect paradise'. He romanticises the Indian countryside, depicting the Ganges winding through the lush landscape. The lone shepherd, Mughal tomb and ruins allude to the classical theme of death even in paradise. This seems poignant, as the area had been devastated by a famine in 1770. Worsened by Company involvement, 30% of the Bengal-Bihar population had died.

Gallery label, April 2023
21/28
artworks in Troubled Glamour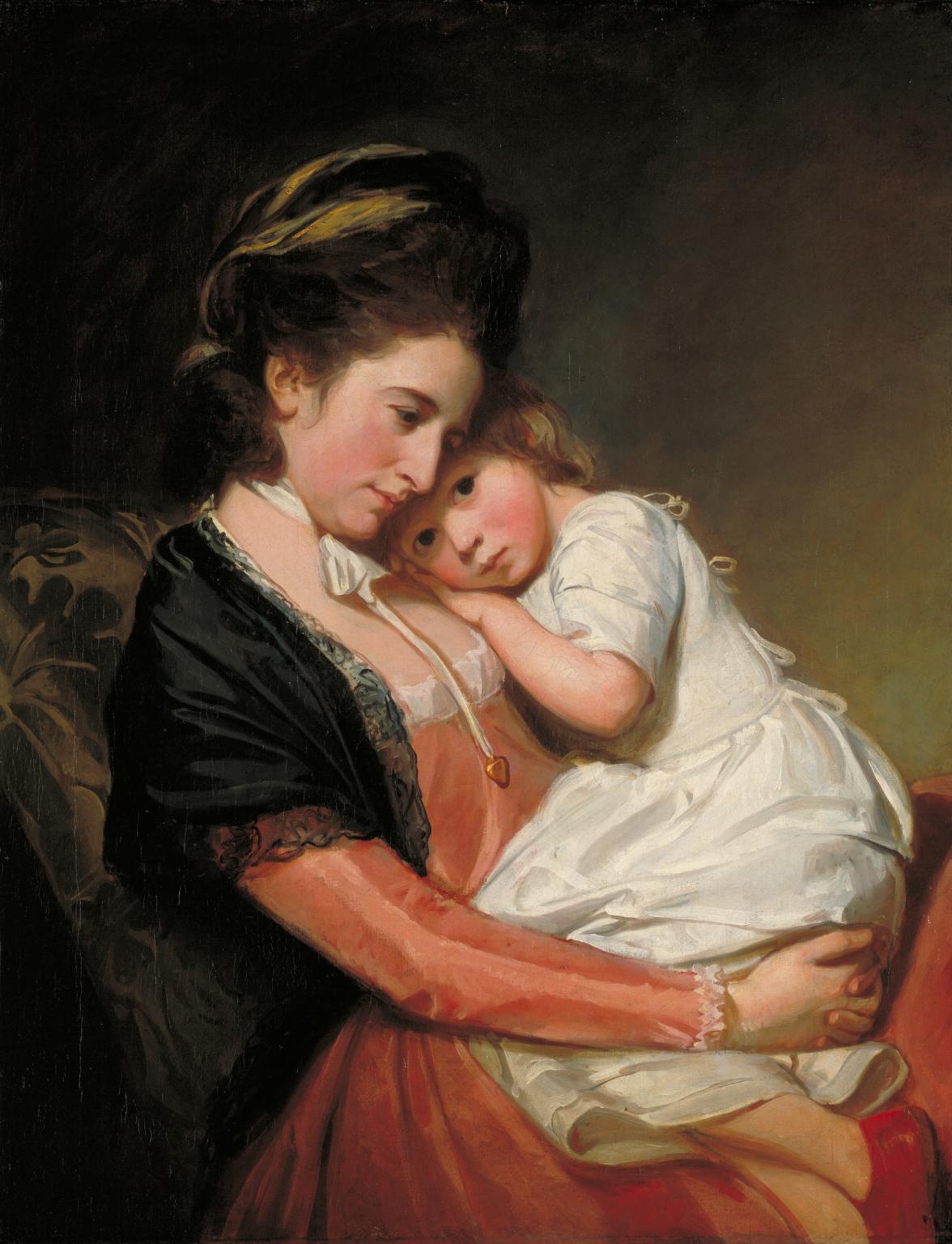 George Romney

,

Mrs Johnstone and her Son (?)

c.1775–80

This double portrait presents a tender image of maternal affection. However, the sitters' circumstances may have been less secure. While the title refers to 'Mrs Johnstone', it likely depicts Martha Ford and her youngest son, Alexander. Martha and George Johnstone, the colonial governor of West Florida, had a 15-year relationship from 1763. He is associated with a sugar plantation in Grenada and later became a director of the East India Company, where Alexander also later worked. The portrait was painted for George around the time that their relationship ended.

Gallery label, April 2023
22/28
artworks in Troubled Glamour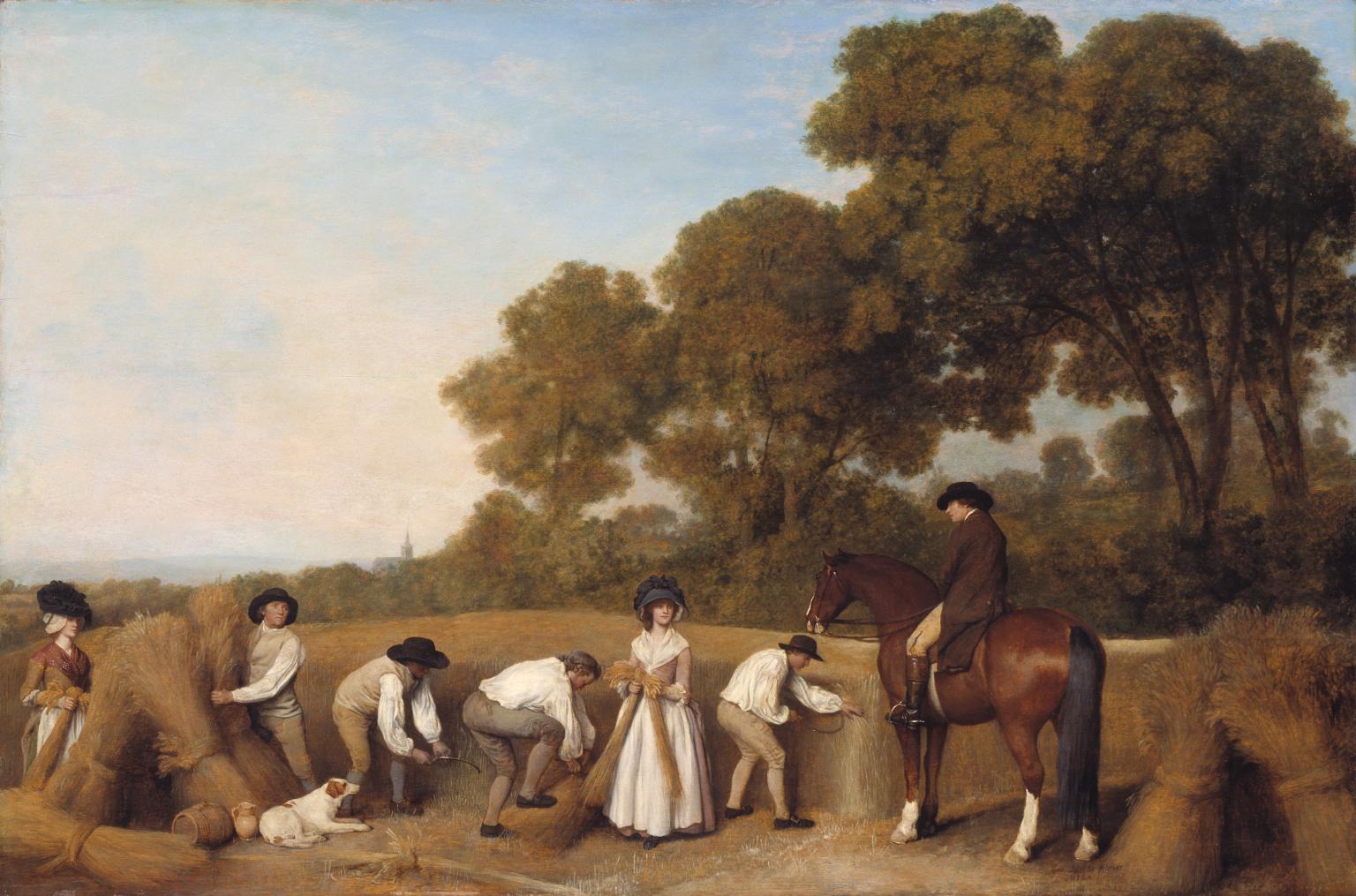 George Stubbs

,

Reapers

1785

This painting is a pair to Haymakers, showing labourers harvesting the crop. The rhythm of the working figures is broken by the farm manager on horseback. His raised position signals his authority and the social hierarchy. Agricultural efficiency was highly topical, as the growing, increasingly urban, population needed to be fed. The efficiency of the workforce contributed to the intensification in land and labour productivity. Whether the painting celebrates agricultural labour, or whether its idealism diminishes the individuality of the labourers is open to interpretation.

Gallery label, April 2023
23/28
artworks in Troubled Glamour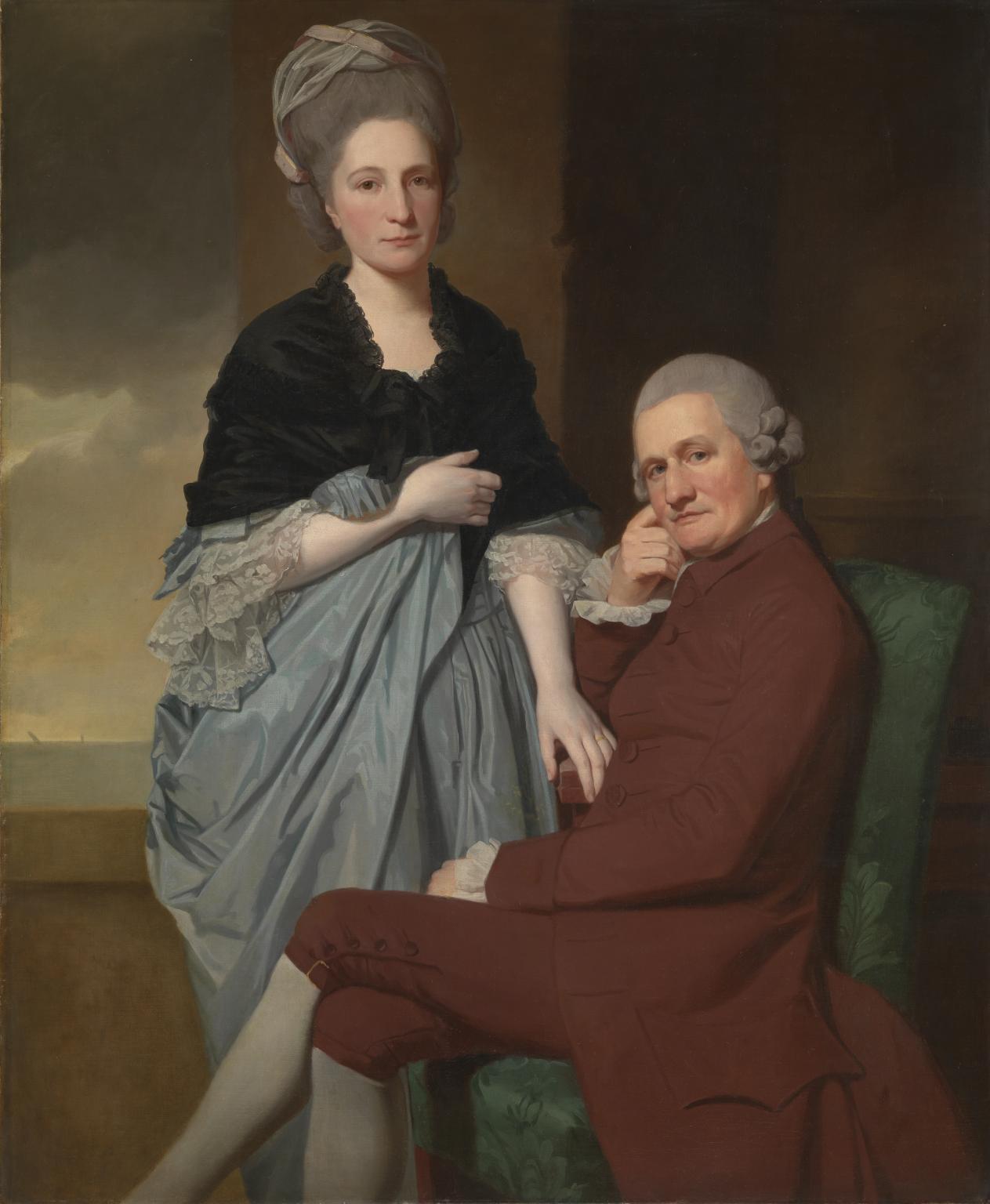 George Romney

,

Mr and Mrs William Lindow

1772

The recently married William and Abigail Lindow are shown at ease with one another. George Romney called this picture 'a Conversation', reflecting its domesticity and informality. Yet it also commemorates William's commercial interests – their marriage formalised his partnership in Abigail's father's shipping business. William was a prominent transatlantic merchant in Lancaster and participated in the trade of enslaved people. He owned sugar plantations in St Vincent and Grenada, both of which were maintained by forced labour. The source of their wealth is hinted at by the glimpse of the sea behind them.

Gallery label, April 2023
24/28
artworks in Troubled Glamour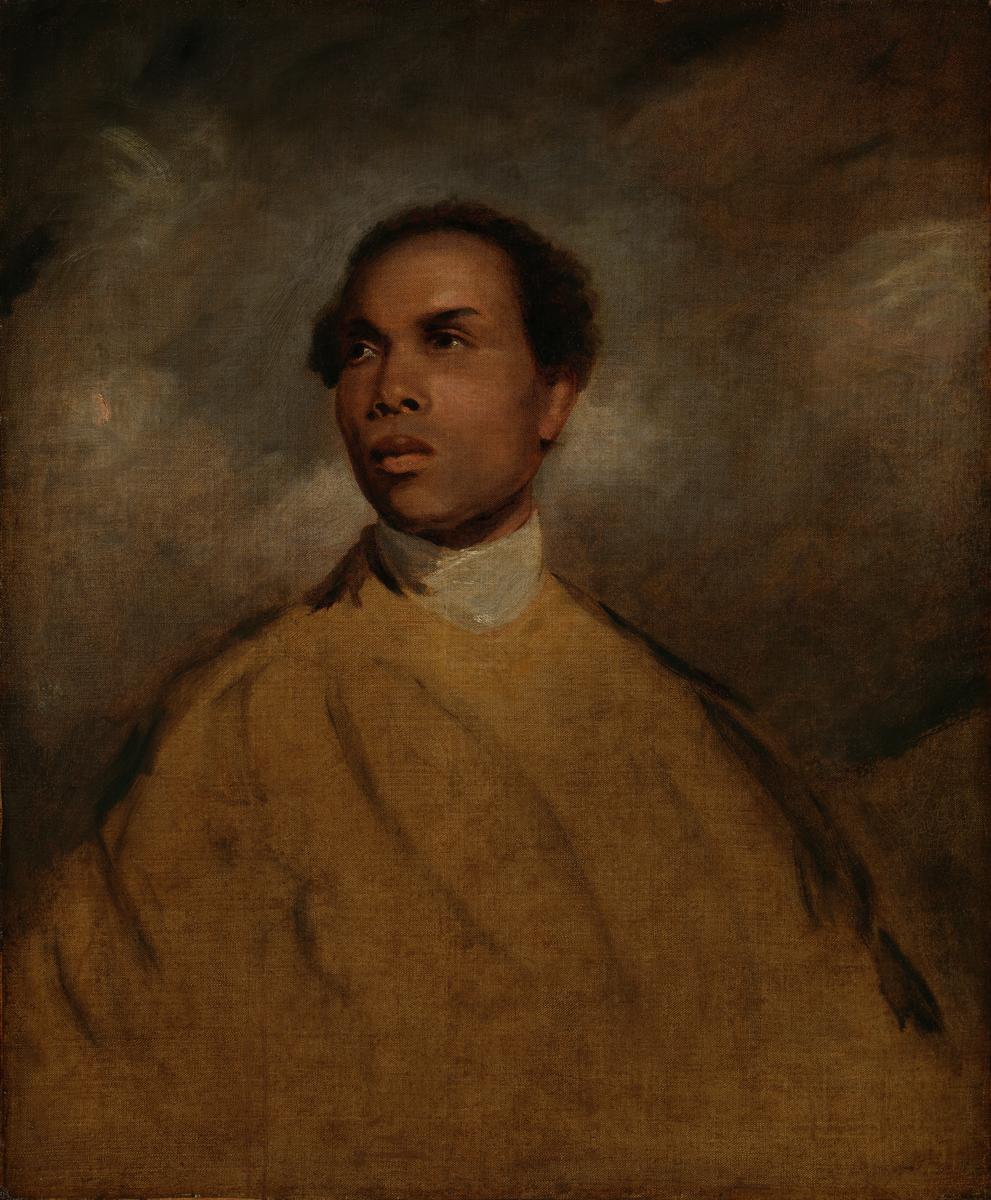 manner of Sir Joshua Reynolds

,

Portrait of a Man, probably Francis Barber

Date not known

This is a copy of an unfinished portrait by Joshua Reynolds. While not firmly identified, the sitter is understood to be Francis Barber (c.1742–1801). Barber was enslaved at birth in Jamaica by Colonel Richard Bathurst. He took him to England, where Barber was later freed. Barber spent many years assisting the writer Samuel Johnson (1709–1784), becoming Johnson's heir and a public figure himself. While Barber's contemplative gaze conveys his dignity, the many versions of this portrait may suggest that, as a Black man, he was treated as an artistic subject rather than as an individual.

Gallery label, April 2023
25/28
artworks in Troubled Glamour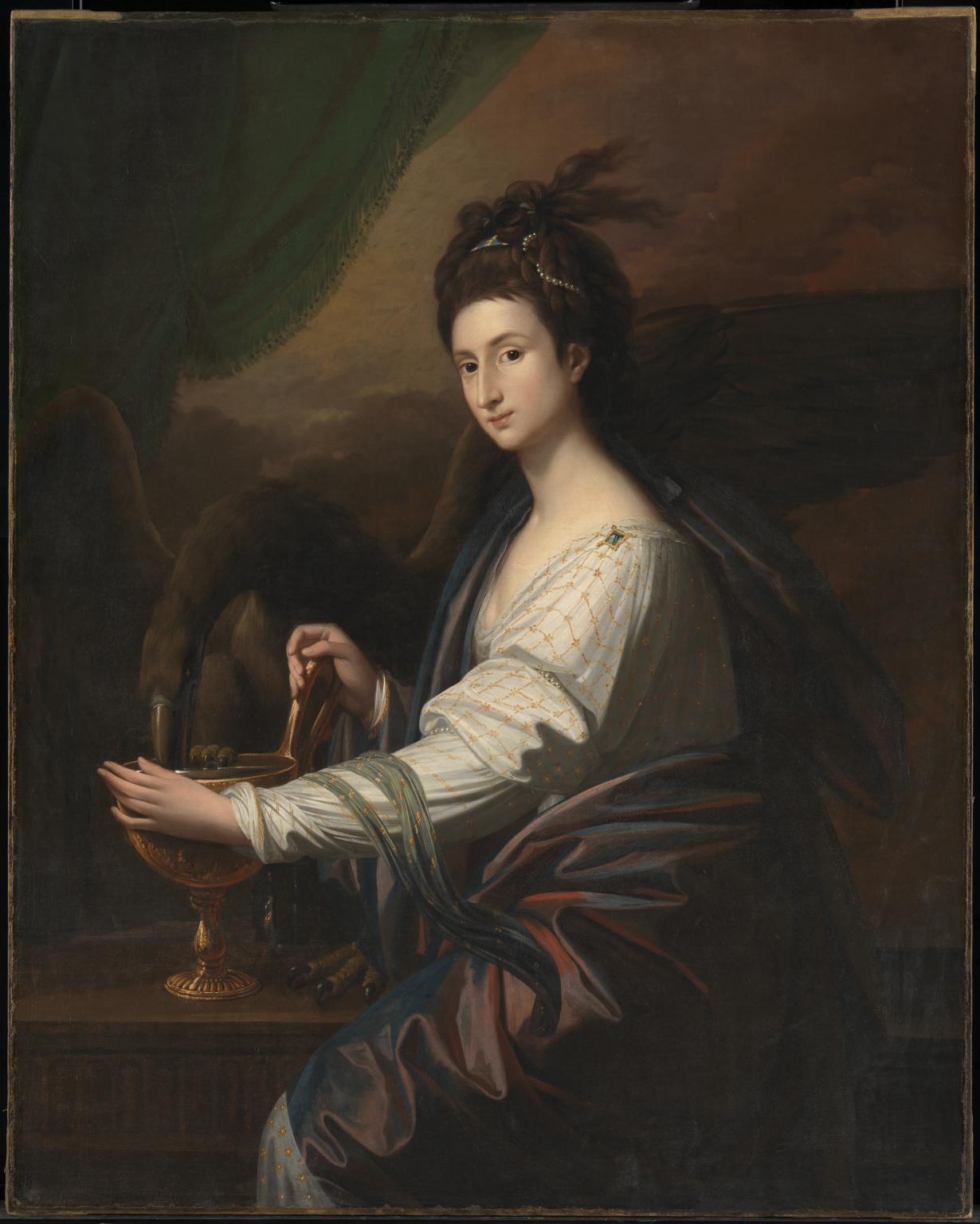 Benjamin West

,

Mrs Worrell as Hebe

c.1775–8

It was fashionable at this time for female sitters to be shown in character, particularly from classical mythology. Catherine Worrell is represented as Hebe, the Greek goddess of youth and beauty who was popular for her virtuousness. Benjamin West's restrained style of painting was much admired, and he charged accordingly high prices. Catherine's husband, Jonathan Worrell, commissioned this painting. His wealth came from owning a Barbados plantation that used the labour of enslaved Africans. In the 1760s, Worrell moved from Barbados to England, buying property in Surrey and land in Canada.

Gallery label, April 2023
26/28
artworks in Troubled Glamour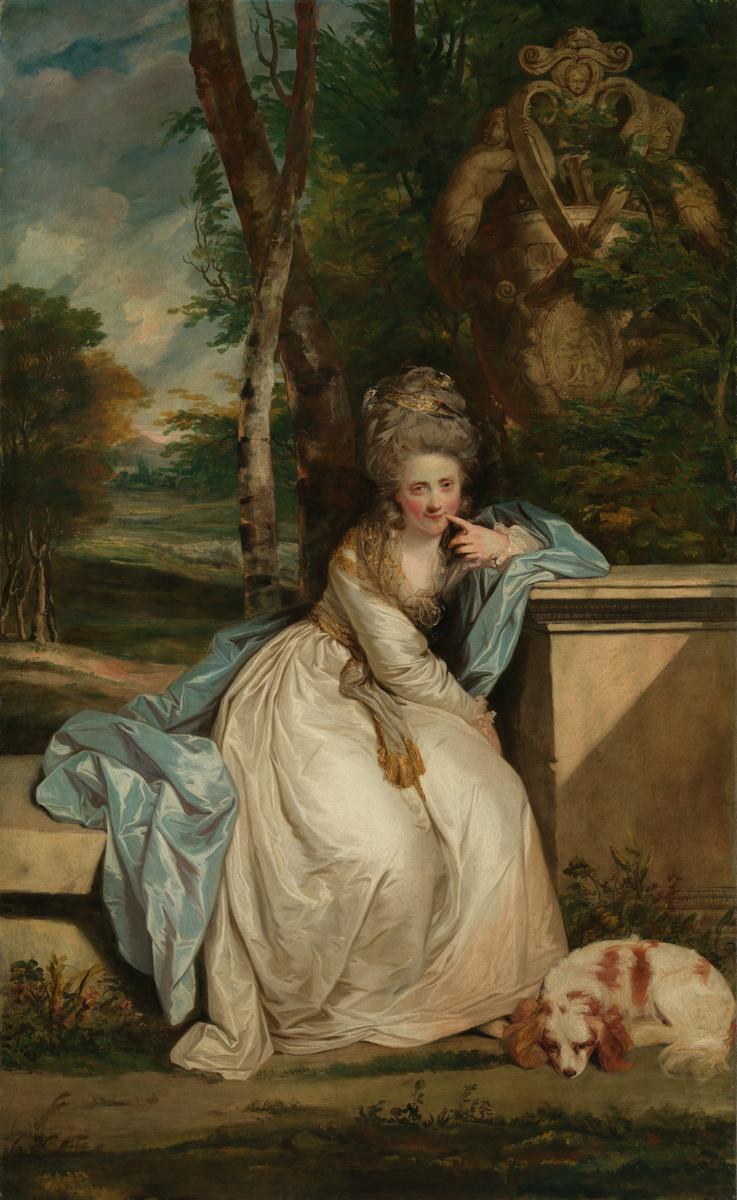 Sir Joshua Reynolds

,

The Hon. Miss Monckton

1777–8

The Honourable Mary Monckton (1746–1840) was an eminent and charismatic literary hostess. Celebrities including the Prince Regent, poet Lord Byron and actress Sarah Siddons attended her social gatherings. Monckton was known to welcome her guests while seated, which Reynolds echoes in this painting. He paints her aged 29 and dressed fashionably. The elaborately carved urn to her left indicates she is in the grounds of a landed estate. These vast plots of land were available for leisure typically to those of a high rank and social status.

Gallery label, April 2023
27/28
artworks in Troubled Glamour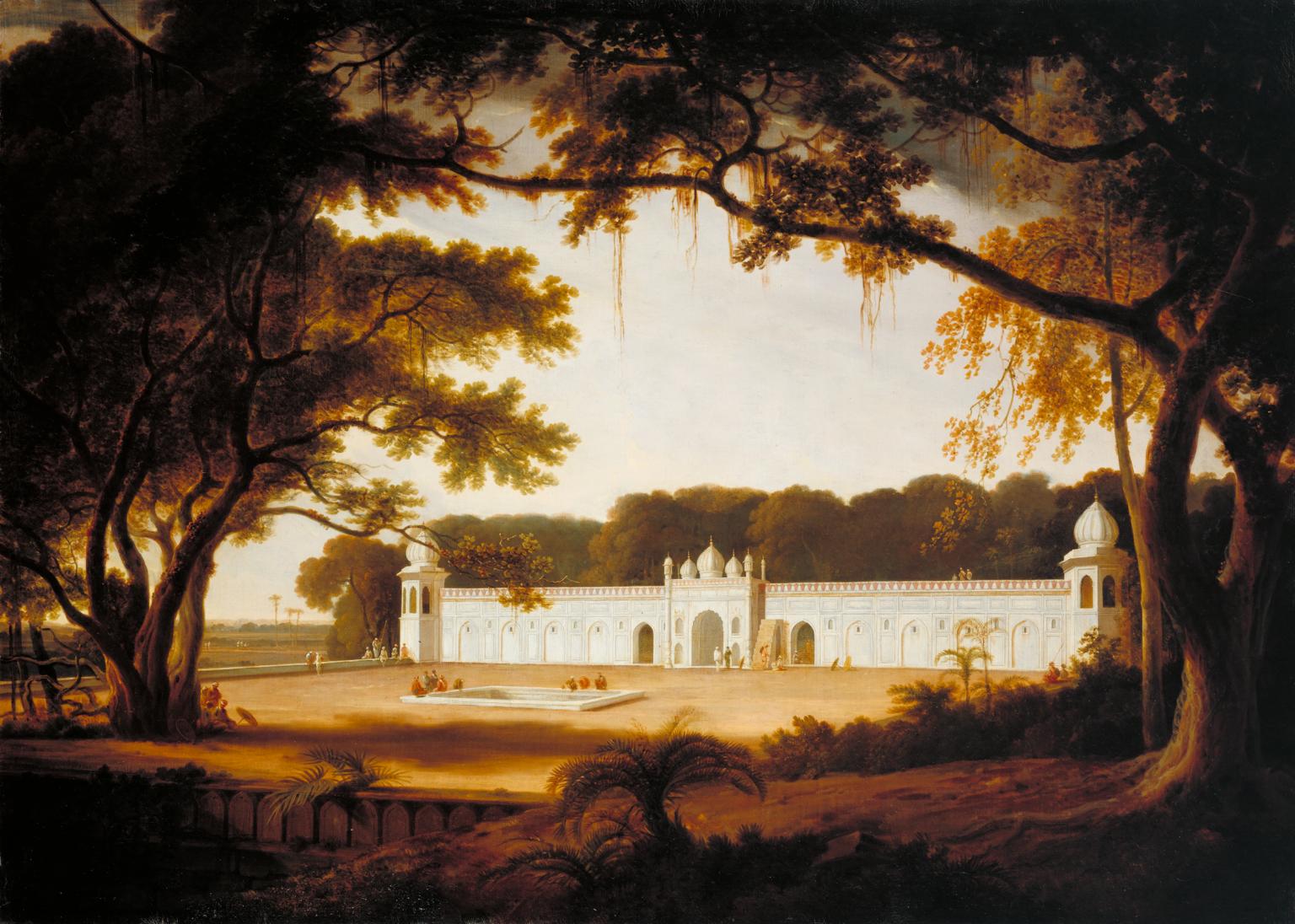 Thomas Daniell

,

Idgah at Amroha

1810

Amroha lies to the east of Delhi in the north of India. While travelling through the country, Thomas Daniell visited this idgah, an enclosure where prayers are held during Muslim festivals. Daniell's composition presents the Indian landscape according to European artistic traditions. This made a foreign landscape familiar and appealing to British eyes. It is a picturesque scene, an ideal type of landscape. Trees on either side of the building create a sense of balance. The shadows in the foreground and bright daylight in the middle ground bring attention to Daniell's focal point, the idgah.

Gallery label, April 2023
28/28
artworks in Troubled Glamour
Art in this room
Sorry, no image available
Keith Piper
Running Away: An Escapee's Guide to Navigation
2007
Sorry, no image available
Keith Piper
Working Methodologies for Smashing and Burning
2007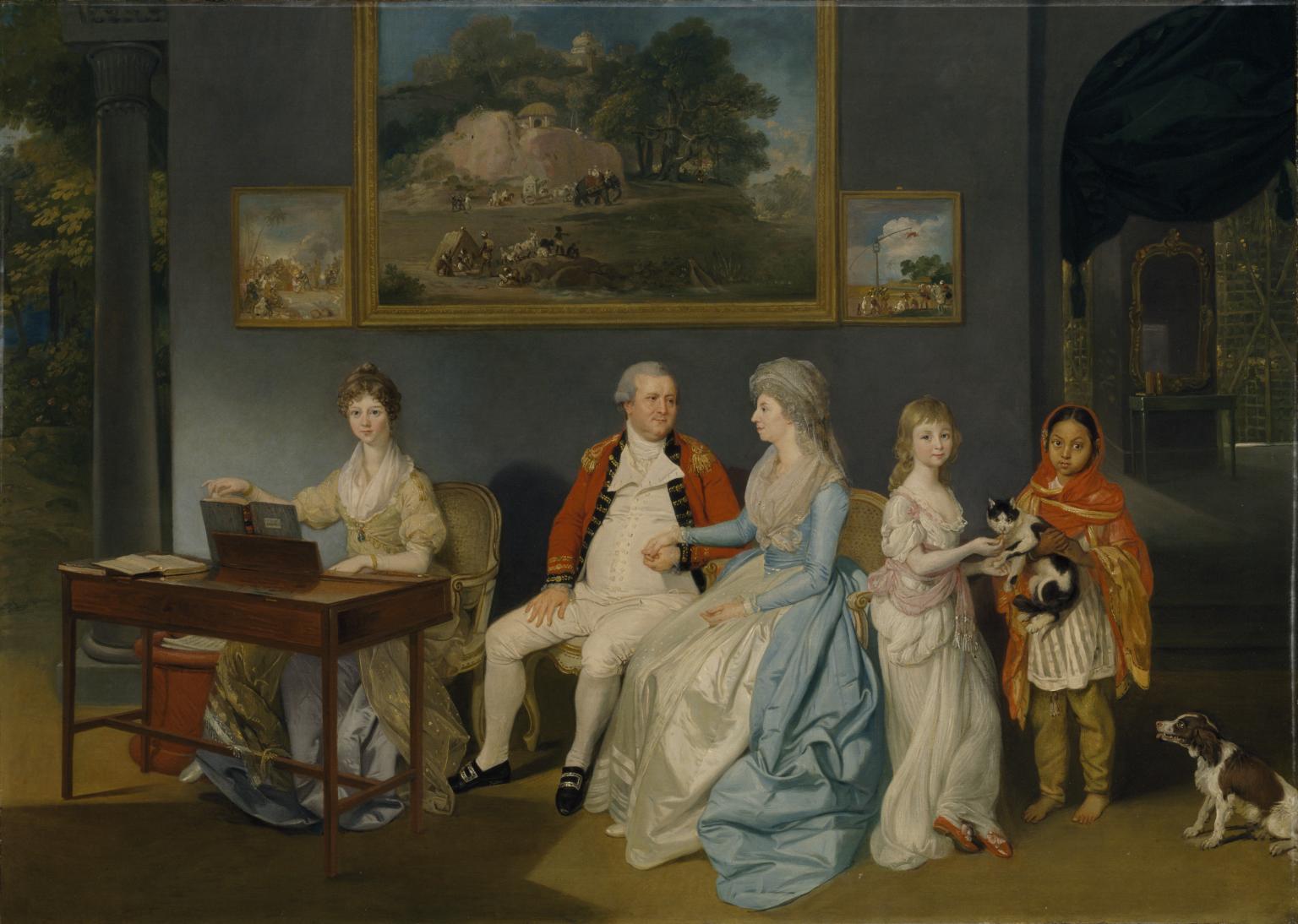 Johan Zoffany
Colonel Blair with his Family and an Indian Ayah
1786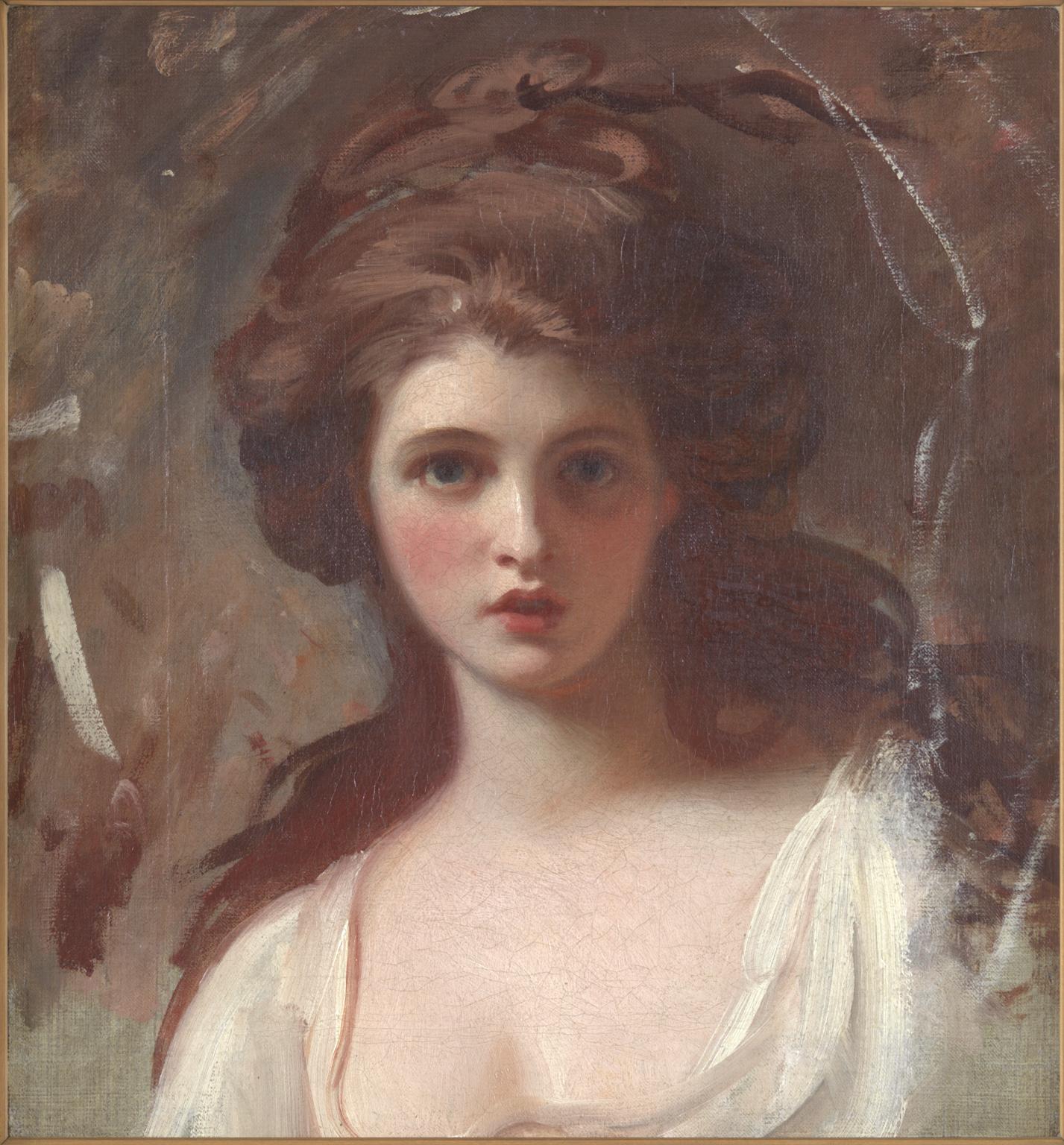 George Romney
Emma Hart as Circe
c.1782
Sorry, no image available
Joseph Wright of Derby
Three Children of Richard Arkwright with a Goat
1791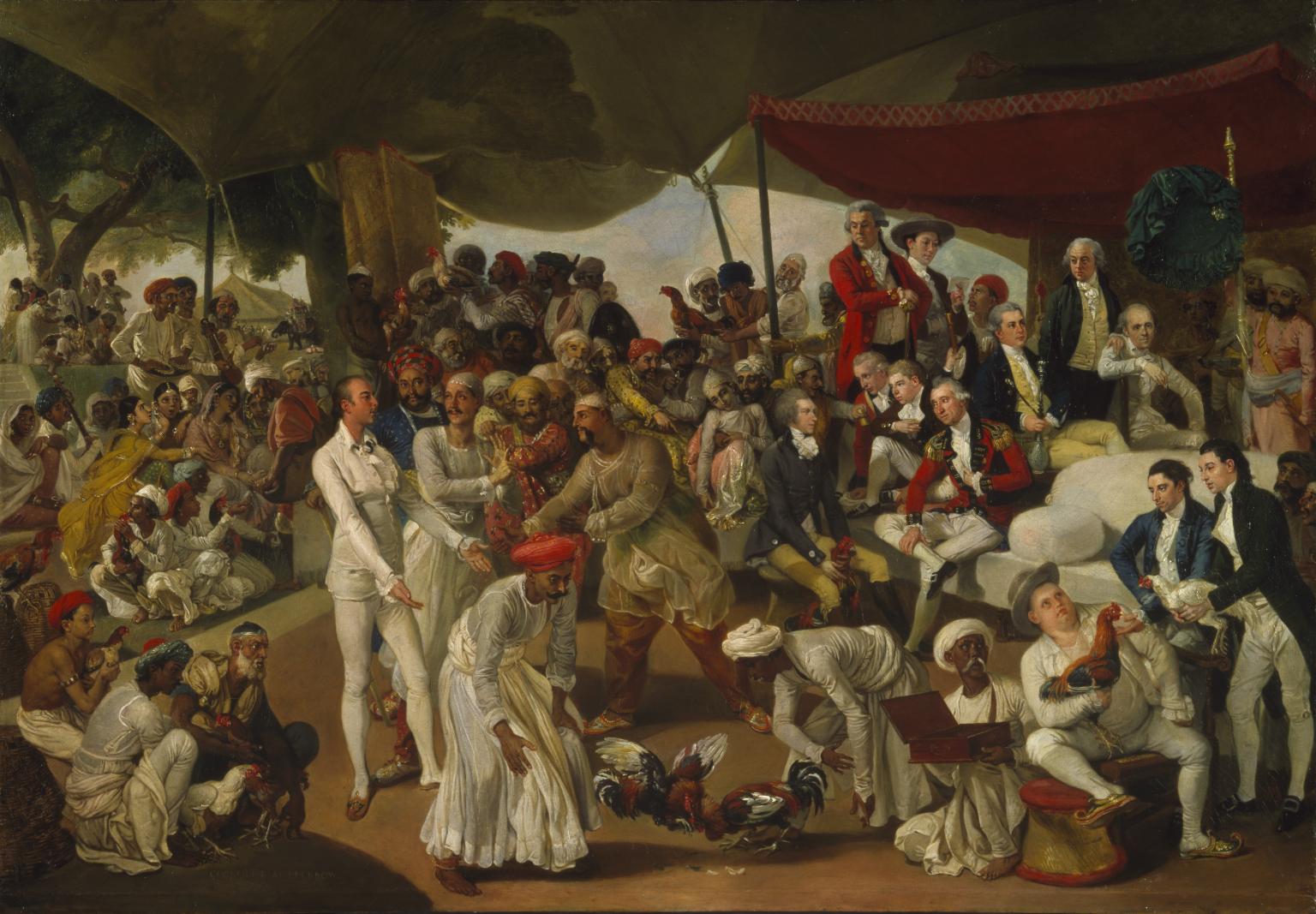 Johan Zoffany
Colonel Mordaunt's Cock Match
c.1784–6
You've viewed 6/28 artworks
You've viewed 28/28 artworks