17 rooms in Historic and Early Modern British Art
These are tumultuous times. Wars and revolutions, technology and trade transform lives across the globe. The art in this room reveals the different ways artists grapple with this turbulence
A series of revolutions, conflicts and political unrest send shockwaves around an increasingly interconnected world. The American Revolution (1775–1783) overthrows British rule there, leading Britain to refocus its colonial interests on the Caribbean, India, Australia and West Africa. The French Revolution (1789) replaces the monarchy with a new republic. It becomes a touchstone for political protest, sparking radical new thinking about freedom and equality across Europe and beyond. These ideas play a vital role in liberatory movements by enslaved people in the Caribbean, including the Haitian Revolution (1791–1804). It also influences the later international campaign to abolish slavery.
Britain and France are locked in a global war throughout this time, culminating in the Battle of Waterloo in 1815. Britain's victory consolidates its global position, but comes at a high price as taxes, poverty and unemployment rise. This situation fuels class conflict as people increasingly demand better working conditions and political representation. Frustrations reach a peak in 1831, as uprisings break out across the country.
Art in Britain is also undergoing a revolution. Artists respond to the turbulence and instability around them by exploring a wide variety of styles and subjects, as seen in this room. Some address current affairs directly, painting dramatic battle scenes or portraits of revolutionary thinkers. Others create nostalgic visions of Britain amid the turmoil. Still other artists respond imaginatively and emotionally, expressing the Romantic sentiment which has swept Europe. Their images of the supernatural and sublime evoke feelings of terror and awe, expressing a new confrontational spirit.
Sorry, no image available
Charles Jameson Grant

,

The Five Plagues of the Country (The Political Drama No.19)

c.1833
1/27
artworks in Revolution and Reform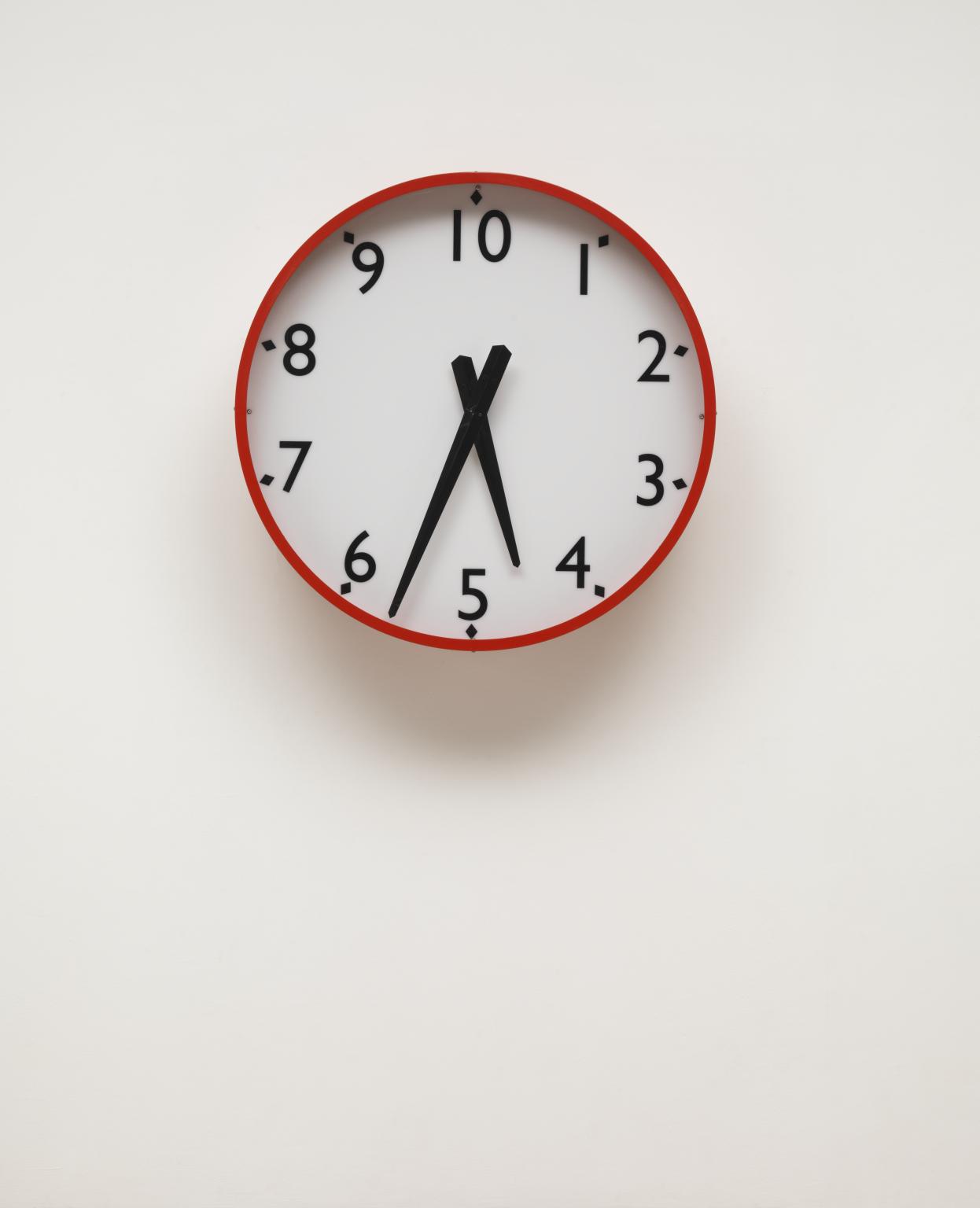 Ruth Ewan

,

We could have been anything that we wanted to be (red version)

2011

Ruth Ewan's decimal clock divides each day into ten hours, each hour into 100 minutes and each minute into 100 seconds. Historically, the re-ordering of time is an expression of revolutionary optimism. Ewan refers to the attempt to recalibrate the day along decimal lines during the French Revolution. On 5 October 1793, the decimal French Republican Calendar became the official calendar of France. During the Paris Commune in 1871, the clocks were shot at to symbolically put an end to the time of rulers. For Ewan, time marks a place without defining an object. It is a space in which normal society can be subverted.

Gallery label, August 2020
2/27
artworks in Revolution and Reform
Sorry, no image available
Charles Jameson Grant

,

John Bull and the Vultures. A Promethean Travestie

1842
3/27
artworks in Revolution and Reform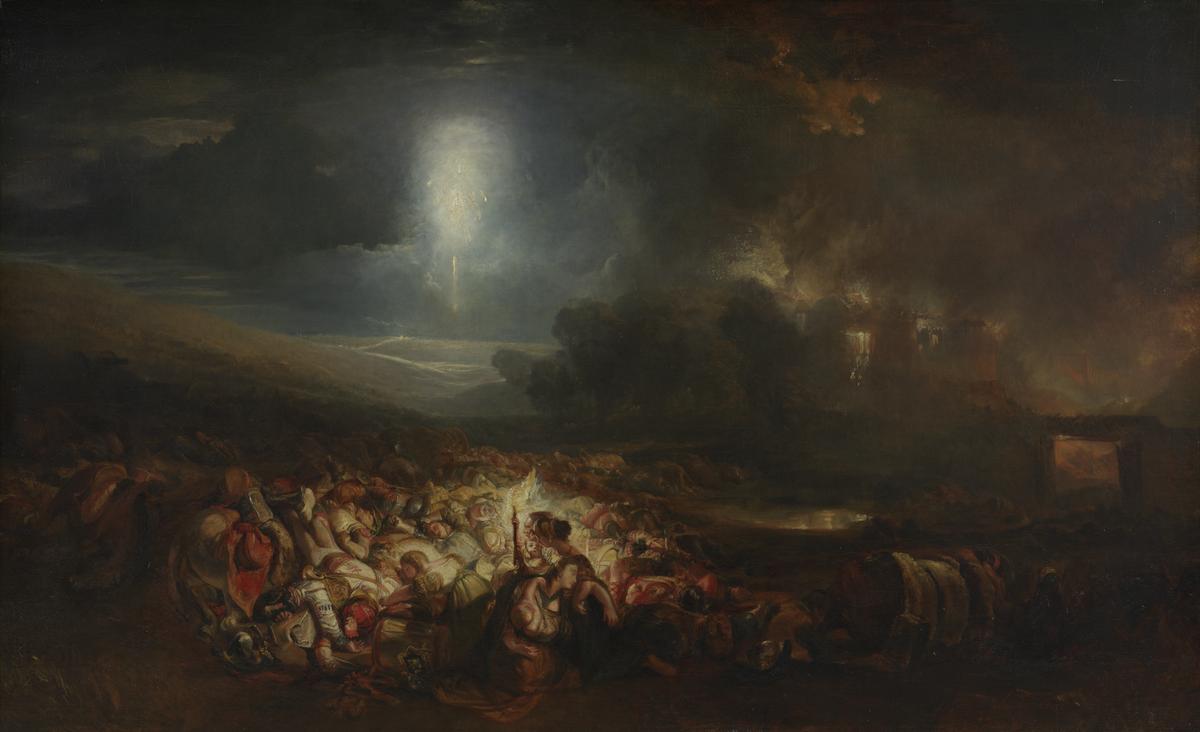 Joseph Mallord William Turner

,

The Field of Waterloo

exhibited 1818

The dramatic lighting in this picture highlights the dead bodies piled below. JMW Turner shows the aftermath of the Battle of Waterloo (1815), which ended more than a decade of conflict between Britain and France. He had visited the site in 1817, making numerous sketches. Turner emphasises war's tragic consequences for all victims, regardless of their nationality or rank. Pictures of battles were expected to be patriotic, but Turner shows 'friend, foe, in one red burial blent'. This quote from Lord Byron's poem Childe Harold's Pilgrimage was displayed alongside the painting when it was first exhibited.

Gallery label, May 2023
4/27
artworks in Revolution and Reform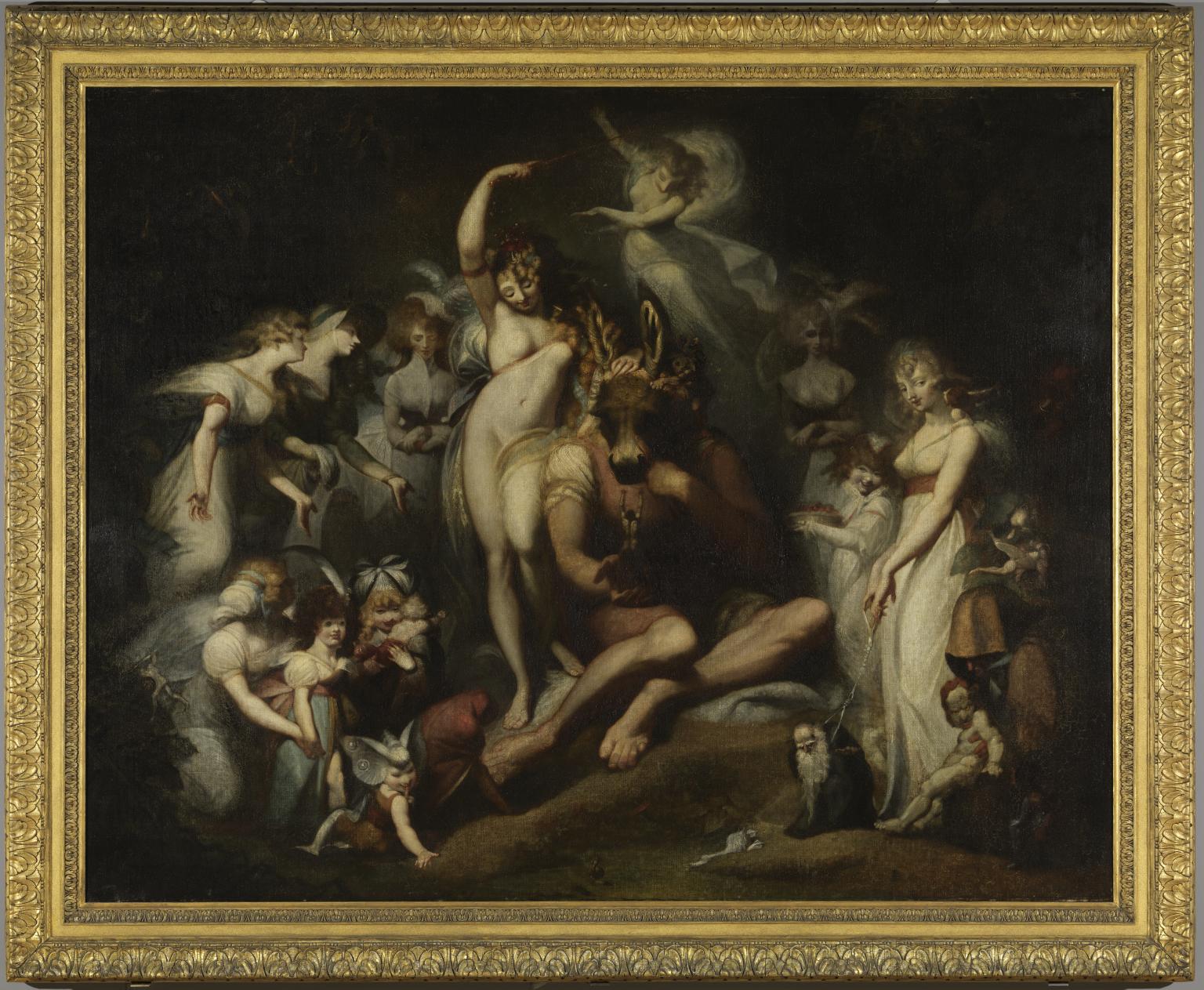 Henry Fuseli

,

Titania and Bottom

c.1790

This monumental painting shows a scene from Shakespeare's A Midsummer Night's Dream. A spell is cast on Titania, the queen of the fairies, making her fall in love with Bottom, whose head has been transformed into a donkey's. Henry Fuseli imaginatively fills the picture with fairies and fantastical creatures. The painting was one of the stars of the Shakespeare Gallery in London, which opened in 1789. The gallery helped define a school of painting in Britain which valued artistic individuality and variety. The originality of Fuseli's art was seen as a sign of his genius.

Gallery label, May 2023
5/27
artworks in Revolution and Reform
Samuel Palmer

,

Coming from Evening Church

1830

Samuel Palmer was living in Shoreham, Kent – an area he described as the 'Valley of Vision' – when he made this painting. He presents an idyllic, mystical vision of rural life. Palmer depicts a 'traditional' rural community in harmony and guided by religion. He even uses an egg tempera technique inspired by early panel paintings to make the scene feel archaic. Yet, Palmer's time in Shoreham coincided with the eruption of the 'Swing Riots' throughout the countryside. In Kent, agricultural workers protested against new farming methods and harsh conditions, burning haystacks and smashing machinery.

Gallery label, May 2023
6/27
artworks in Revolution and Reform
Sorry, no image available
Charles Jameson Grant

,

John Bull, Or an Englishman's Fireside! (The Political Drama No.4)

c.1833
7/27
artworks in Revolution and Reform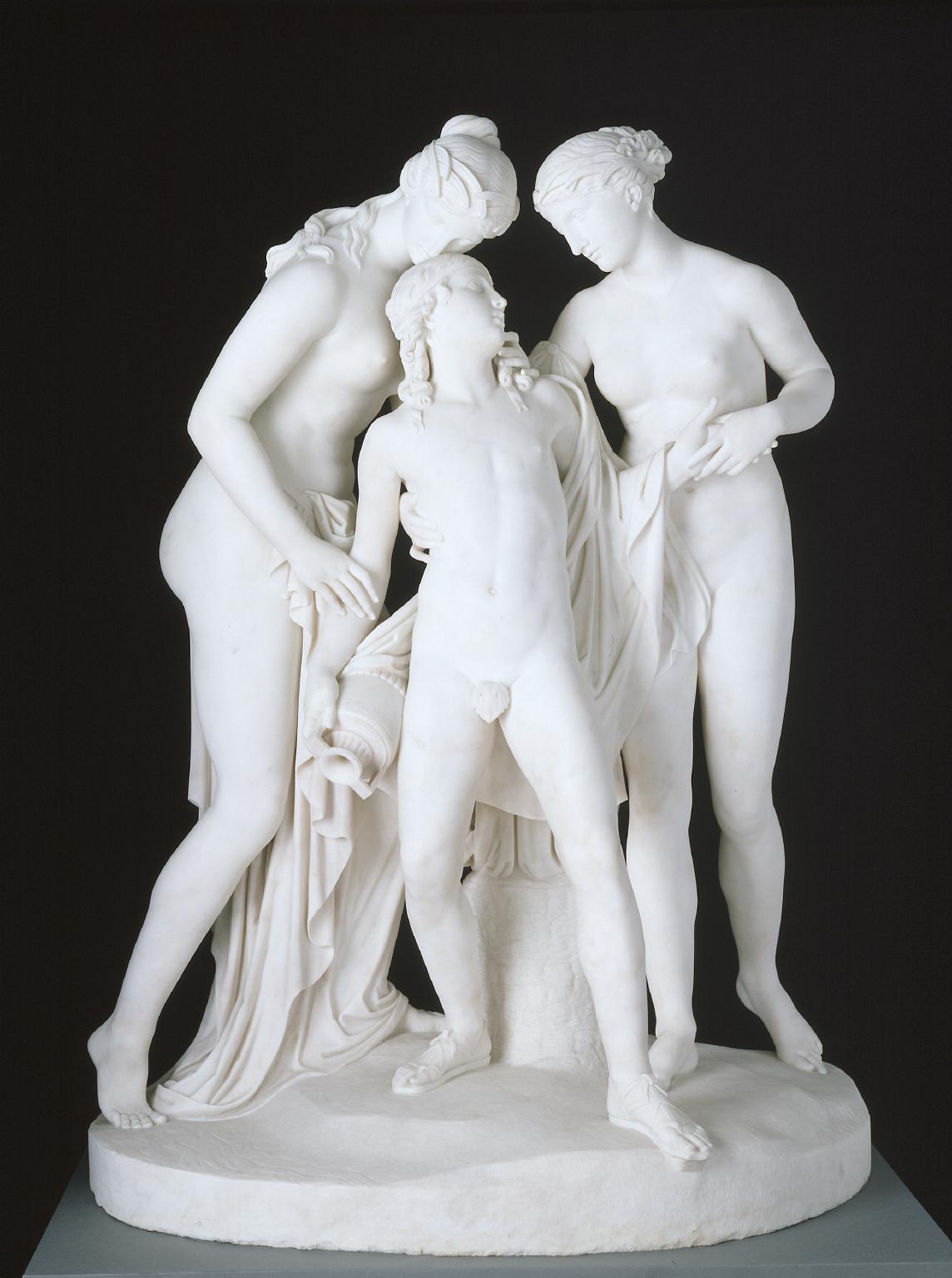 John Gibson

,

Hylas Surprised by the Naiades

1827–?36, exhibited 1837

The Greek myth of Hylas – the young companion of the demi-god Hercules – was popular with artists during this period. When out fetching water Hylas is noticed by water-nymphs, who are so overwhelmed by desire that they abduct him. John Gibson portrays this dramatic moment. He shows Hylas's surprise, almost dropping his pitcher (which is inscribed 'Beautiful Hylas' in Greek). Gibson was inspired by the 'ideal beauty' of classical sculpture. Not everyone admired his style though – the sculptor Richard Westmacott, said Gibson 'confined himself to repeating the traditions of a bygone age'.

Gallery label, May 2023
8/27
artworks in Revolution and Reform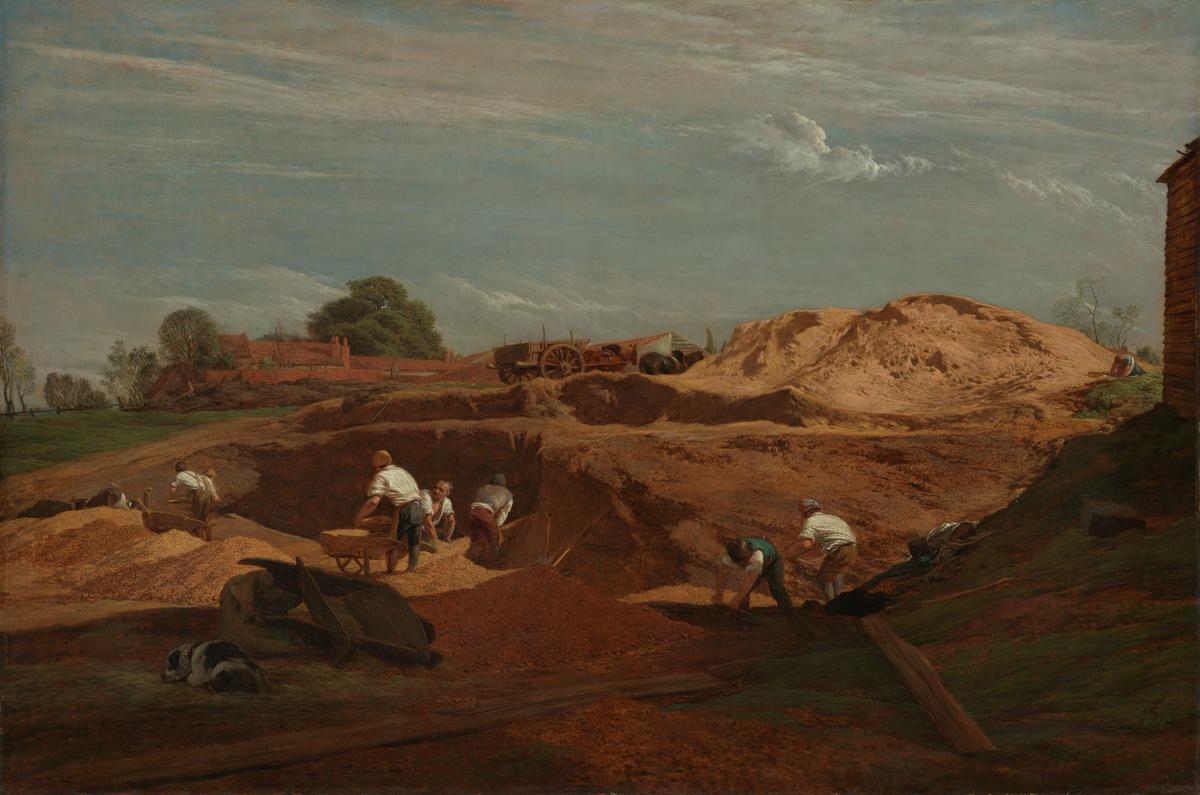 John Linnell

,

Kensington Gravel Pits

1811–2

John Linnell shared a house at Kensington Gravel Pits, London, with the painter William Mulready from 1809 to 1811. Named after its quarries, this area was part of London's rural hinterland, supplying the city's building trade. The area was home to many labourers and, increasingly, artists. Linnell made detailed outdoor watercolour studies of the quarries and workers for this picture. Rather than painting a picturesque scene, Linnell shows labouring men in a startlingly naturalistic working landscape. He clearly valued labour and would refer to his own painting practice as his 'trade'.

Gallery label, May 2023
9/27
artworks in Revolution and Reform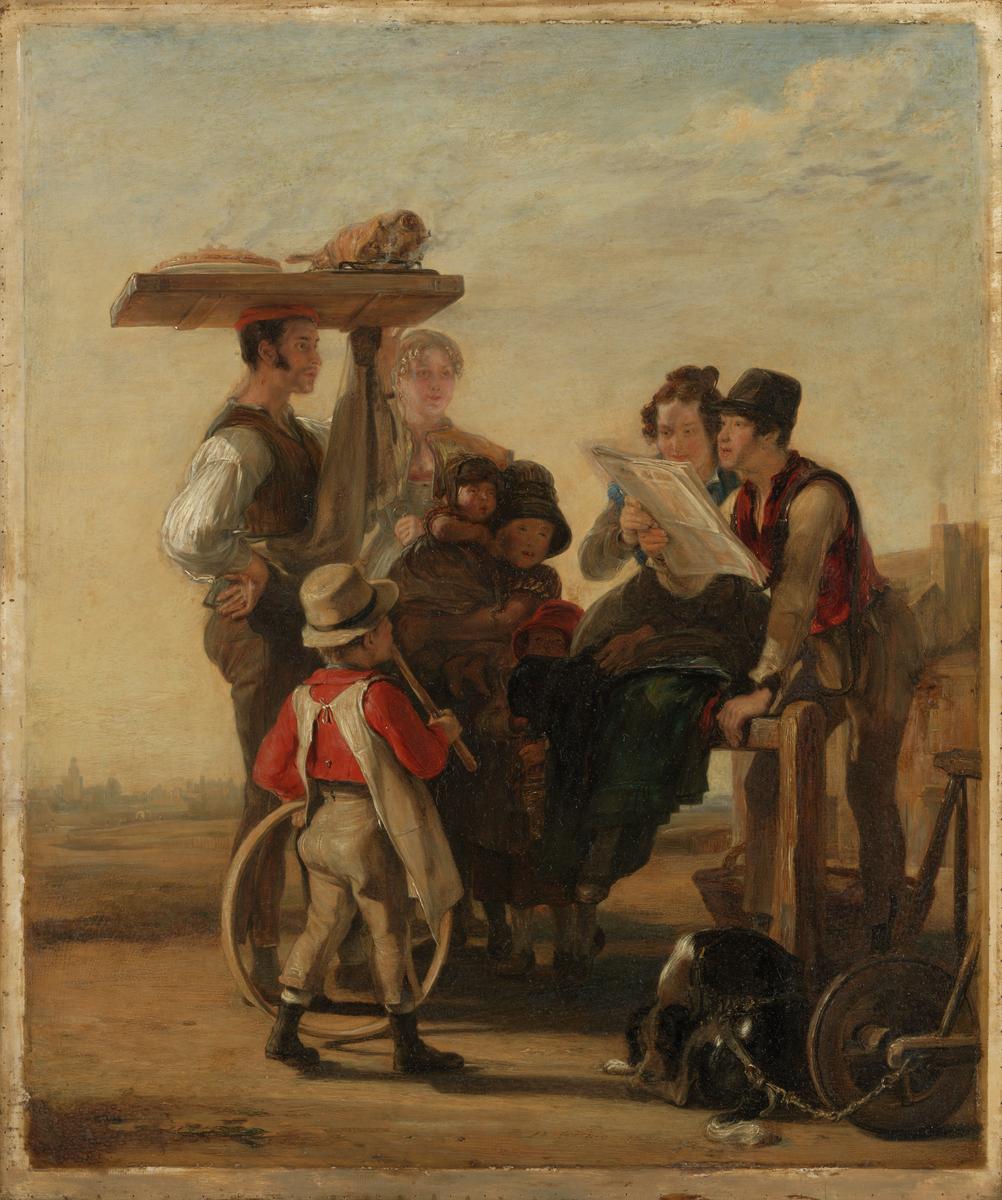 Sir David Wilkie

,

Newsmongers

1821, exhibited 1821

Here, a group gathers eagerly to read the newest headlines – including a baker distracted from his roast and pie. This may be the latest news story or allude to the dispatches arriving during the recent war with France. There was an explosion of newsprint during the 19th century. Some 15 hundred new magazines and newspapers were established between 1800–60 in London alone. Wilkie emphasises the sense of community these publications created. The distant city may relate to contemporary reports of social unrest, further suggesting the news could bring unity and order.

Gallery label, May 2023
10/27
artworks in Revolution and Reform
Sorry, no image available
Emma Soyer (née Jones)

,

Two Children with a Book

1831

Two young Black girls sit together with a Bible in their hands. The surrounding palm trees suggest they are in the Caribbean. This is a rare example of a 19th-century European portrait of Black sitters. The date of the painting coincided with the increased campaigning of Black Caribbean clergymen for an end to slavery in the British Empire. The girls' smart dress and Bible reflect their self-sufficiency and the literacy in Caribbean religious communities. These factors were used to encourage the emancipation of enslaved people in the Caribbean.

Gallery label, May 2023
11/27
artworks in Revolution and Reform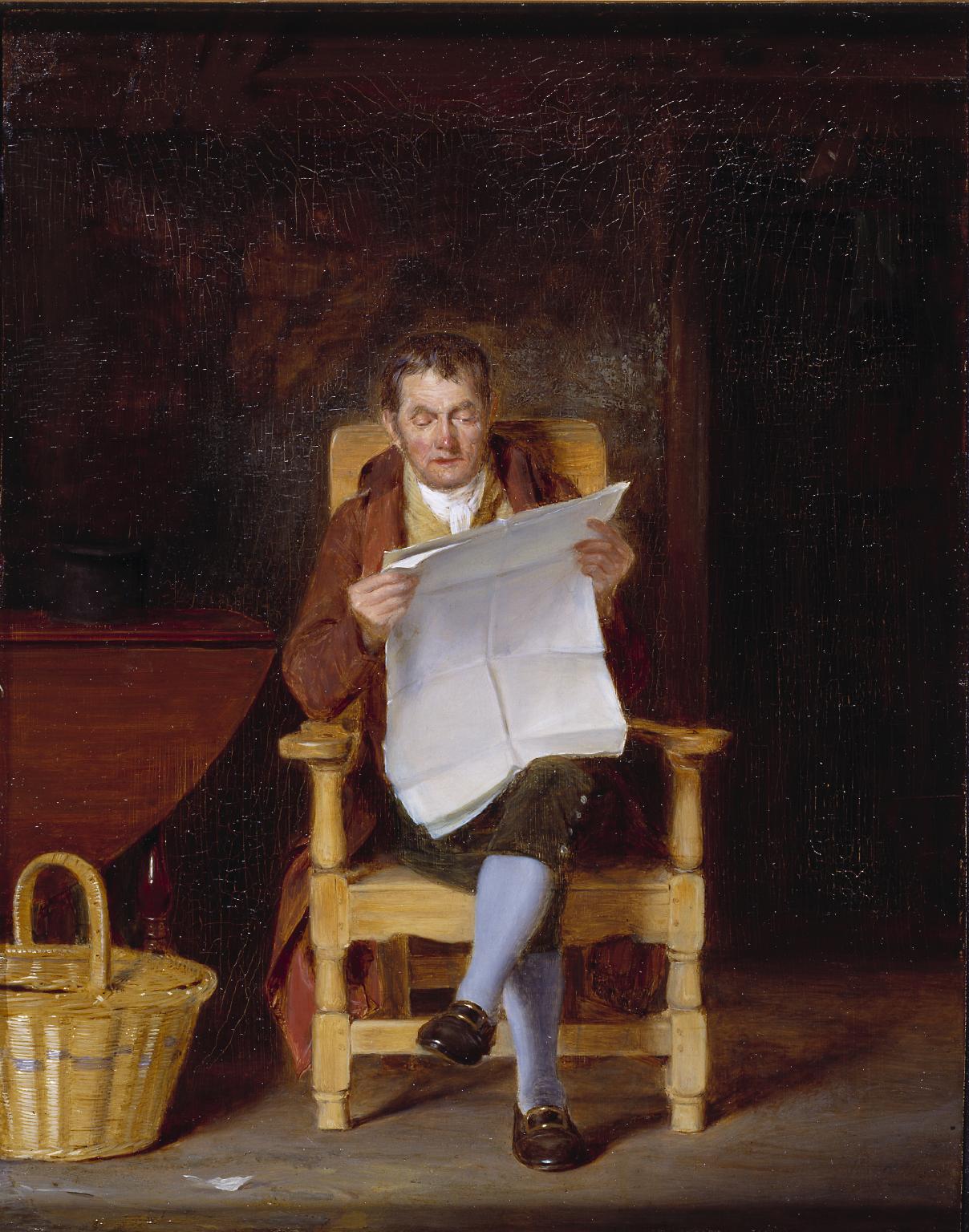 Thomas Sword Good

,

A Man Reading

exhibited 1827

In this painting, reading the news is presented as a solitary rather than social activity – the man is wholly absorbed in his paper. This subject reflects the wide readership of the news during this period. Public interest in current affairs grew in the early 19th century (particularly during the Napoleonic Wars), driving the demand for newspapers. Thomas Sword Good specialised in these small, interior scenes. He was especially interested in lighting effects. However, one critic praised this painting as 'a pleasing departure from his usual and rather mannered style'.

Gallery label, September 2023
12/27
artworks in Revolution and Reform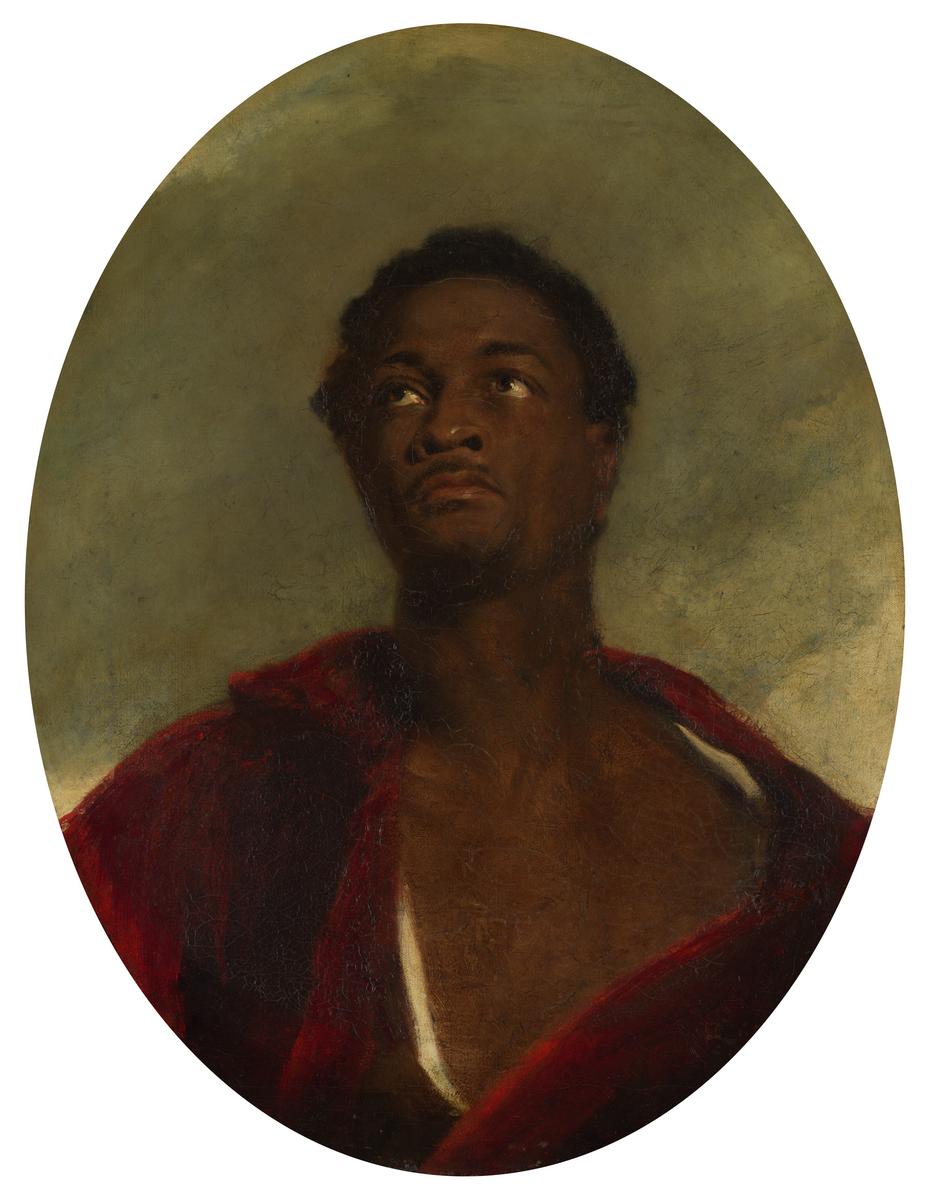 John Simpson

,

Head of a Man, probably Ira Frederick Aldridge

exhibited 1827

This painting is believed to depict the African American actor Ira Aldridge (1807–1867). He came to Britain in 1824, making his debut in London the following year. Aldridge is shown gazing upwards, as if inspired, perhaps in one of his roles. He may have been modelling professionally or this image might be part of his publicity campaign. When the picture was exhibited in 1827, Aldrige was rising to fame as the first Black Shakespearean actor performing in Britain. He challenged racial prejudices, giving speeches about the injustices of slavery on closing nights. This painting was perhaps a statement of support for abolition.

Gallery label, May 2023
13/27
artworks in Revolution and Reform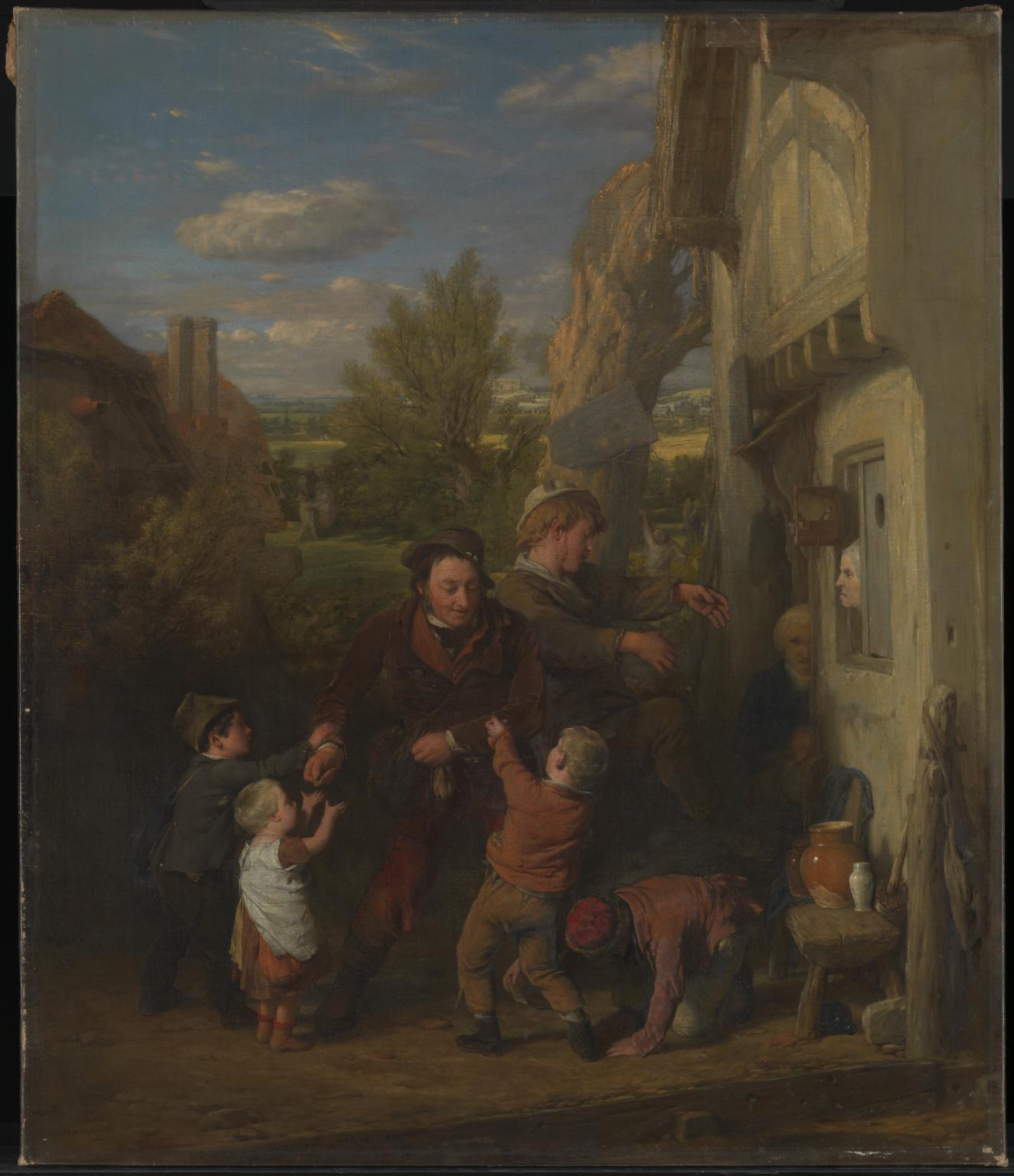 William Mulready

,

Fair Time ('Returning from the Ale-House')

1809–1839, exhibited 1809, 1840

This light-hearted scene shows children trying to get coins from two drunken men. Such 'rustic' subjects were popular in the 1800s. William Mulready likely hoped this engaging image would appeal to the largely wealthy urban audience for art. However, when Mulready exhibited it in 1809 as Returning from the Ale-House, its portrayal of drunkenness outraged many viewers. The criticism was likely encouraged by the growing Temperance Movement and concerns about the many drinking establishments across the country. Mulready later re-worked the painting and re-exhibited it in 1840 with the new title Fair Time.

Gallery label, September 2023
14/27
artworks in Revolution and Reform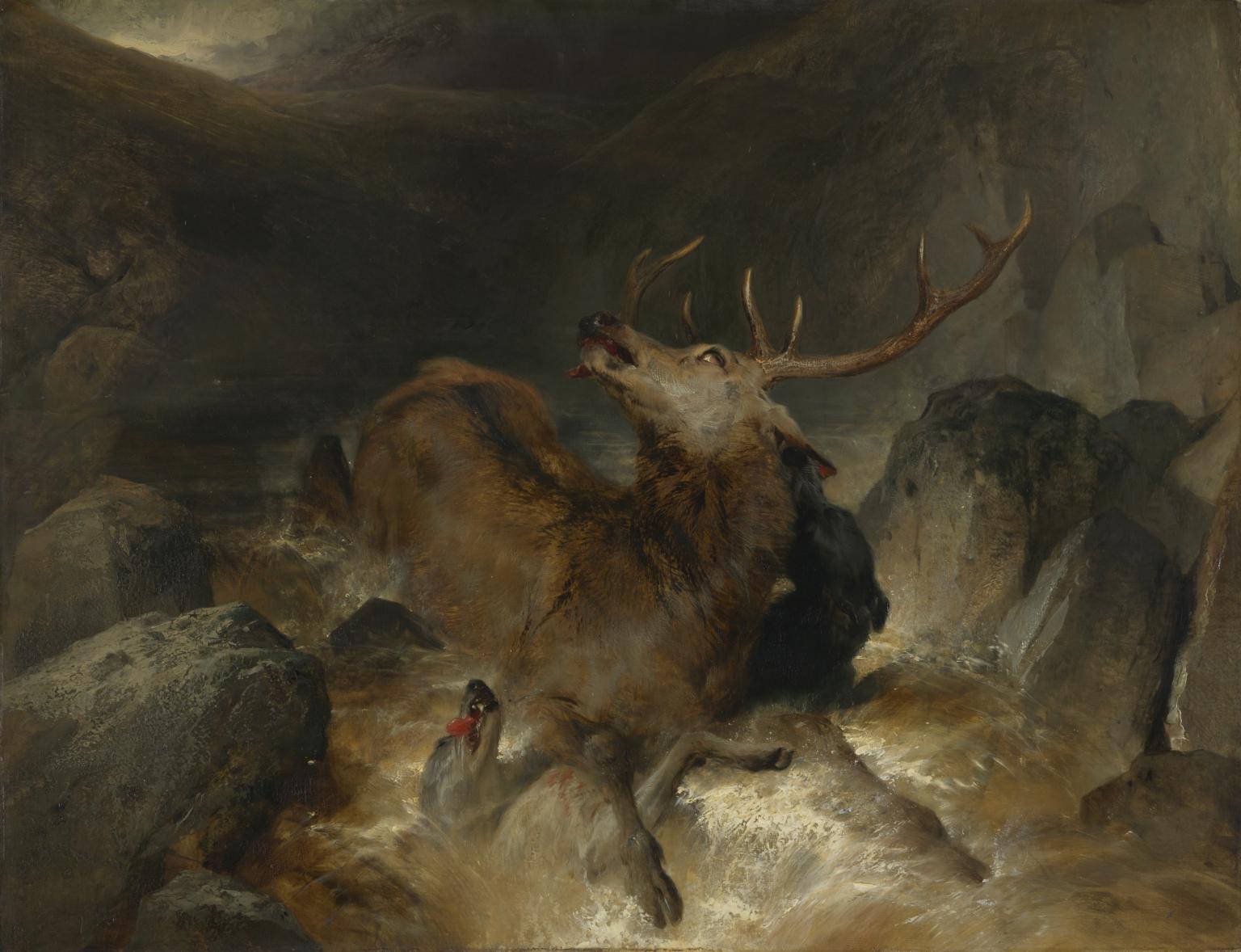 Sir Edwin Henry Landseer

,

Deer and Deer Hounds in a Mountain Torrent ('The Hunted Stag')

?1832, exhibited 1833

Edwin Henry Landseer's many visits to the Scottish Highlands captured his imagination. Here, he depicts a dying stag defiantly fighting off hounds. Landseer was famed for the emotion of his animal subjects. This scene is transformed into a desperate struggle against the forces of nature. The sublime, mountainous landscape and crashing water only strengthen the sense of awe and foreboding. Through such paintings of Scotland's wild beauty, Landseer helped inspire a romantic image of the Highlands, distanced from the realities of the turmoil and deprivation caused by the Highland Clearances during this period.

Gallery label, May 2023
15/27
artworks in Revolution and Reform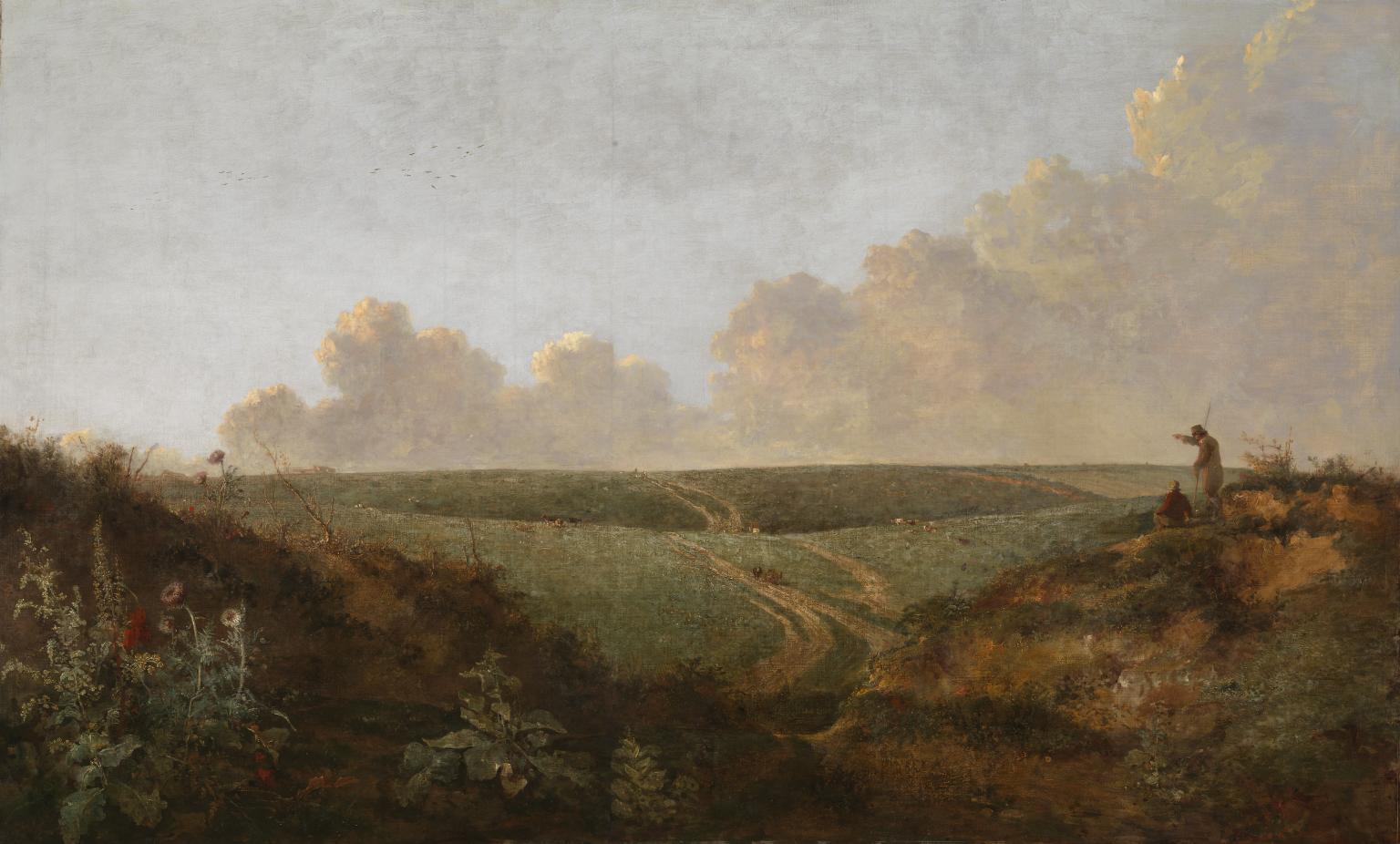 John Crome

,

Mousehold Heath, Norwich

c.1818–20

Mousehold Heath was a well-known stretch of common land outside Norwich. Here, John Crome emphasises its expanse and lack of cultivation, with wildflowers and cattle roaming freely. The Heath had a rich history as a protest site and, in Crome's lifetime, was the centre of debates about land improvement. Common land was enclosed across the country at this time, stopping access to grazing land and fuel for the rural poor. By 1814, most of Mousehold Heath was closed off. Crome's landscape may show what remained or it may be nostalgic, alluding to old freedoms.

Gallery label, May 2023
16/27
artworks in Revolution and Reform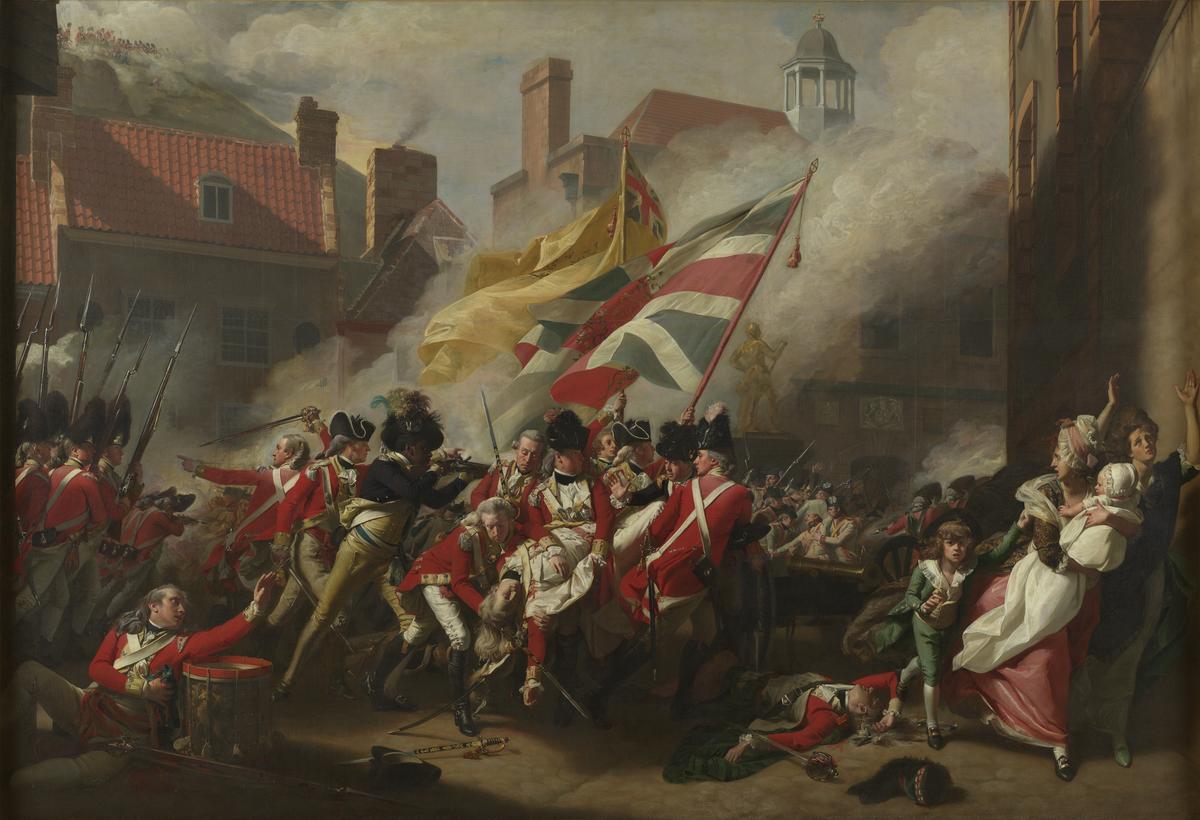 John Singleton Copley

,

The Death of Major Peirson, 6 January 1781

1783

This monumental painting presents an image of assured British military triumph. On 5 January 1781, France invaded Jersey, a British controlled Channel Island. Major Francis Peirson, successfully led the counterattack – here celebrated as a martyr dying for his country. This relatively minor victory boosted national morale at a time when Britain's American colonies were fighting for independence. Copley's inclusion of a Black soldier avenging Pierson's death romanticises the loyalty of the British colonies and of the people subjected to British rule. The Black man's intended identity is unclear

Gallery label, September 2023
17/27
artworks in Revolution and Reform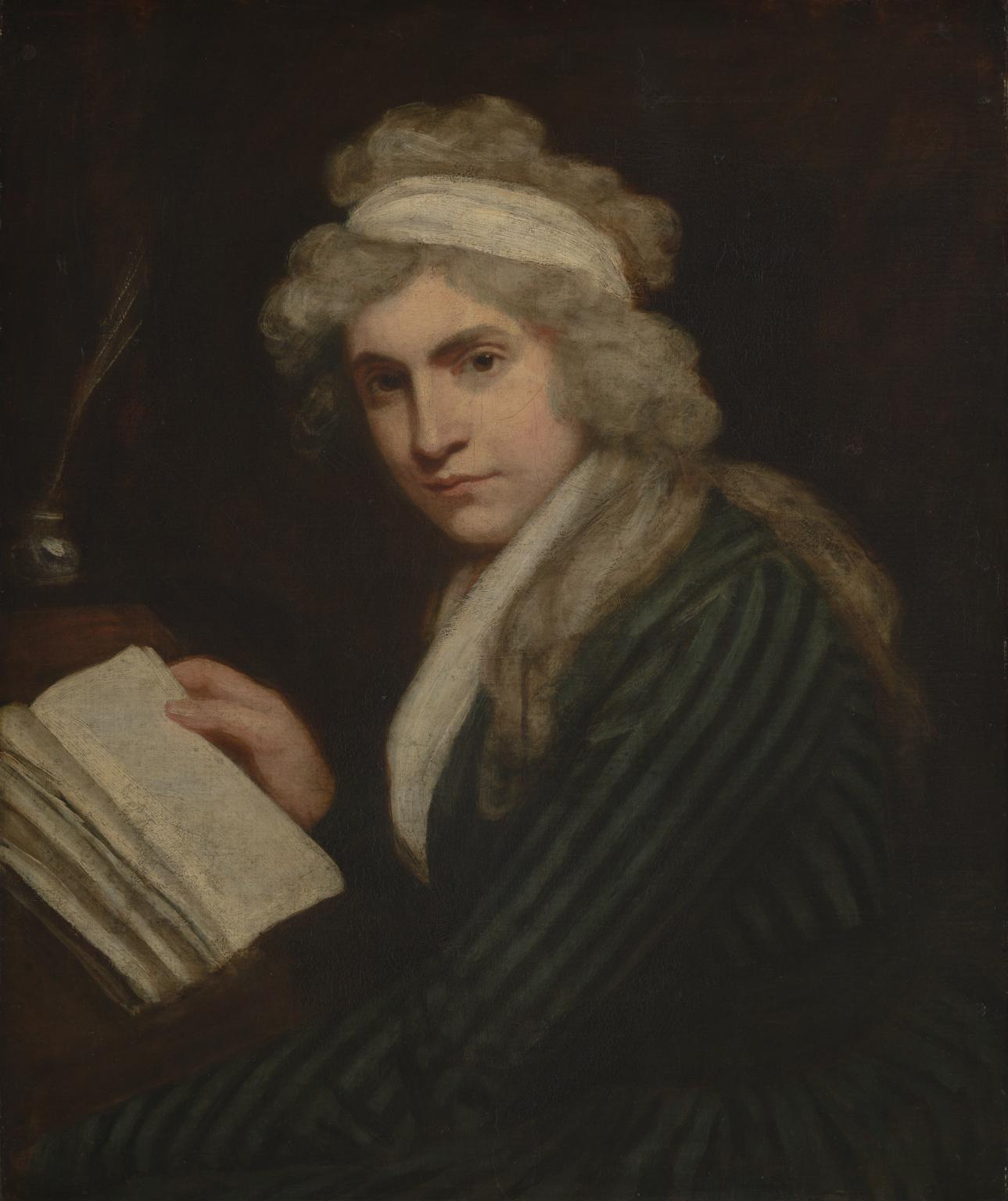 John Opie

,

Mary Wollstonecraft (Mrs William Godwin)

c.1790–1

Mary Wollstonecraft (1759–1797) was a ground-breaking feminist. This portrait shows her in a pose more typically used for male sitters during this period. She looks directly towards us, momentarily distracted from her studies. The painting was made around the time she published A Vindication of the Rights of Women (1792). Wollstonecraft argued against the idea that women were naturally inferior to men and emphasised the importance of equal education. Her radical views on liberty and equality led her to support the French Revolution (1789–99).

Gallery label, September 2023
18/27
artworks in Revolution and Reform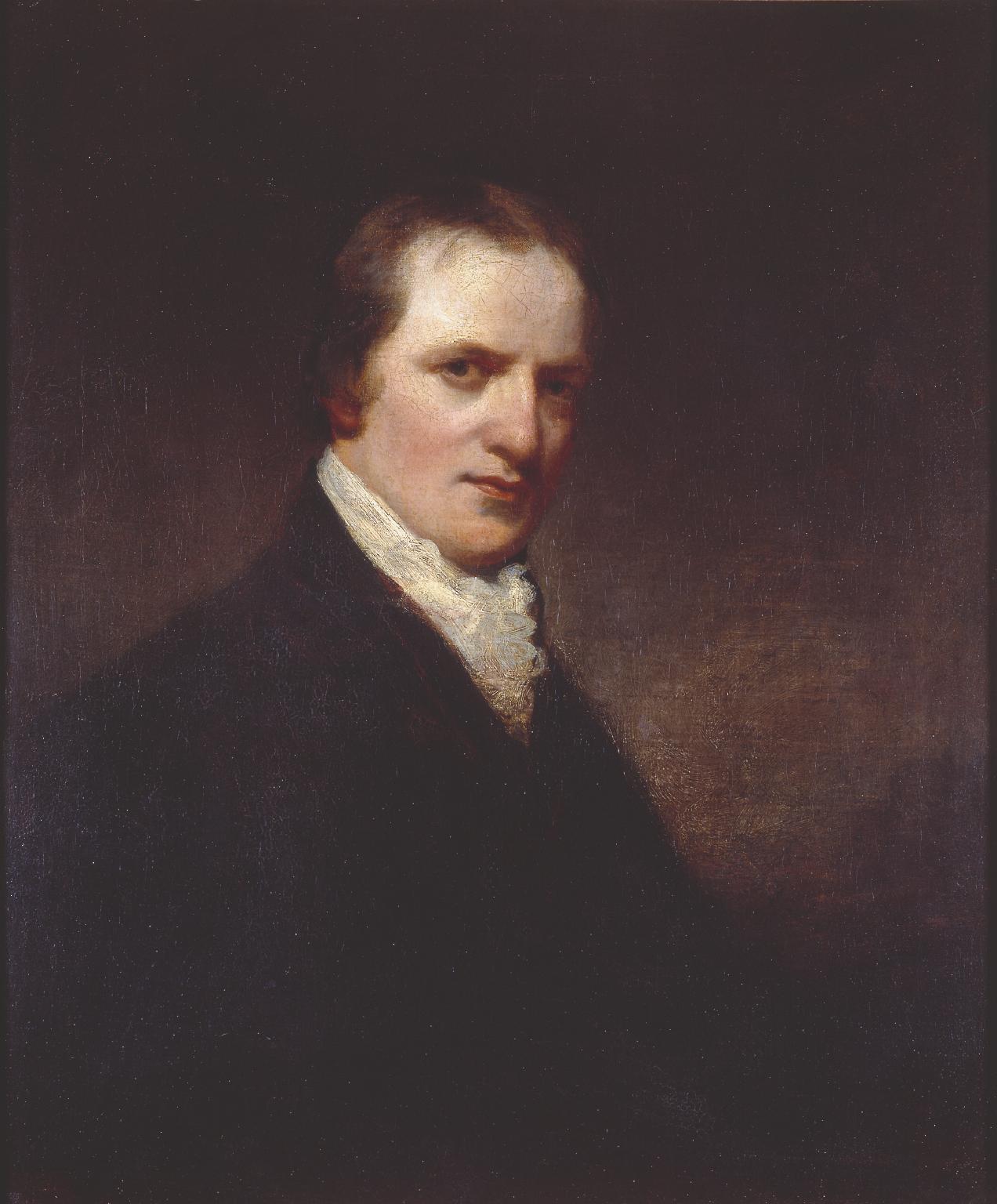 J.W. Chandler

,

William Godwin

1798

William Godwin (1756-1836) was a writer, philosopher and radical thinker. His publications were a form of activism, highlighting various injustices. Godwin's 1793 text, An Enquiry Concerning Political Justice, explored the idea of dismantling state power. His mystery novel Things as They Are (1794) criticised the unfair advantages enjoyed by the upper classes. Godwin was influenced by the French Revolution of 1789. He hoped the restructuring of the French government would inspire parliamentary reform in Britain. Though ideologically opposed to marriage, Godwin married feminist writer Mary Wollstonecraft following the conception of their daughter, Mary Shelley.

Gallery label, September 2023
19/27
artworks in Revolution and Reform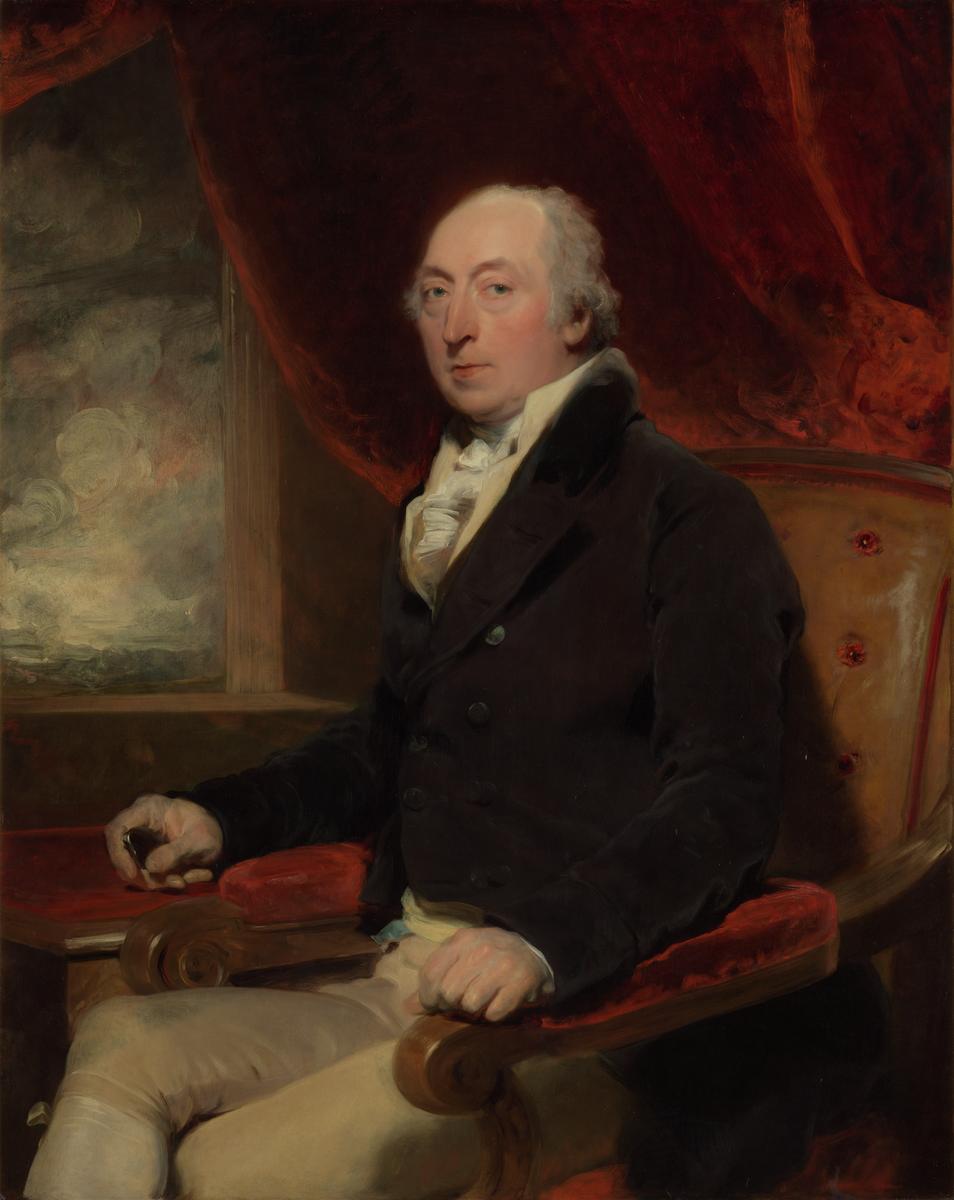 Sir Thomas Lawrence

,

Philip Sansom

c.1805–10

This sitter is Philip Sansom (died 1815), a wealthy London merchant and banker. He was one of the 12 founding members of the Committee for the Abolition of the Slave Trade. At their first meeting in 1787, the group resolved that the slave trade was 'both impolitick and unjust'. While opposed to the practice of enslavement itself, the group believed abolishing the trade it relied on was more immediately achievable. This portrait was painted towards the end of Sansom's life. Thomas Lawrence was widely celebrated and admired for conveying the character of his sitters.

Gallery label, May 2023
20/27
artworks in Revolution and Reform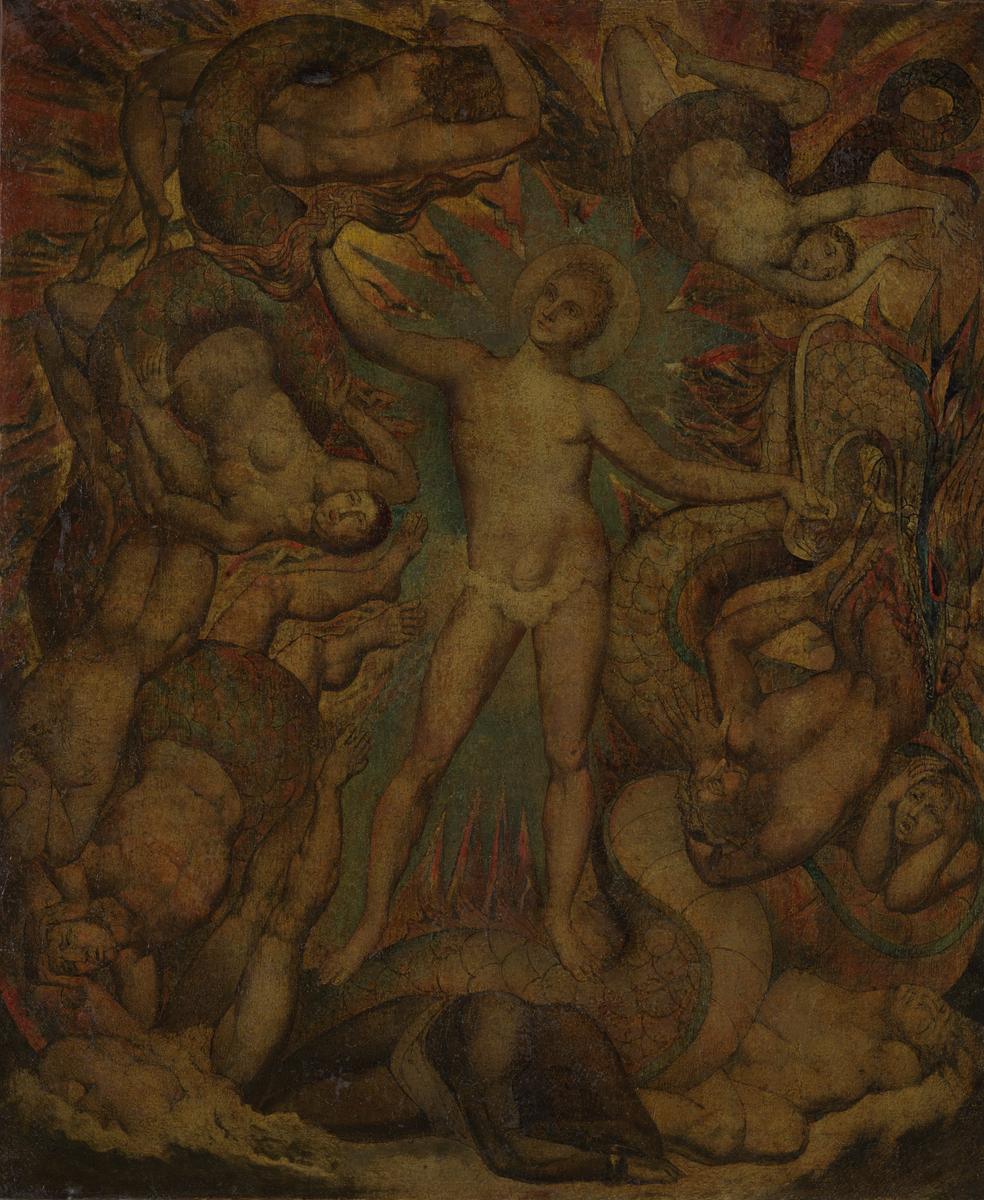 William Blake

,

The Spiritual Form of Nelson Guiding Leviathan

c.1805–9

William Blake portrays the naval hero Admiral Nelson astride Leviathan, a Biblical sea serpent associated with chaos and apocalypse. Figures representing the defeated 'Nations of the Earth' writhe around Nelson, trapped by Leviathan's coils. The anonymous Black figure beneath Nelson's feet appears to be an enslaved African person, dehumanisingly depicted as a symbol of Nelson's unrivalled power. Blake opposed slavery and empire, but he may also have regarded violence as a necessary evil, clearing the way for change. The painting is ambiguous: is Nelson a hero or an anti-hero?

Gallery label, May 2023
21/27
artworks in Revolution and Reform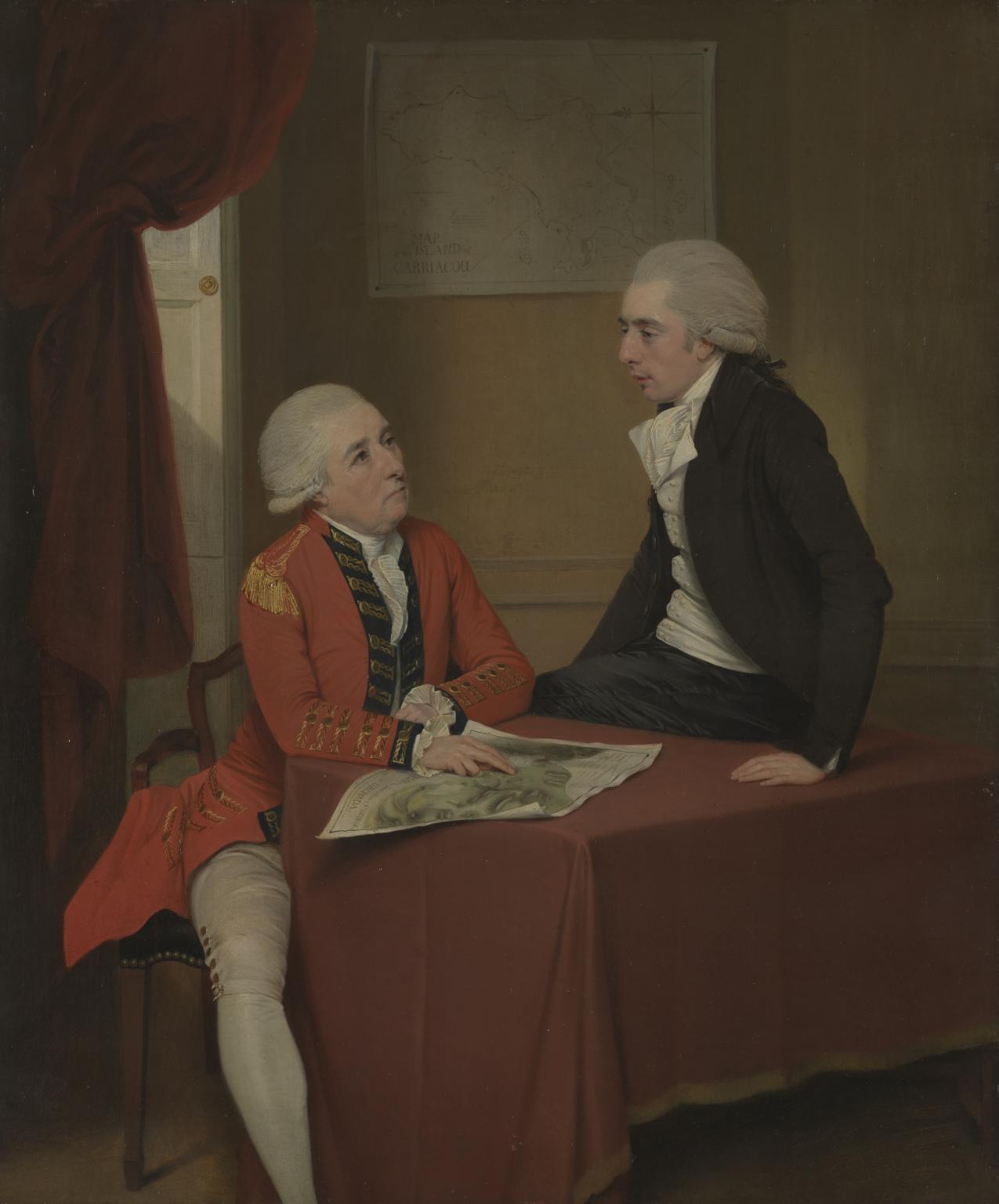 attributed to John Downman

,

Sir Ralph Abercromby (?) and Companion

?c.1795–1800

It is likely that the military man in this double portrait is either Sir Ralph Abercromby or General Edward Mathew. He examines a map of St George in Grenada, an island in the Caribbean to which both men had ties. Abercromby led the attack that suppressed Fédon's Rebellion, an uprising against British colonial rule in Grenada in 1795–6. Mathew was colonial governor of Grenada from 1784 to 1789. John Downman's portrait implicitly celebrates British military strength in the Caribbean despite the violence underpinning it.

Gallery label, May 2023
22/27
artworks in Revolution and Reform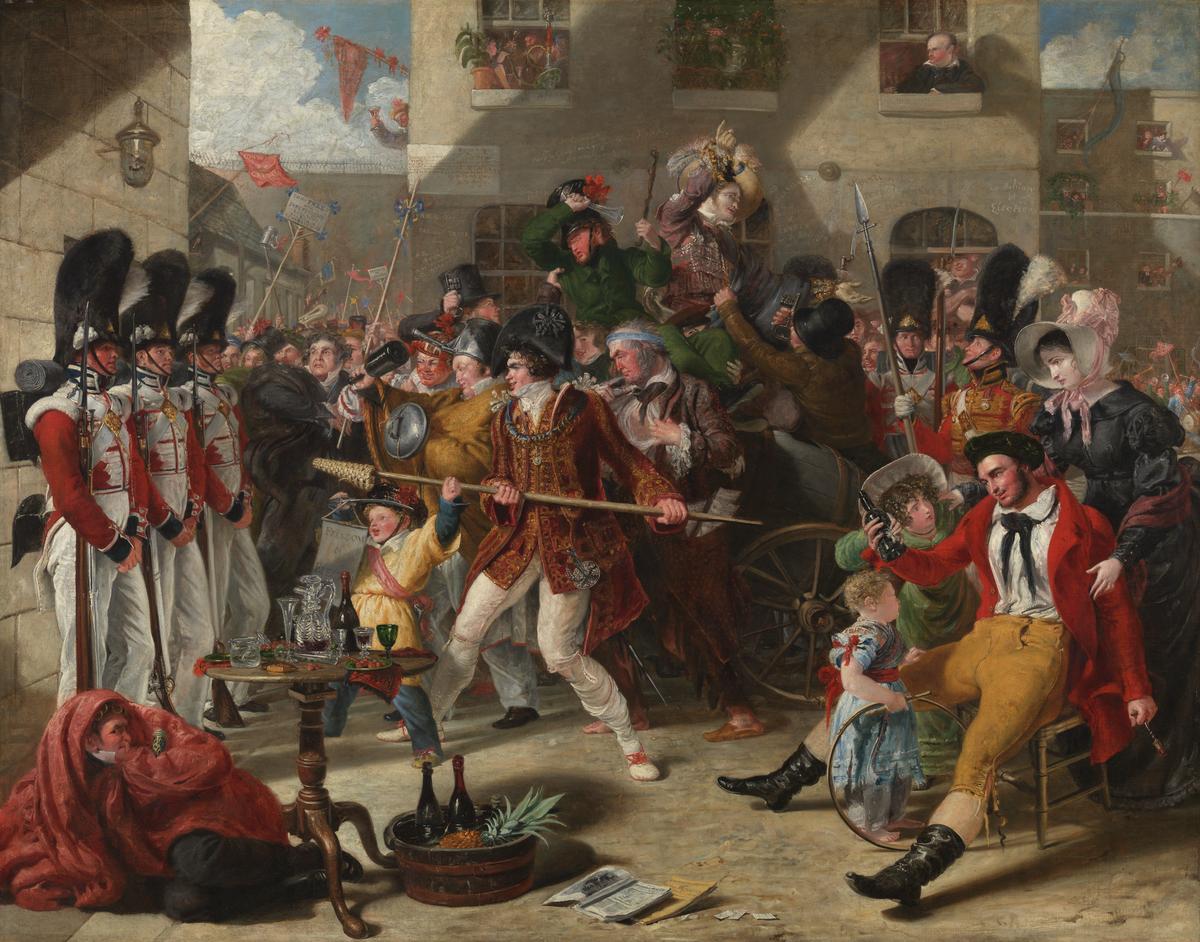 Benjamin Robert Haydon

,

Chairing the Member

1828

Benjamin Robert Haydon began sketching this scene while he was in prison for unpaid debts. Here, the prisoners in the courtyard below his window are preparing for an election-themed masquerade, put on for their entertainment. The prisoners include former MPs, bankers, authors and merchants. This painting focuses on the pretend chairing ceremony, marking the success and welcoming of the 'elected' candidate who is clothed in dark green. Bottles of alcohol and betting slips hint at the reasons for prisoners' incarceration, and at the debt and the economic hardships they face.

Gallery label, May 2023
23/27
artworks in Revolution and Reform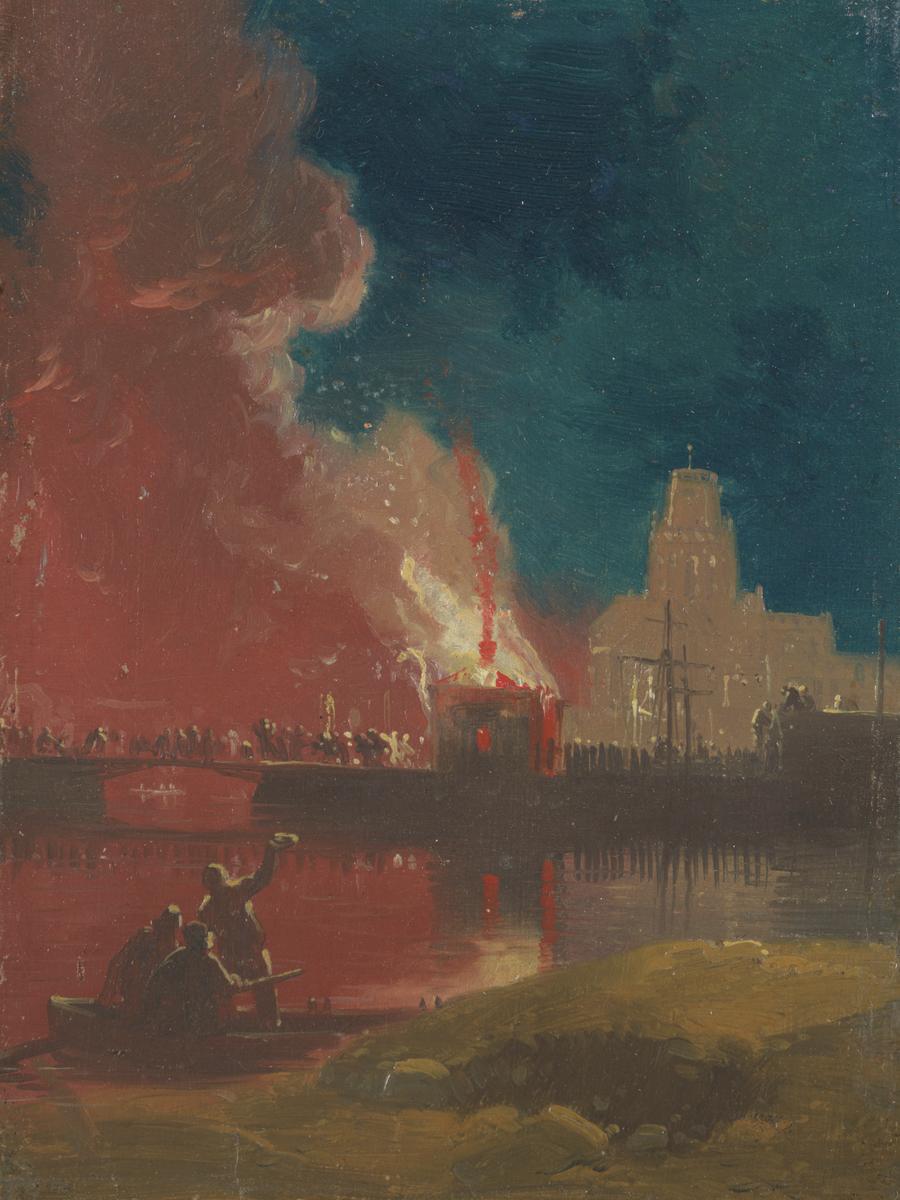 James Baker Pyne

,

The Burning of the Toll-Houses on Prince Street Bridge with St Mary Redcliffe, Bristol

1831

In October 1831, violent protests broke out in Bristol after Parliament rejected the proposed Reform Bill. Uprisings took place in other cities, too, but Bristol – a city long frustrated by corrupt governance – saw the most destruction across three days. A prison was broken open and sites associated with the city's authorities were targeted. James Baker Pyne shows the burning of the toll booths on one of the city's bridges. He may have painted this small picture at the scene, perhaps hoping to make it into a print or to sell it as a souvenir of the dramatic event.

Gallery label, September 2023
24/27
artworks in Revolution and Reform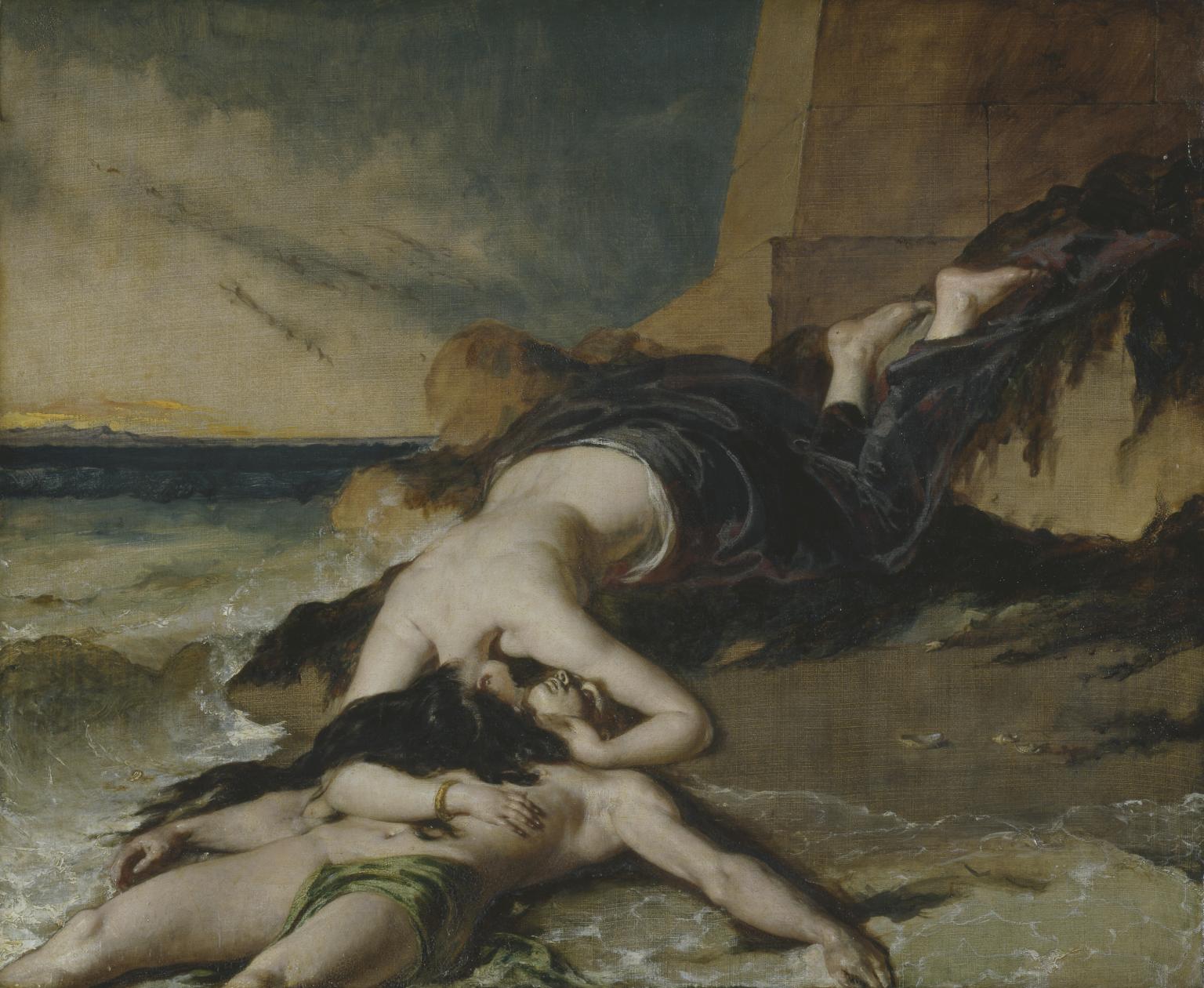 William Etty

,

Hero, Having Thrown herself from the Tower at the Sight of Leander Drowned, Dies on his Body

exhibited 1829

In classical mythology, Hero and Leander were secret lovers who lived across the Hellespont strait (now the Dardanelles, Turkey). Leander swam to visit Hero each night, returning before sunrise. William Etty depicts their tragic ending. Leander drowns in a storm and, discovering this, Hero leaps from her tower to die by his side. The figures' semi-naked bodies are dramatically foreshortened against the coastal background. The emotional intensity and anguish of the myth made it a popular subject among Romantic artists and writers.

Gallery label, May 2023
25/27
artworks in Revolution and Reform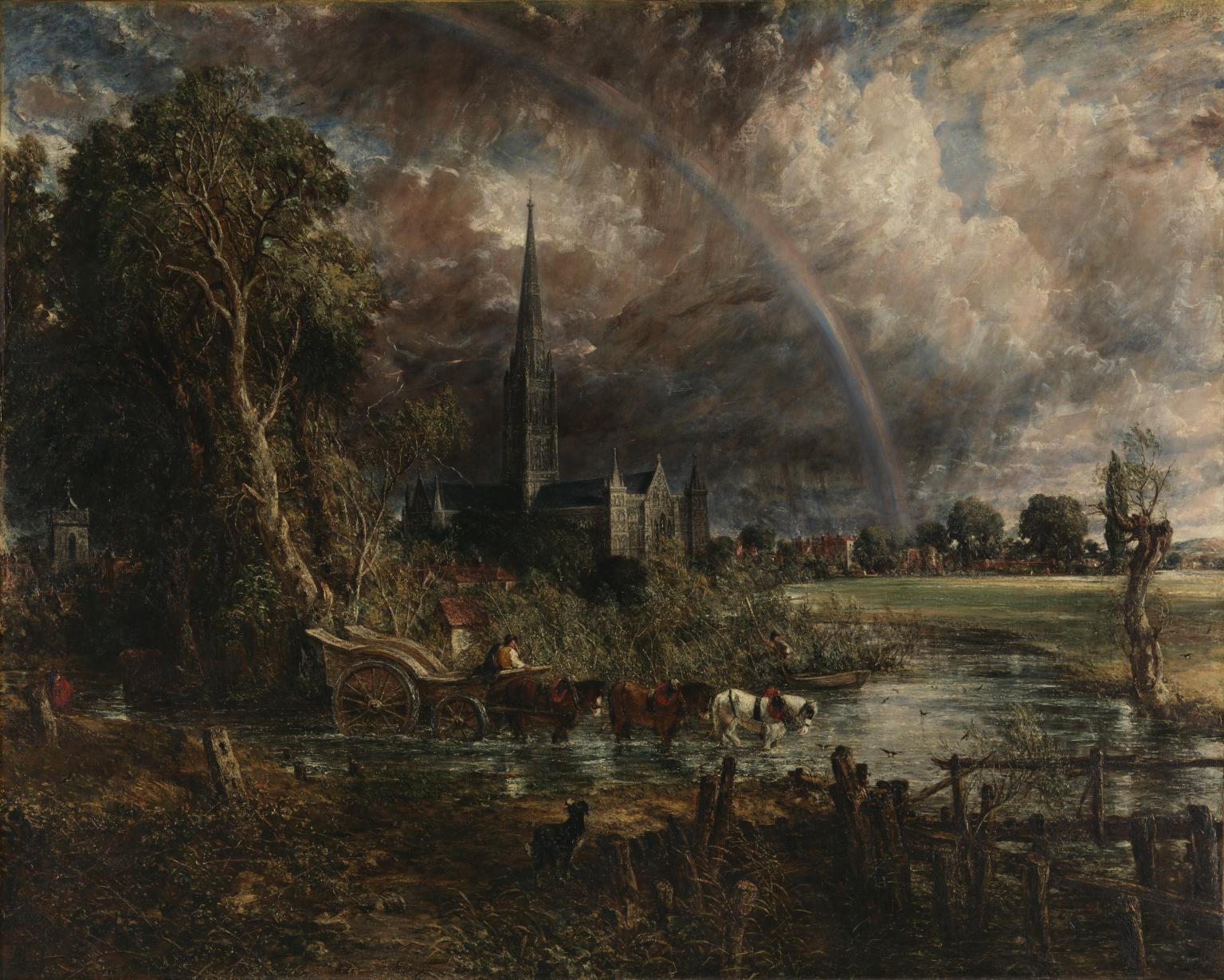 John Constable

,

Salisbury Cathedral from the Meadows

exhibited 1831

This stormy painting is thought to reflect John Constable's worries about the effect of political reform on the Anglian Church. The subject was suggested by his close friend, John Fisher, an Archdeacon who lived in Salisbury. The storm may also represent Constable's grief following the death of his wife, Maria. When he first exhibited this painting in 1831, debates about political reform were intensifying. The rainbow may have been added later, however, suggesting the storm is passing.

Gallery label, September 2023
26/27
artworks in Revolution and Reform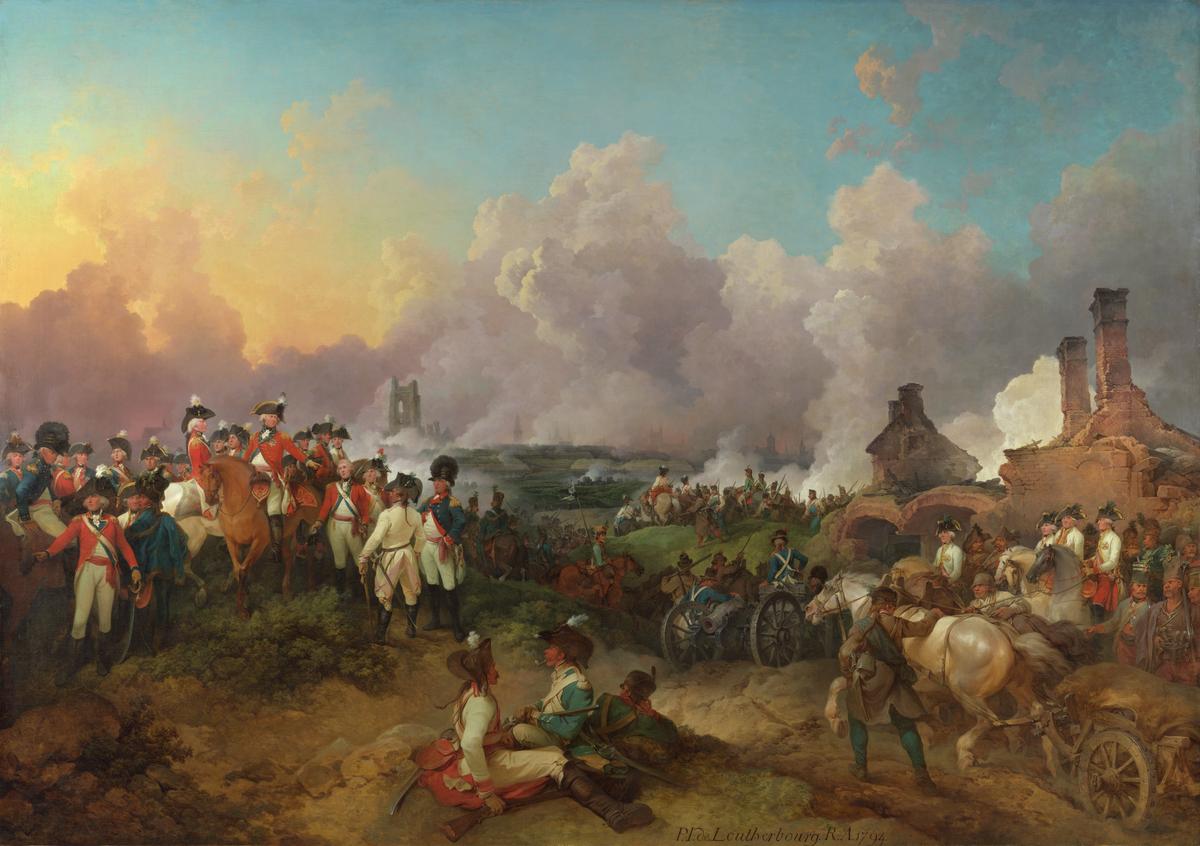 Philip James De Loutherbourg

,

The Grand Attack on Valenciennes by the Combined Armies under the Command of HRH Duke of York

1794

The French surrender at Valenciennes in July 1793 was short-lived but widely celebrated in Britain. De Loutherbourg's painting capitalised on this victory, achieving critical and commercial success when exhibited in 1794. The vast scale and atmospheric effects made it a sublime spectacle. De Loutherbourg's visit to the battlefield and inclusion of recognisable portraits ensured its credibility too. Above all, the painting offered a celebratory image of British military power at a moment when the war was widely criticised in Britain.

Gallery label, May 2023
27/27
artworks in Revolution and Reform
Art in this room
Sorry, no image available
Charles Jameson Grant
The Five Plagues of the Country (The Political Drama No.19)
c.1833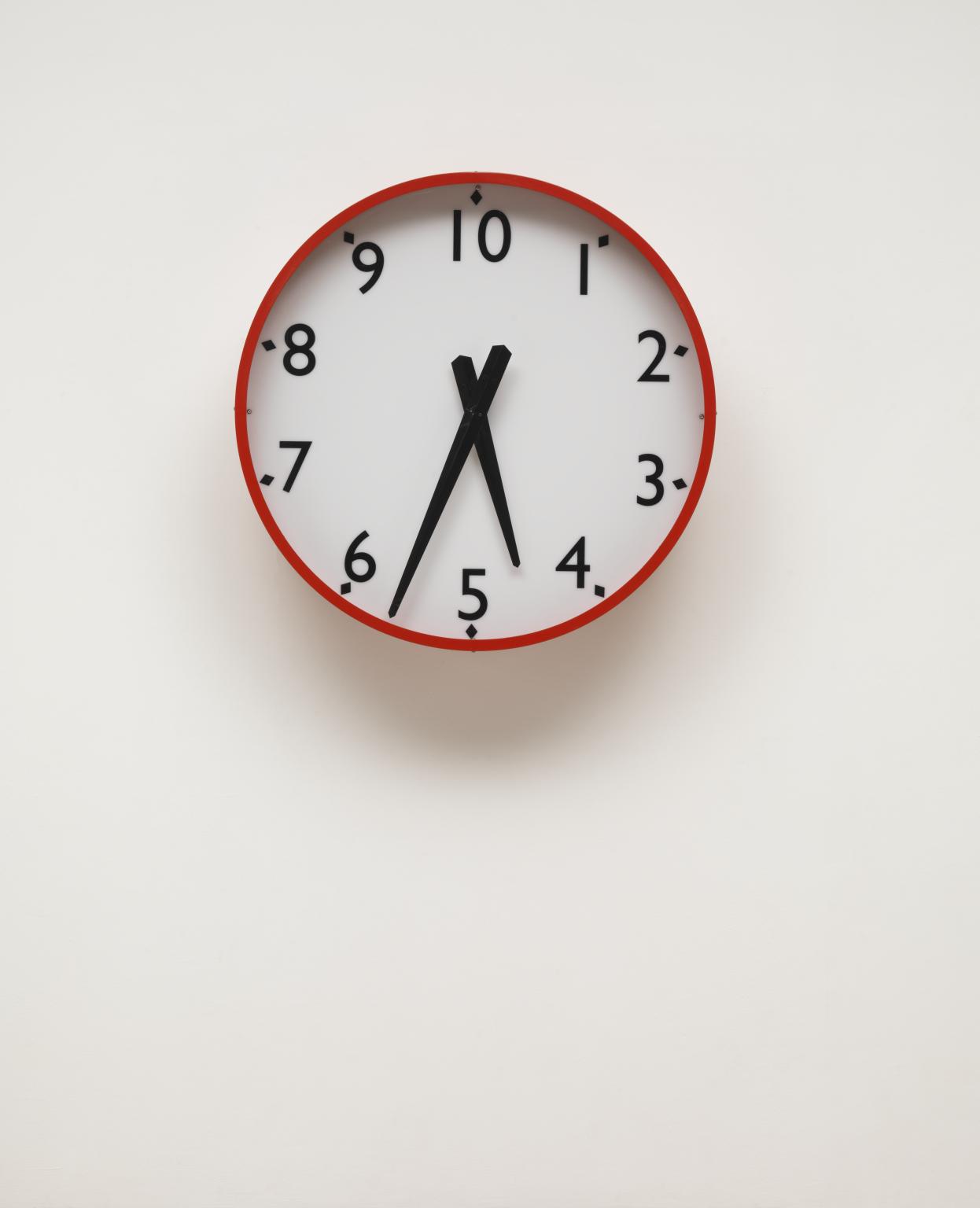 Ruth Ewan
We could have been anything that we wanted to be (red version)
2011
Sorry, no image available
Charles Jameson Grant
John Bull and the Vultures. A Promethean Travestie
1842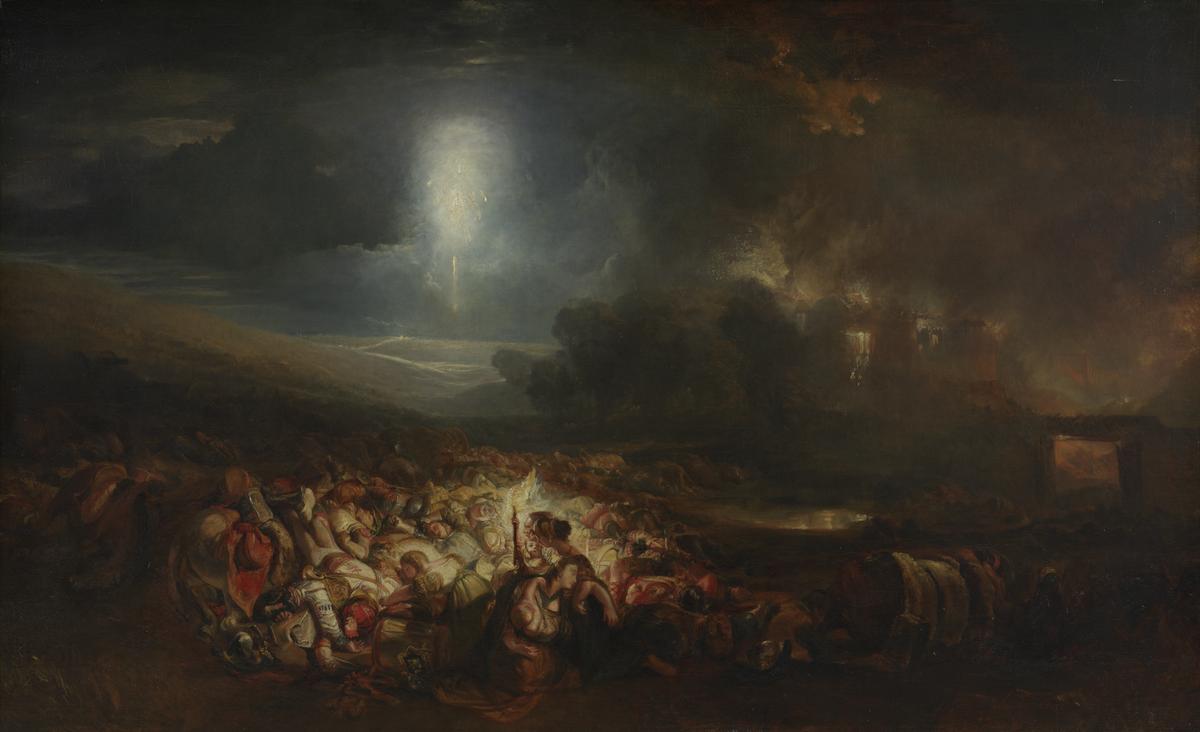 Joseph Mallord William Turner
The Field of Waterloo
exhibited 1818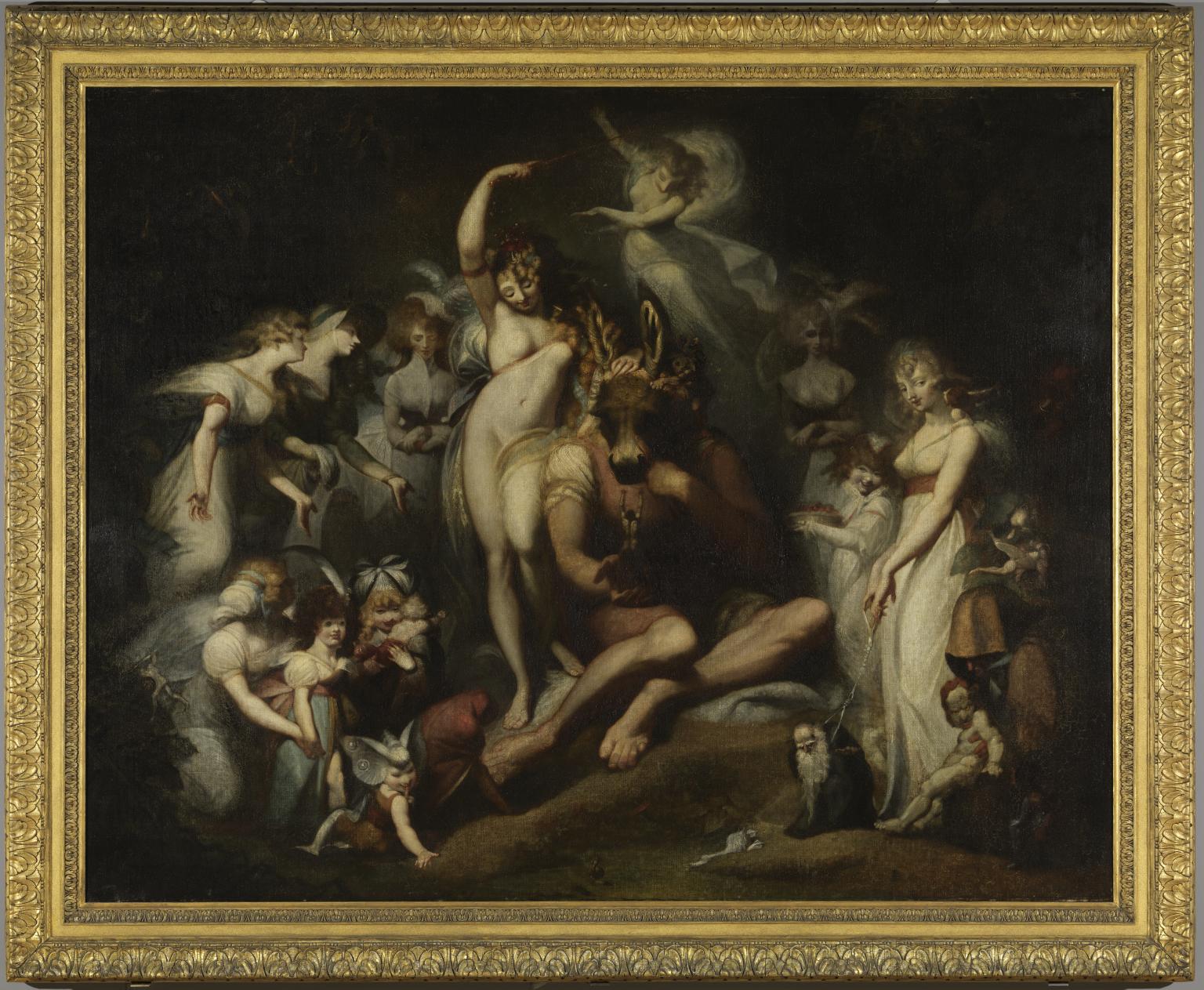 Henry Fuseli
Titania and Bottom
c.1790
Samuel Palmer
Coming from Evening Church
1830
You've viewed 6/27 artworks
You've viewed 27/27 artworks
Consider and question the intentions, politics and legacy of this landmark artwork

In celebration of the reopening of Tate Britain, Tate Etc. invited a selection of artists from around the world to choose a favoured work from a fellow artist currently on display. Here, Peruvian artist Sandra Gamarra discusses John Simpson's Head of a Man