17 rooms in Historic and Early Modern British Art
In the 19th century thanks to the railway, artists start to work outside in natural settings with varied light and weather. They explore faster, more spontaneous ways of painting.
The world's first public passenger steam railway opens in North East England in 1825. Rapid industrialisation extends roads and shipping, as well as railways. This makes it easier for painters and photographers to create on-the-spot images around Britain and abroad.
In the 19th-century, British artists lead the trend to turn away from indoor studio practice and paint outside, observing the fleeting effects of light and weather. This is known as 'en plein air'. New developments, such as paints packaged in tubes and portable easels, help them develop quicker ways of painting and more individual styles. By the 1870s, British artists are part of the impressionist movement, which seeks to capture 'the painting of a moment'.
Life in busy polluted cities encourages a love of rural, landscape and leisure scenes. Idealised visions of traditional country life become a theme in art and literature. From the 1880s onwards, artists congregate in small communities such as Newlyn in Cornwall. They are drawn by the affordable lifestyle, the beauty of the nature surrounding them, and the exchange of artistic ideas.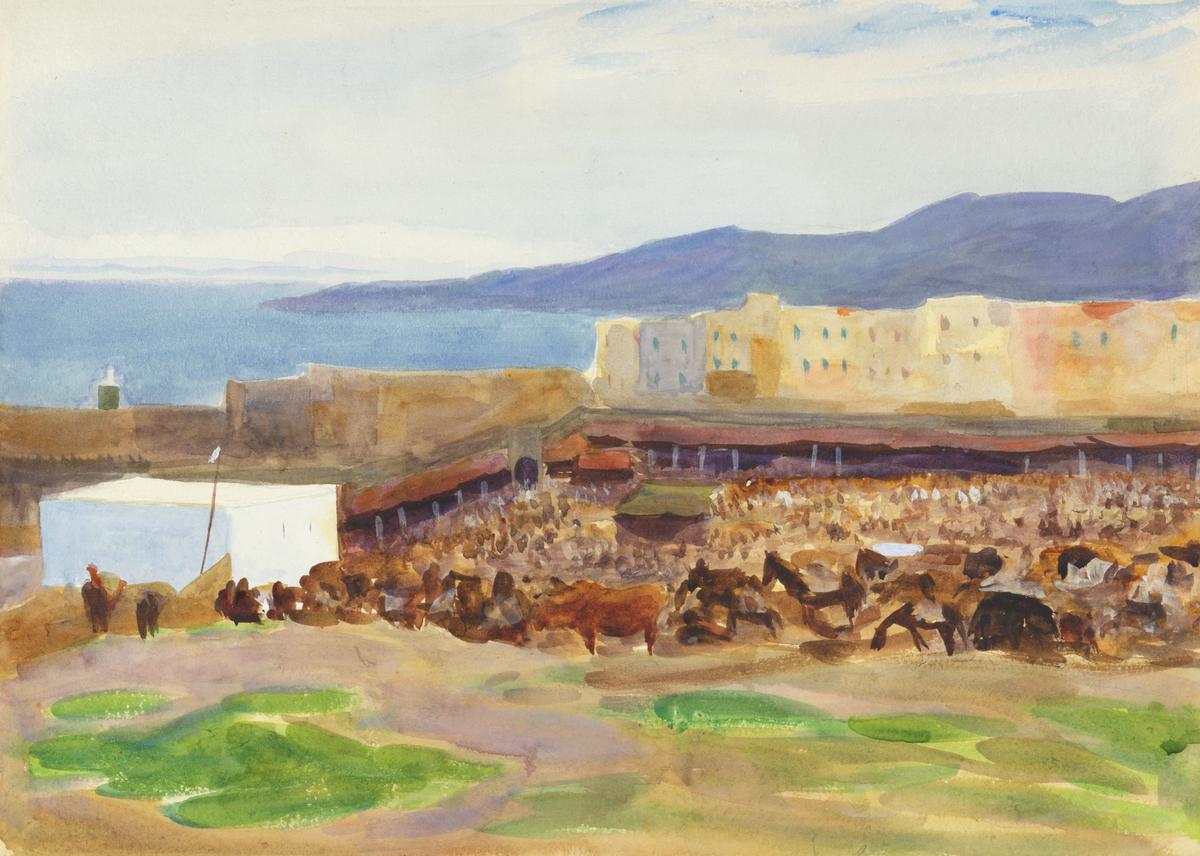 Emily Sargent

,

Tangier

1900
1/25
artworks in In Open Air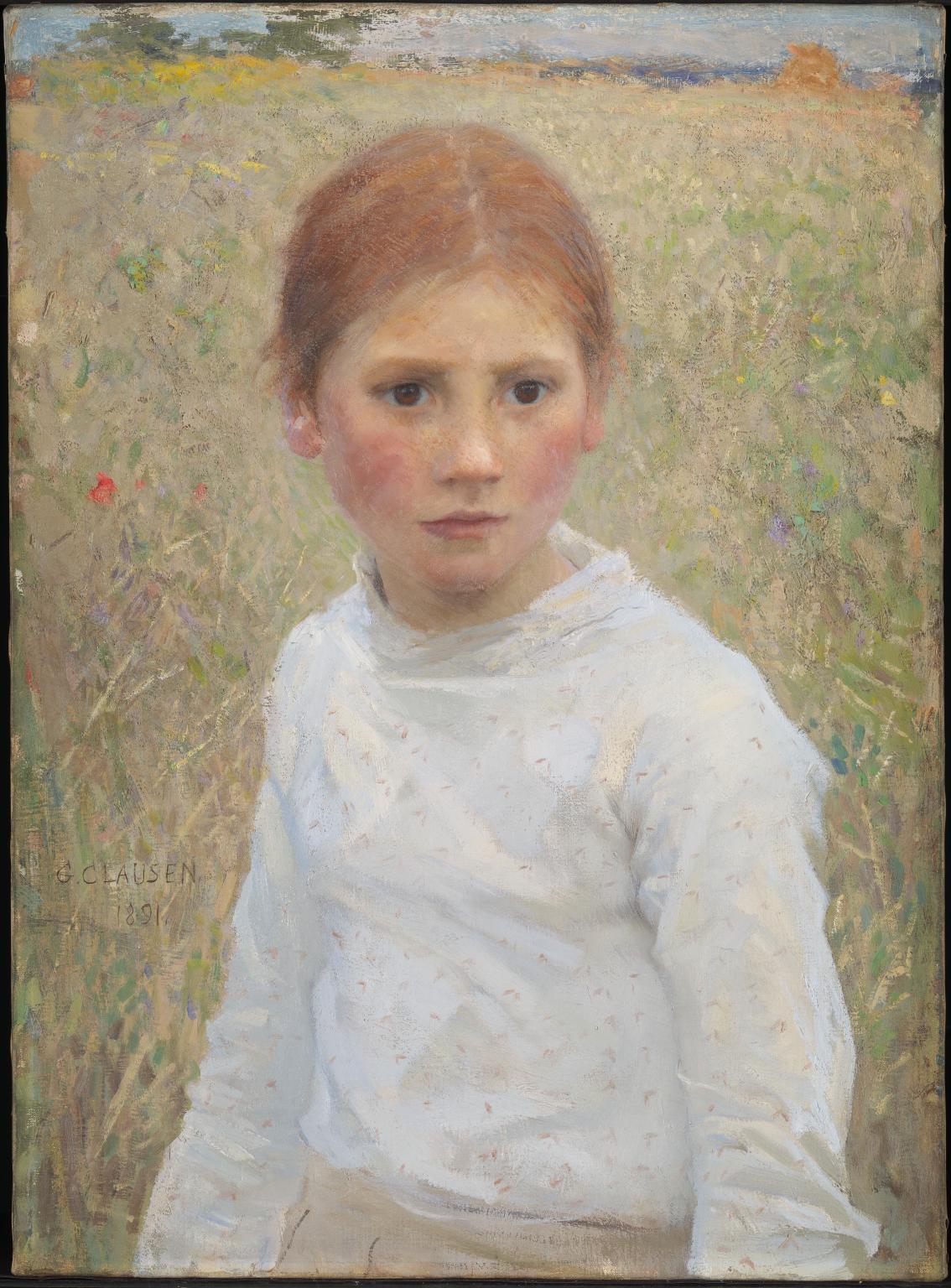 Sir George Clausen

,

Brown Eyes

1891

Clausen studied in France and painted open-air 'rural naturalist' subjects in an impressionist style. In 1886 he helped to found the New English Art Club as an alternative exhibition venue to the Royal Academy. This is a portrait of a local girl from the village of Cookham in Berkshire, where the artist was living. The delicate play of light across the model's features, together with the flicked brushwork in the background, suggest both the freshness and transience of youth.

Gallery label, February 2016
2/25
artworks in In Open Air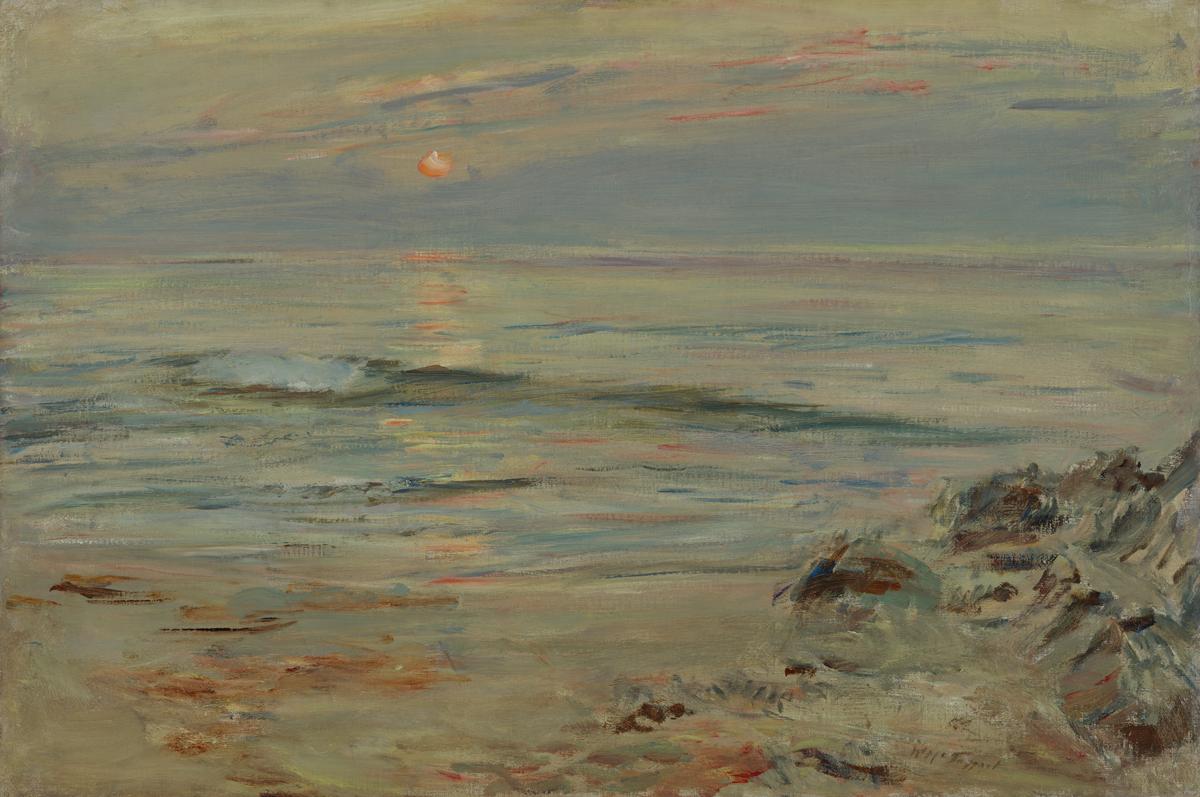 William McTaggart

,

Summer Sundown - Tir-nan-og

1880

MacTaggart stayed regularly during the summer at the tiny fishing village of Machrihanish on the west coast of Scotland, where he painted this, probably out of doors. It is unusual for him in not including figures, as he often used the village children as models. He added the title Tir-nan-og to this painting, which is the name of a legendary Celtic paradise in the West. Like many Scottish artists and collectors, MacTaggart admired Joseph Israels and the Hague School of landscape artists, whose work is similar to his. James Cow, who bequeathed this painting, was a Director of the National Galleries of Scotland, and author of a biography of MacTaggart published in 1917.

Gallery label, September 2004
3/25
artworks in In Open Air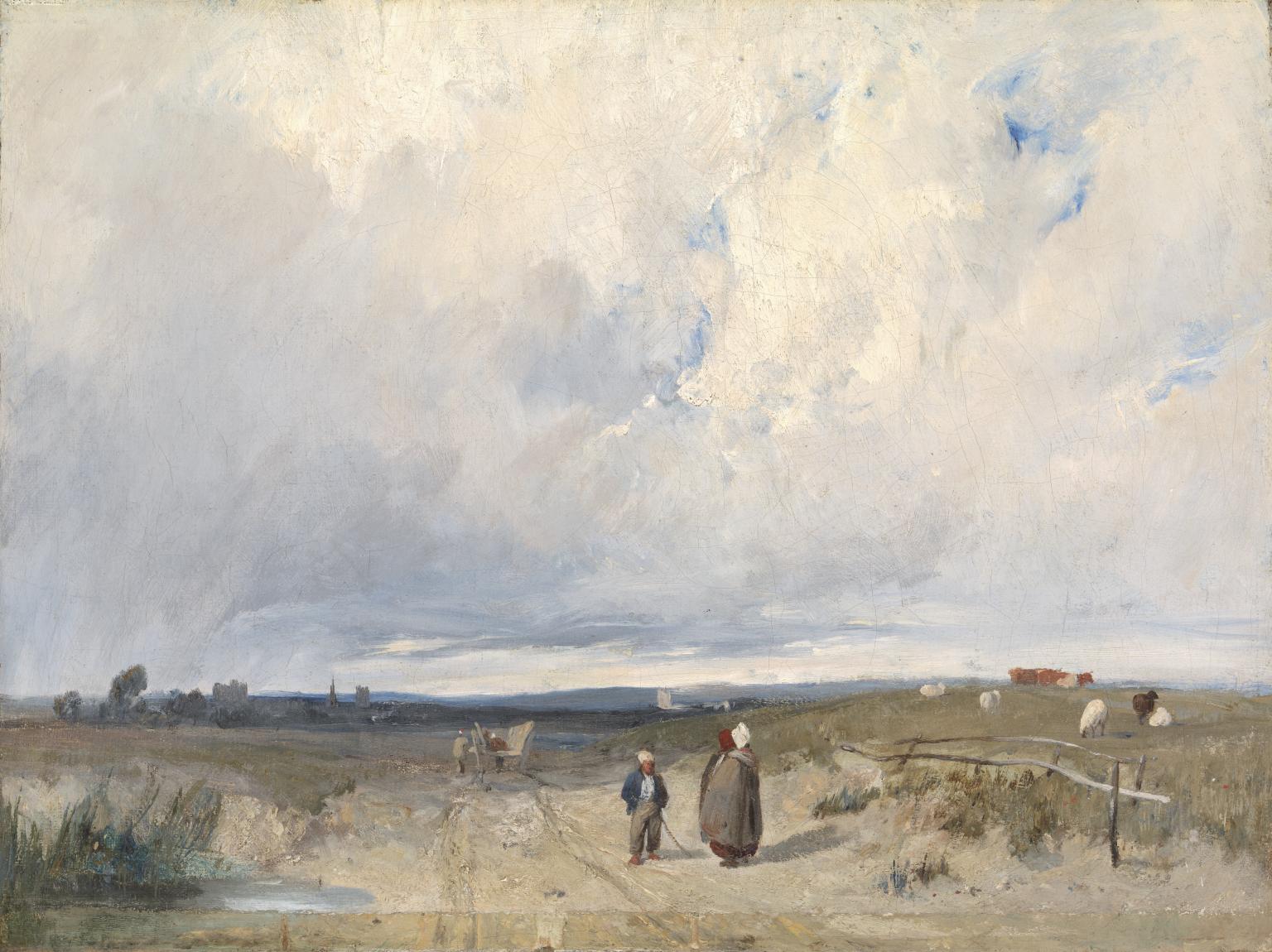 Richard Parkes Bonington

,

A Distant View of St-Omer

c.1824

Bonington was born near Nottingham but moved to Calais in 1817 with his parents. There they set up a lace-making business before settling in Paris the following year. Most of his short life was spent in France. Delacroix was not alone in admiring his 'marvellous grasp of effects and the facility of his execution'. Working at first in watercolour, Bonington took up oils around 1823. He spent most of 1824 in Dunkerque and probably painted this view of St-Omer from the Boulogne-Calais road that year.

Gallery label, August 2004
4/25
artworks in In Open Air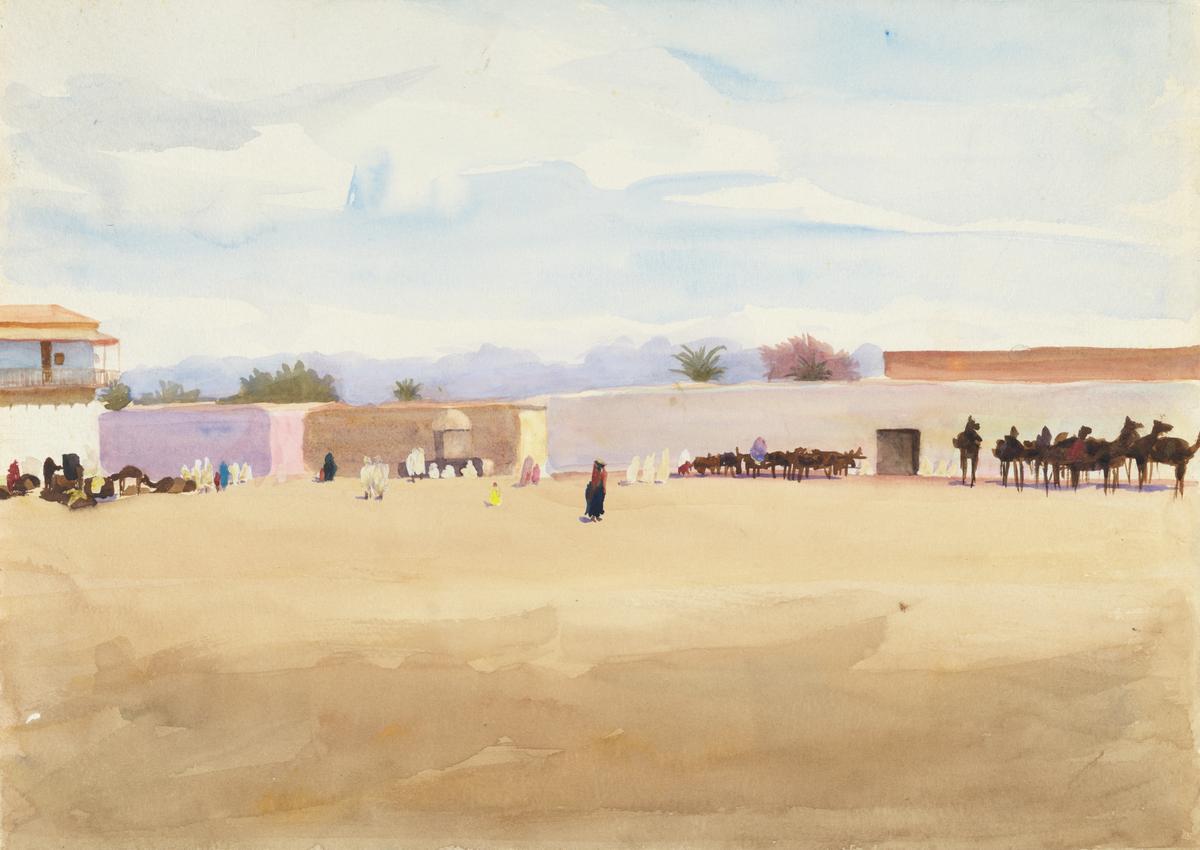 Emily Sargent

,

Biscra, Easter Scene with Camels and Other Animals

1902
5/25
artworks in In Open Air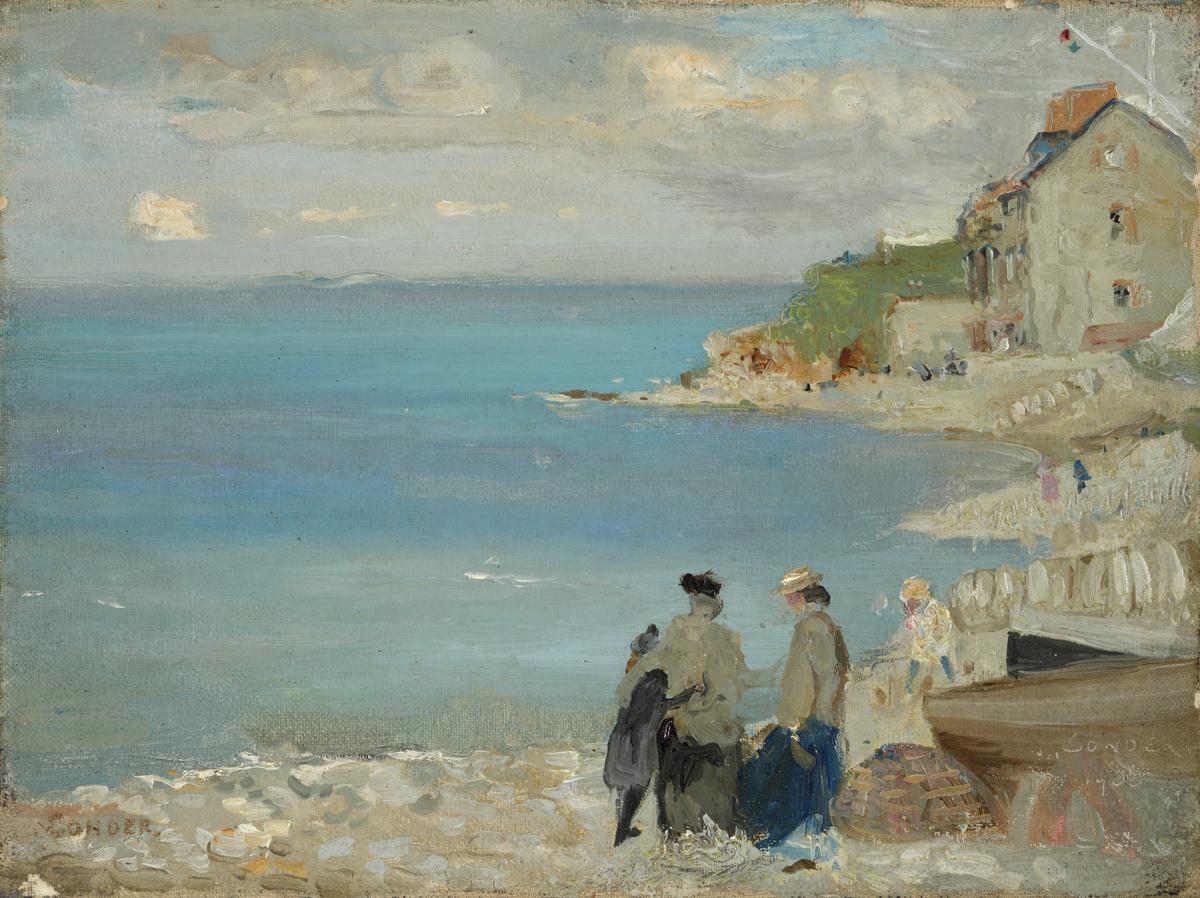 Charles Conder

,

Swanage

c.1901

Conder stayed at Swanage in Dorset with his younger friend Augustus John in the early summer of 1900. Both artists were working on large, decorative paintings, but Conder also made a series of oil sketches of the coast. This one is of the Swanage Coastguard Station, and a photograph from the time shows that it is portrayed quite accurately, even to the mast and flags at the top right. These artists were used to living in good company in London and Paris, and their working holiday in Swanage was an escape to sober living and hard work.

Gallery label, September 2004
6/25
artworks in In Open Air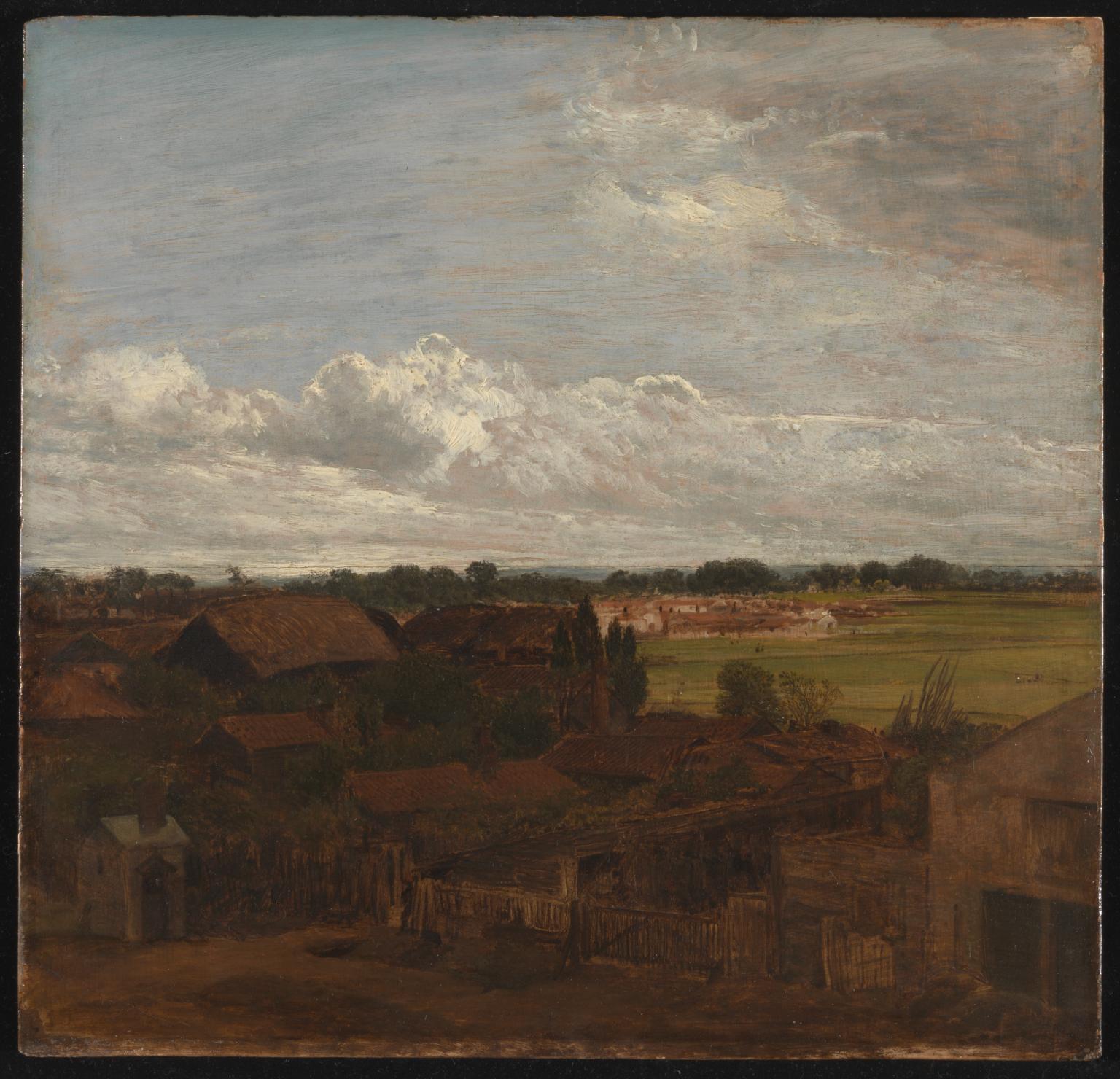 John Linnell

,

The East Side of the Edgware Road, Looking Towards Kensington Gardens

c.1812
7/25
artworks in In Open Air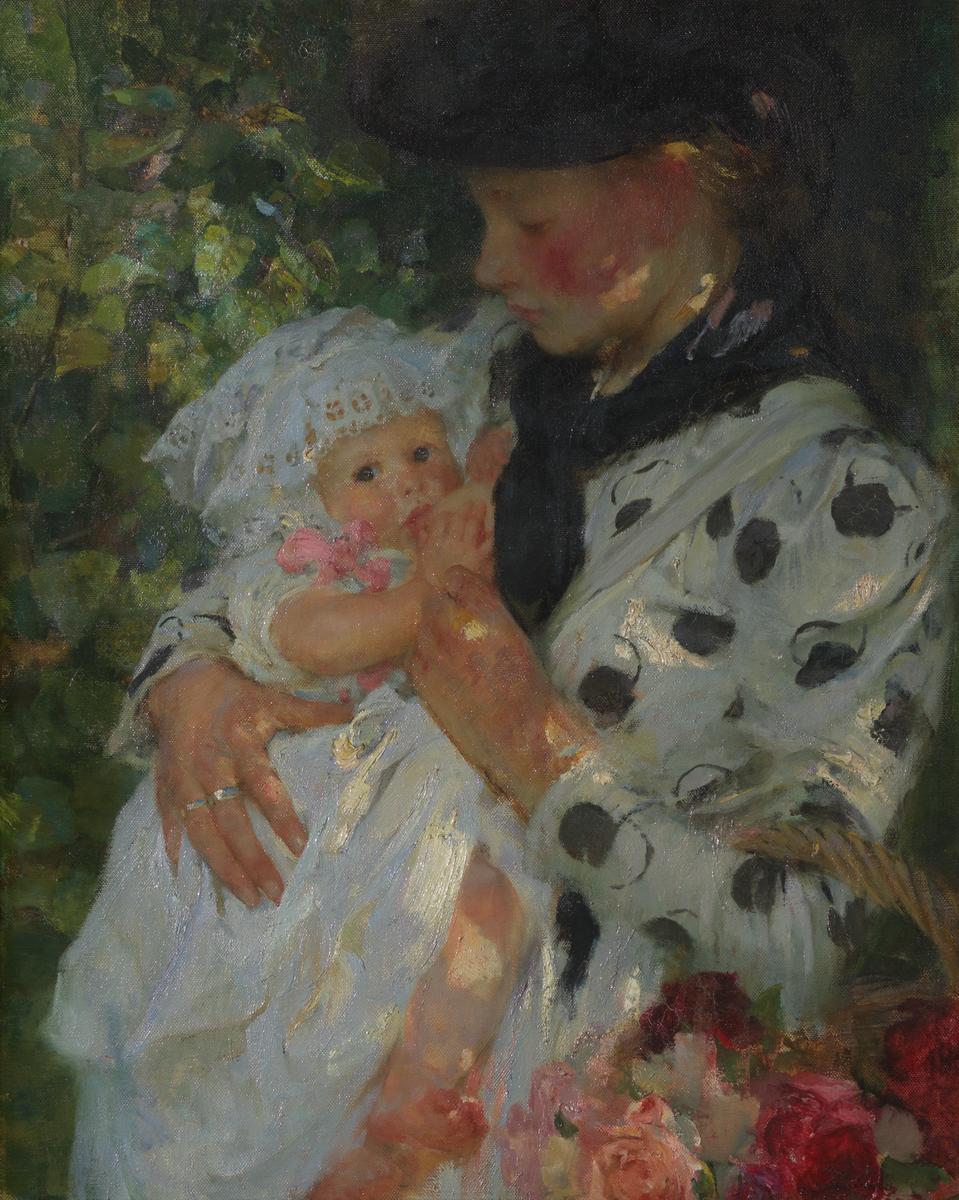 Sir James Jebusa Shannon

,

The Flower Girl

1900
8/25
artworks in In Open Air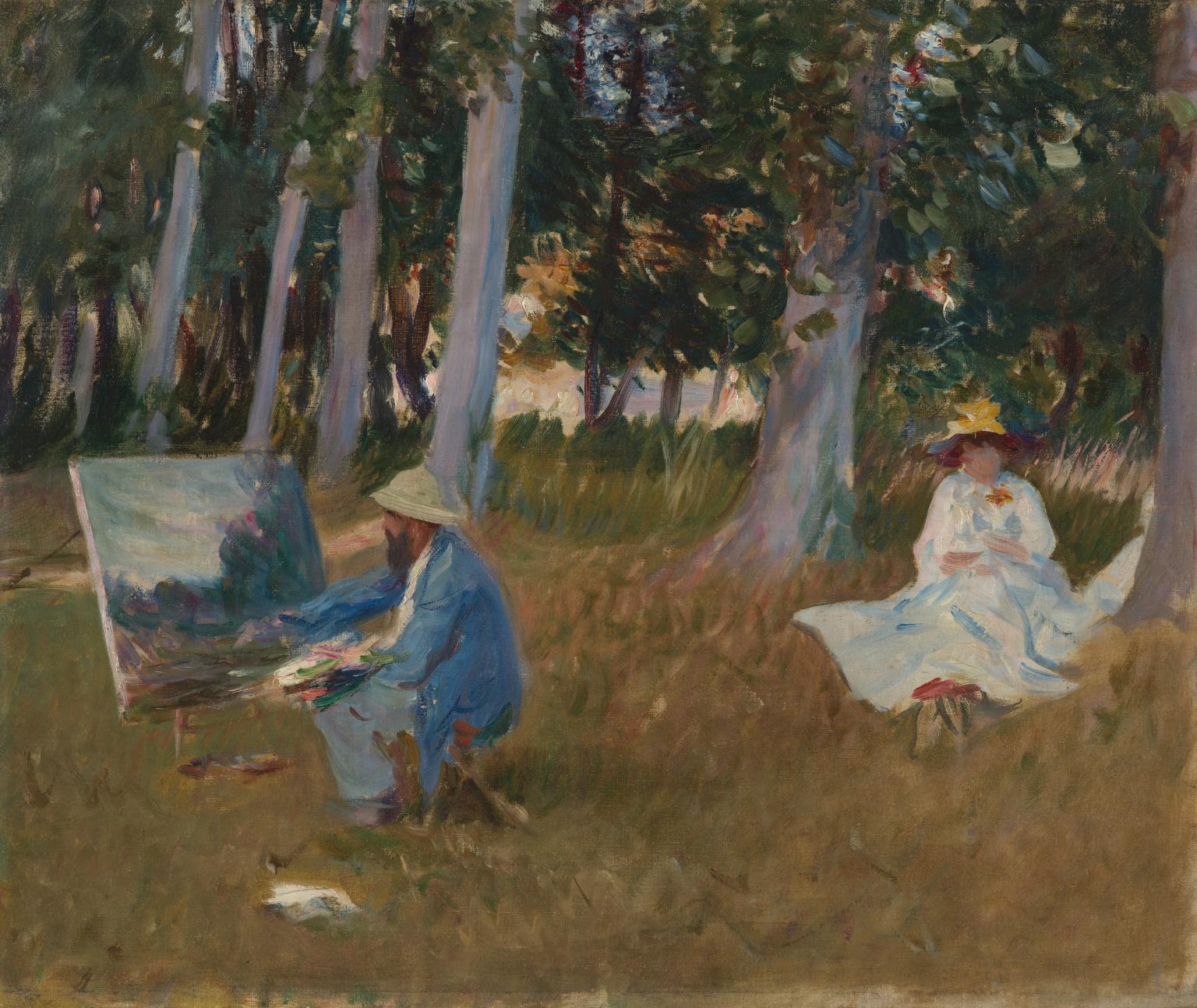 John Singer Sargent

,

Claude Monet Painting by the Edge of a Wood

?1885

Sargent first met Monet in 1876, but the two artists were closest ten years later. It was probably in 1885 that they painted together at Giverny, near Paris. Sargent admired the way that Monet worked out of doors, and imitated some of his subjects and methods in sketches such as this. It is characteristic of Sargent to give a human view of Monet's practice and of the patience of his wife, who sits behind him. When he settled in London in 1885 Sargent was initially viewed as avant-garde, but came to be the greatest society portraitist of his day.

Gallery label, August 2004
9/25
artworks in In Open Air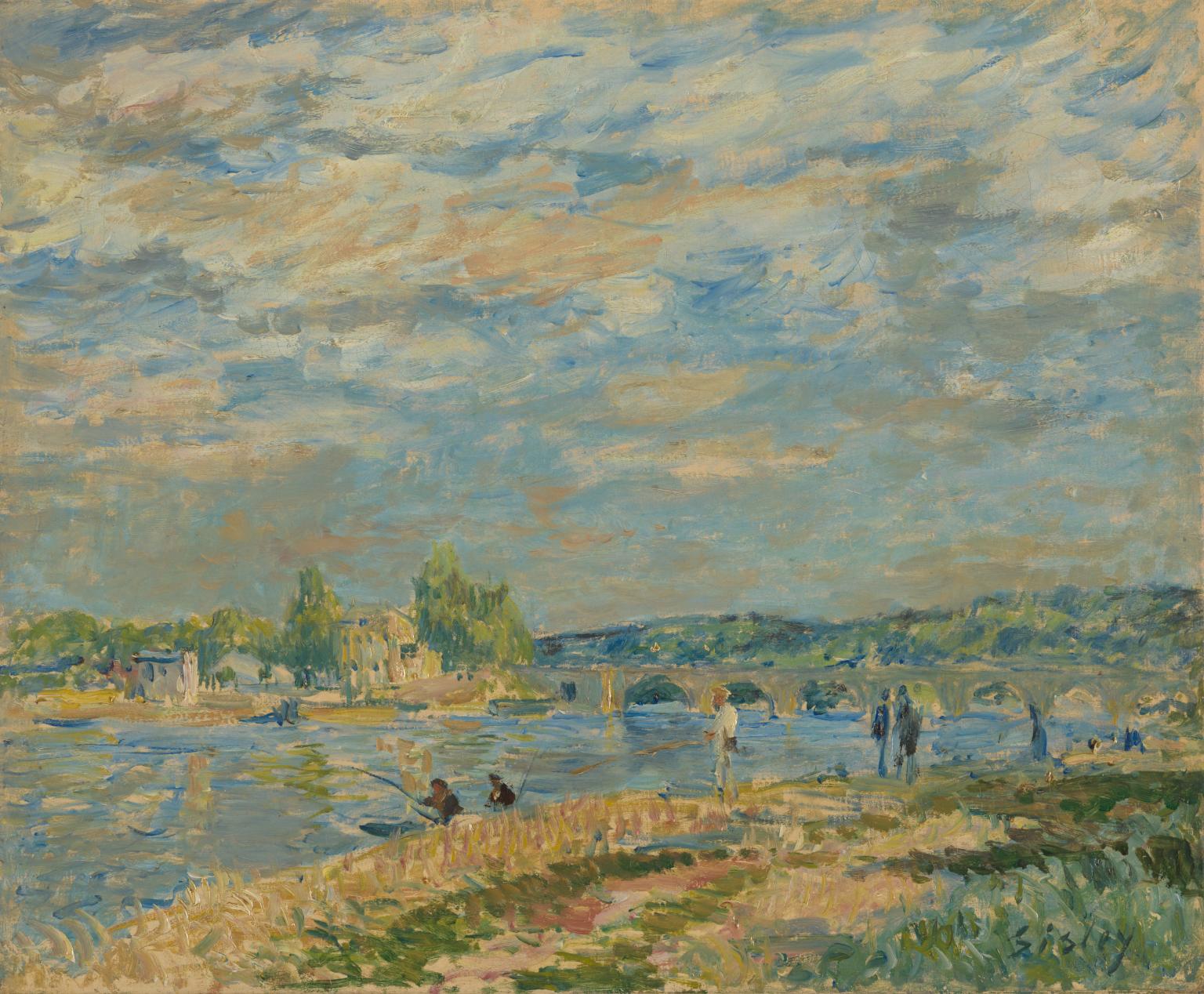 Alfred Sisley

,

The Bridge at Sèvres

1877

Sisley lived in Sèvres, on the outskirts of Paris, between 1877 and 1880. While there, he painted ten pictures from the bridge, all from slightly different viewpoints. Most date from 1877. This one is painted looking south, with the first houses of Billancourt on the left and Sèvres on the right.

Gallery label, August 1993
10/25
artworks in In Open Air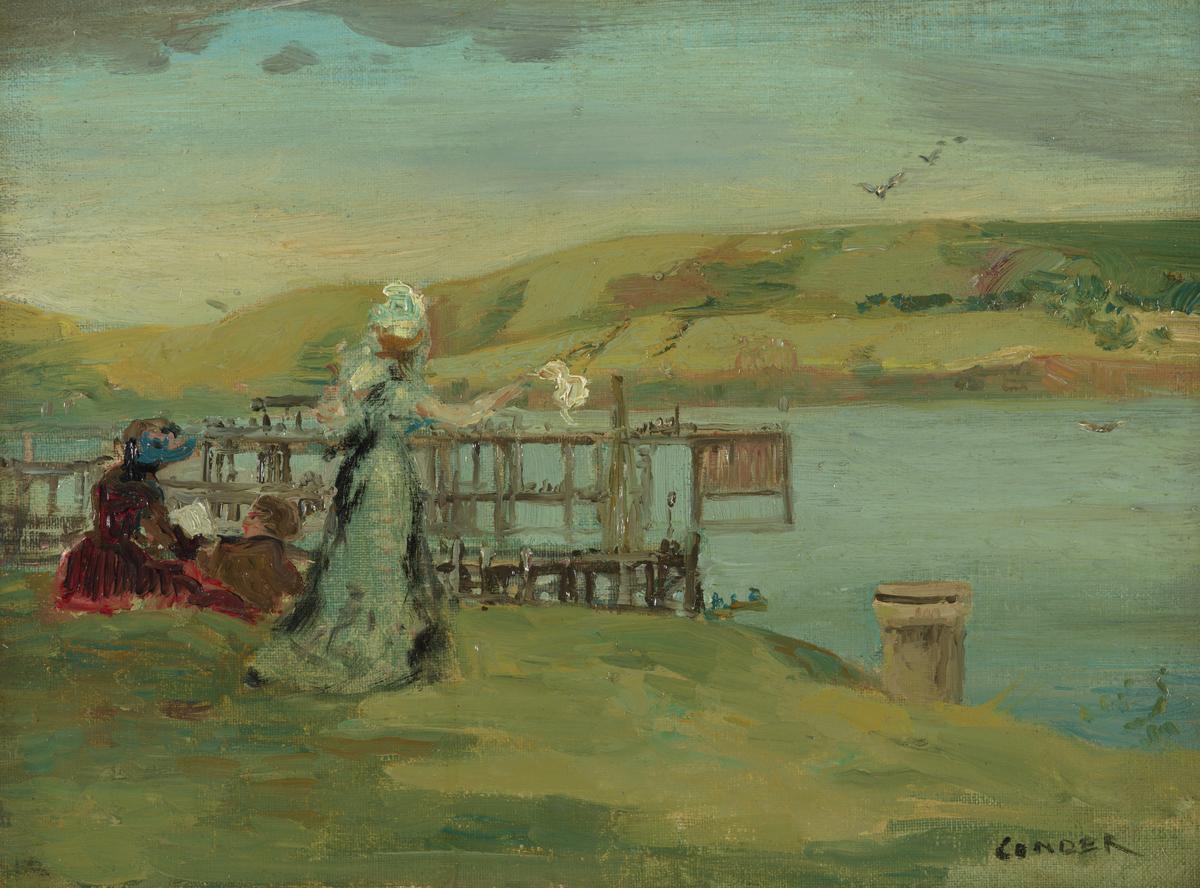 Charles Conder

,

By the Sea: Swanage

c.1901

Conder's directly painted little sketches of Swanage can be compared in approach with paintings by his slightly younger contemporaries in Britain, Augustus John and William Nicholson. Conder at the same time was also reviving an unusual genre, painting on fans in an eighteenth-century style. The prettiness and elegance of his fans is echoed in these sketches. Compare the contemporary fascination with rococo decorative art in Wilson Steer's 'Toilet of Venus' on show in this room.

Gallery label, September 2004
11/25
artworks in In Open Air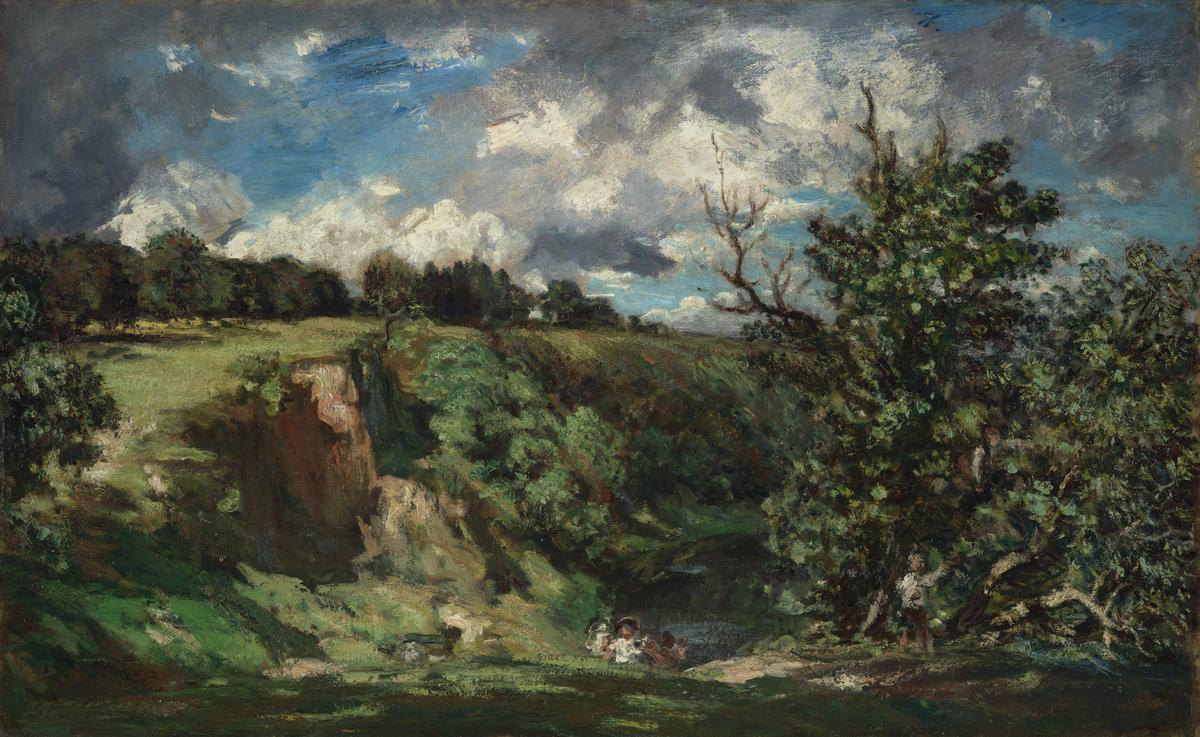 Philip Wilson Steer

,

Bird-nesting, Ludlow

1898

In the late 1890s Steer moved on from his Impressionist style, in which he had painted sunlit views of children beside the sea. He began to paint landscapes in which he set out to display what he considered the most beautiful countryside of Britain. He was guided by Turner to the spectacular British castles, and from Constable learned the attraction of woods and windy hilltops. The foregrounds of Turner's oil paintings sometimes include children playing country games, as with these children stealing birds' eggs. Steer returned to Ludlow often, as a favourite place.

Gallery label, September 2004
12/25
artworks in In Open Air
Henry Bishop

,

Sirocco, Tetuan

c.1907–8
13/25
artworks in In Open Air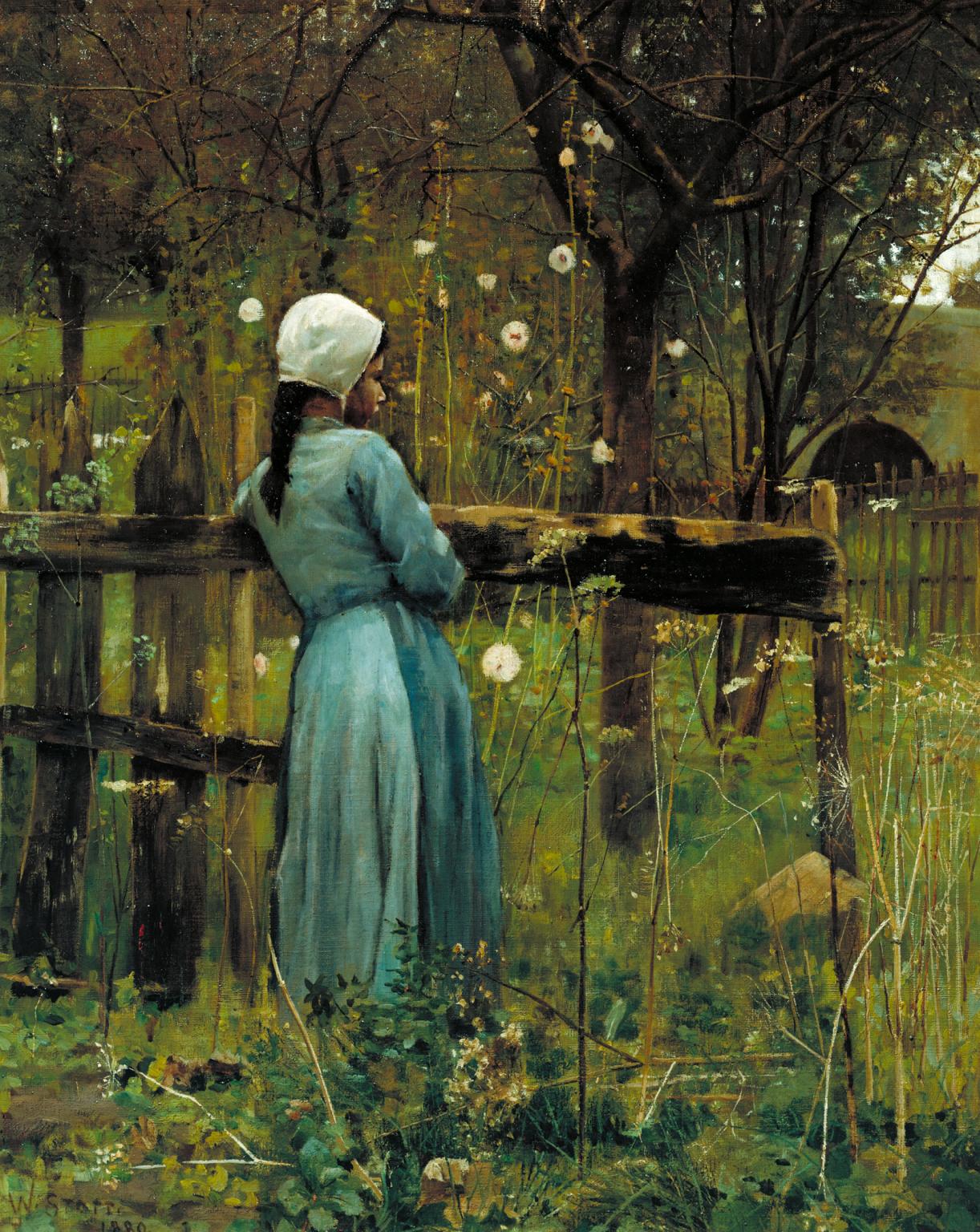 William Stott of Oldham

,

Prince or Shepherd? (Prince ou Berger?)

1880

William Stott studied in Paris under the French painter, Jean-Léon Gérôme. He also exhibited at the Paris Salon, where he was awarded a medal in 1882. This picture is an exercise in the type of rural naturalism practised by French artists like Jules Bastien-Lepage, who were in turn influenced by the group of painters working in the Cornish fishing village of Newlyn in England. Stott devotes considerable attention to the arrangement of the closely observed flowers and vegetation. This kind of detail appealed to more conservative elements of the British art world, such as the Royal Academy, where Stott frequently exhibited.

Gallery label, August 2004
14/25
artworks in In Open Air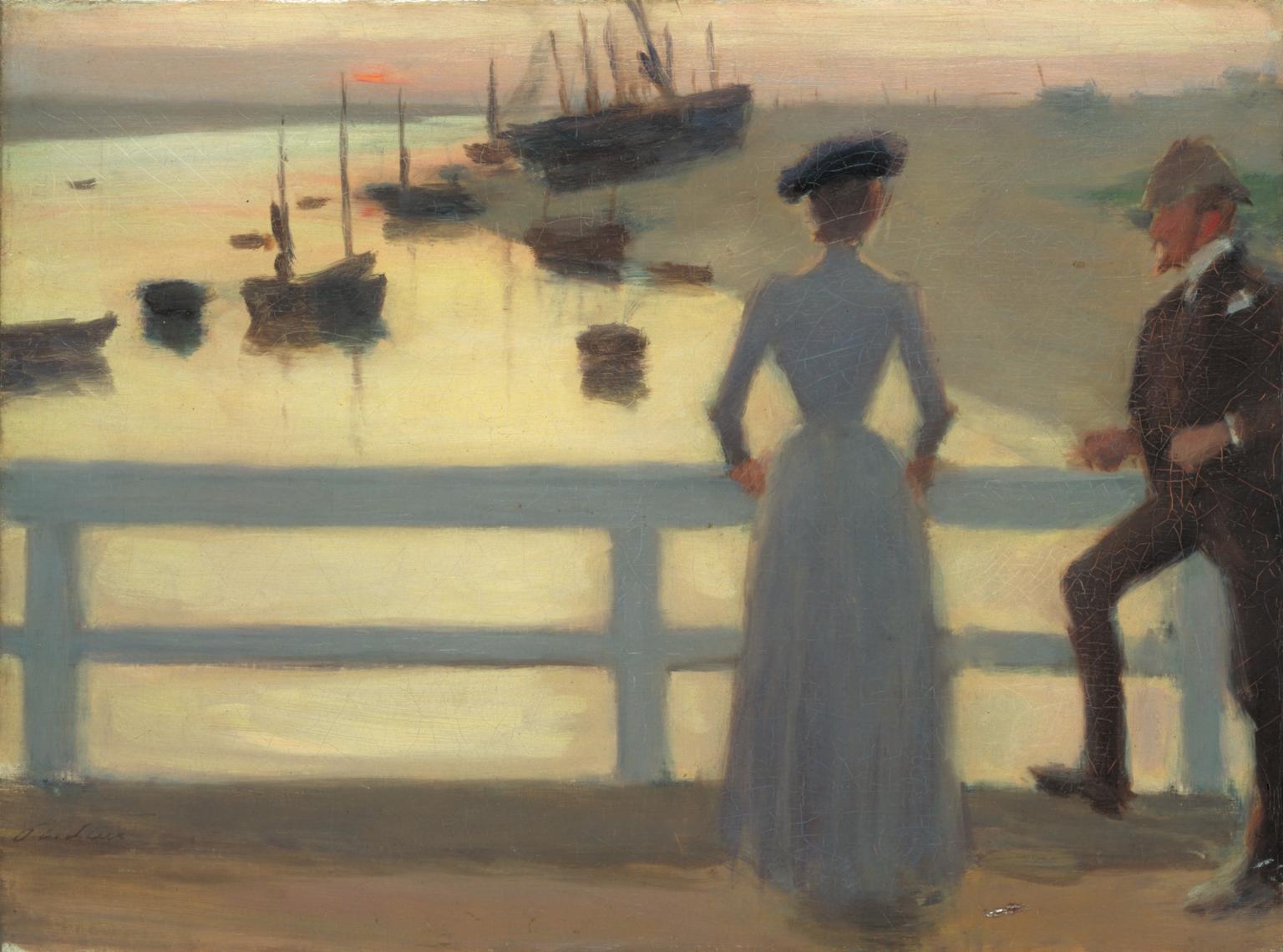 Philip Wilson Steer

,

The Bridge

1887–8

This picture was strongly attacked by the critics when it was first exhibited in 1887, and dismissed by one as 'either a deliberate daub or so much mere midsummer madness'. Steer considered giving up painting in the wake of this disapproval. With its exploitation of the creamy fluency of oil paint, its atmospheric lighting and subdued colouring, 'The Bridge' is like Whistler's landscapes he called 'Nocturnes'. It was unusual in London at the time for its lack of detail, and for the uncertainly about its subject. The view is probably at Walberswick in Suffolk.

Gallery label, September 2004
15/25
artworks in In Open Air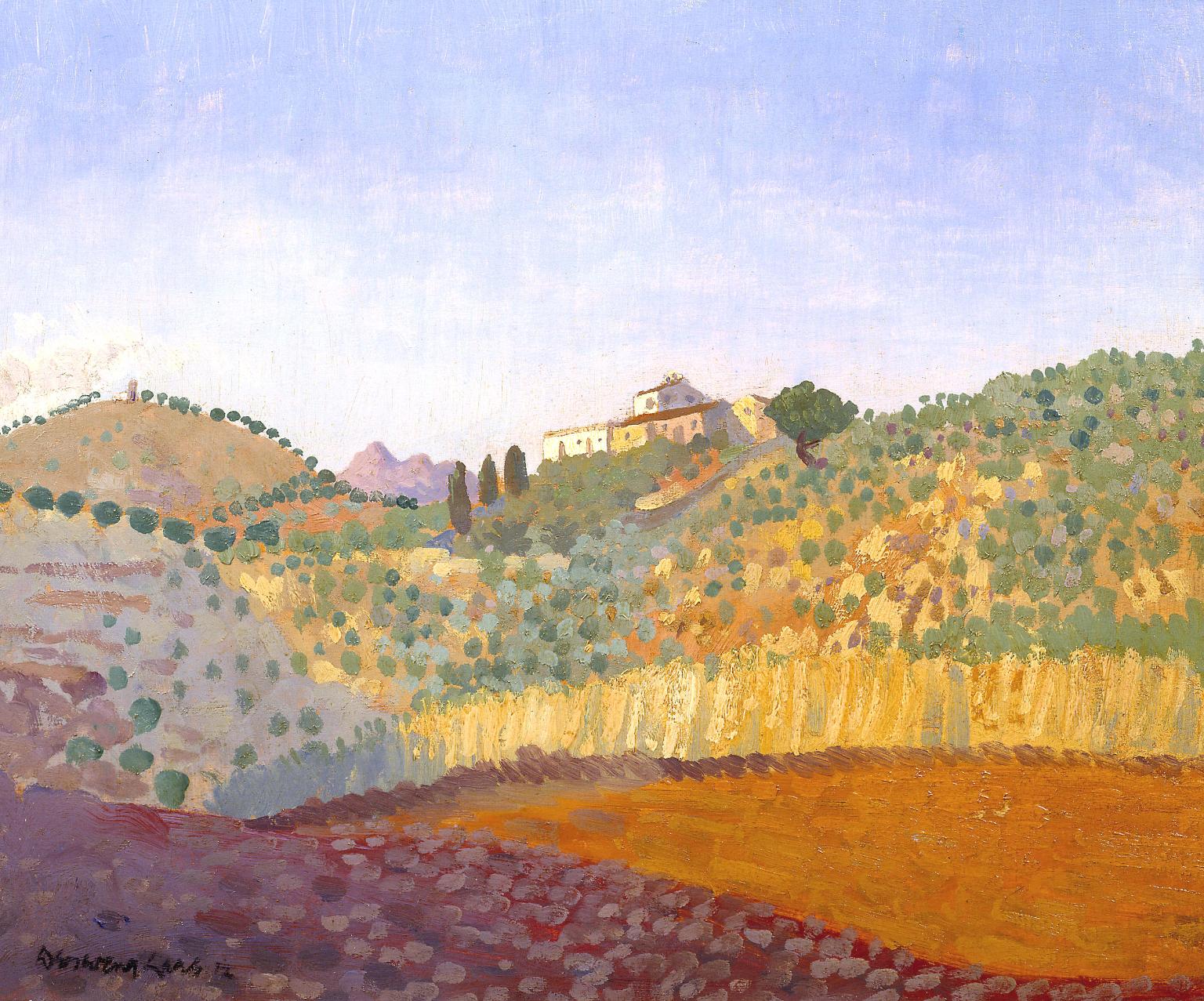 Derwent Lees

,

Métairie des Abeilles

1912
16/25
artworks in In Open Air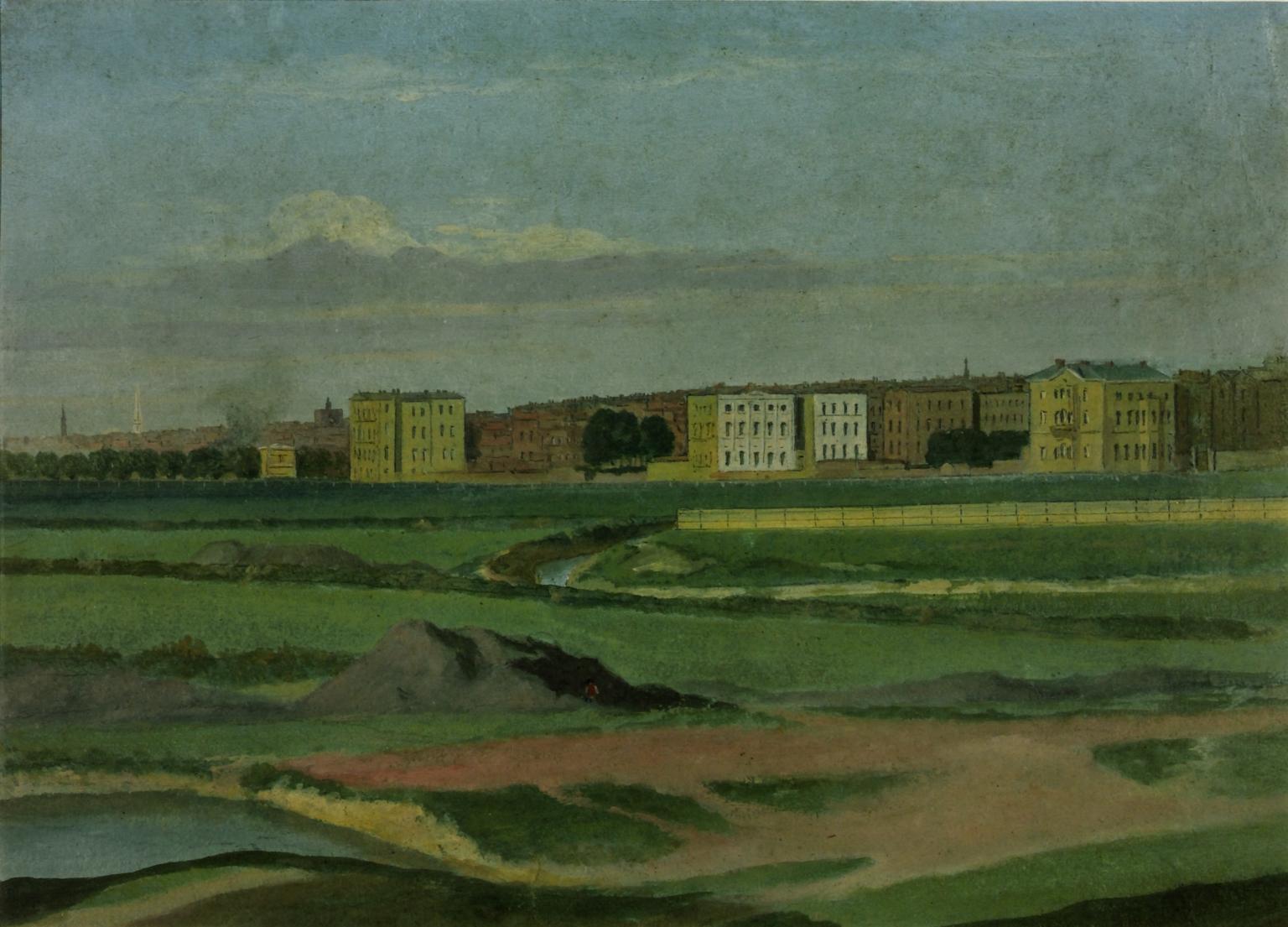 Thomas Jones

,

The Outskirts of London: A View Looking towards Queen Square

1785–6
17/25
artworks in In Open Air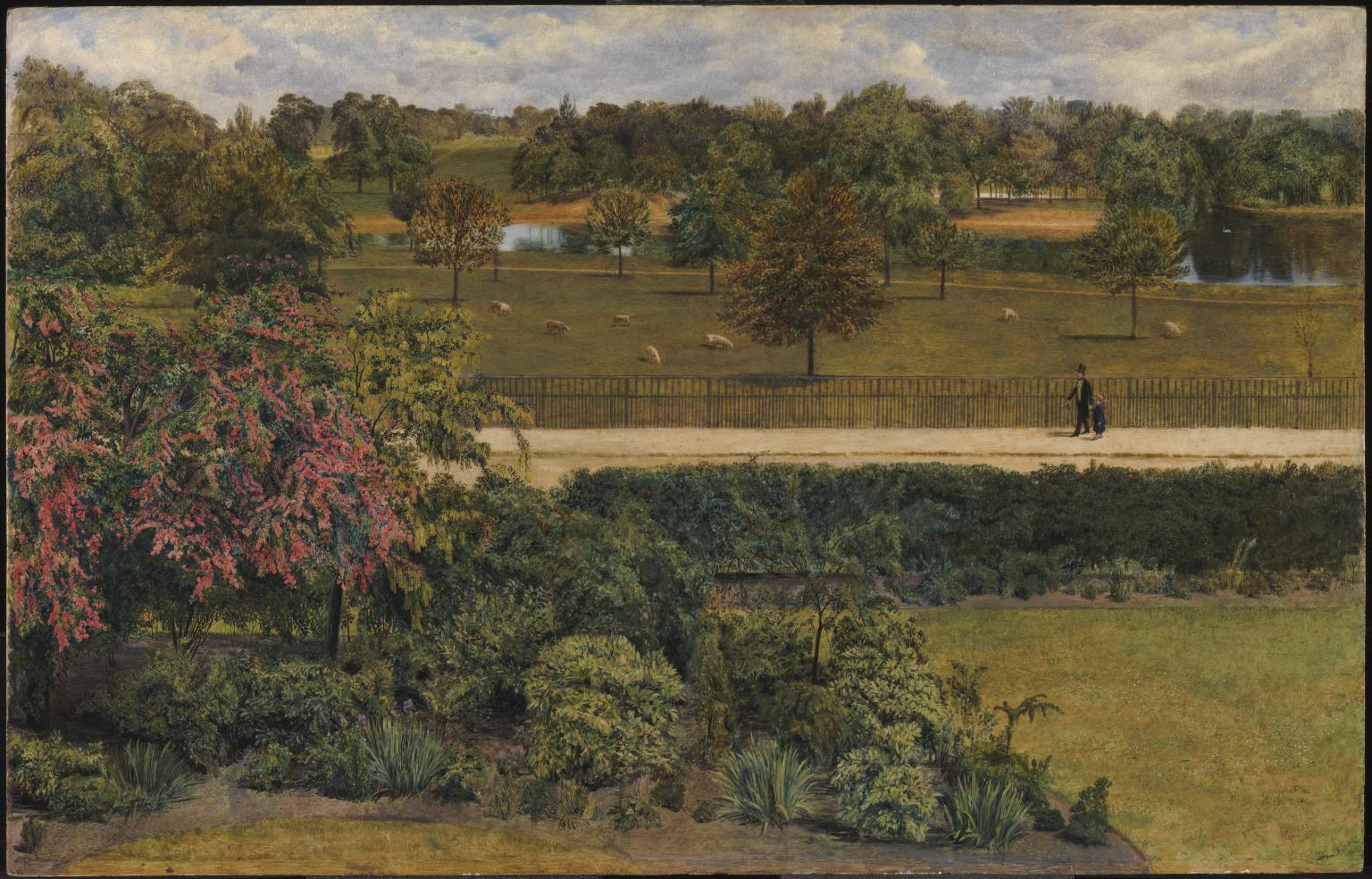 Charles Allston Collins

,

May, in the Regent's Park

1851

This picture was probably painted from the artist's family home in Hanover Terrace in London and shows the view east across Regent's Park. The minute detail of this urban landscape, presented squarely and with little spatial depth, was considered absurd by critics when it was exhibited in 1852. Charles Collins's meticulous painting style closely associated him with the Pre-Raphaelites. John Everett Millais proposed him for membership of the Brotherhood in 1850 but he was not accepted. By the end of the 1850s he had abandoned painting to concentrate on writing novels and essays.

Gallery label, November 2016
18/25
artworks in In Open Air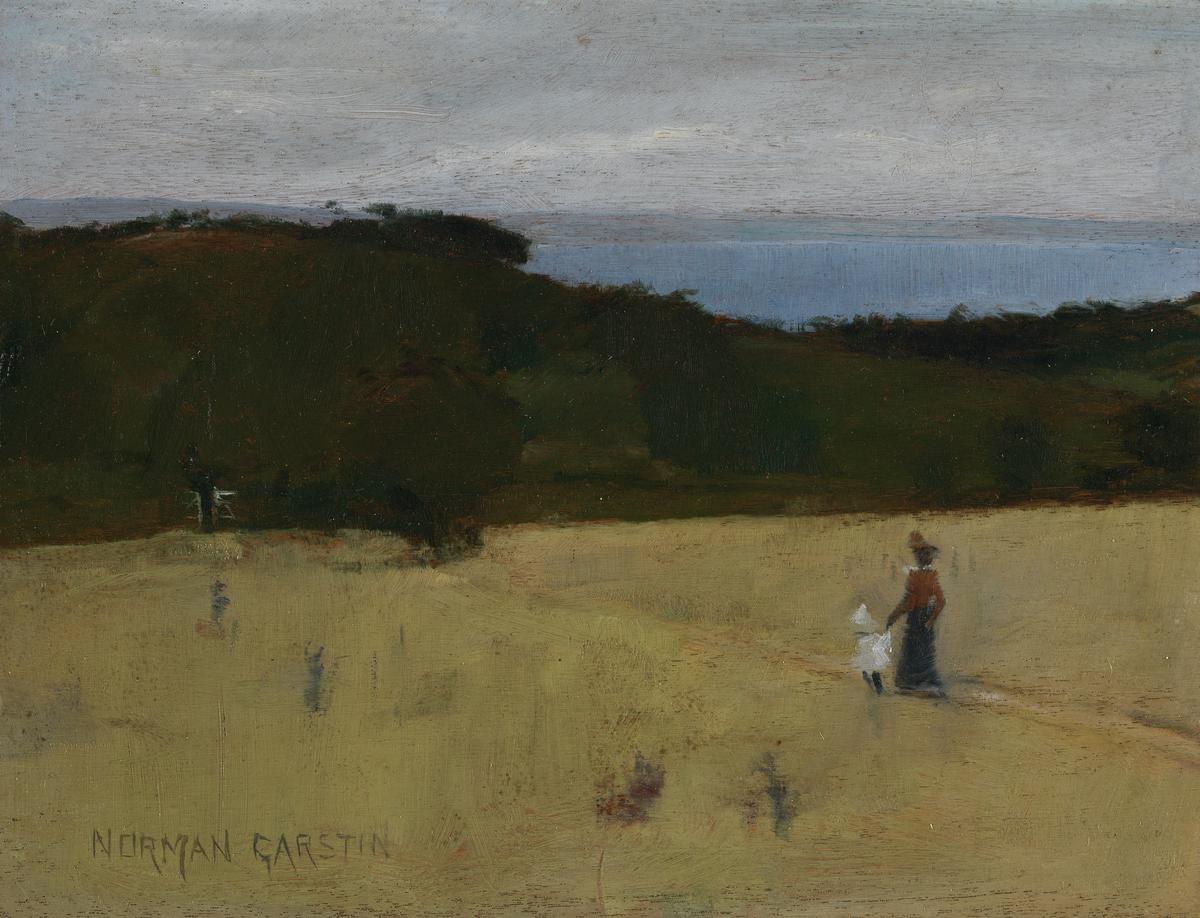 Norman Garstin

,

Mount's Bay and Tolcarne from Trewidden Farm Footpath with Alethea and her Mother

c.1898

Garstin painted this picture outdoors, or en plein air, like many of his works. It includes his wife Louisa Jones, and his daughter Alethea, who became a painter herself. His small, freely painted landscapes catch impressionistic light effects. Originally from Ireland, Garstin trained in Antwerp and Paris and moved to Cornwall by 1886. He was a teacher and writer as well as an artist. He was a member of the New English Art Club and the Newlyn School.

Gallery label, September 2020
19/25
artworks in In Open Air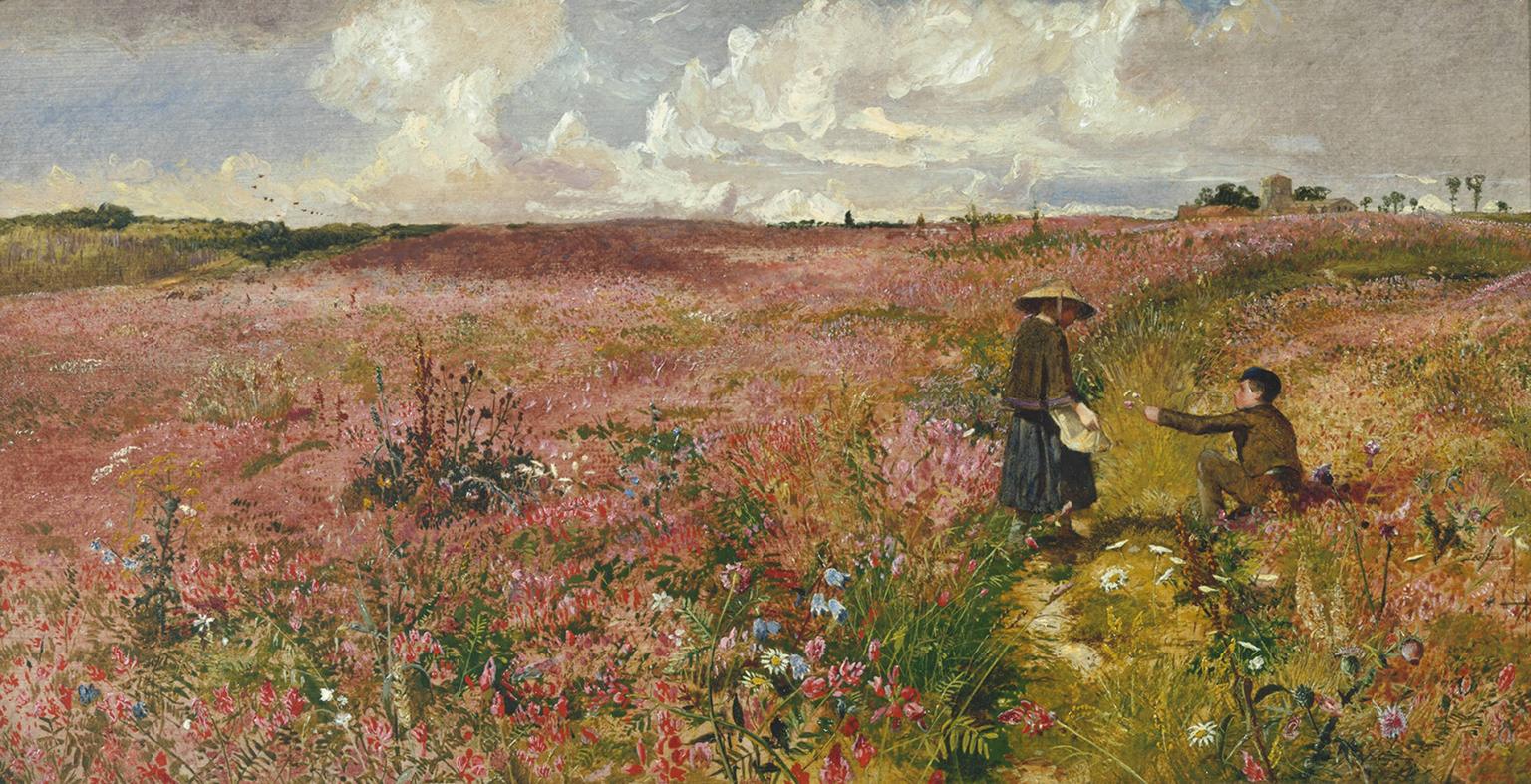 John Samuel Raven

,

Study for 'Saintfoin in Bloom': View near Cobham in Kent

1857

This is a study for the finished picture exhibited at the Royal Academy in 1859 and described as a view near Cobham in Kent. Saintfoin (now usually spelled sainfoin) is a wild perennial herb with tall, conical pink flowers. Once cultivated as a fodder plant, its name is French and means 'wholesome hay'. The influence of Pre-Raphaelitism can be seen in the rich colour and foreground detail.

Gallery label, November 2016
20/25
artworks in In Open Air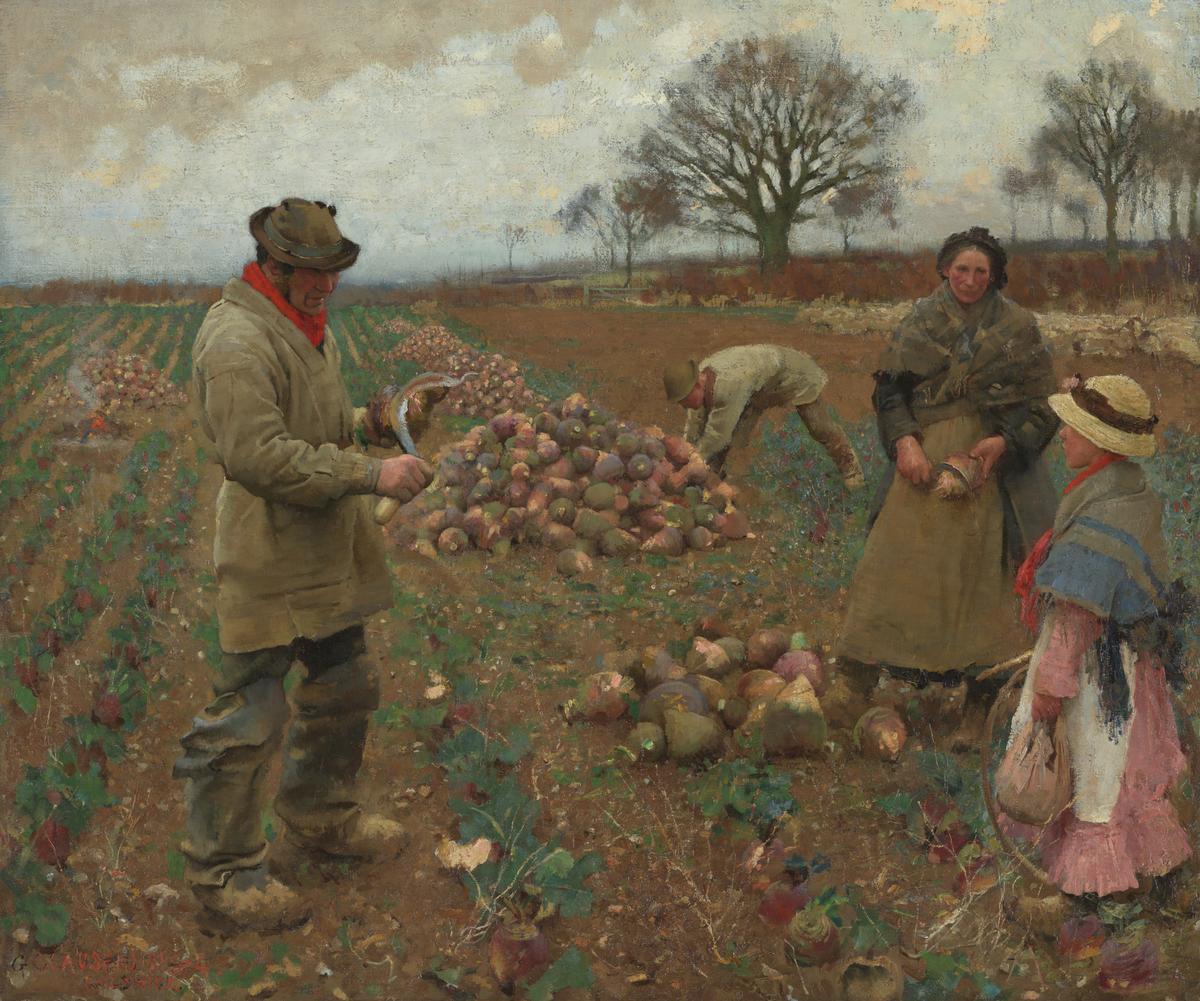 Sir George Clausen

,

Winter Work

1883–4

In the 1880s Clausen devoted himself to painting realistic scenes of rural work after seeing such pictures by the French artist Jules Bastien-Lepage (1848-84). In this picture he shows a family of field workers topping and tailing swedes for sheep fodder. It was painted at Chilwick Green near St Albans, where the artist had moved in 1881. He uses subdued colouring to capture the dull light and cold of winter, and manages to convey the hard reality of country work. Such unromanticised scenes of country life were often rejected by the selectors of the Royal Academy annual exhibitions.

Gallery label, September 2004
21/25
artworks in In Open Air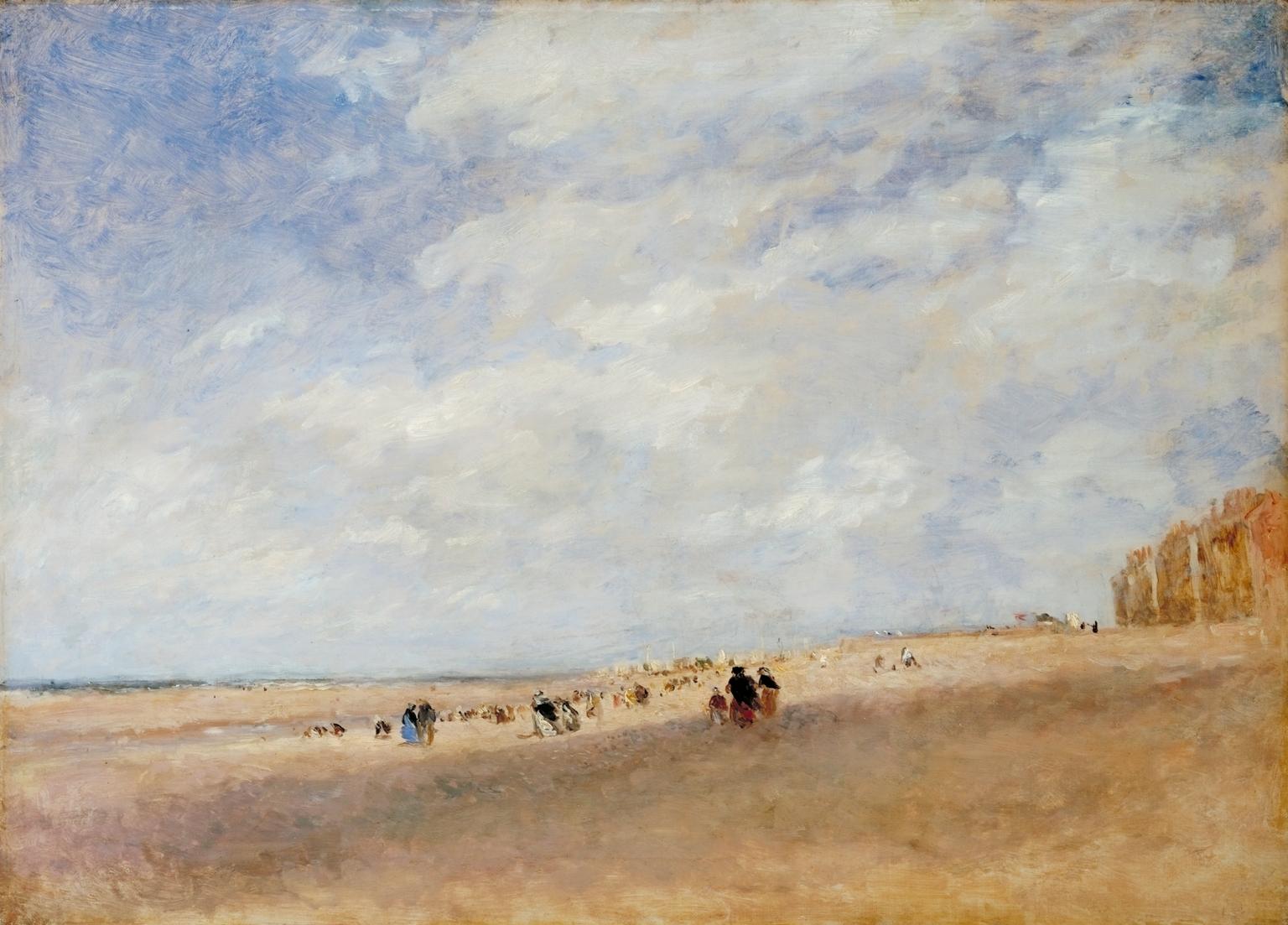 David Cox

,

Rhyl Sands

c.1854

Cox began making regular visits to north Wales after settling near Birmingham in 1841. Rhyl lay en route to his favourite destination, Betws-y-Coed. Primarily a watercolourist, Cox only took up oil painting seriously around 1840. 'Rhyl Sands' shows him working with total mastery and in a manner that is unique in British landscape painting of the 1850s.

Gallery label, August 2004
22/25
artworks in In Open Air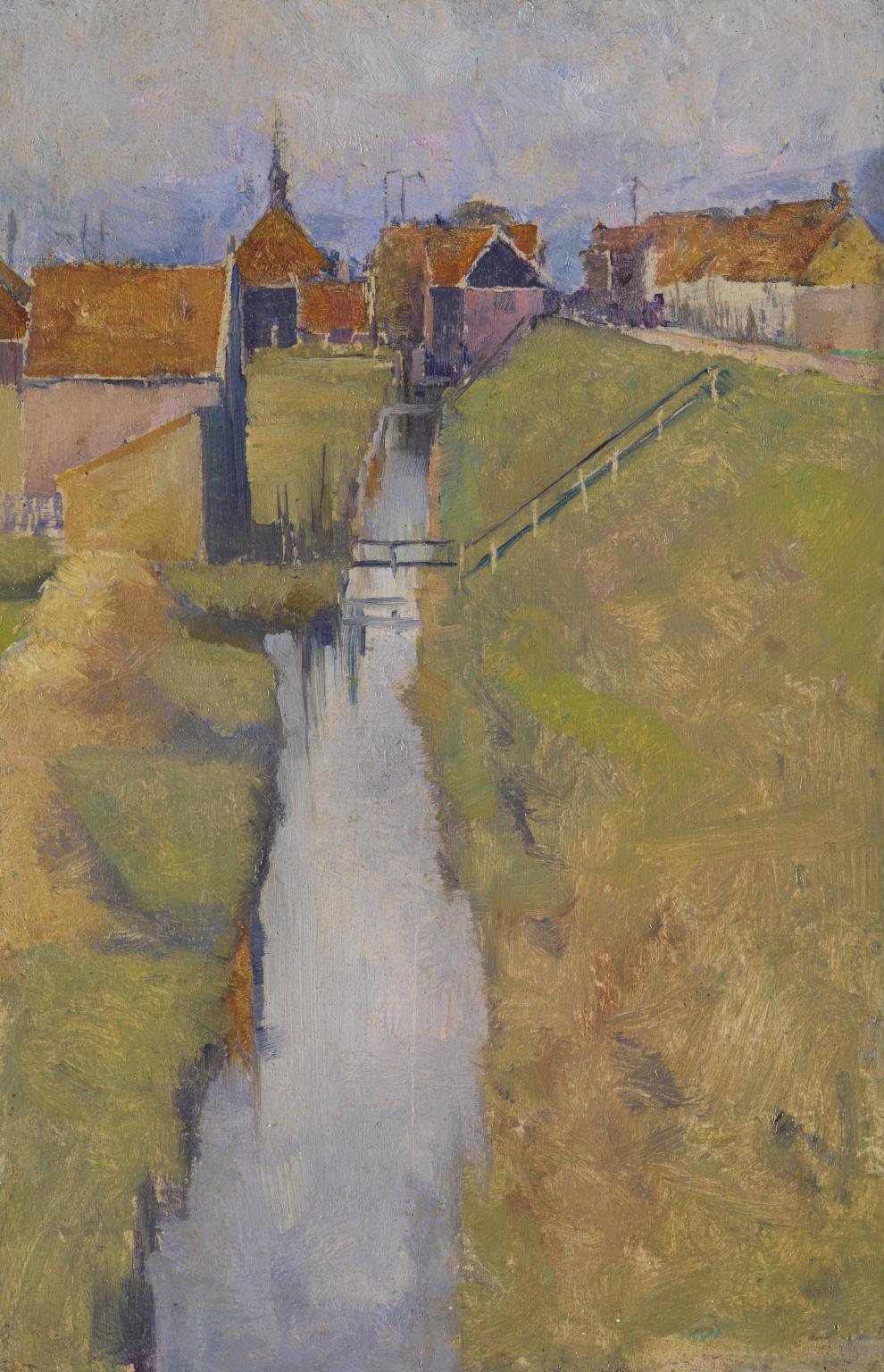 Elizabeth Forbes

,

Volendam, Holland, from the Zuidende

?1895

Volendam is a small fishing village near Amsterdam. The 17th-century Hervormde church can be seen in the distance, and beyond that, the masts of ships moored in the harbour. Volendam was popular with artists in the 19th century. Forbes made several trips to the area. Inspired by French impressionist artists, she liked to paint everyday scenes outdoors. Forbes was a Canadian and exhibited internationally. She lived in Newlyn in Cornwall, where she was a leading member of the Newlyn School and co-founded an art school.

Gallery label, September 2020
23/25
artworks in In Open Air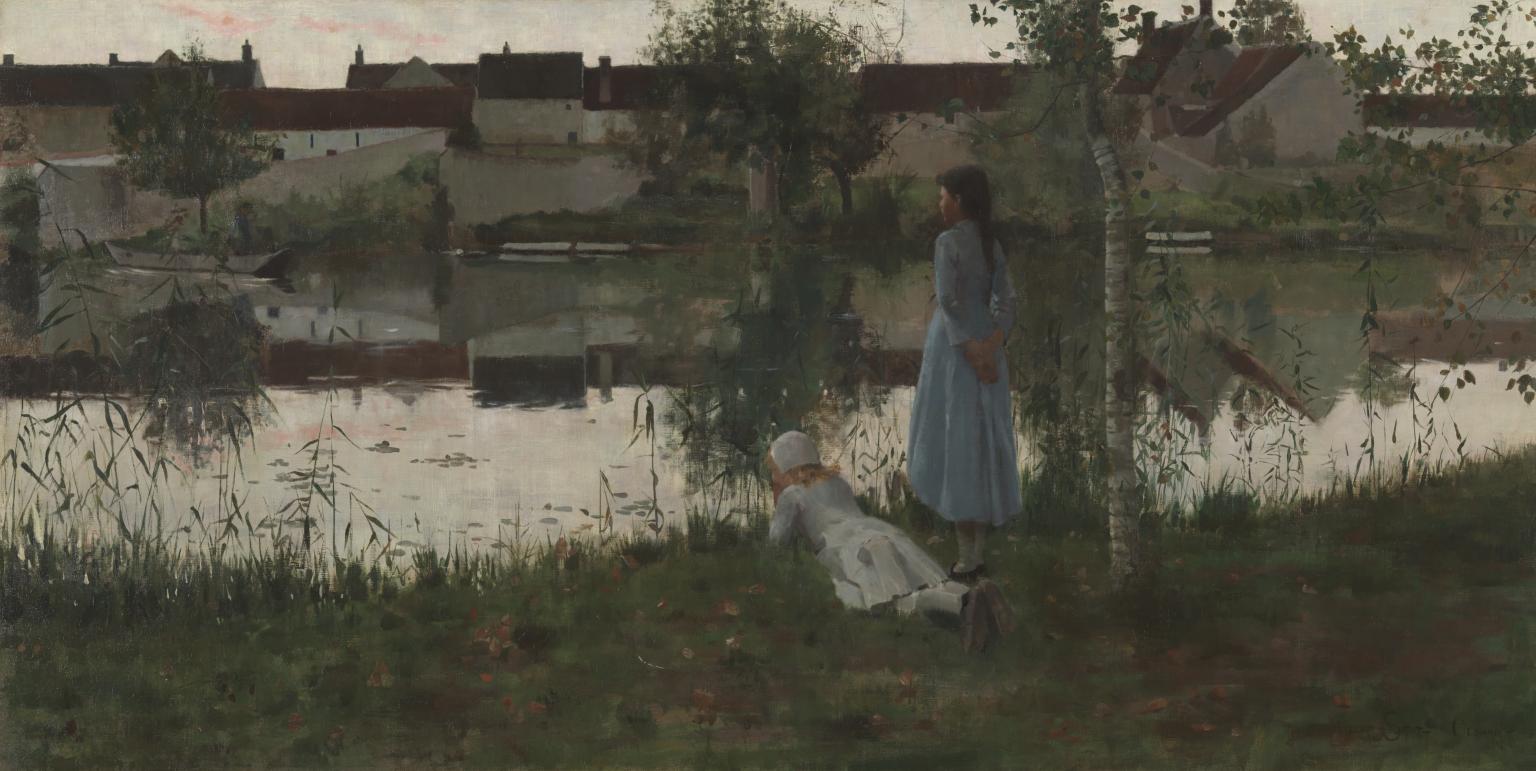 William Stott of Oldham

,

Le Passeur (The Ferryman)

1881

Here, two girls are pictured waiting for a ferry-boat to cross a river at dusk. It has been suggested that the title could be a reference to Charon, the ferryman of Greek mythology. Charon crosses the river Styx, the border between Earth and the Underworld. The dimming light and the flowing water may represent different phases of life and the passage from life to death. Le Passeur was painted on the shore of the river Loing in north-central France. It was made while Stott was staying at the international artists' colony of Grez-sur-Loing.

Gallery label, May 2021
24/25
artworks in In Open Air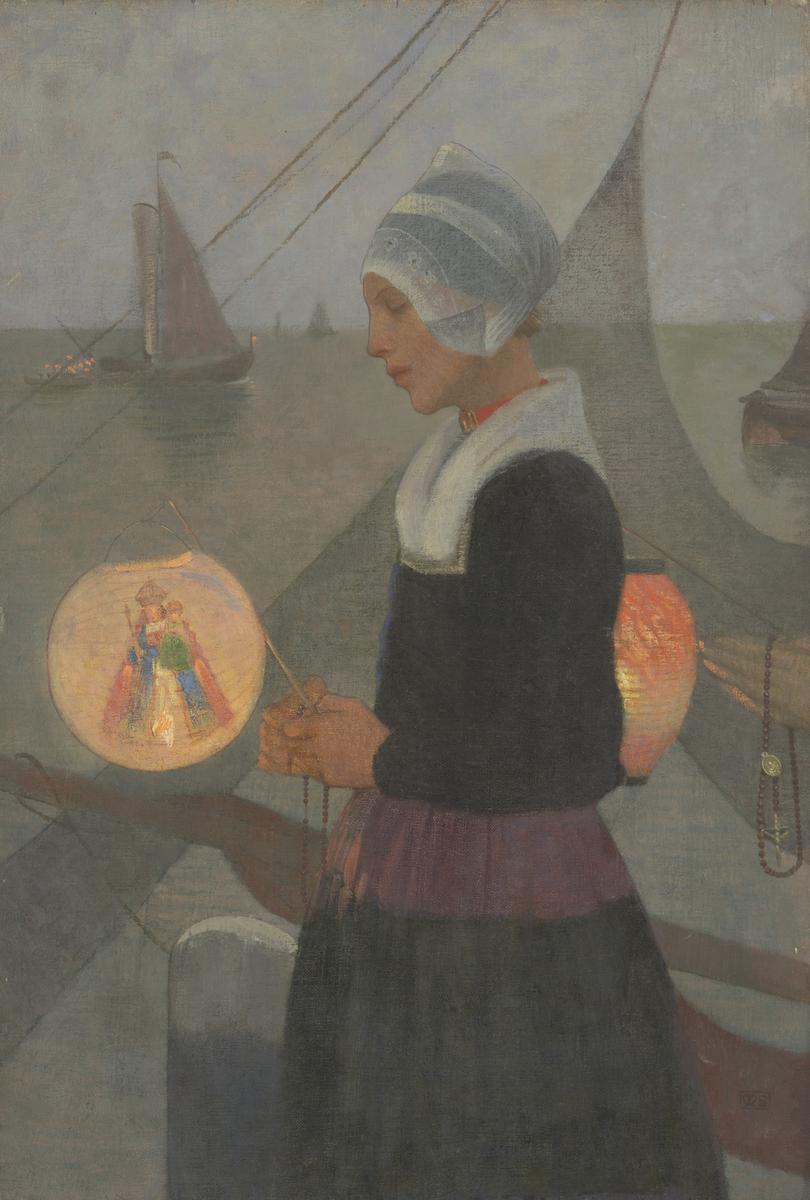 Marianne Stokes

,

A Fisher Girl's Light (A Pilgrim of Volendam returning from Kevelaer)

1899

A Fisher Girl's Light depicts a young woman walking alongside a harbour, with her head tilted downwards, and her eyes closed. She appears absorbed in thought. She wears traditional local costume and winged, white headdress of the Dutch town of Volendam. Two lanterns glow orange against the dusk of the sea. Boats and nets appear beyond. The girl contemplates a rosary and a lantern bearing an image of Our Lady of Luxemburg, Kevelaer, Consoler of the Afflicted. The warm lantern spheres set against a cool geometry of nets and boats, looks forward to early twentieth-century abstraction. A Fisher Girl's Light exemplifies Stokes's study of medieval techniques and imminent adoption of an egg tempera medium, applied in tiny strokes, to achieve paler, purer colour and a smoother surface.
25/25
artworks in In Open Air
Art in this room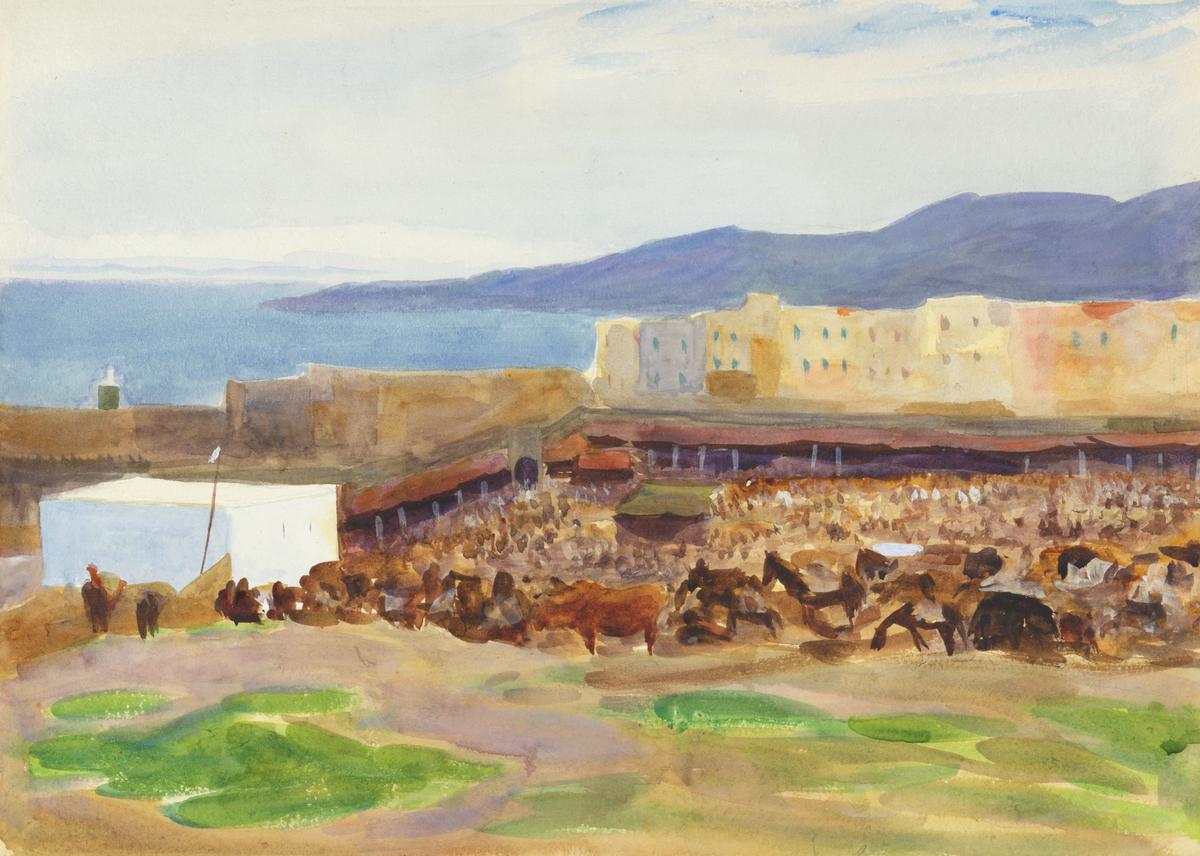 Emily Sargent
Tangier
1900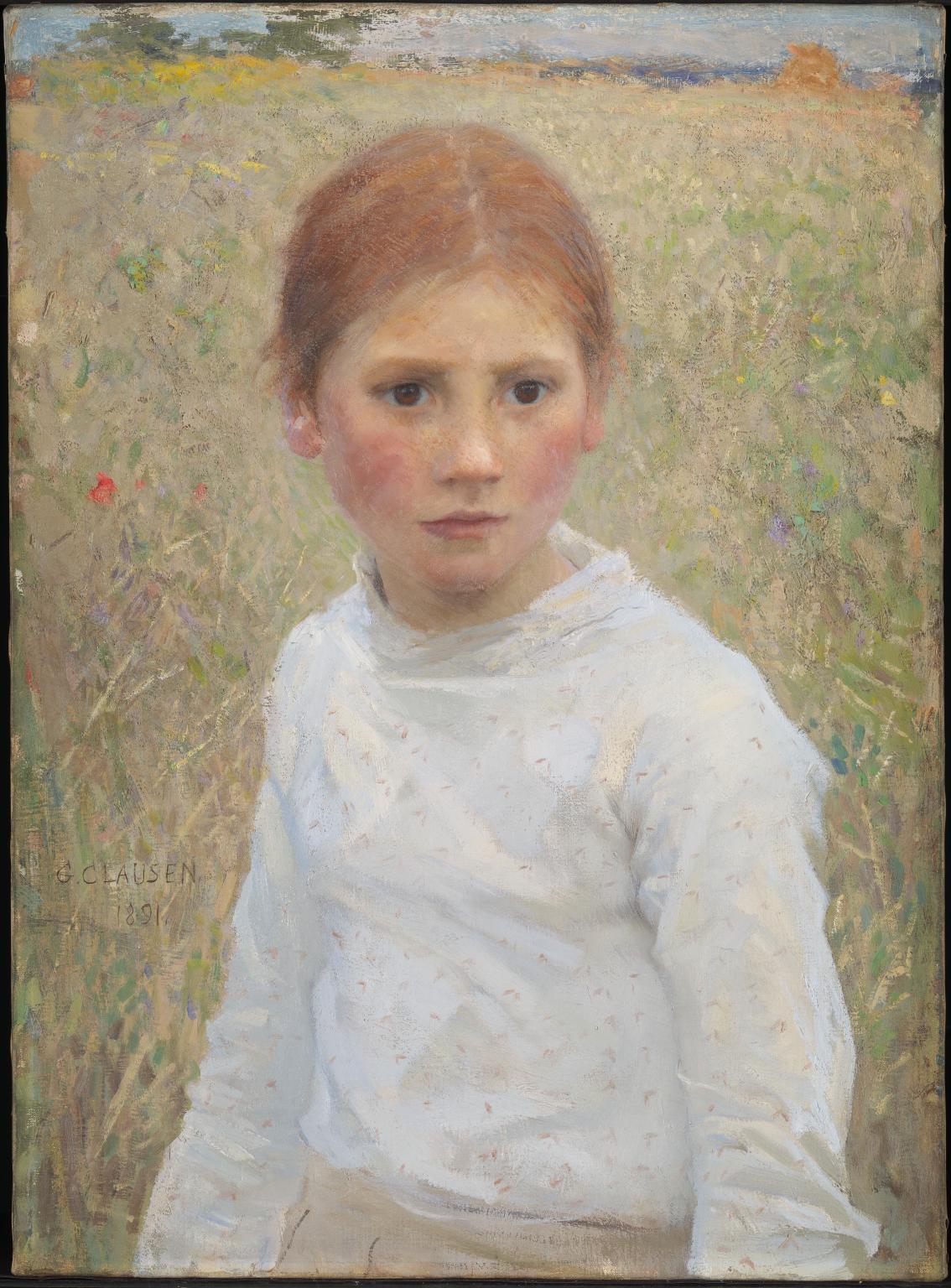 Sir George Clausen
Brown Eyes
1891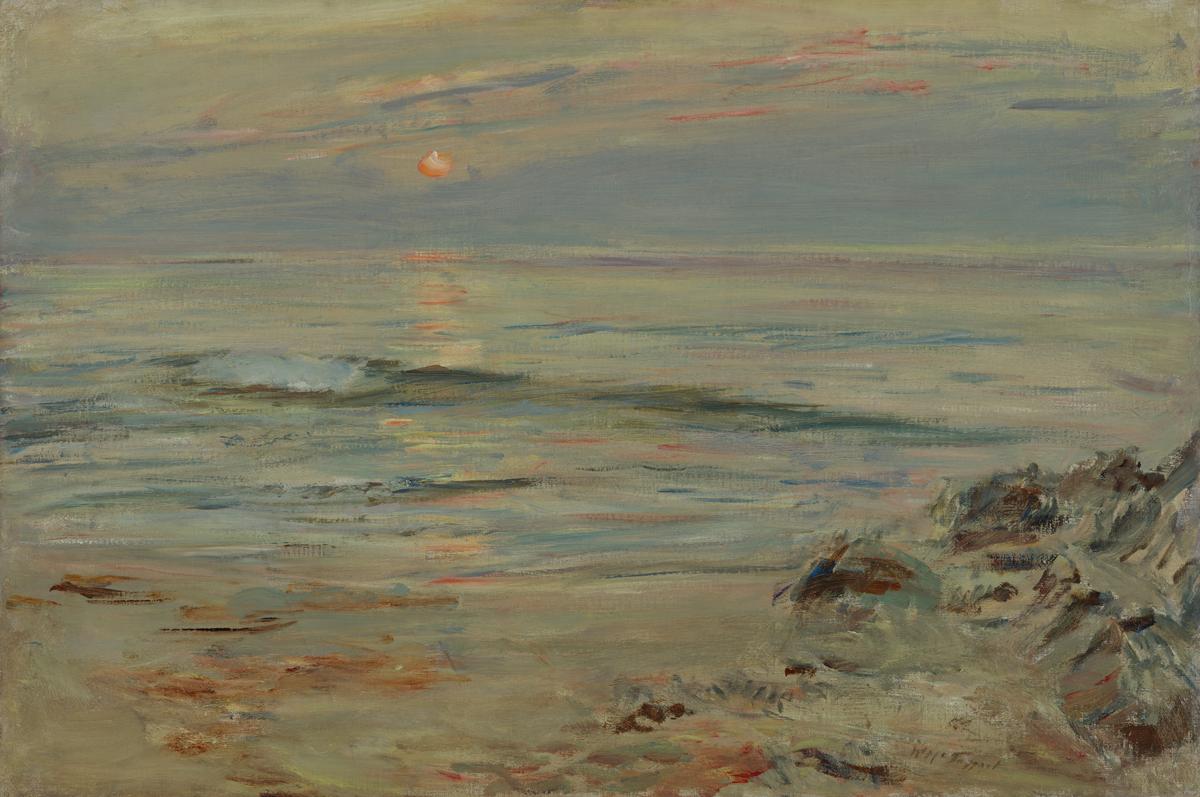 William McTaggart
Summer Sundown - Tir-nan-og
1880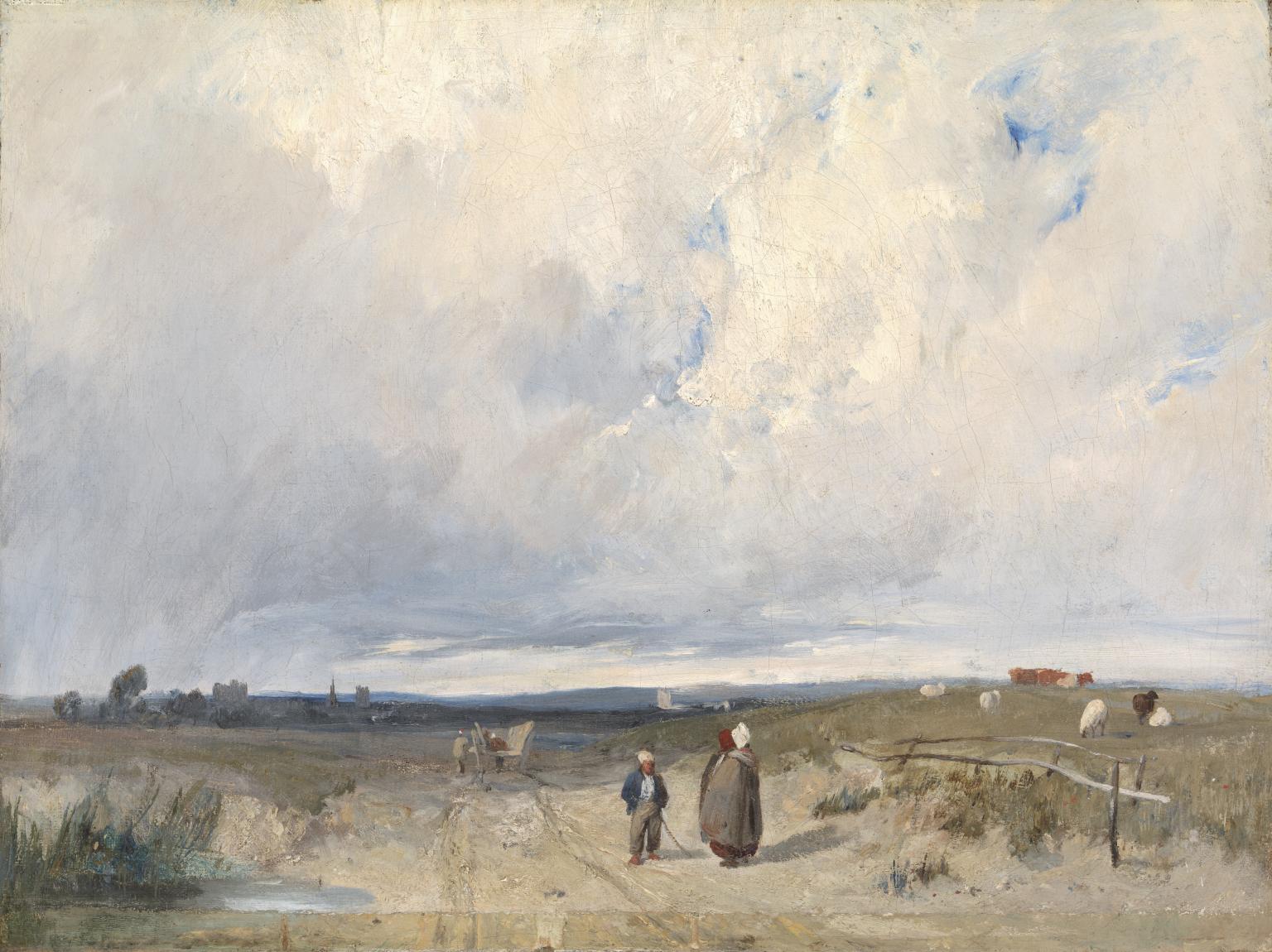 Richard Parkes Bonington
A Distant View of St-Omer
c.1824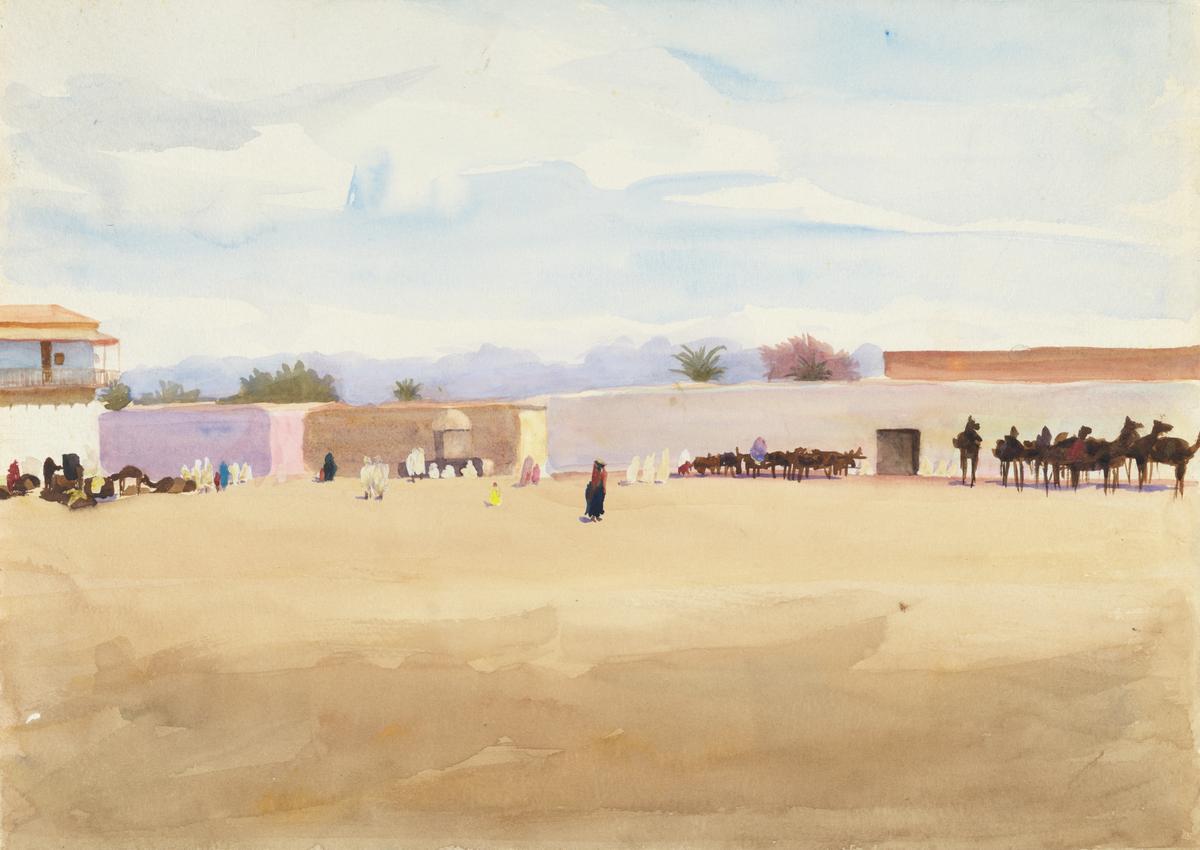 Emily Sargent
Biscra, Easter Scene with Camels and Other Animals
1902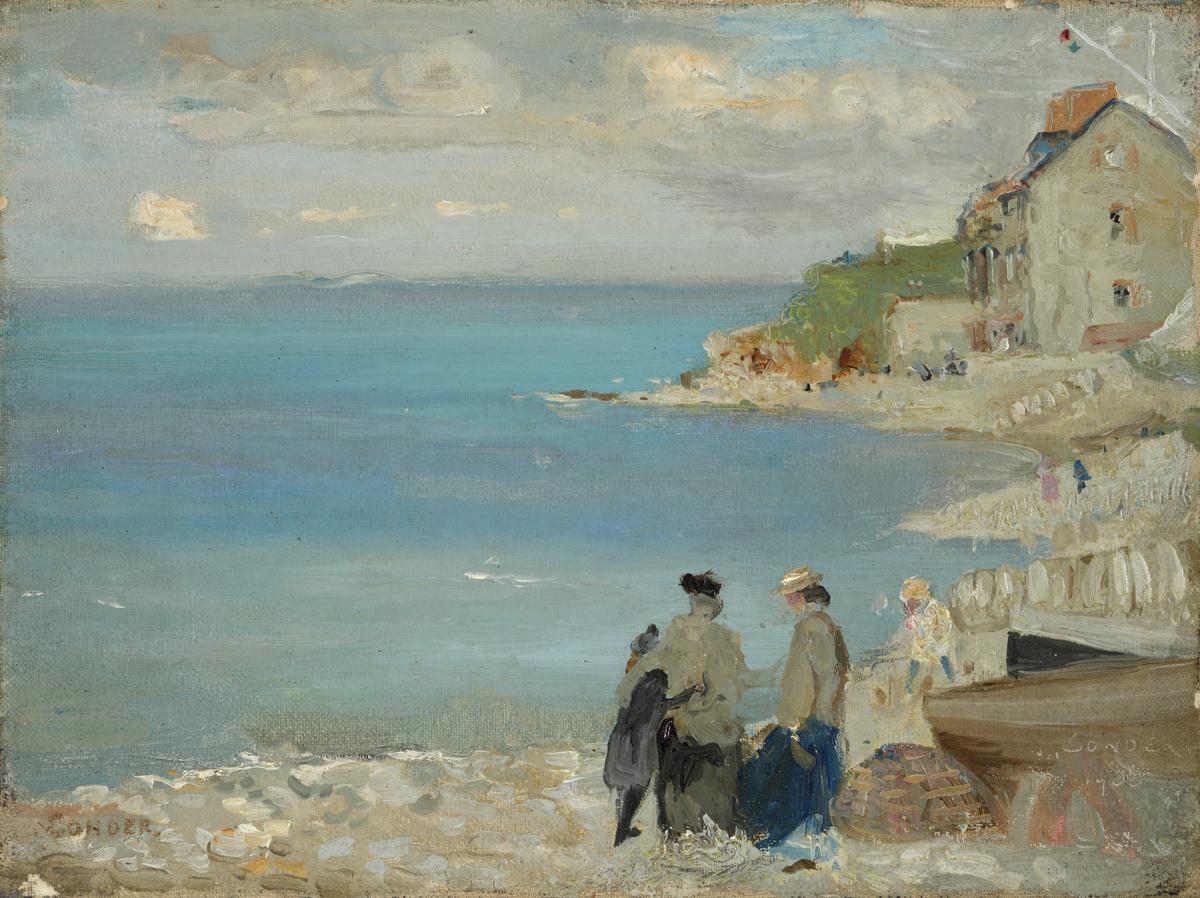 Charles Conder
Swanage
c.1901
You've viewed 6/25 artworks
You've viewed 25/25 artworks