13 rooms in Artist and Society
The works in this room find visual expression for the complex horrors of civil war
In times of war, art has long been a means of protesting against suffering and also of remembering the dead. The twentieth century was marked by a number of civil wars that set neighbours and families against one another. The Spanish Civil War of 1936–9 had a particularly powerful impact in Europe and the wider Spanish- speaking world to which exiles fled.
Mexican artist David Alfaro Siqueiros turned to abstraction to articulate his despair at the outbreak of the Spanish Civil War. By contrast, Peter de Francia's The Execution of Beloyannis 1953–4 is rooted in realism but powerfully expressive, depicting a brutal killing in the aftermath of the Greek Civil War.
The process of decolonisation in the second half of the century was rarely peaceful and often marked by especial bitterness. Malangatana Ngwenya's dense weave of images evokes his experience during the war of liberation from Portuguese rule in Mozambique. In the face of inhumanity, artists can bear witness and commemorate, bringing painful issues to the surface, both personally and publicly.
Curated by Matthew Gale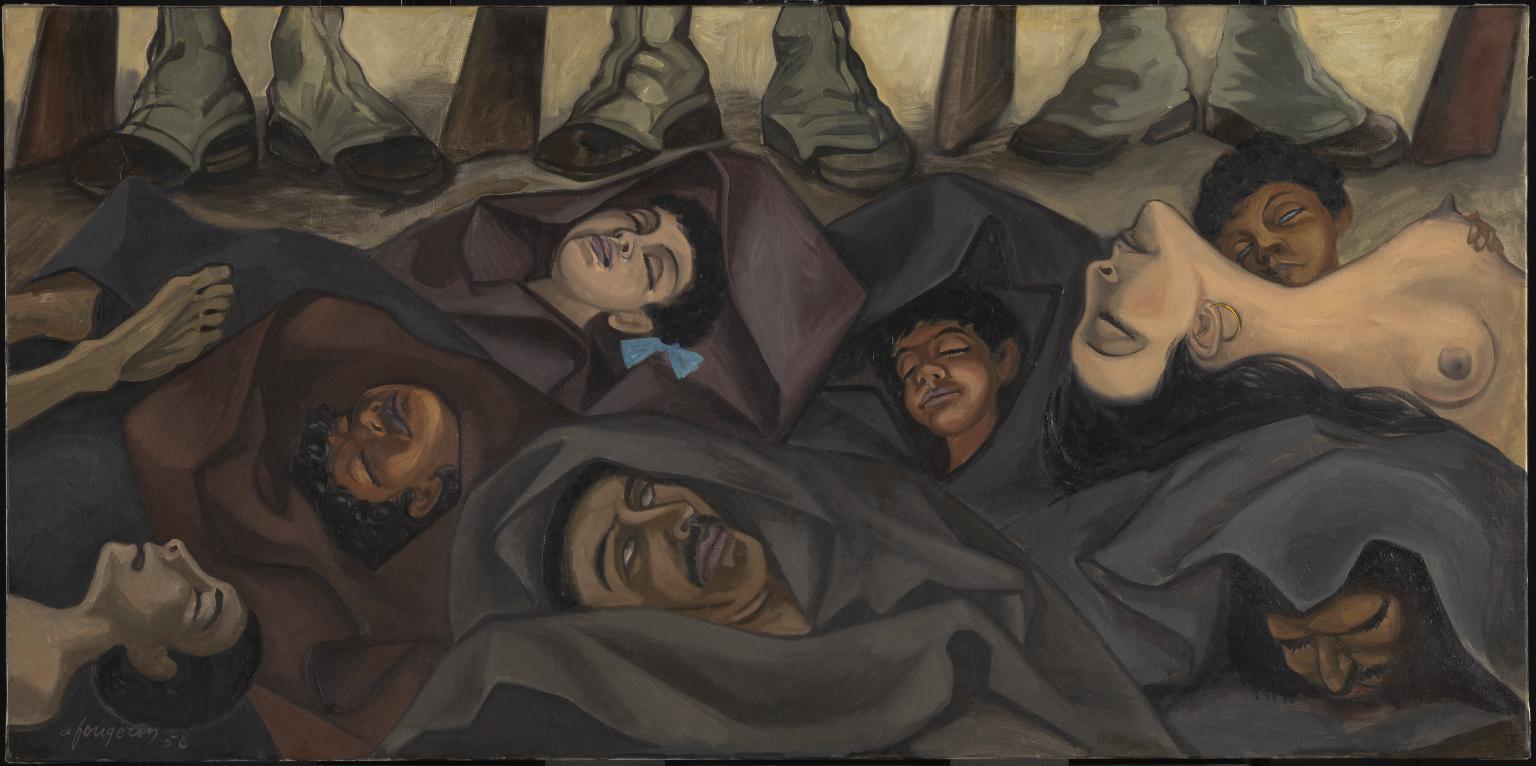 André Fougeron

,

Massacre at Sakiet III

1958

The bombing of Sakiet by the French colonial government took place during the Algerian War of Independence (1954-1962). It was an important decolonial war, securing Algeria's freedom. On 8 February 1958, the French air force crossed the border into Tunisia. They attacked Sakiet Sidi Yousef, a village which the French government claimed was being used as a base by Algerian fighters. It resulted in the deaths of 68 civilians. Fougeron's painting, completed a few months later, provoked controversy. The line of military boots at the top points to official French involvement in the massacre, something that was still under debate at the time. The war is now known for the French government's brutal method, including its use of torture.

Gallery label, June 2021
1/4
artworks in Civil War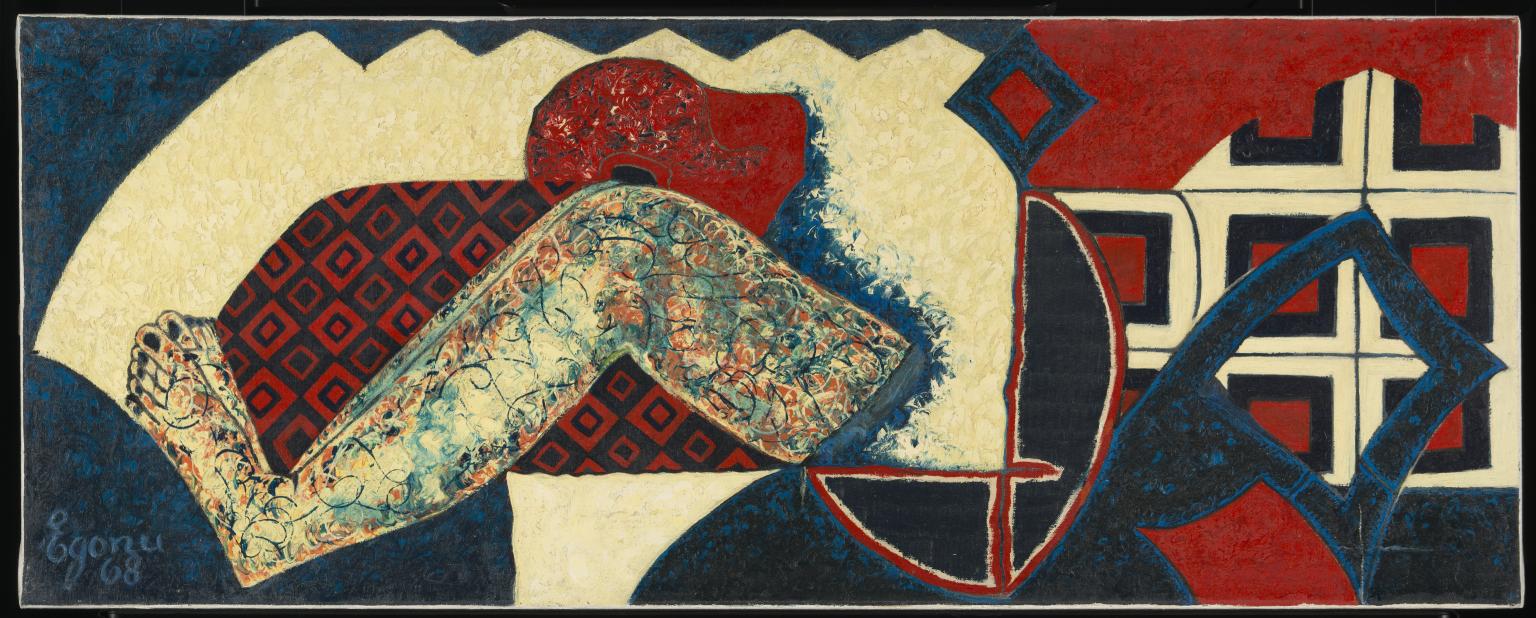 Uzo Egonu

,

Woman in Grief

1968

T13897

Much of Egonu's work from this period relates to the Biafran War (1967–70). Woman in Grief was painted in the same year as the two Battles of Onitsha in Nigeria. These were large-scale military conflicts between Biafran and Nigerian forces with high casualties on both sides. The events had particular significance for Egonu who was born in Onitsha. He left Nigeria at the age of thirteen to study in the United Kingdom. Deeply concerned for his family but without the means to return, he followed developments in Nigeria closely.

Gallery label, April 2019
2/4
artworks in Civil War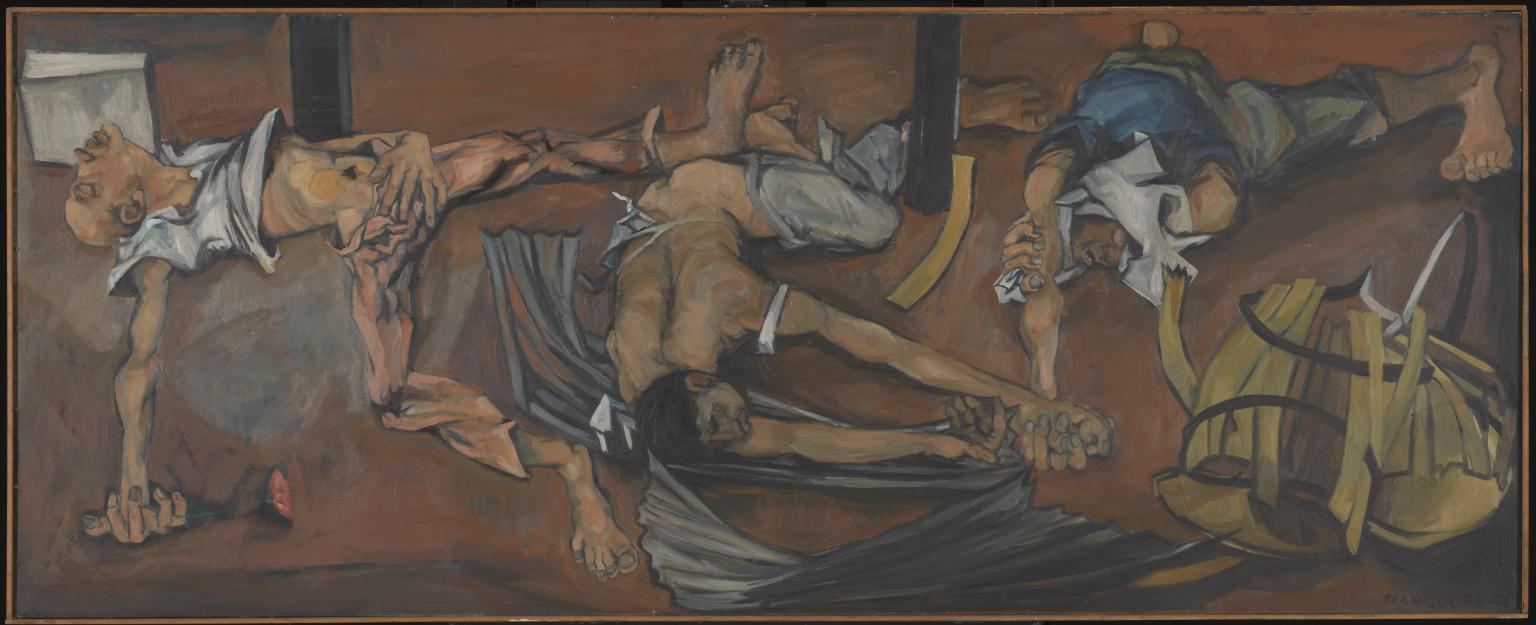 Peter de Francia

,

The Execution of Beloyannis

1953–4
3/4
artworks in Civil War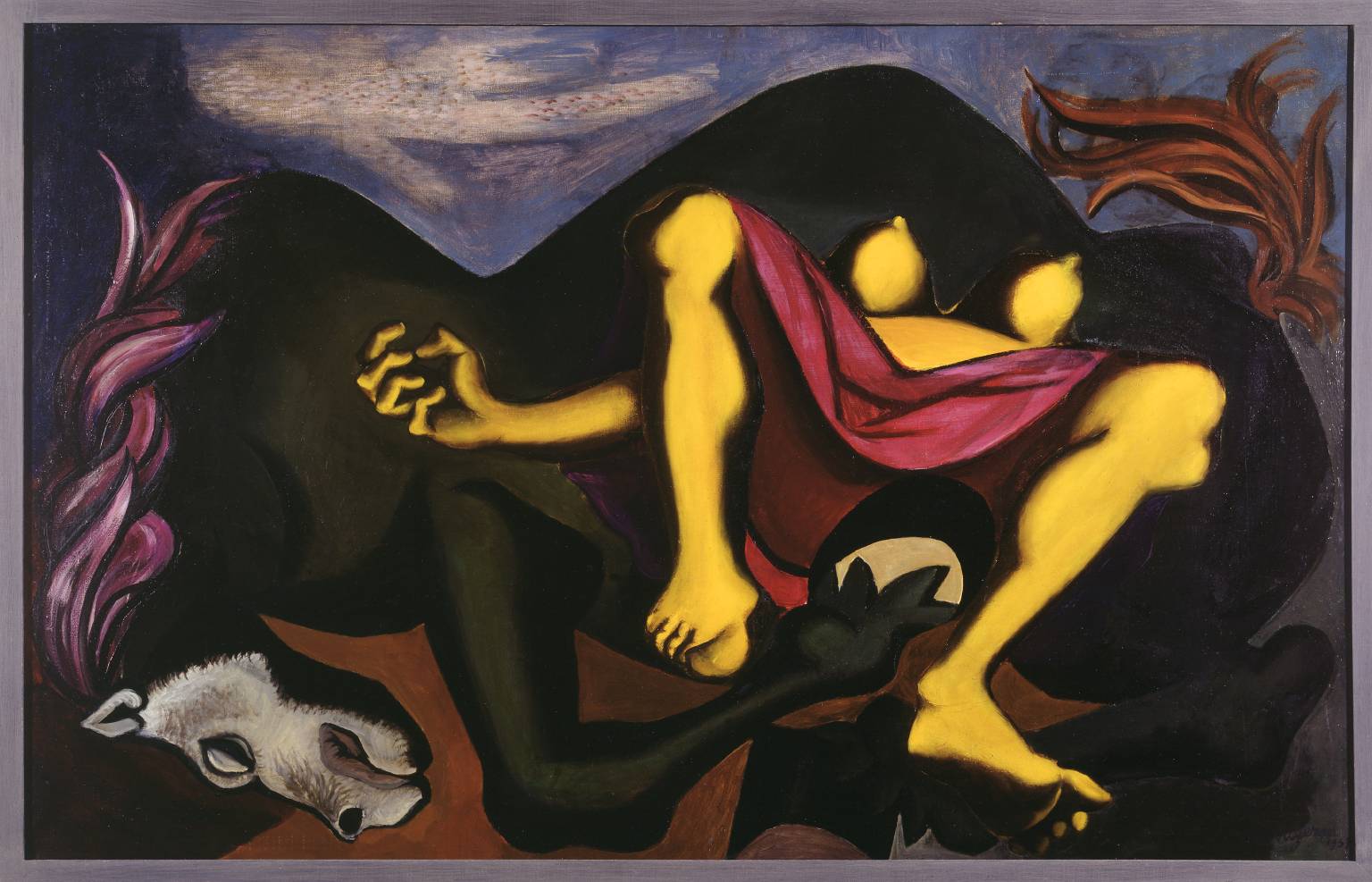 André Fougeron

,

Martyred Spain

1937

The Spanish Civil War marked a crucial political turning-point in the 1930s. General Franco's rebellion against the elected left-wing government was seen as part of the wider threat posed by Fascism across Europe. Fougeron was among many Frenchmen who considered volunteering to fight in support of the Spanish government, but decided instead to devote his art to the cause. In Martyred Spain, the decaying body of a horse and a raped woman symbolise the innocent victims of a country devastated by conflict.

Gallery label, November 2015
4/4
artworks in Civil War
Art in this room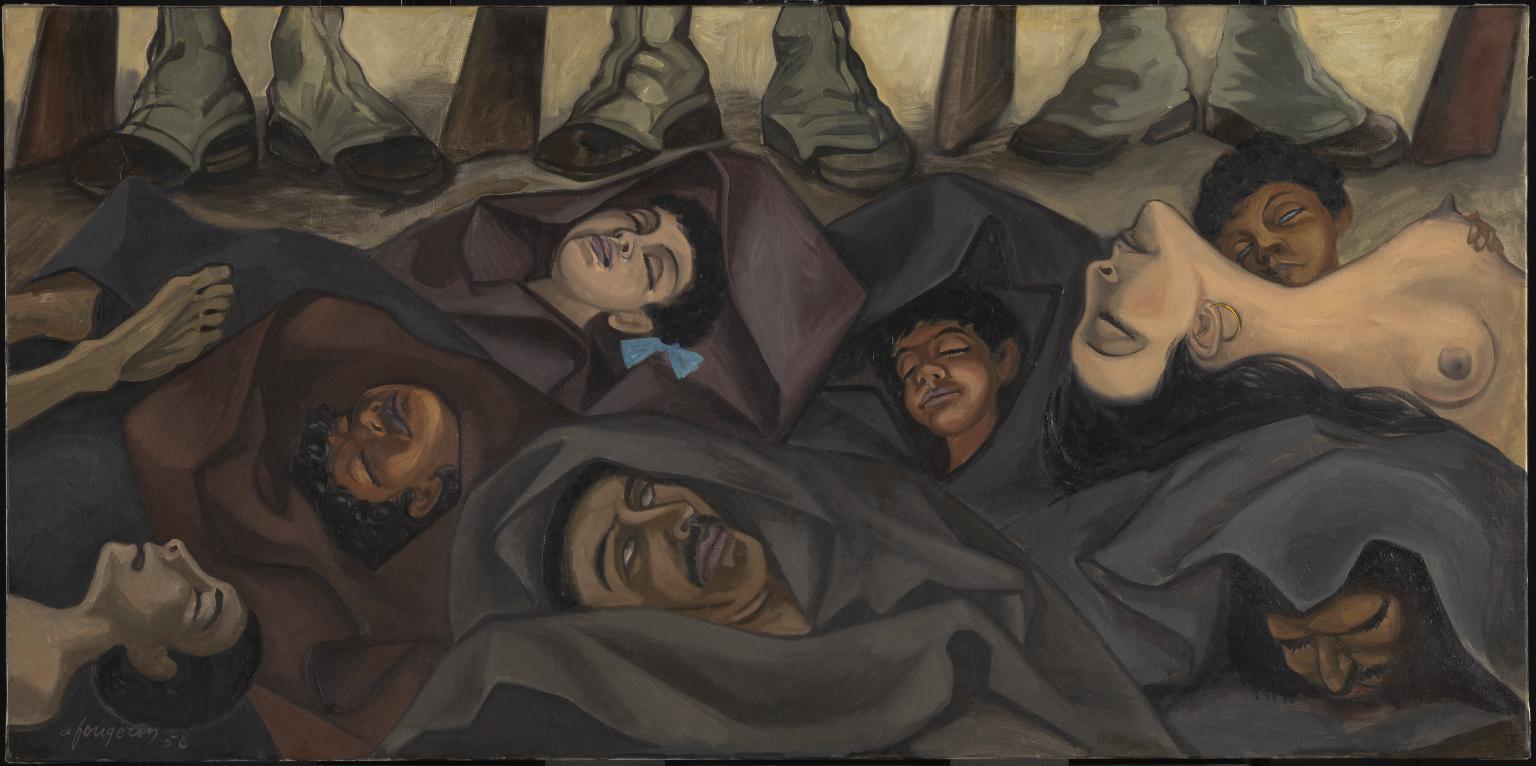 André Fougeron
Massacre at Sakiet III
1958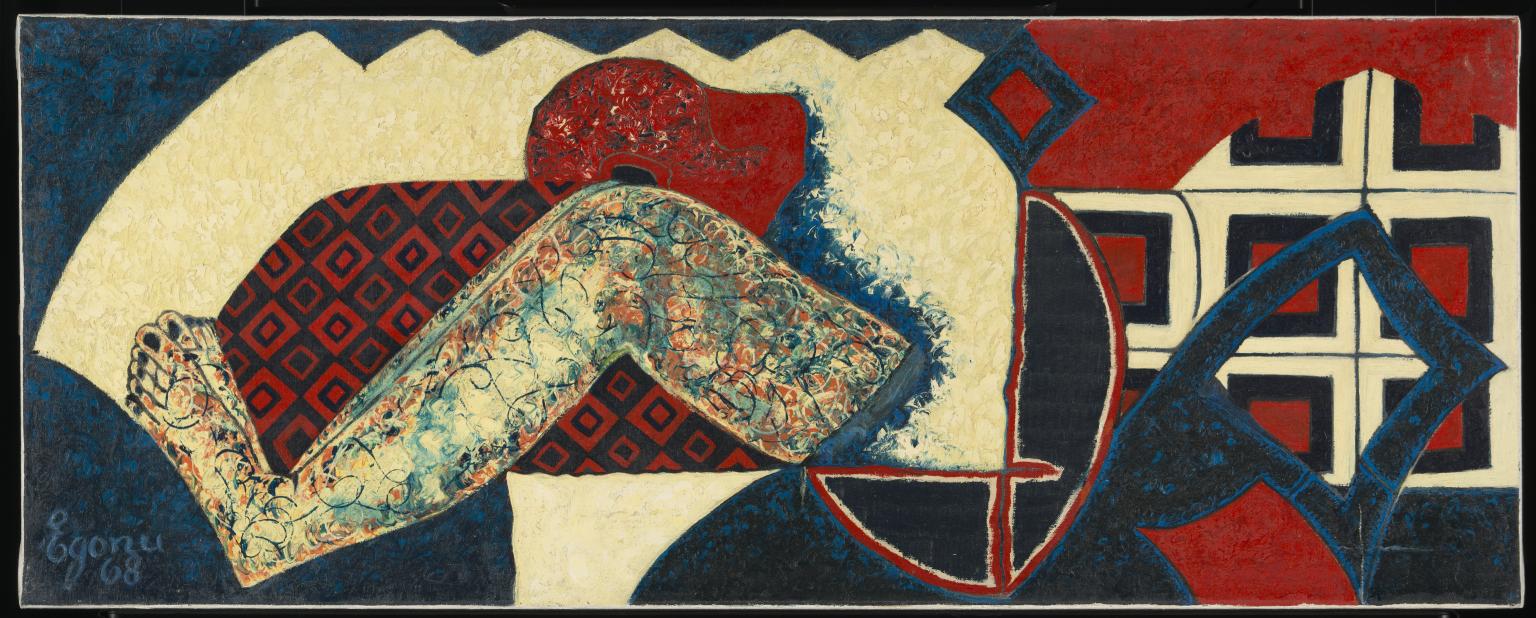 Uzo Egonu
Woman in Grief
1968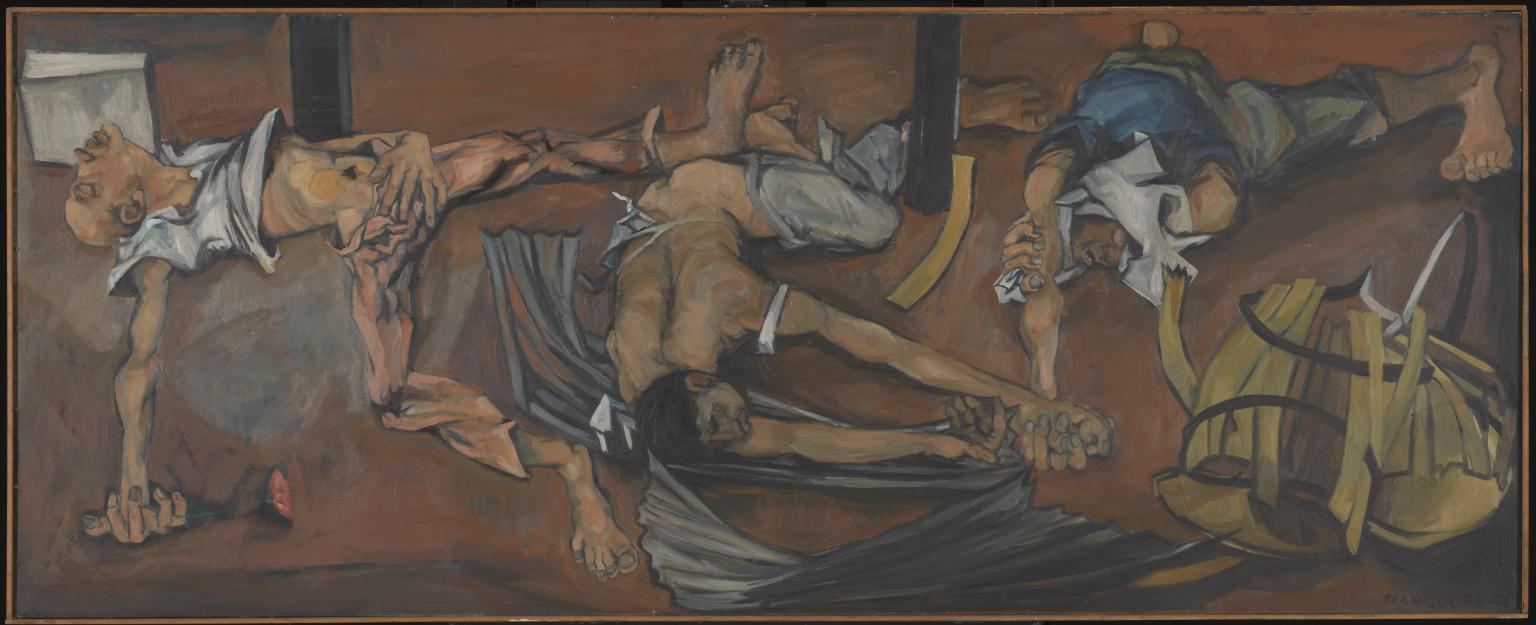 Peter de Francia
The Execution of Beloyannis
1953–4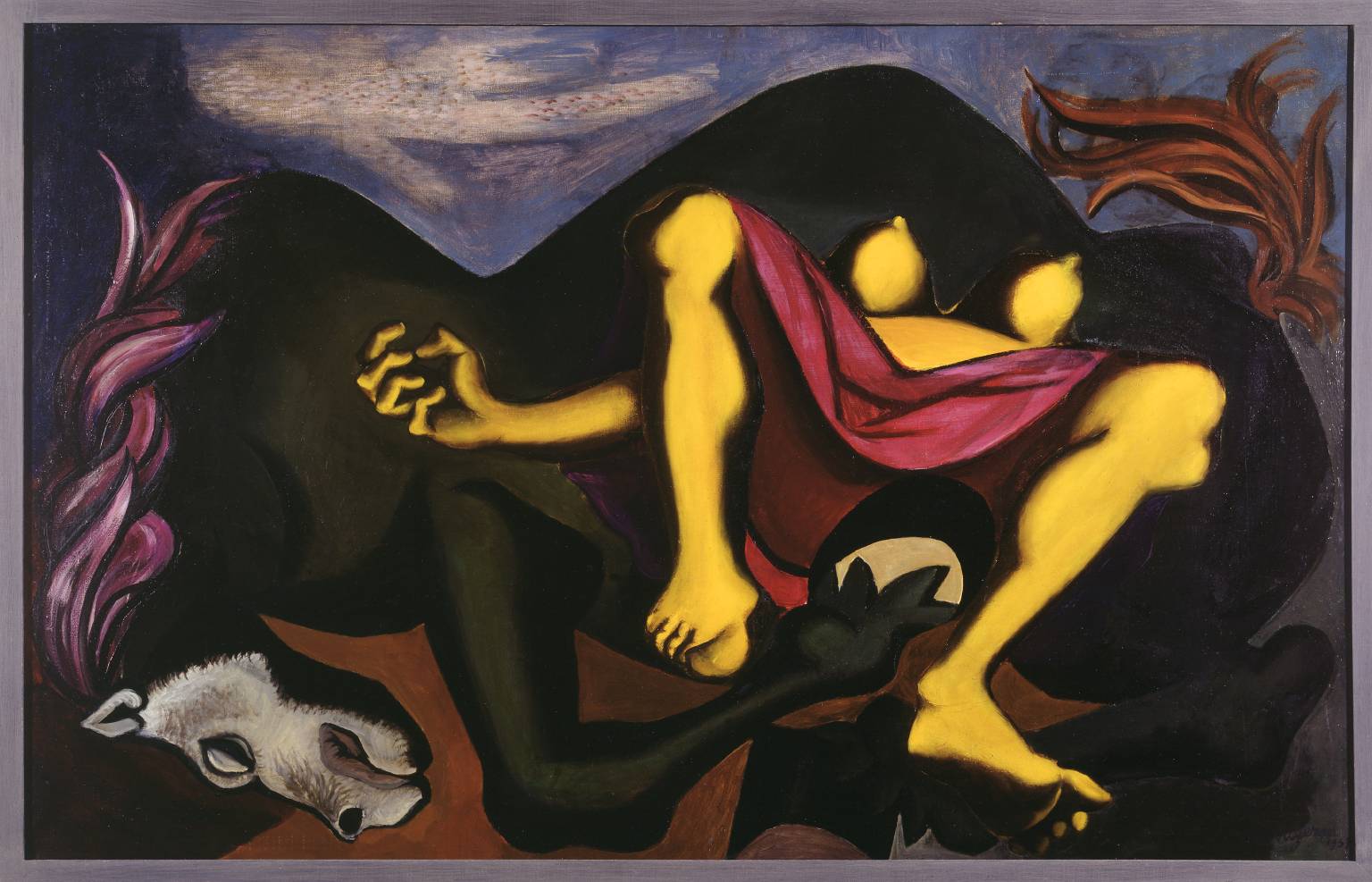 André Fougeron
Martyred Spain
1937