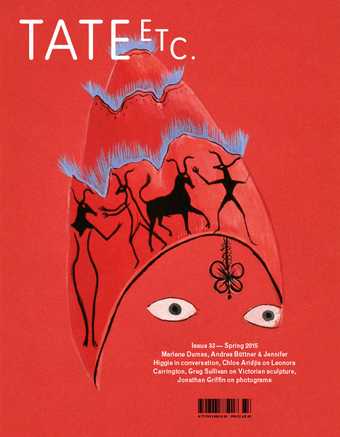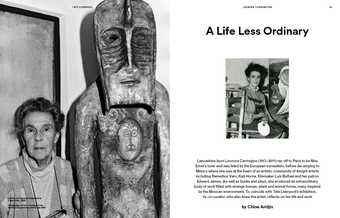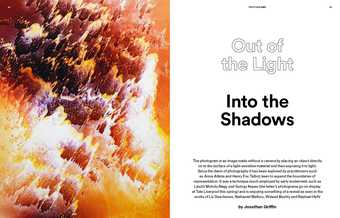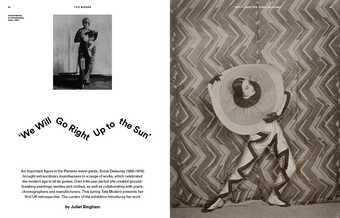 Contents
Upfront: Nicolas Deshayes at Tate St Ives, Cao Fei's film at Tate Modern and Nigel Henderson's photographs at Tate Britain amongst other stories
Chloe Aridjis on Leonora Carrington
Private View: Matthew Green on Christopher Nevinson
Etc. Essay: Textiles and Art
Alfredo Camisa's Alfabeto Urbano
Etc. Essay: Photograms
MicroTate: Kamini Sawhney, Morad Montazami and Caitlin Davies
Behind The Curtain: Ben Nicholson
Editor's Note
'Discovery!'… 'It really enriches my visits to Tate.' These are just two of the many thousands of comments you wrote in the recent Tate Etc. survey. Firstly, thank you to all of you for taking the time to reply, and for telling us what you think about the magazine. Your feedback has not only been great to read, but also both enormously helpful and encouraging in thinking about how we improve and develop.
One discovery for many reading this issue will be the extraordinary work of the late Leonora Carrington (on the cover), the Lancashire-born artist whose surreal life and work is celebrated by her friend, writer Chloe Aridjis, to coincide with the forthcoming exhibition at Tate Liverpool. Similarly, curator Greg Sullivan's article on Tate Britain's exhibition Sculpture Victorious reveals how technological advances in industrial design and practices revolutionised how artists introduced new materials and pushed the boundaries of what a sculpture might be, often with truly spectacular (and sometimes kitsch) effect.
The Victorian period was characterised by its radical experimentation, which also included photography. And from its early flowering in the mid-19th century, the photogram – a photographic image made without using a camera – has remained a popular way of creating beautiful images and is seeing a revival among contemporary artists, as Jonathan Griffin explores.
We find images of a very different kind in the work of Marlene Dumas, who is widely regarded as one of the most exciting painters working today. Her subject matter is often the body – and her imagery is gleaned from many sources including pornography, newspapers and popular culture. In these pages she talks eloquently about how and why she makes these compelling pictures, many of which, once seen, will stay in your imagination for a long time to come. Enjoy the issue.