12 rooms in In the Studio
See surrealist artworks made by the original Paris-based group and other international artists 
The surrealist group were inspired by dreams and the unconscious mind. This selection includes work by members of the original Paris-based group, as well as international artists who developed their own approaches to the irrational.
The poet André Breton published the First Manifesto of Surrealism in Paris in 1924 and remained at the movement's heart until his death in 1966. Breton had been stimulated by the theories of Sigmund Freud, who suggested the existence of an unconscious mind, containing the ideas and emotions that our conscious mind refuses to acknowledge. Dreams were one of the ways in which such repressed feelings could be brought to the surface. Breton and his associates argued that artists and writers should actively seek to unlock the unconscious, releasing hidden desires and irrational love, the delirium of obsession and madness.
Surrealism never became a shared artistic style. Some artists used highly realistic means to depict the imagery of dreams. Others made abstract works generated through 'automatic' techniques conceived without prepared themes or correction in order to avoid the control of the conscious mind. The power of the irrational was harnessed by artists across the world. Over time, groups and individuals in Brussels, Cairo, Mexico City, Prague, Tokyo and elsewhere were drawn to the uncensored creative impulses suggested by the 'revolution of the mind'.
The organisation of works in this room reflects the surrealists' own approach. The International Surrealist Exhibition of 1936 introduced the movement to London by setting dissimilar works densely against each other. Visitors were invited to immerse themselves in unexpected conjunctions and, in the words of artist Salvador Dalí, 'to descend to the subconscious'.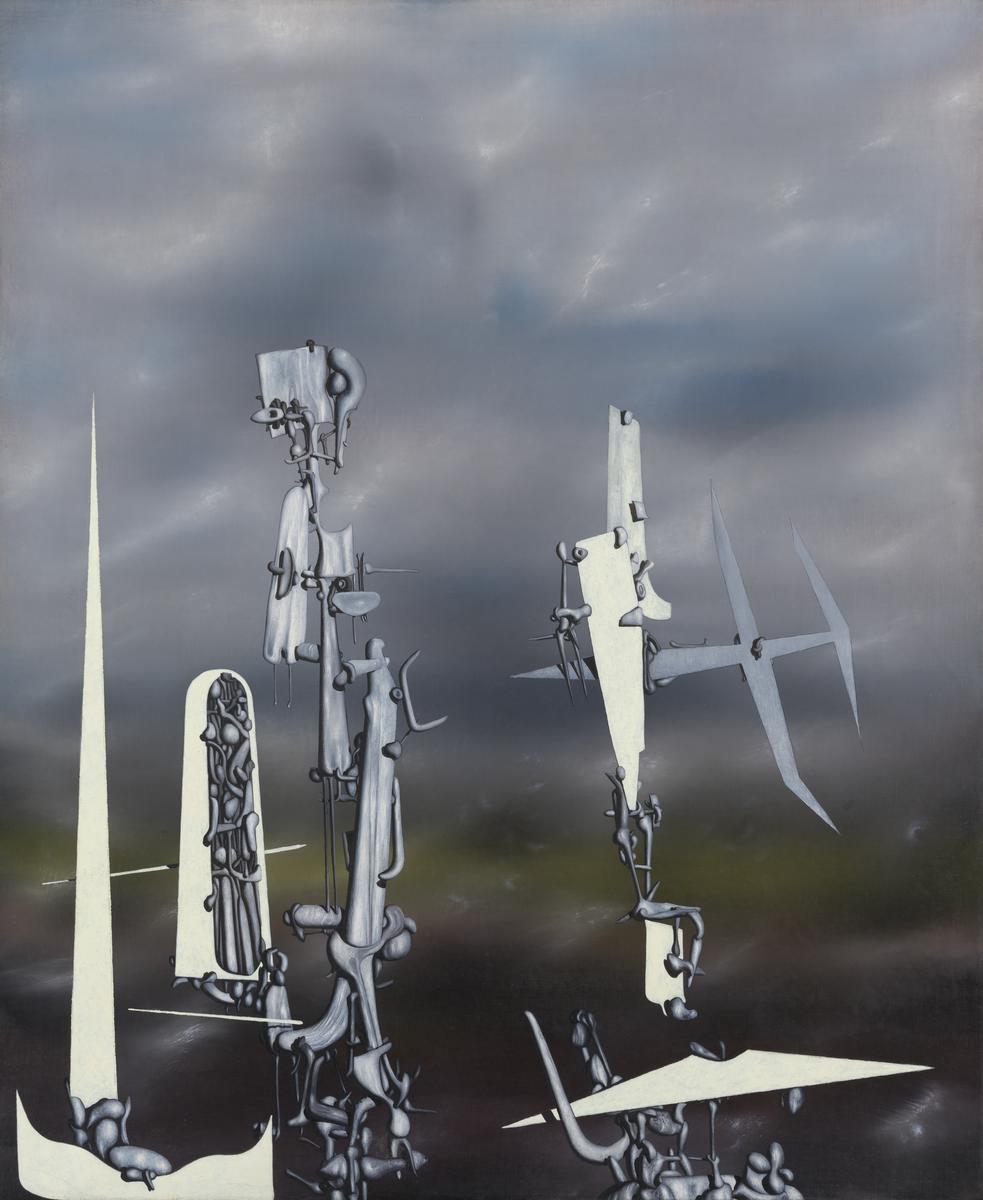 Yves Tanguy

,

The Invisibles

1951

Tanguy moved from Paris to the United States in 1939 to escape the war in Europe. In France he had generally painted small-scale works of biomorphic beings set in strange landscapes. Influenced by the light and space of his new home in Connecticut, his later works were on a larger scale, featuring partly mechanical, partly organic beings set against awesome skies. The title of this painting can be related to the Surrealists' preoccupation with the theme of otherworldly beings that escape rational understanding.

Gallery label, January 2022
1/28
artworks in International Surrealism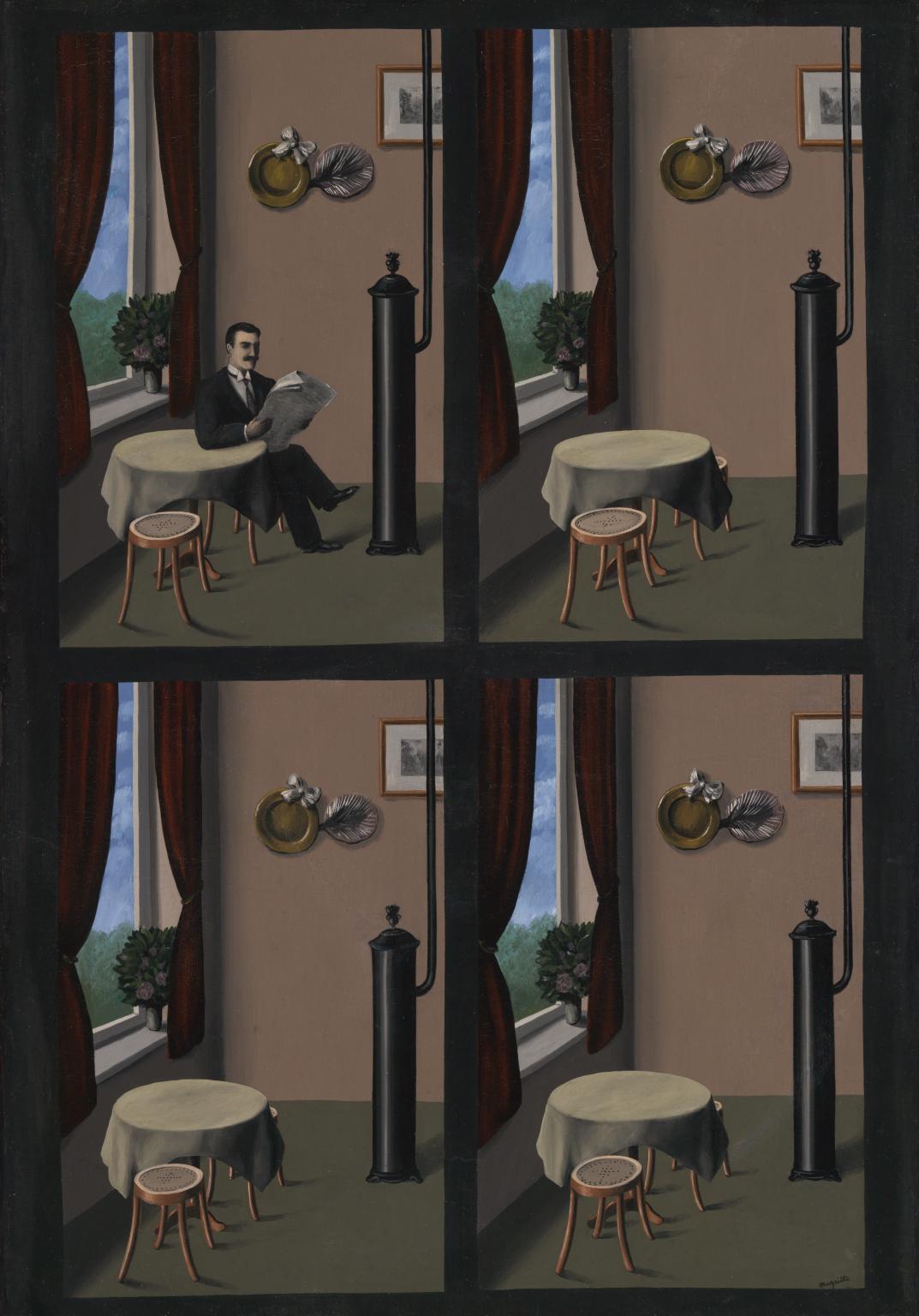 René Magritte

,

Man with a Newspaper

1928

Magritte's deadpan style is seen clearly in these four simply painted scenes. Each section seems to be exactly the same, apart from the disappearance of the man reading the newspaper. There are slight changes of perspective between the four panels. This can be seen by focusing on the view out of the windows. This shift adds to the slightly unsettling effect in the painting. It may relate to the displacement of images in early 3D viewing devices. This subtle undermining of the everyday was typical of Magritte and his Belgian surrealist colleagues. They preferred quiet subversion to obvious public action.

Gallery label, August 2020
2/28
artworks in International Surrealism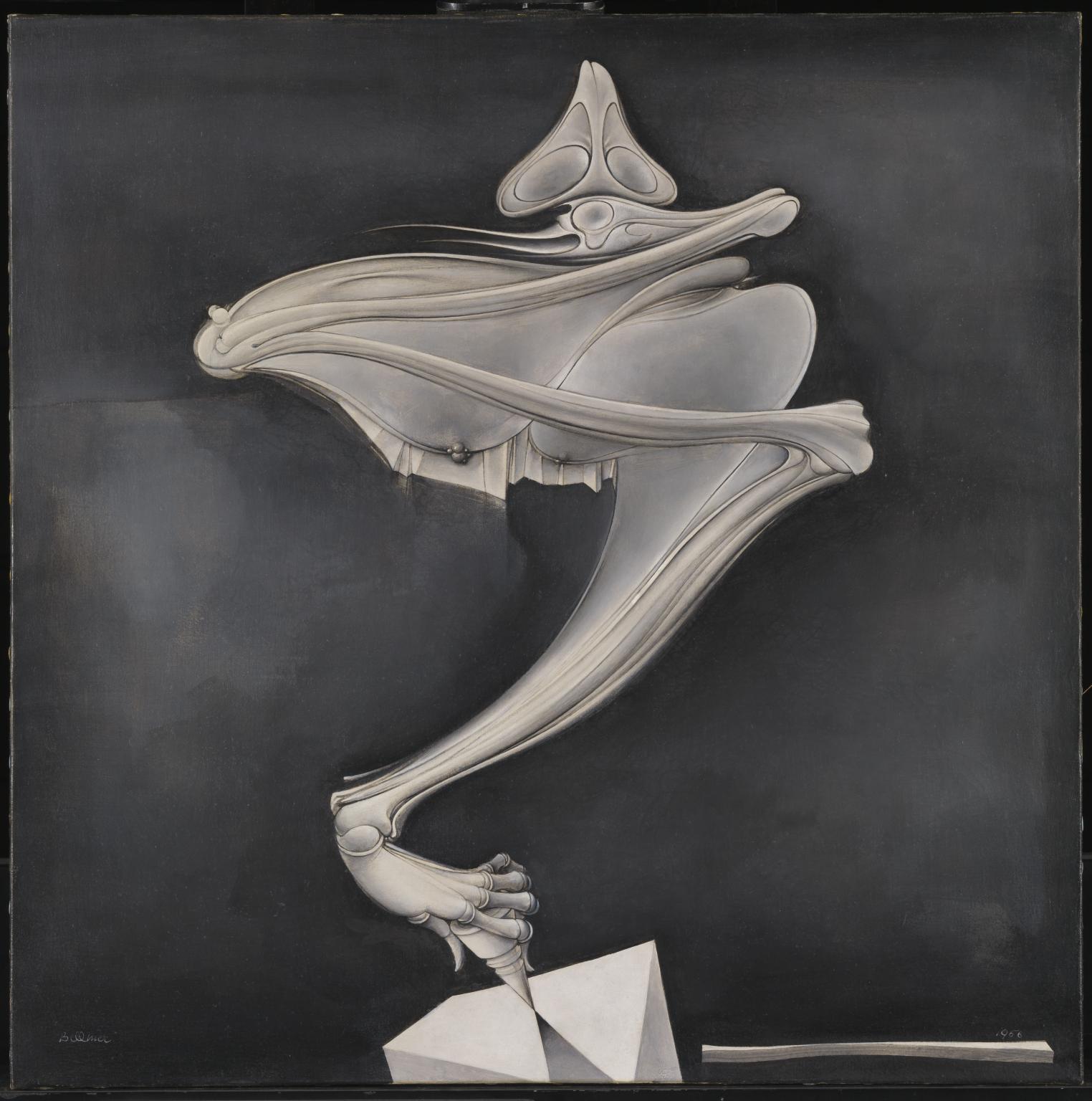 Hans Bellmer

,

Peg-Top

c.1937–52

This image began as a plan for a sculpture, which Bellmer never completed. A ghost-like figure, painted in shades of grey and set against a dark smoky background, fills the centre of the canvas. Bellmer's interest in fetishism led him to draw out sexual associations between objects and the body. Here, Bellmer uses the peg-top to symbolise a woman turning the heads and hearts of men on her spinning top. This was an ongoing theme for Bellmer. He joined the French Surrealist group in 1938, having left his native Germany to escape the Nazi regime.

Gallery label, August 2020
3/28
artworks in International Surrealism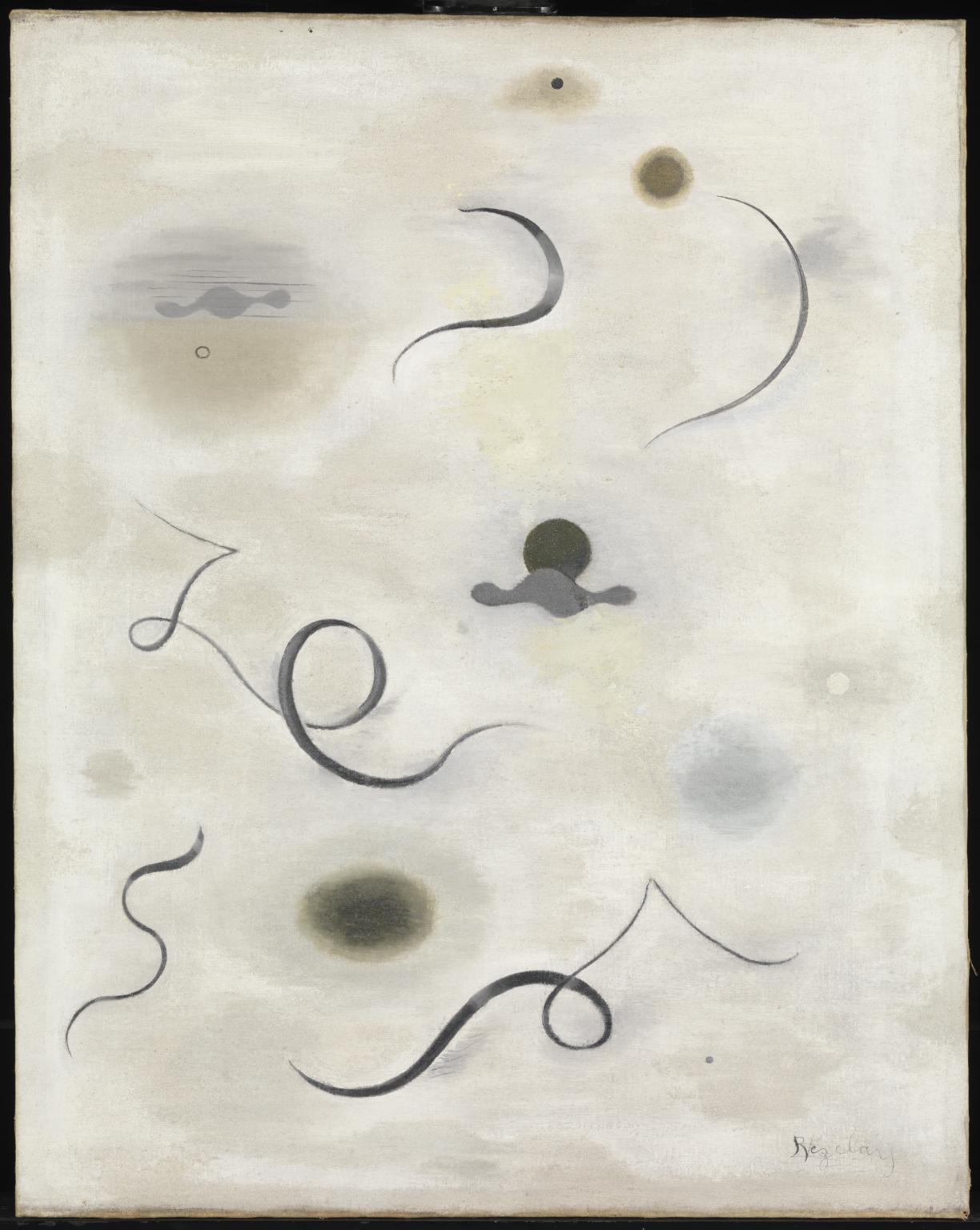 Paule Vézelay

,

Curves and Circles

1930

Vézelay was one of the first British artists to explore abstraction. Born Marjorie Watson-Williams, she changed her name after moving to Paris in the 1920s, perhaps to identify more closely with France. In Curves and Circles she brings together a series of abstract shapes, with elegant, twisting curves that seem to trace the movement of the artist's hand. The background resembles a cloudy sky, as if the lines were floating in air.

Gallery label, January 2019
4/28
artworks in International Surrealism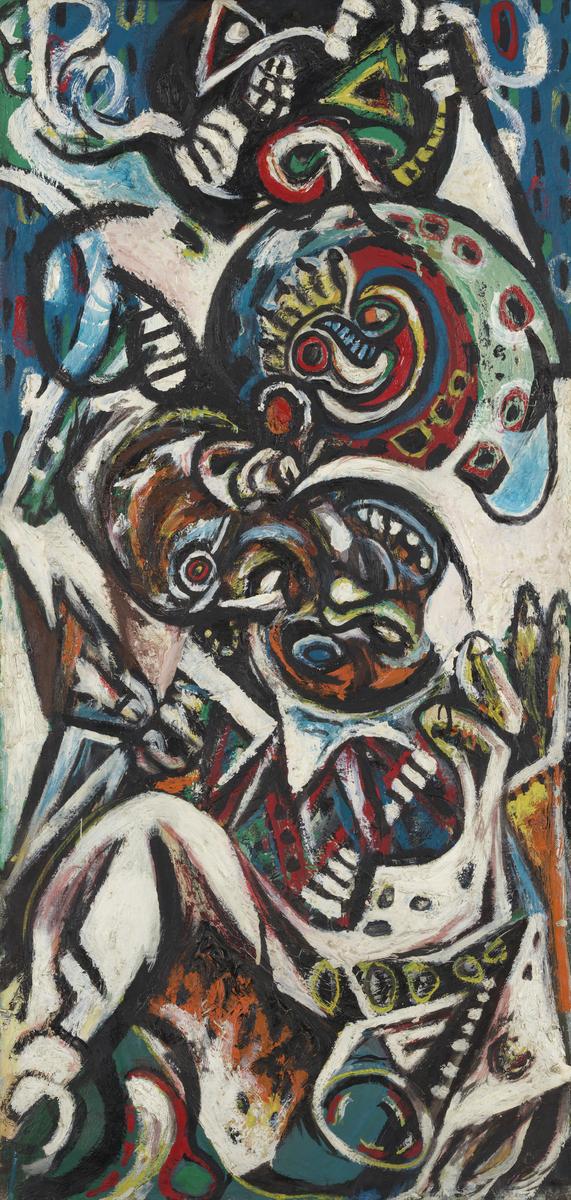 Jackson Pollock

,

Birth

c.1941

Pollock explored mythic themes in his early paintings, having undergone Jungian analysis. He was among a group of New York artists open to the Surrealist ideas of repressed unconscious impulses. This may be seen in the energy of Birth, an image of desperate struggle in sharp, clashing forms. The faces reference masks and carvings by Inuit and Native American artists. Pollock believed their work reflected fundamental human fears and desires, and were untainted by the ideological violence associated with the plunge into the Second World War.

Gallery label, January 2022
5/28
artworks in International Surrealism
Leonora Carrington

,

Eluhim

1960

Whilst informed by theories of the unconscious mind, Carrington developed a personal language of Surrealism which extended beyond Freud. She attributes her affinity with the movement both to the Irish folktales recounted by her nanny and the imaginative inner world of her mother, whom she described as a 'complete mythologist'. Having been involved with the Surrealists in Paris before the Second World War, she settled in Mexico in 1942. This new, visionary stage in her work was influenced by Early Netherlandish artist Hieronymus Bosch (c.1450 - 1516) and by her interest in alchemical imagery. Eluhim, the title of this work, is a Hebrew word for 'God' or 'gods'.

Gallery label, January 2022
6/28
artworks in International Surrealism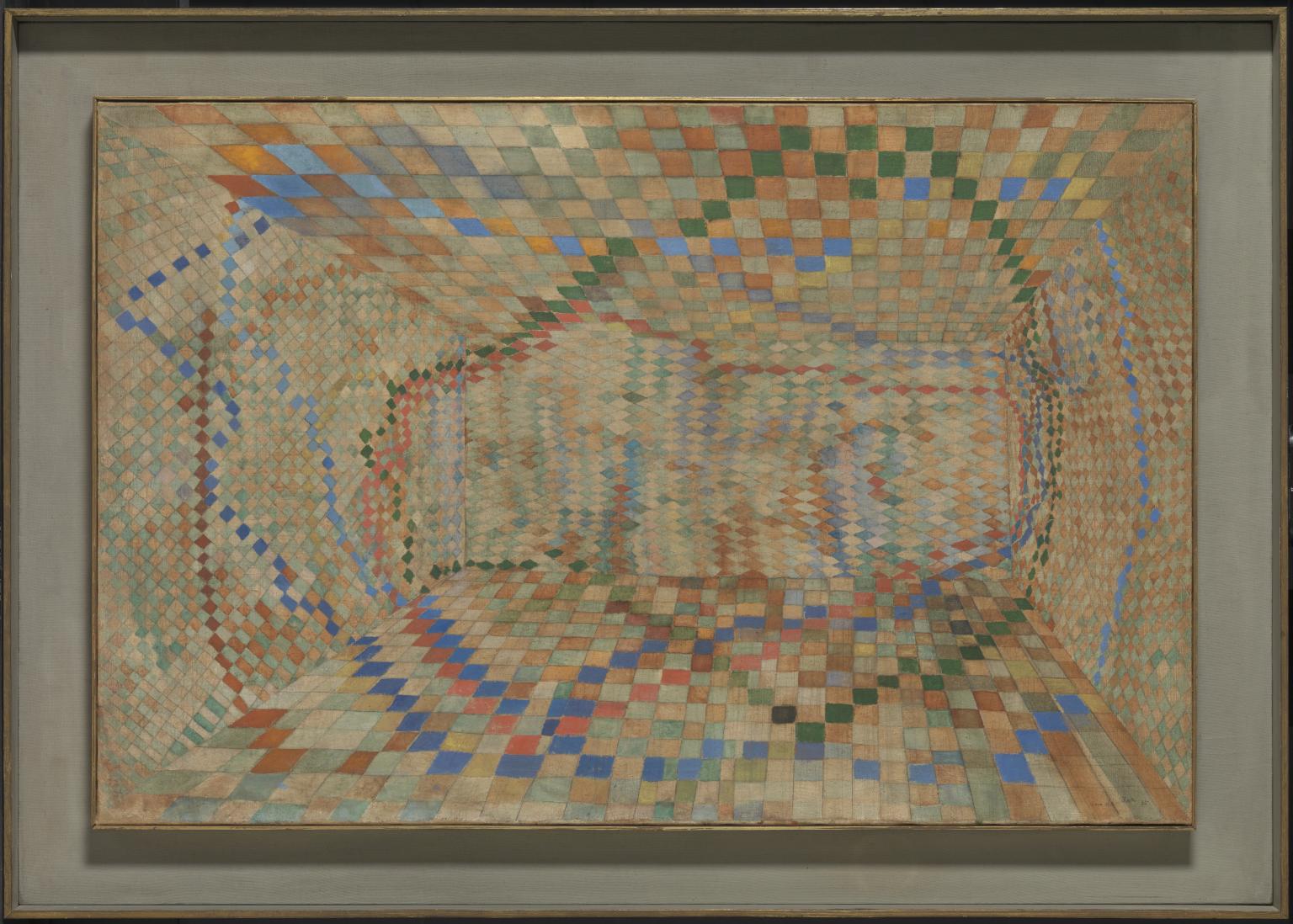 Maria Helena Vieira da Silva

,

The Tiled Room

1935

The Tiled Room was a breakthrough work for da Silva. Her paintings often resemble mazes or cities seen from above. The web of lines here suggests what one critic called her 'absorption in space'. The lines of colourful squares have been connected to her experience of feverish imaginings when she had jaundice. She was also haunted by memories of her lonely childhood. After her father died, her mother withdrew into mourning. The unsettling space she creates here could relate to these experiences.

Gallery label, April 2021
7/28
artworks in International Surrealism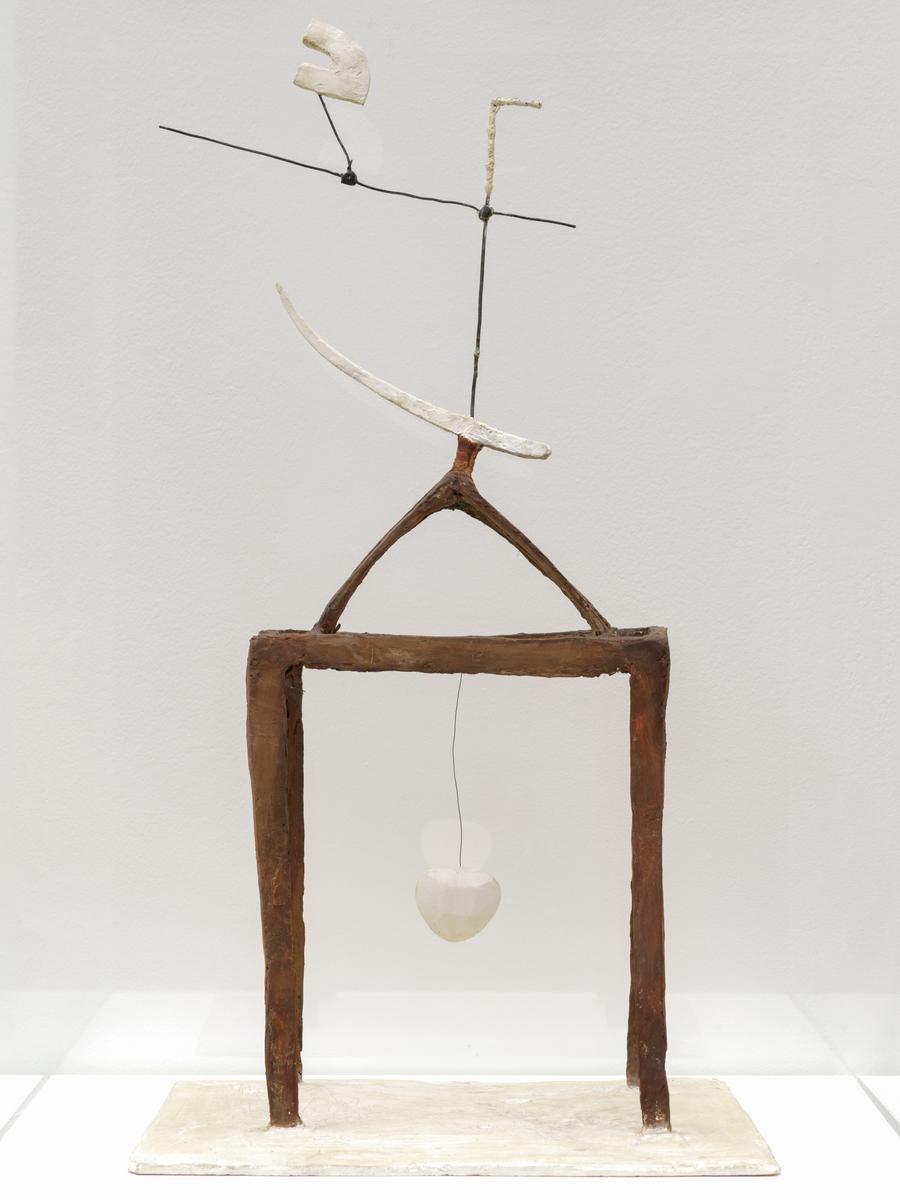 Alberto Giacometti

,

Hour of the Traces

1932

The fragile construction of this sculpture suggests the mysteries of the unconscious mind. The cage-like structure supports delicate organic forms. The upper shapes have been seen as skeletal or phallic. The lower suspended form could be a beating heart or a clock's pendulum. Together these might relate to themes including space and time, eroticism and death. Giacometti said that when making his sculptures he reproduced images that were 'complete in my mind's eye... without stopping to ask myself what they might mean'.

Gallery label, April 2021
8/28
artworks in International Surrealism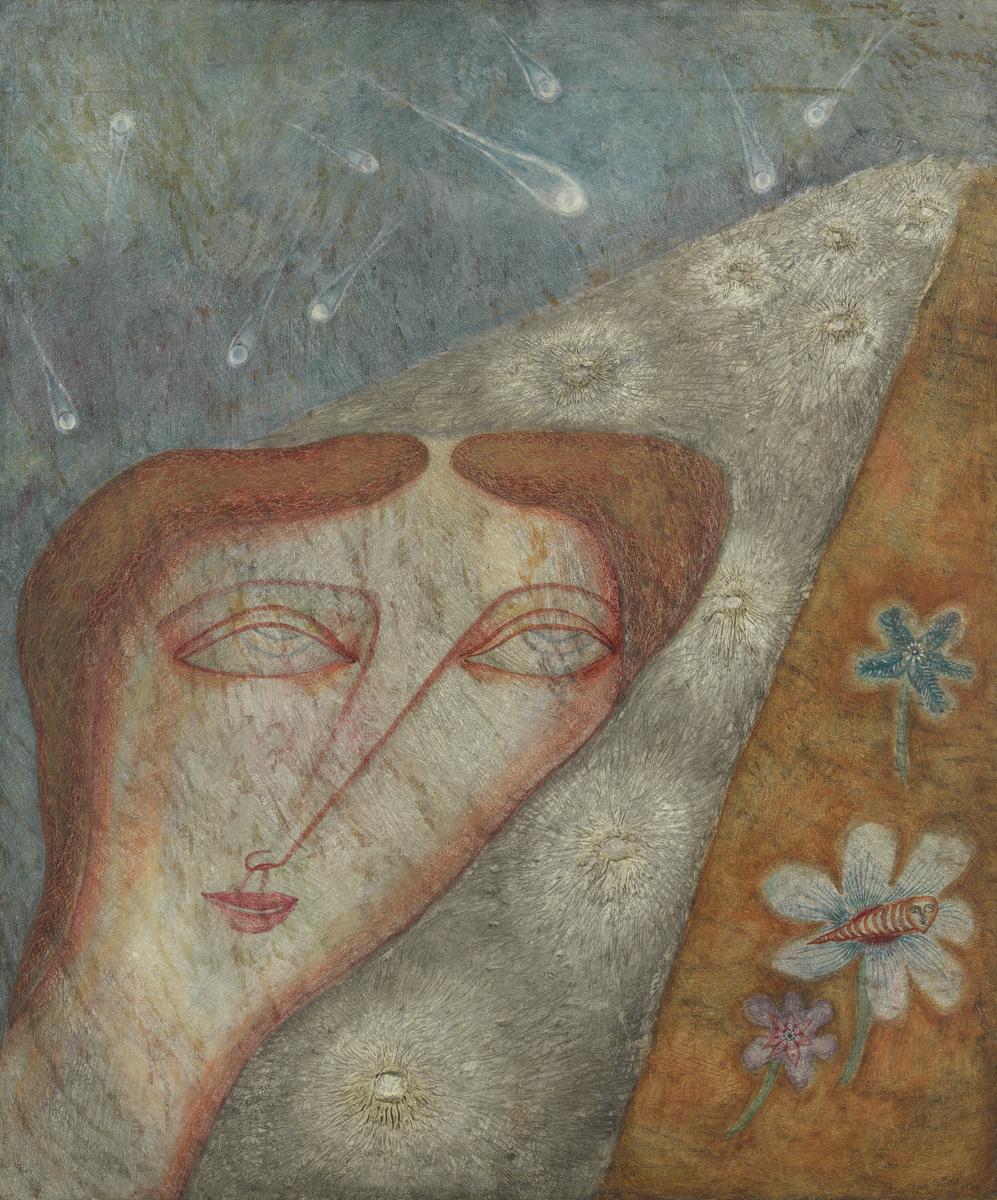 Cecil Collins

,

The Cells of Night

1934

This is one of the earliest paintings in which Collins expressed his ideas about the life of the human spirit. The human head in the foreground represents the psyche. The landscape behind, seen in dramatic recession, represents infinity. The distortion of the head symbolises the human psyche's yearning for infinity. The 'Cells' of the title refer to the organisms and natural phenomena that make up the Universe. The breaking of dawn, indicated through the light colour of the sky, signifies the possibility of re-birth. These were all important themes in Collins's work at the time.

Gallery label, June 2021
9/28
artworks in International Surrealism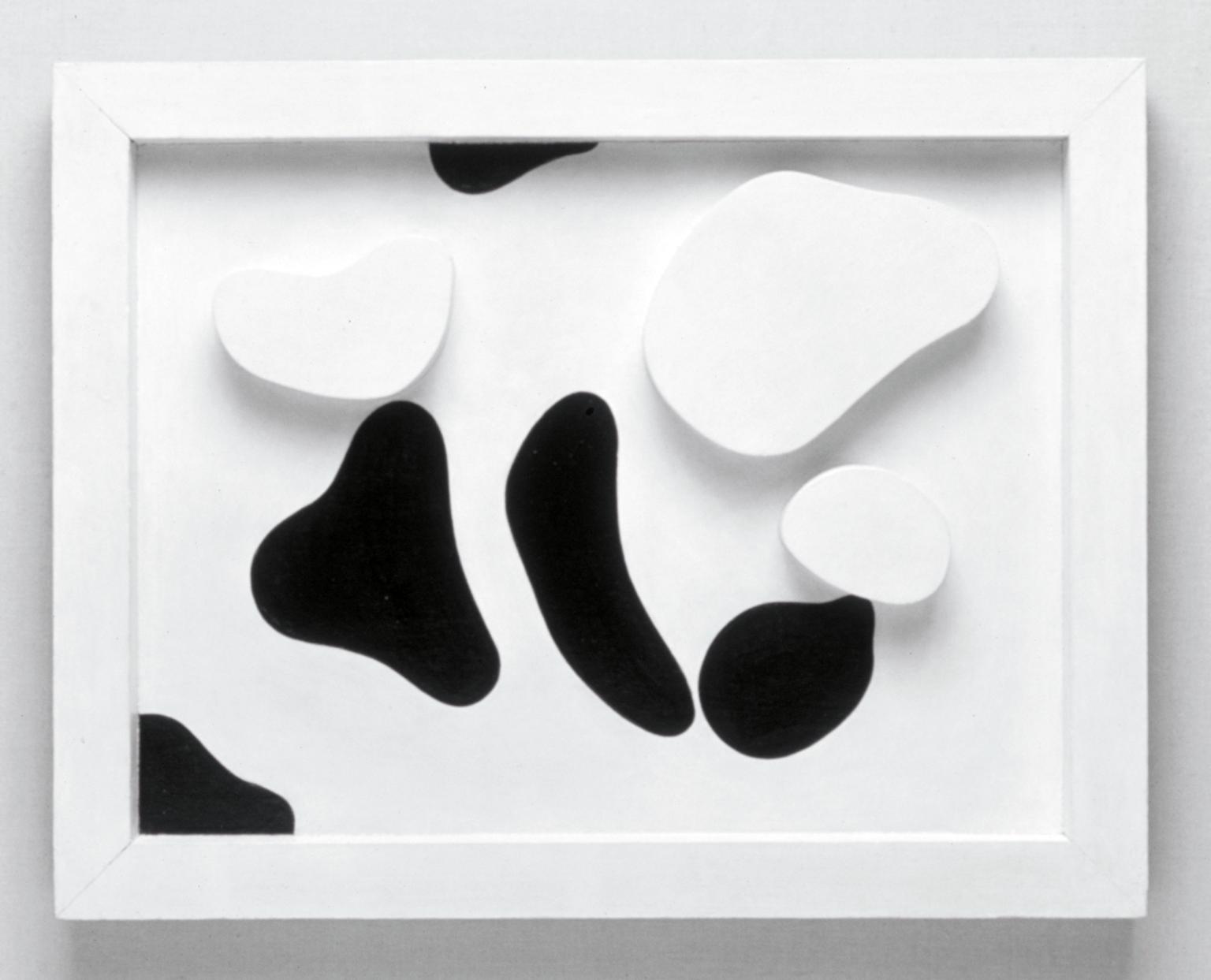 Jean Arp (Hans Arp)

,

Constellation According to the Laws of Chance

c.1930

Arp felt that modern society had lost touch with nature and had become too dependent on reason. He hoped to address this by creating art that consciously evoked the forms and laws of nature. The rounded shapes in this painted relief suggest clouds, while the 'laws' in the title are those of flux and chance that characterise the 'inaccessible order' of nature.

Gallery label, January 2022
10/28
artworks in International Surrealism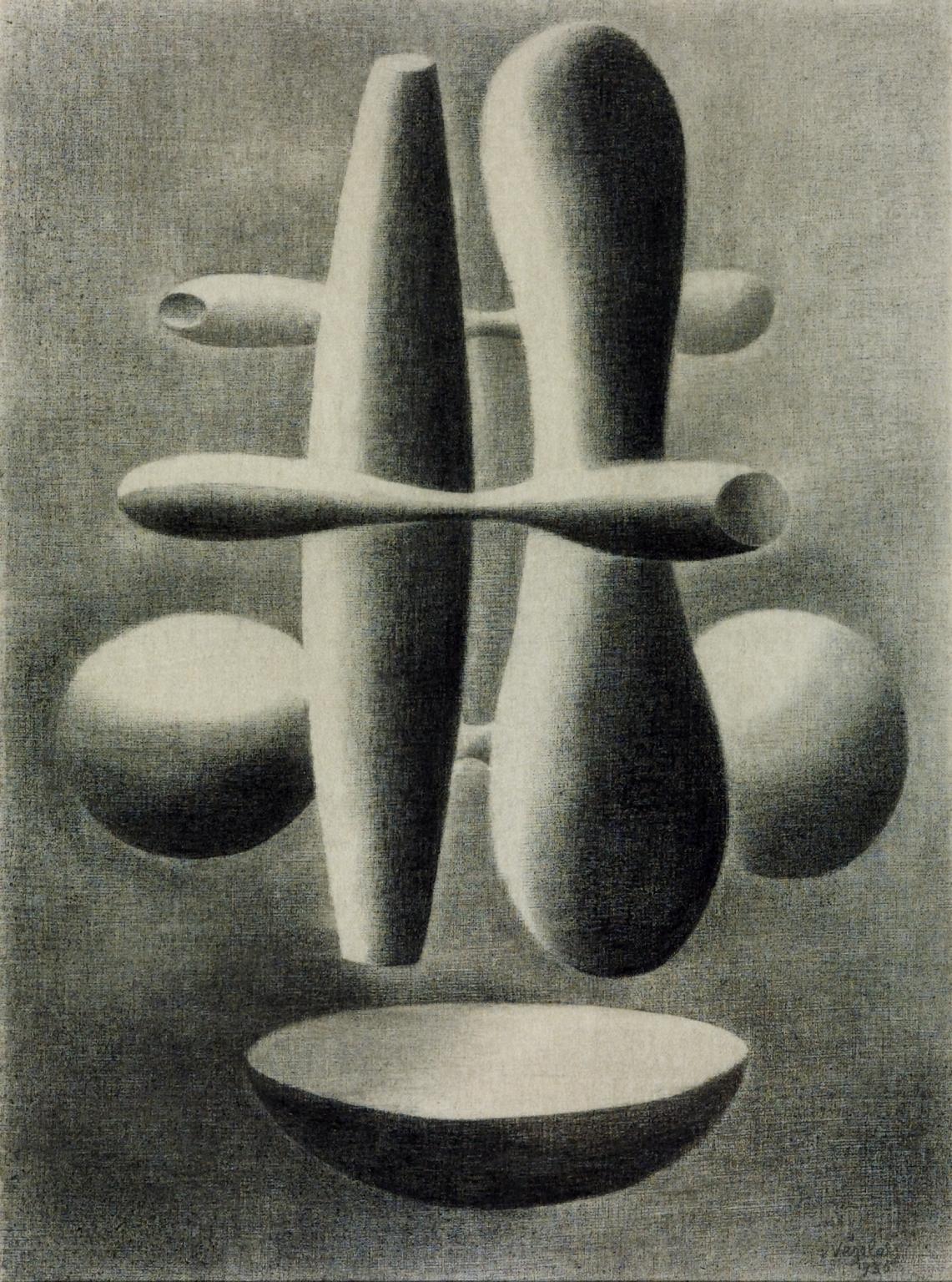 Paule Vézelay

,

Forms

1936

Vézelay started drawing on canvas in the late 1920s. She discovered what she called 'a special quality' in drawing with charcoal. Focusing on form, she explored various ways of creating an illusion of space on a flat, two-dimensional surface. She was particularly interested in the spheres and circles. She wrote that 'they can be used to indicate directions or movements, in order to balance or counter-act the movements of other elements in the composition'.

Gallery label, August 2020
11/28
artworks in International Surrealism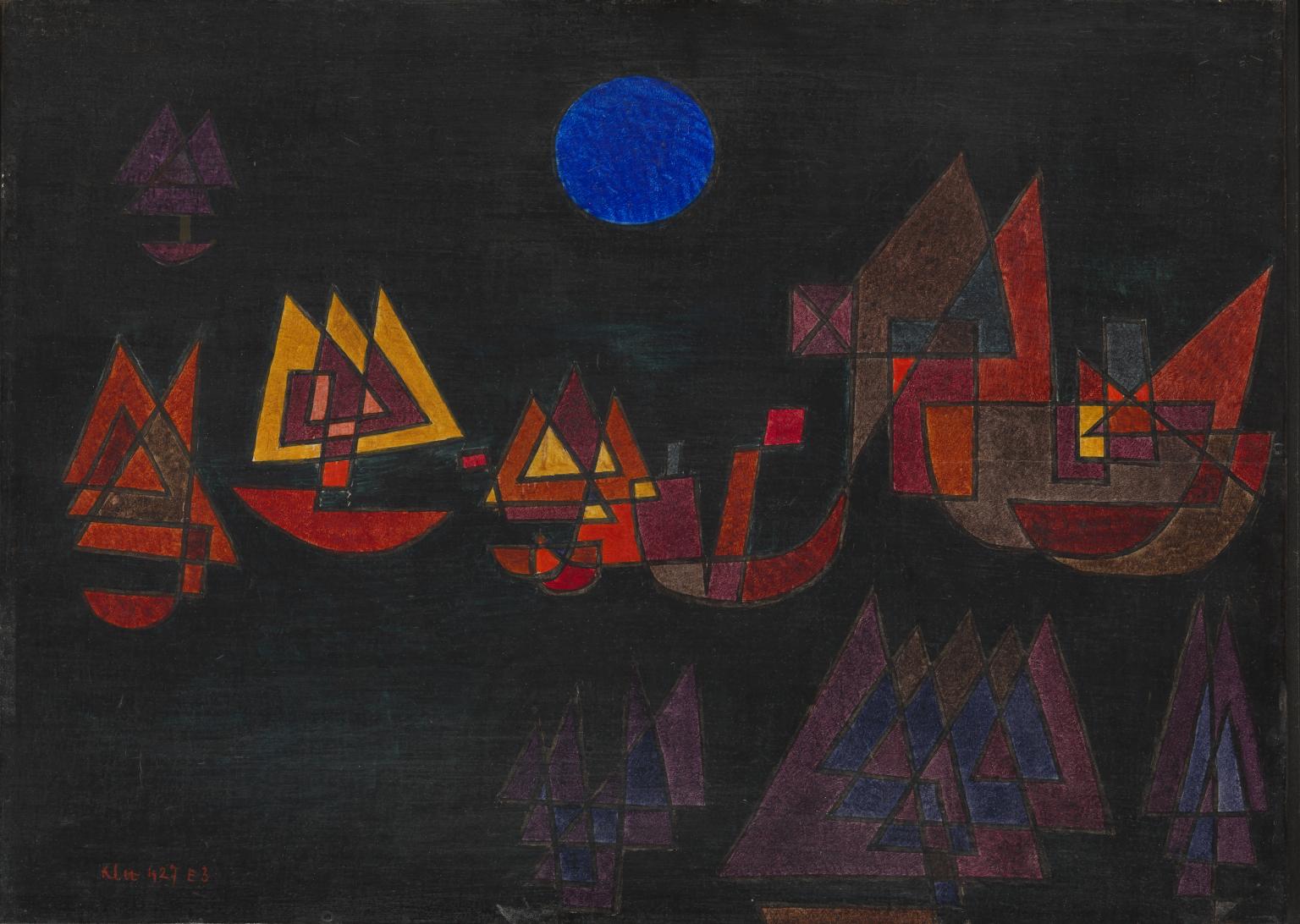 Paul Klee

,

Ships in the Dark

1927

A series of interlocking triangles form the sails of a group of boats strung across this canvas. The surging line suggests a gently rocking, wave-like motion. This rhythmic composition recalls a diagram by Klee in his teaching notes for the Bauhaus art school in Germany. He noted it showed 'an active line, limited in its movement by fixed points'. The nautical imagery also seems to draw upon Klee's recent trip to the south of France and Corsica.

Gallery label, April 2021
12/28
artworks in International Surrealism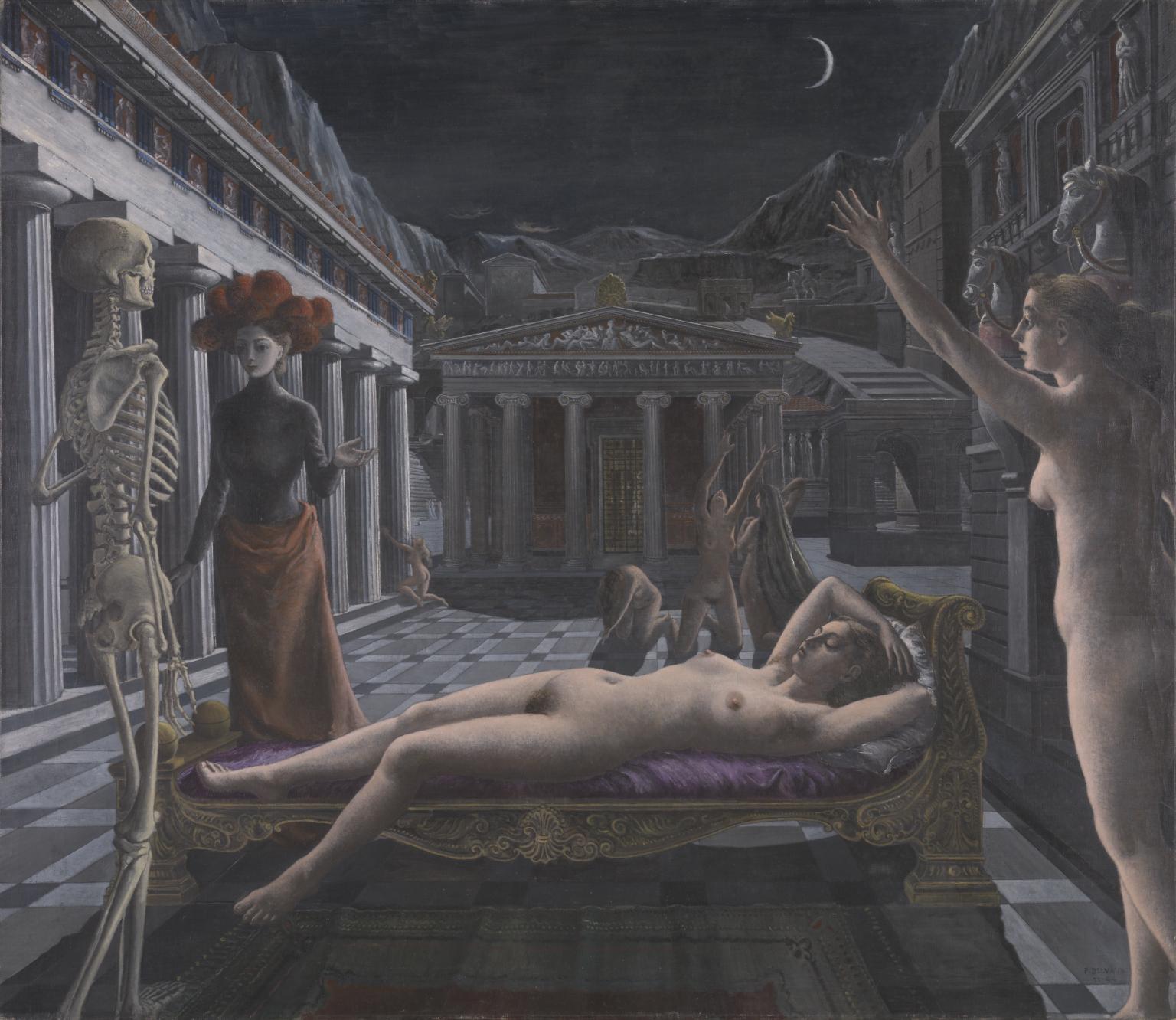 Paul Delvaux

,

Sleeping Venus

1944

Delvaux's painting combines classical elements with a troubling atmosphere. Set against a night sky, the town, with its temples lined with horses' heads, is populated with female nudes, a skeleton and a dressmakers dummy. Delvaux painted it in Brussels during the Second World War, while the city was being bombed. 'The psychology of that moment was very exceptional, full of drama and anguish', he recalled. 'I wanted to express this anguish in the picture, contrasted with the calm of the Venus'.

Gallery label, June 2021
13/28
artworks in International Surrealism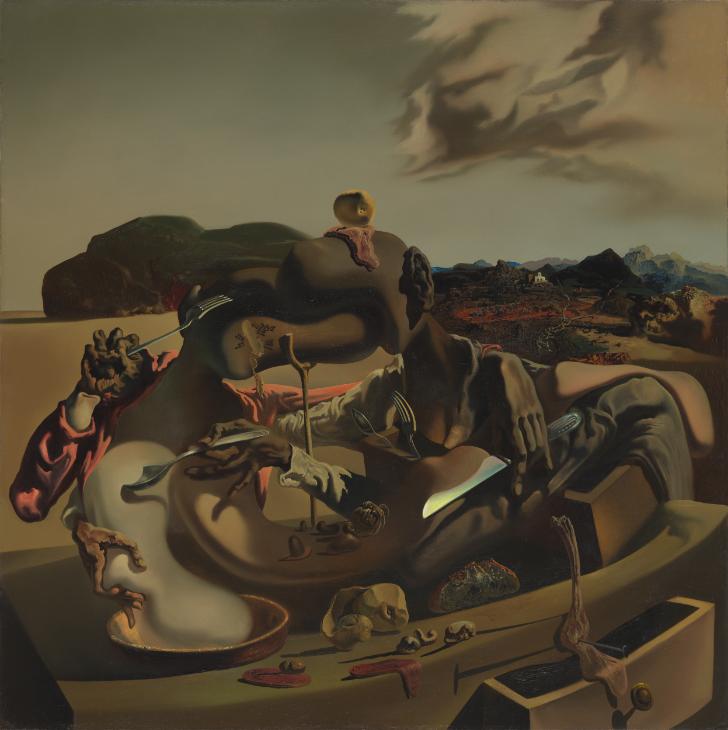 Salvador Dalí

,

Autumnal Cannibalism

1936

Two faceless figures are devouring each other. As their heads and bodies merge, they dig knives and spoons into each other's flesh. The surrounding landscape is Empordà, in Catalonia, where Dalí was born. The mutually destructive embrace may be a comment on the Spanish Civil War, which began a few months before Autumnal Cannibalism was painted. The apple on the head of the male figure relates to the legend of William Tell, in which a father is forced to shoot at his son.

Gallery label, January 2019
14/28
artworks in International Surrealism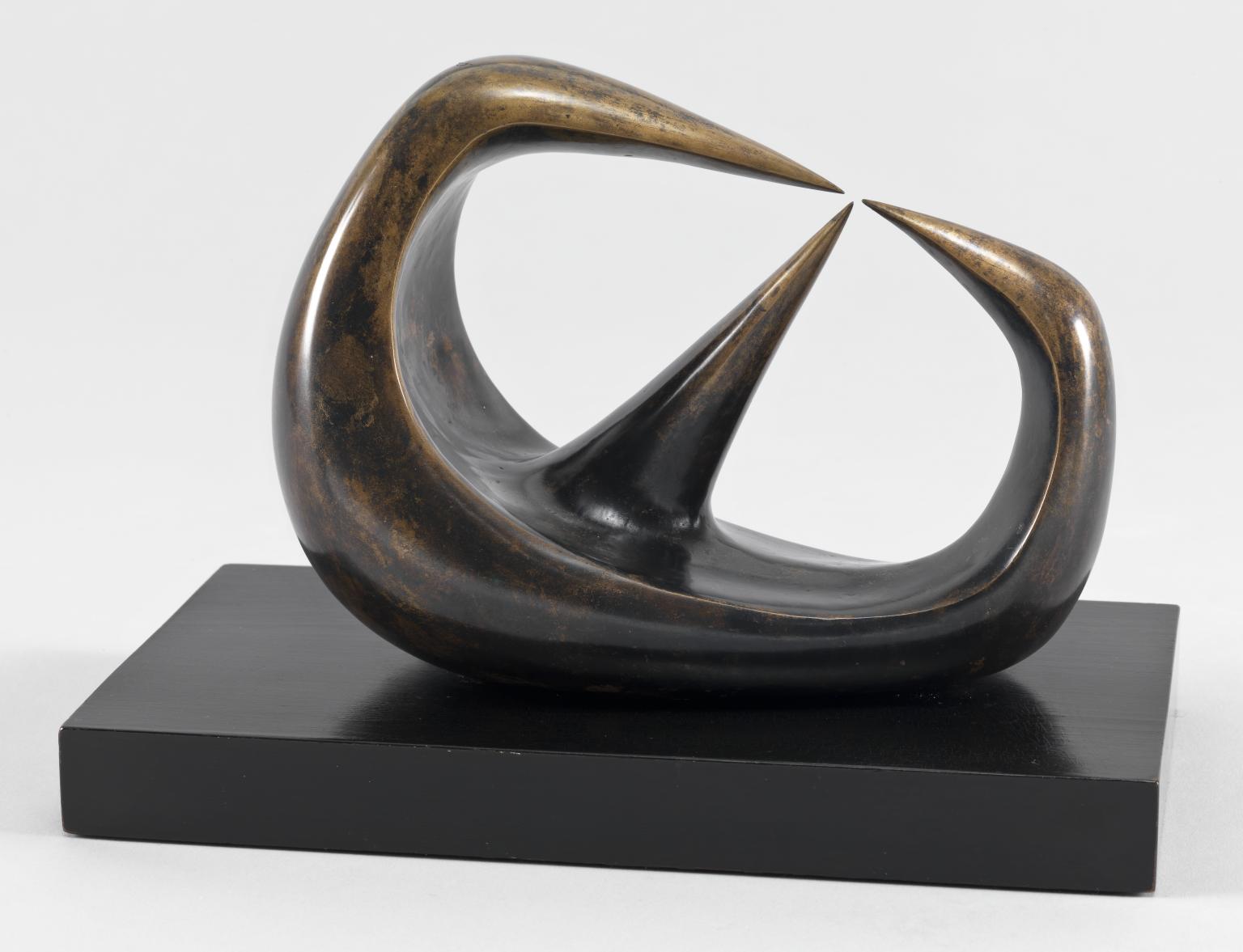 Henry Moore OM, CH

,

Three Points

1939–40, cast before 1949

Moore kept up with the activities of the Surrealist's in Paris. He also contributed to the International Surrealist Exhibition in London. Several of his works explore feelings of uncertainty and anxiety that relate to Surrealism. The use of space in Three Points creates a sense of anticipation. Moore commented: 'This pointing has an emotional or physical action in it where things are just about to touch but don't... like the points in the sparking plug of a car... the spark has to jump across the gap'.

Gallery label, June 2021
15/28
artworks in International Surrealism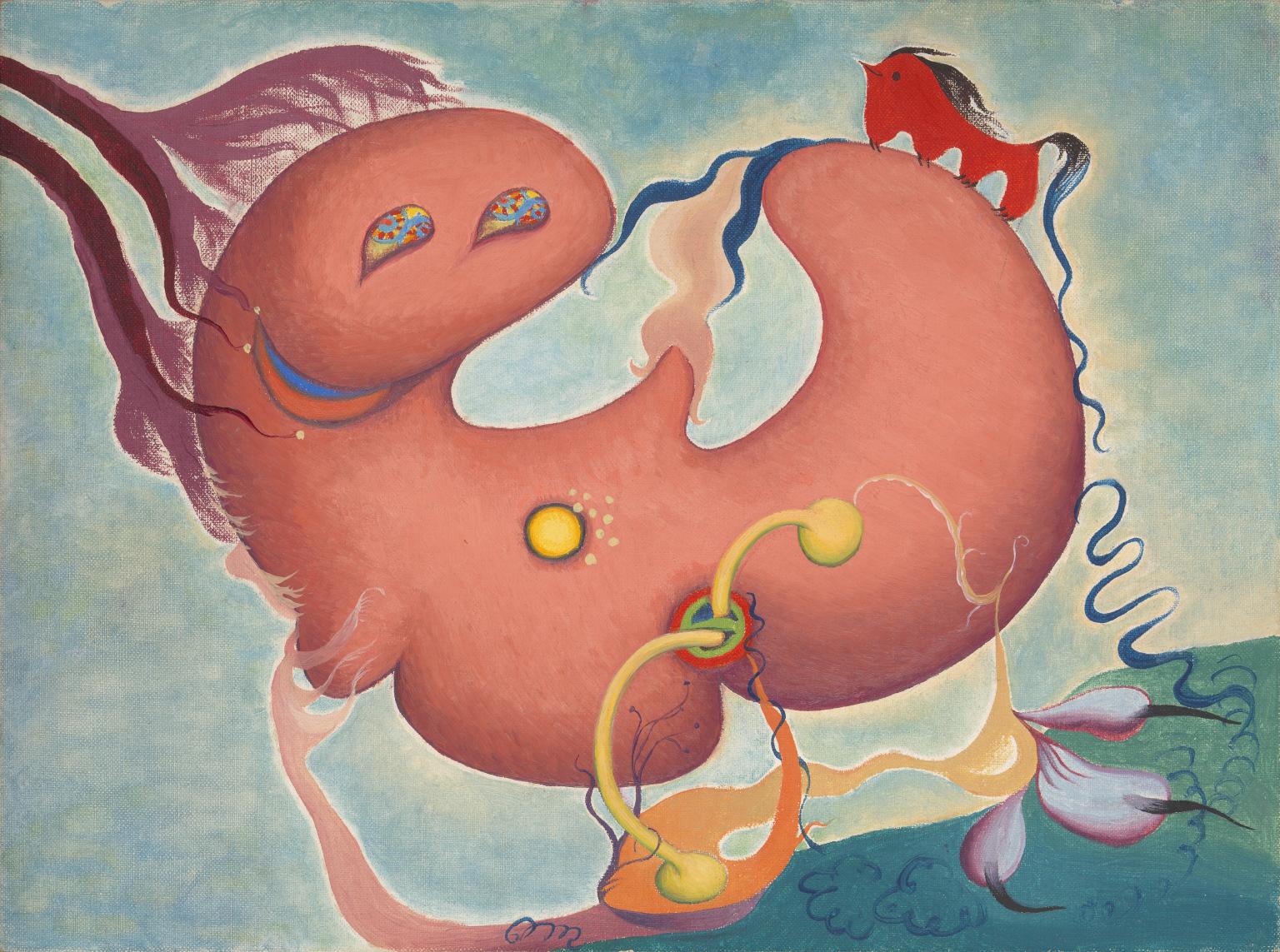 Grace Pailthorpe

,

May 16, 1941

1941

A surgeon during the First World War, Pailthrope later trained in psychological medicine and criminal psychology before undergoing Freudian analysis. With her partner, Reuben Mednikoff, she made paintings which they submitted to detailed analysis. They showed in the 1936 International Surrealist Exhibition in London, and, in 1940, moved to the United States, where Pailthorpe made this painting. Unconscious images from the earliest moments of life fill her work, here in the form of an unborn foetus. She wrote of their research that 'Surrealism can lead to a greater understanding of the world around and within us'.

Gallery label, February 2022
16/28
artworks in International Surrealism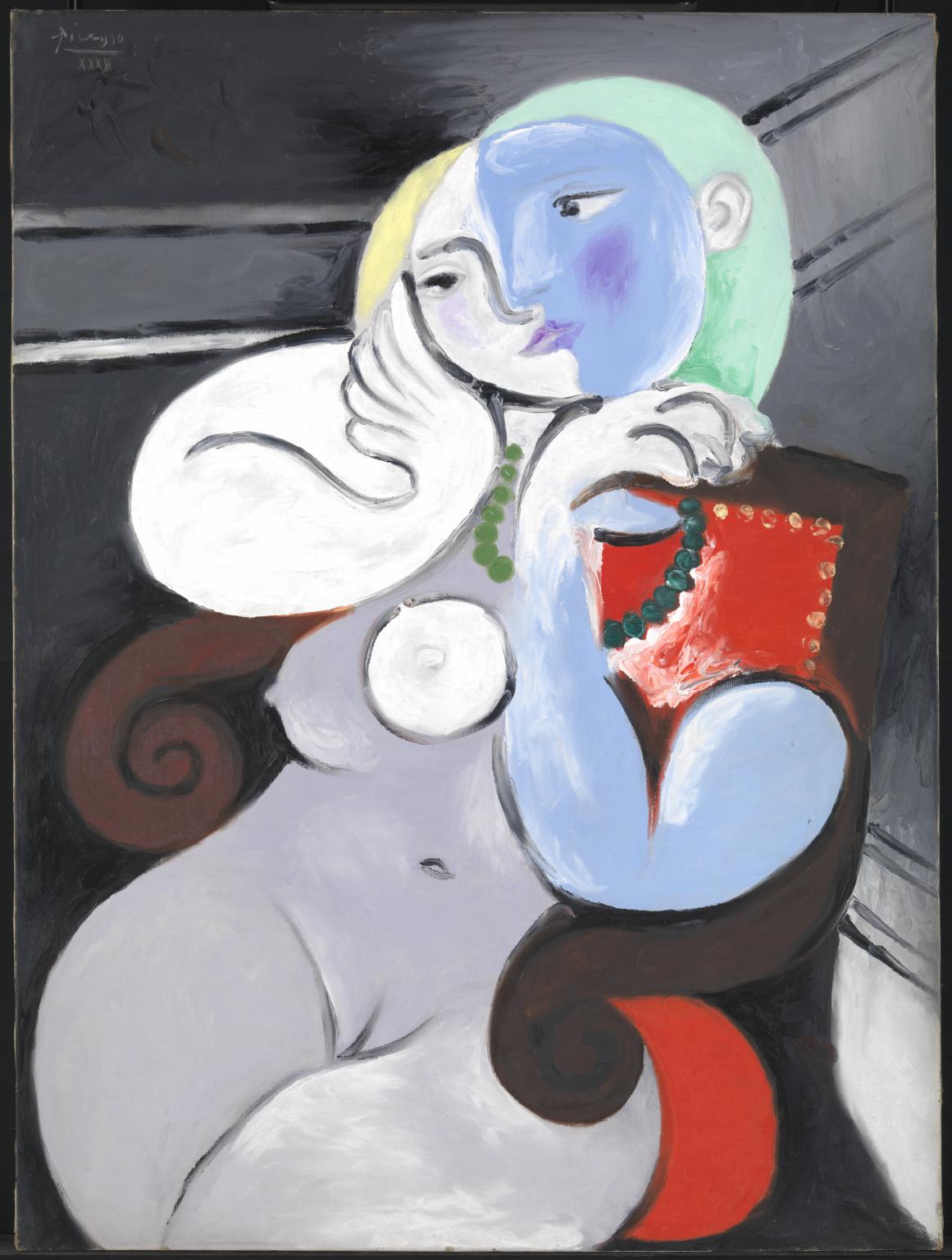 Pablo Picasso

,

Nude Woman in a Red Armchair

1932

This work belongs to a sequence of portraits that Picasso made of model Marie-Thérèse Walter at his country property at Boisgeloup. Walter is presented here – as in most of her portraits by Picasso – as a series of sensuous curves. The scrolling arms of the chair exaggerate this effect, echoing the rounded forms of the figure. The face is a double image: the right side can also be seen as the face of a lover in profile, kissing Walter on the lips. The Surrealists admired Picasso, and this image bears a relation to their idea of 'mad love'.

Gallery label, February 2022
17/28
artworks in International Surrealism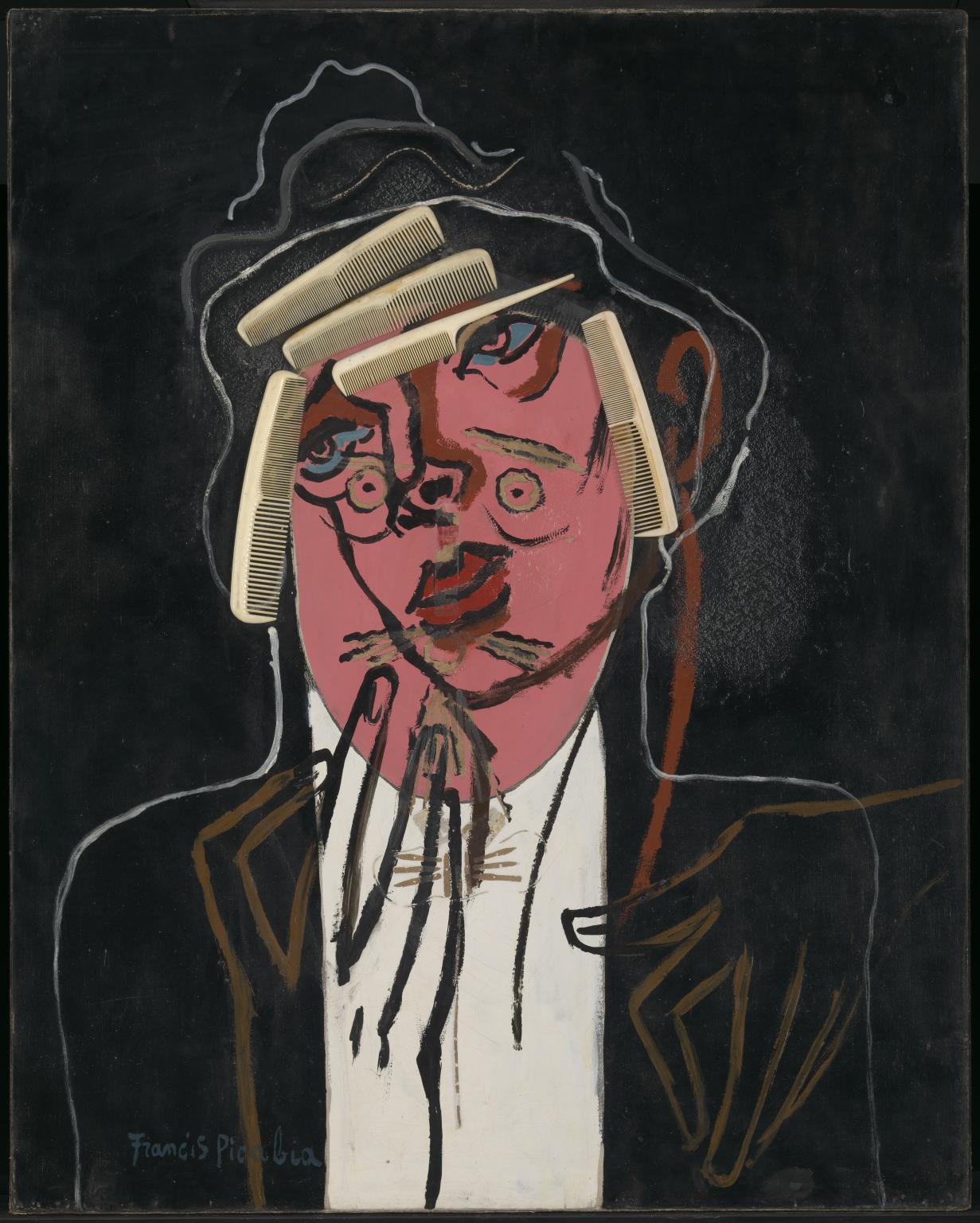 Francis Picabia

,

The Handsome Pork-Butcher

c.1924–6, c.1929–35

The features of this pink-faced man were originally made up of collaged elements including string, measuring tape and curtain rings. Some years later, Picabia ripped these off, an action which also removed areas of paint, leaving patches of bare canvas visible. During the second phase of work, Picabia added combs for the hair, and painted in the head and hands of a woman. These dramatic alterations reflect Picabia's humorous and irreverent approach to picture-making.

Gallery label, November 2005
18/28
artworks in International Surrealism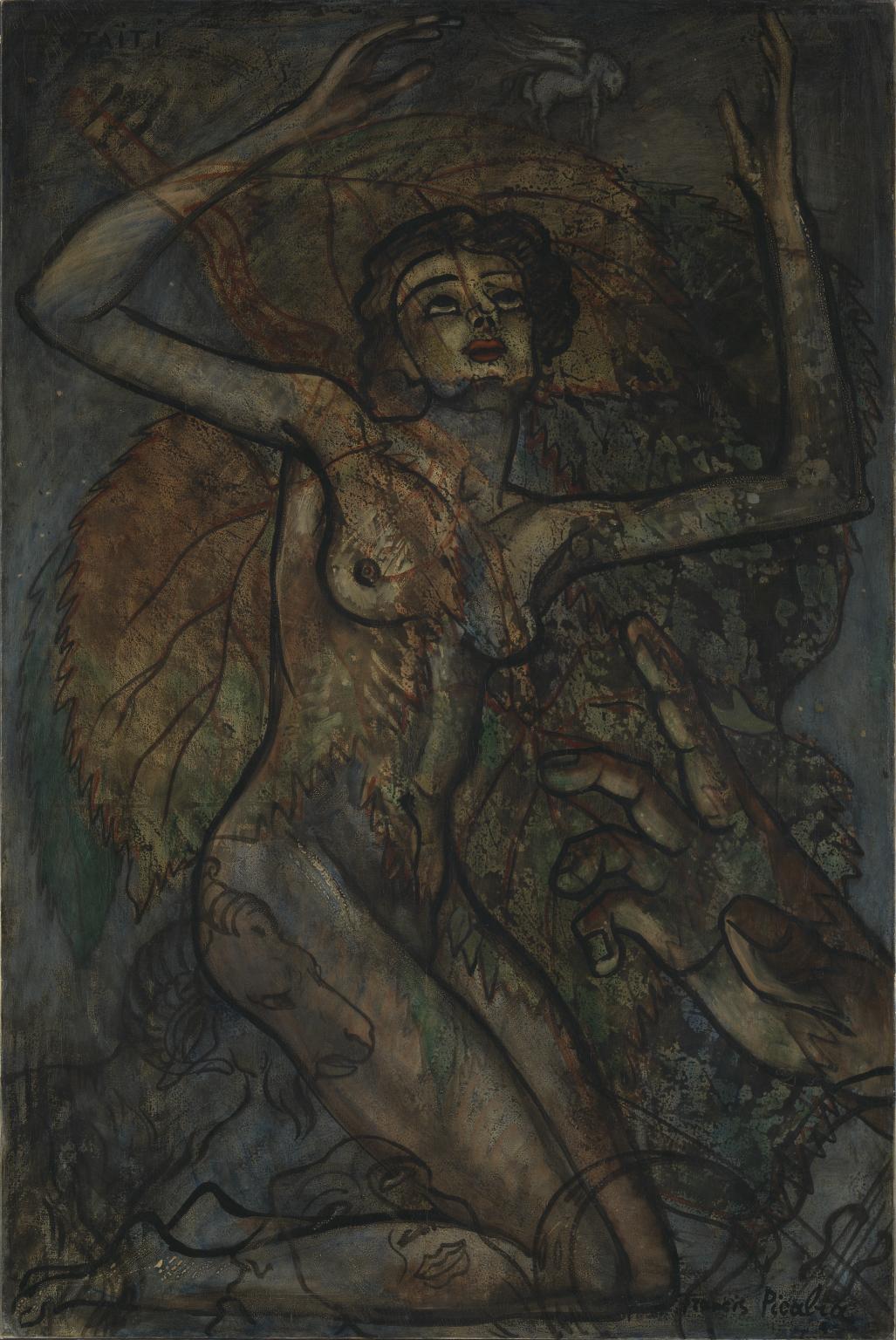 Francis Picabia

,

Otaïti

1930

With its warped scale and unexpected combinations of images, Otaïti has a dream-like quality, comparable to Surrealist preoccupations with the subconscious and freeing the imagination. This ethereal quality is heightened by thinly-applied layers of paint and varnish, producing a translucent effect. Otaïti is an example of Picabia's 'transparencies', painted using layered images, which he described as ensuring 'all my instincts may have free rein'. Picabia enlarged the central female figure from a photograph by Trude Fleischmann of the ballet dancer Claire Bauroff.

Gallery label, January 2022
19/28
artworks in International Surrealism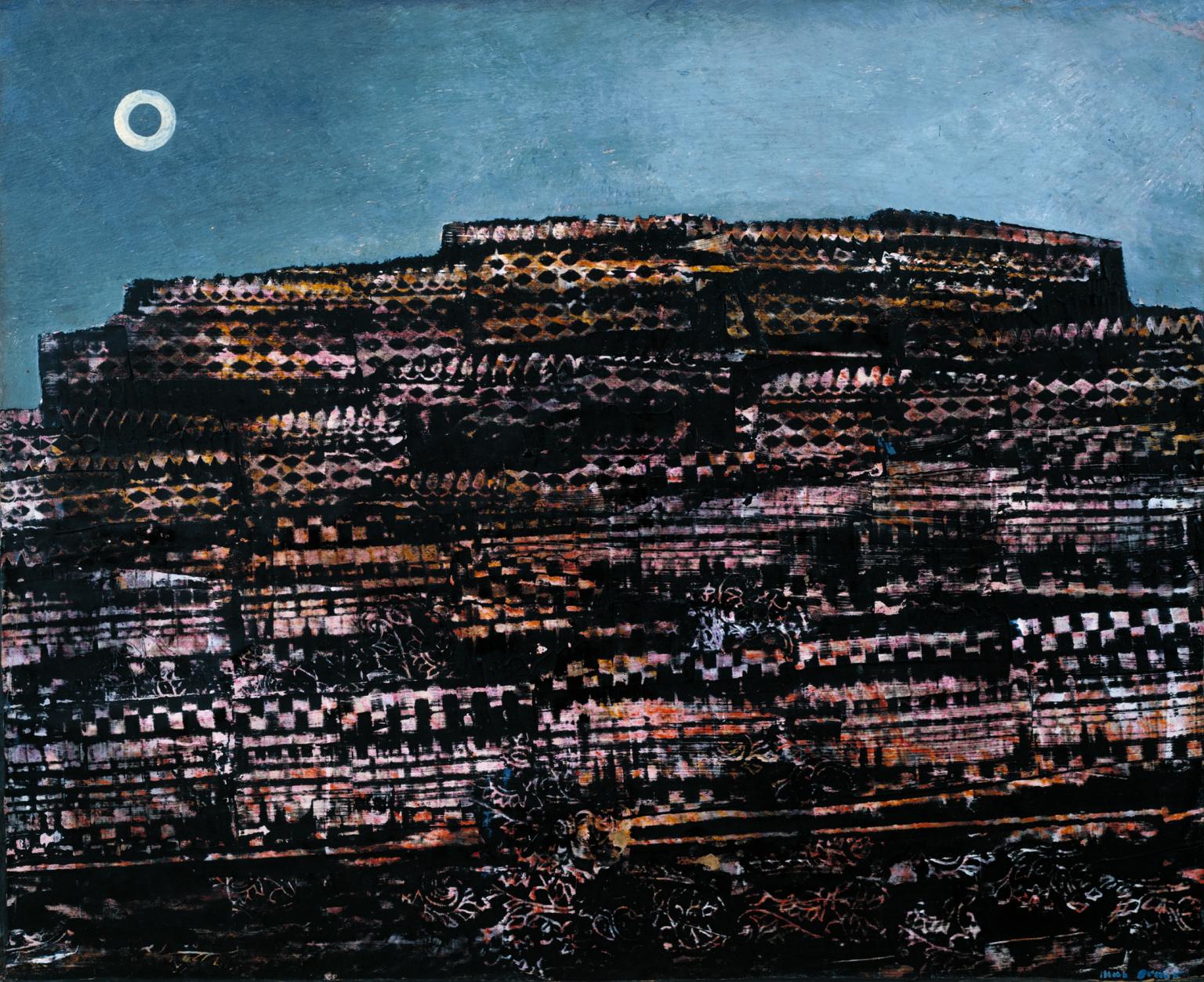 Max Ernst

,

The Entire City

1934

A crumbling city looms oppressively below the ring-shaped moon. Ernst made a whole series of such works. The imagery may reflect his pessimism as Nazism took hold in his native Germany. The ruined cityscape was created using a technique that Ernst called 'grattage' (scraping). It involved placing the canvas over planks of wood or other textured surfaces, then scraping paint across it. The shapes that emerged formed the basis of the image. Grattage was one of a number of techniques that Surrealist artists explored as a way of letting a chance element into their work.

Gallery label, January 2022
20/28
artworks in International Surrealism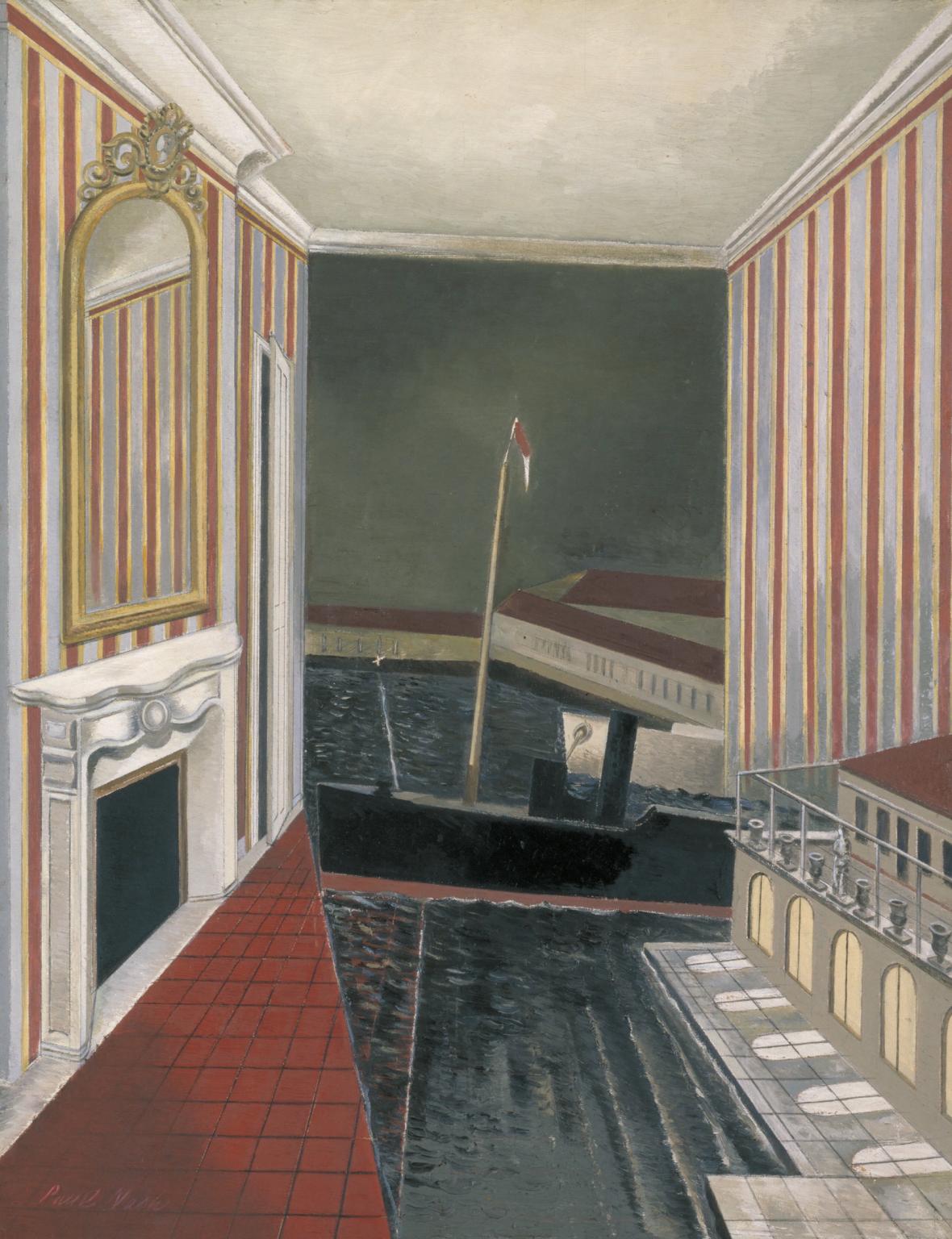 Paul Nash

,

Harbour and Room

1932–6

In 1930 Nash travelled to the South of France, staying in a hotel by the sea. This image derives from a reflection of a ship in the large mirror which hung in front of his bed. The dream-like quality indicates Nash's interest in Surrealism, and in the unconscious. Read admired the way Nash managed to respond to the European influence of Surrealism, while maintaining the English character of his work. He wrote: 'The striking peculiarity of Paul Nash is that, alone in his generation, he has dared to transform the English tradition.'

Gallery label, January 2022
21/28
artworks in International Surrealism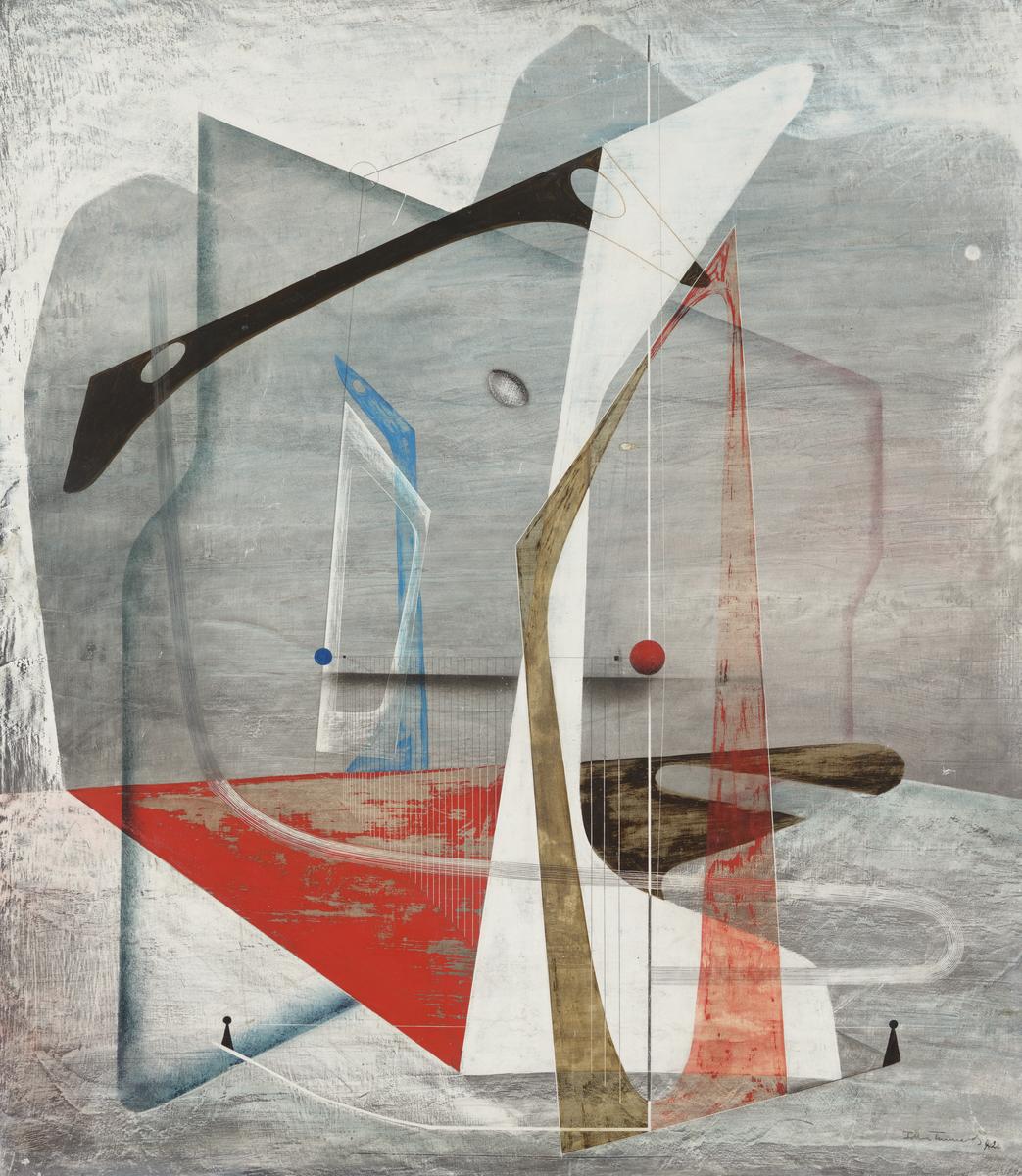 John Tunnard

,

Tol Pedn

1942

Tol-Pedn, Penwith, near to Tunnard's home on the Lizard Peninsular, is the most southerly point of the British mainland. Its concrete landmarks appear to have inspired this abstract landscape. Tunnard is said to have turned three somersaults at the opening of his exhibition at Peggy Guggenheim's London gallery in 1939. He was among a number of British artists attracted to Surrealism between the International Surrealist Exhibition of 1936 and the outbreak of the Second World War, when he served in the coastguard in Cornwall.

Gallery label, January 2022
22/28
artworks in International Surrealism
Sorry, no image available
Arshile Gorky

,

Painting (Apricots)

c.1938

The form and structure of this painting appears to be abstract. But the colouring and the title of the work are rooted in Gorky's childhood memories. The sight or smell of apricots seem to have transported him back to the Armenian orchard that he called 'the garden of wish fulfilment'. Gorky emigrated to the United States in 1920 and entered into a long period of familiarisation with contemporary painting. He later developed a style of energetic abstraction, drawing him into an association with surrealism

Gallery label, June 2021
23/28
artworks in International Surrealism
Louise Bourgeois

,

KNIFE COUPLE

1949

These wooden figures are made on a human scale. Bourgeois made them as part of a series of around 80 works, entitled Personages. She displayed them by arranging them in groups around the floor of the gallery. She associated these figures with the family members she left behind after moving from France to the US. She referred to them as 'confrontation pieces'. Bourgeois often explored ambivalent and emotional states in her work. Here the sharp forms seem to combine loving affection with the implicit threat of cutting and violence.

Gallery label, June 2021
24/28
artworks in International Surrealism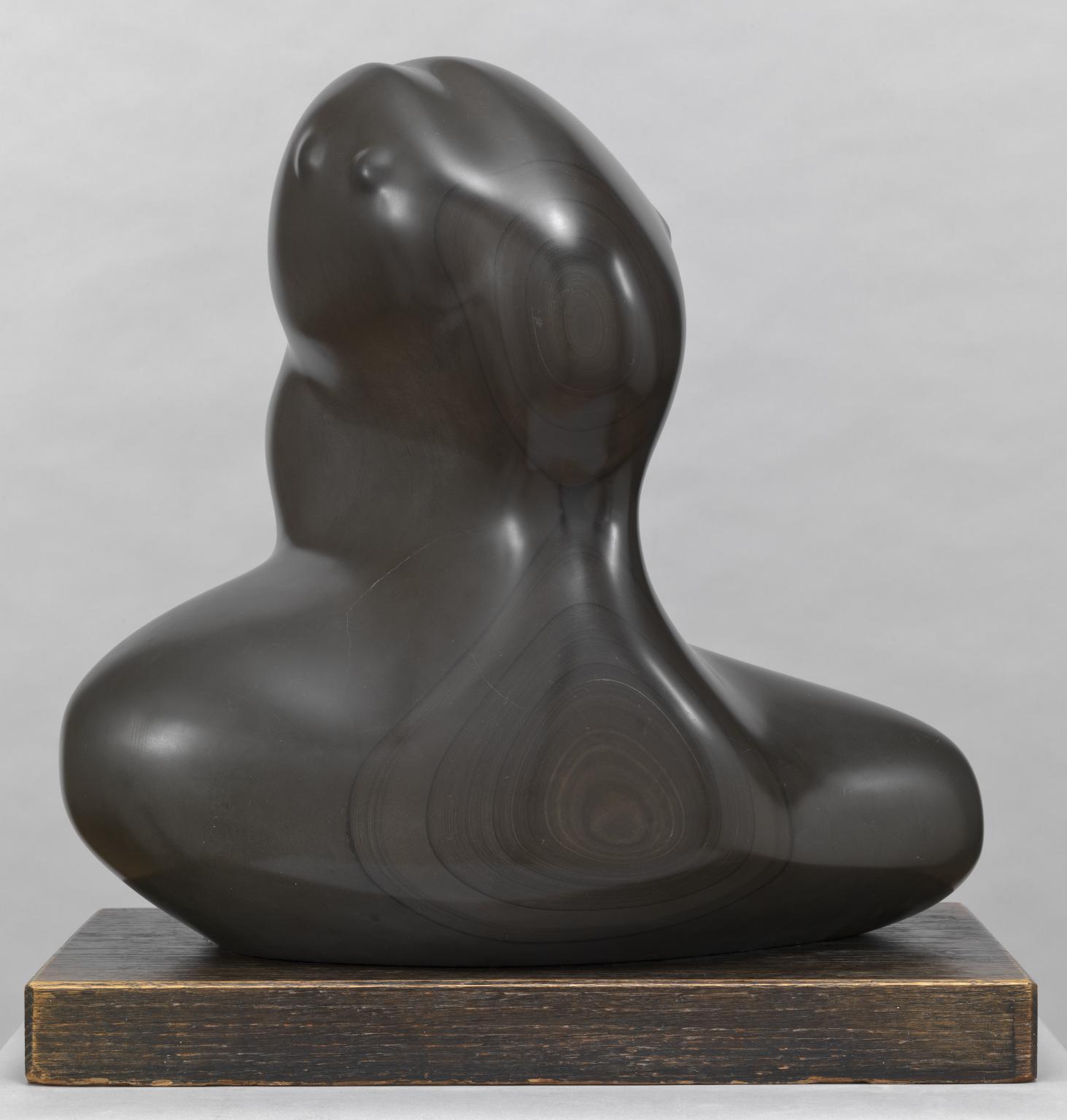 Henry Moore OM, CH

,

Composition

1932

Moore drew inspiration from many sources, including natural forms and ancient sculptures. He also responded to the work of other artists working at the time. This sculpture is both organic and abstract. But its form and structure also link it to traditional portrait busts. This reflects Moore's belief that 'all the best sculpture I know is both abstract and representational at the same time'. Composition is an example of his radical inventiveness. Moore argued that surrealism and abstraction were not in conflict. He wrote of the importance of the 'nonlogical, instinctive, subconscious part of the mind' in his artistic process.

Gallery label, August 2020
25/28
artworks in International Surrealism
Sorry, no image available
Arshile Gorky

,

Garden in Sochi Motif

1942

Gorky reconstructs his childhood memories of Armenia in this painting. The central shape, though difficult to explain, was an important symbol for Gorky. It appears in several of his paintings. It has been read as different items from his native Armenia. Some scholars have interpreted it as an Armenian butter-churn made of goatskin, familiar from Gorky's youth. Others suggest it is a pair of red slippers his father gave him before he left for the United States.

Gallery label, August 2020
26/28
artworks in International Surrealism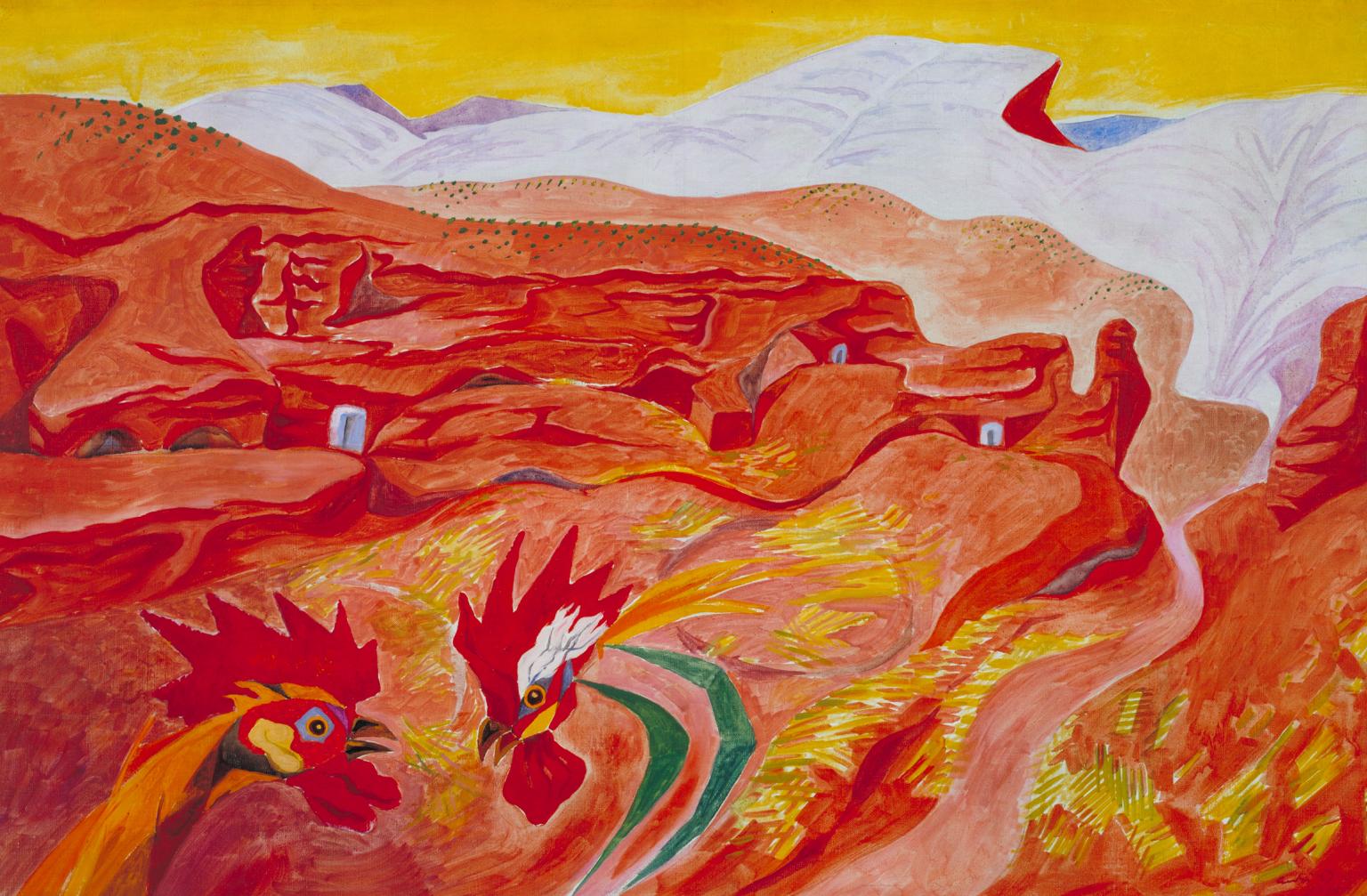 André Masson

,

Ibdes in Aragon

1935

Masson painted this view of Ibdes, a village in Aragon in 1935. He produced a series of paintings of Spanish landscapes from 1934 to 1936. He made them while living in Catalonia, the autonomous region to the north of Aragon. 'In these completely recognisable landscapes there is always an element of fantasy, either in the sky, or on the ground, or underground', he wrote. Here, Surrealist double-images are provided by the cocks woven into the landscape and the crocodile formed by the rocks in the background.

Gallery label, June 2021
27/28
artworks in International Surrealism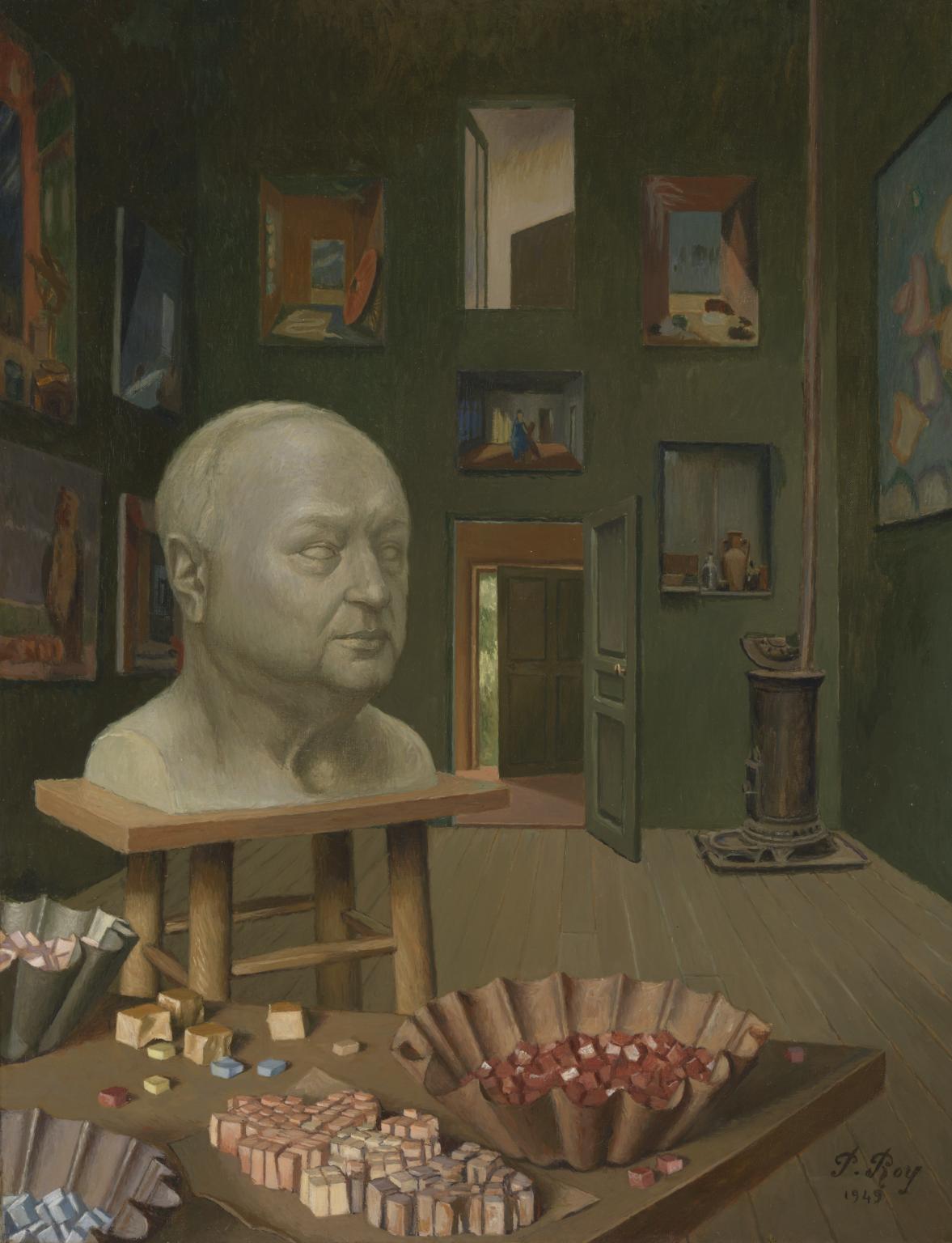 Pierre Roy

,

Boris Anrep in his Studio, 65 Boulevard Arago

1949

This is a painting of an imagined sculpture head. Here, Roy turns his friend and fellow-artist Boris Anrep, to stone. Roy uses his usual style of manipulation of perspective to create a sense of great scale. The bust appears to tower over the studio. Though the painted sculpture is solemn and restrained, Roy's perspective creates an odd effect. The size of the bust creates the feeling of a cinematic zoom, in which an object is suddenly brought into dramatic focus.

Gallery label, August 2020
28/28
artworks in International Surrealism
Art in this room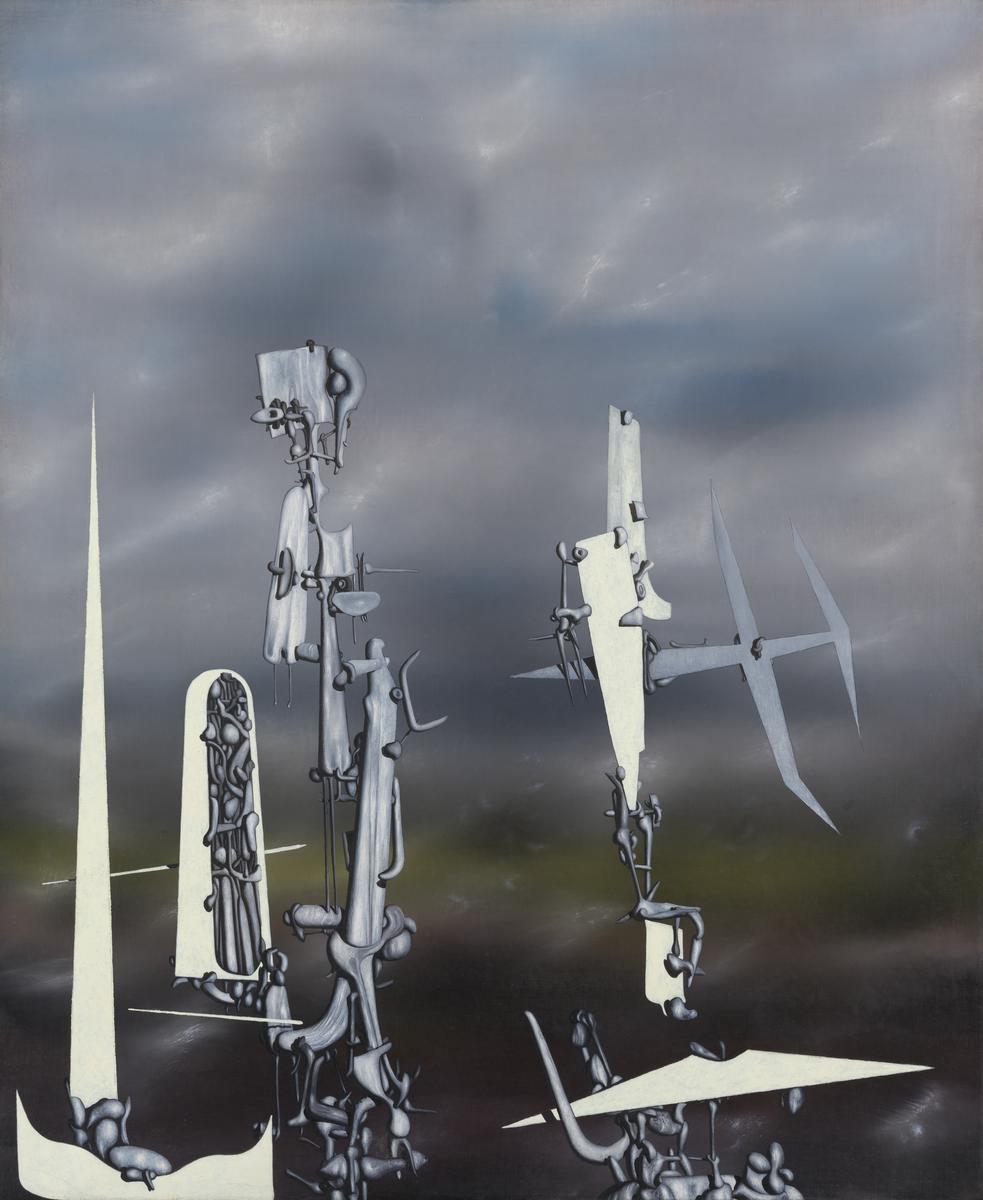 Yves Tanguy
The Invisibles
1951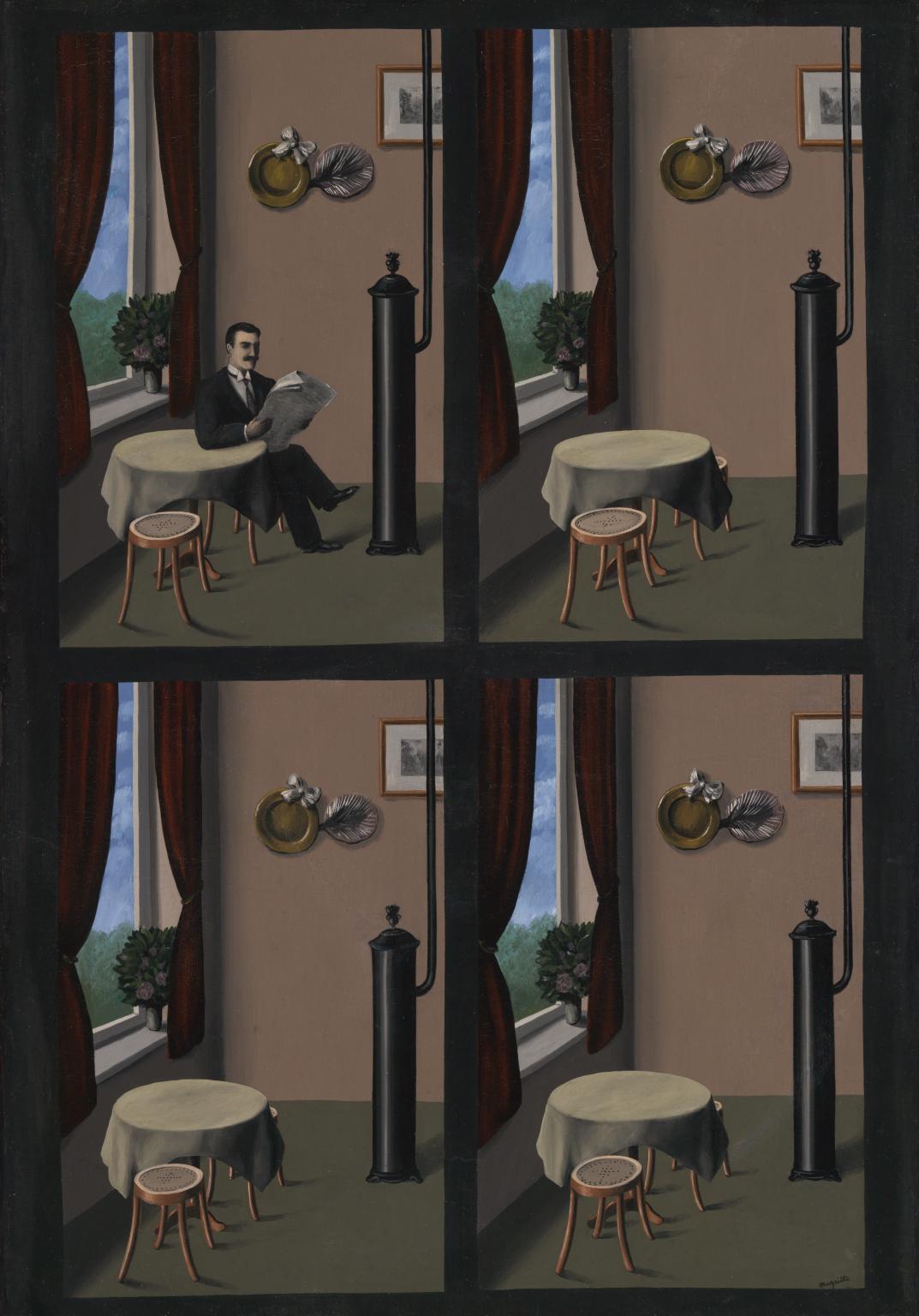 René Magritte
Man with a Newspaper
1928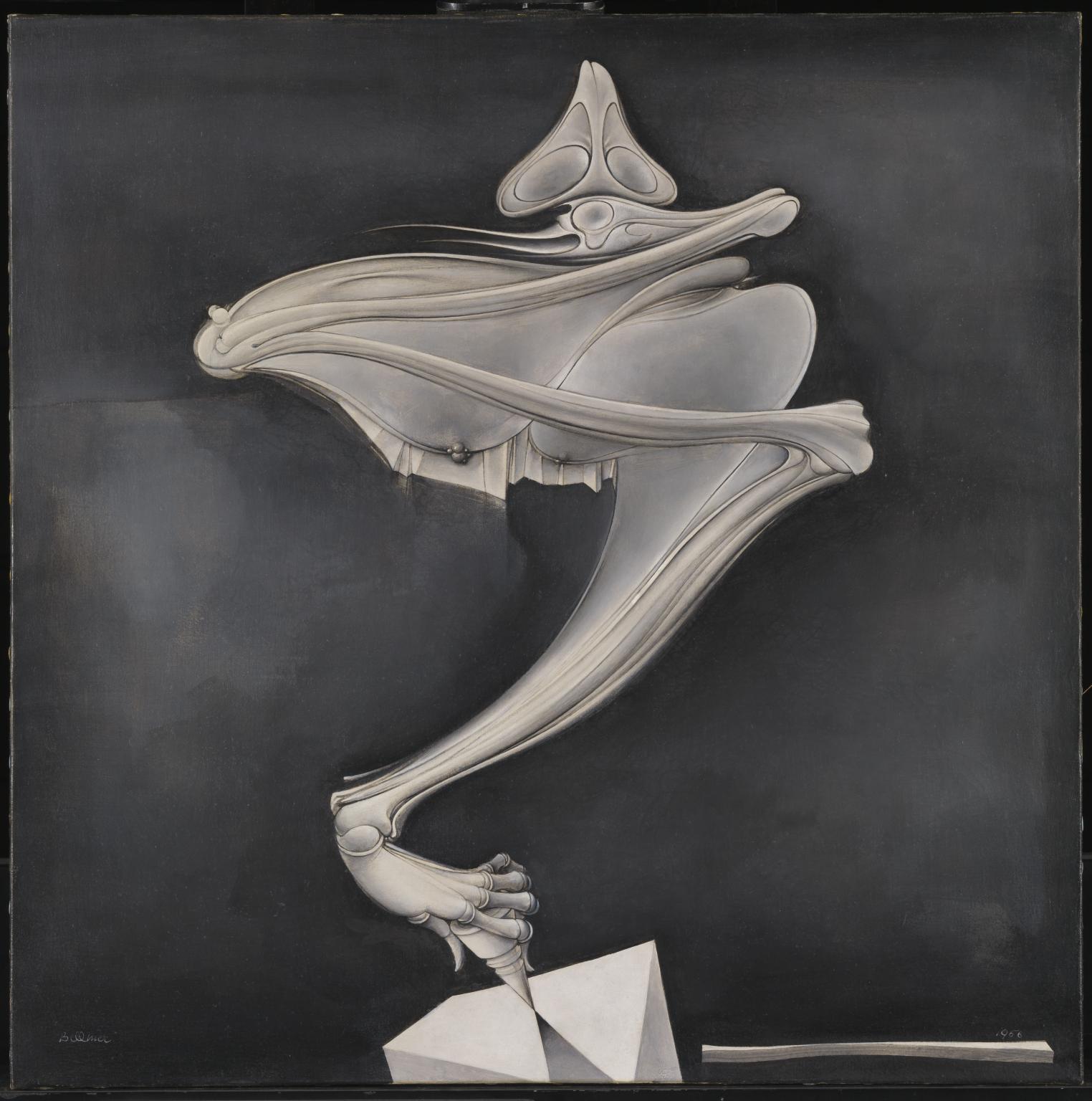 Hans Bellmer
Peg-Top
c.1937–52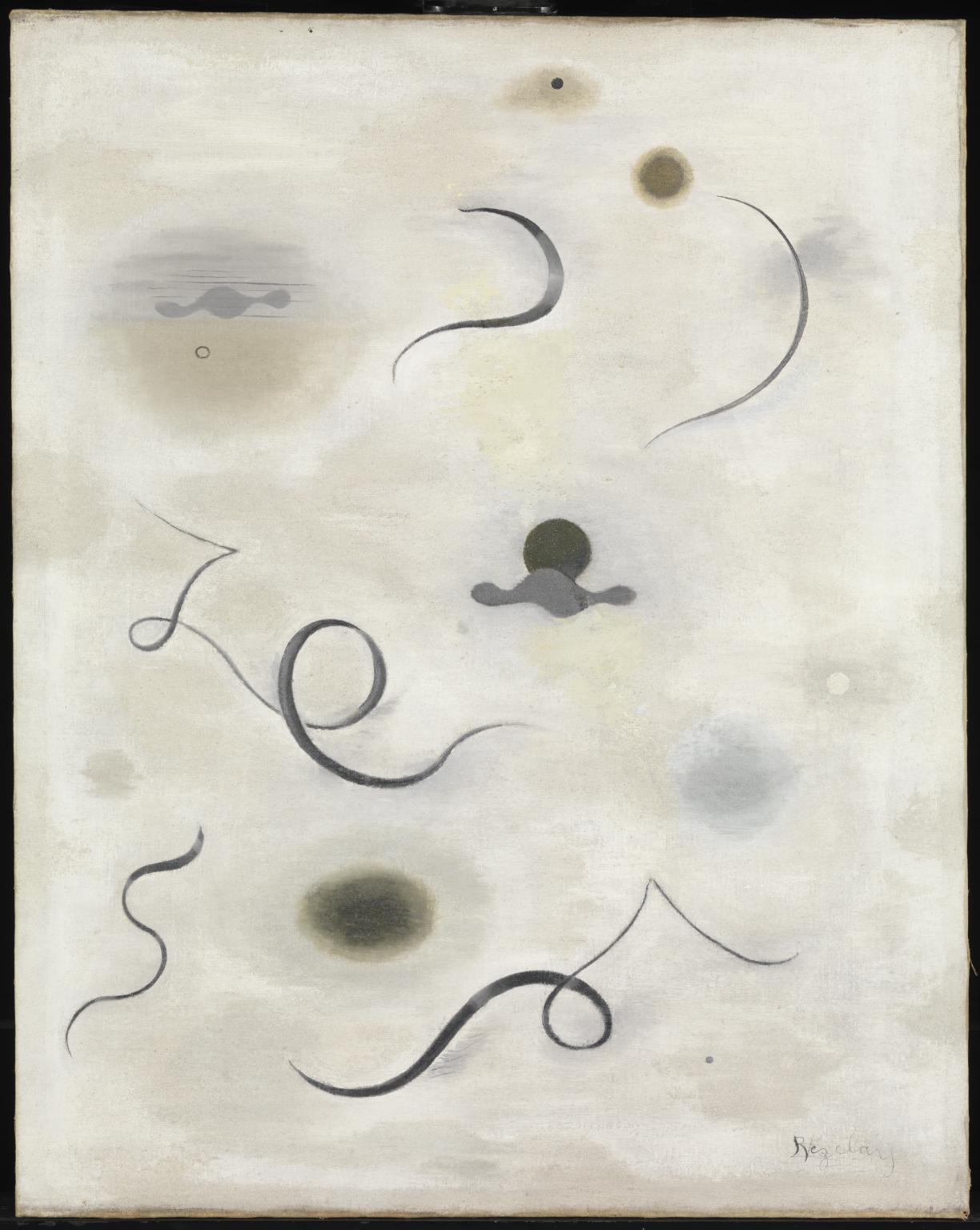 Paule Vézelay
Curves and Circles
1930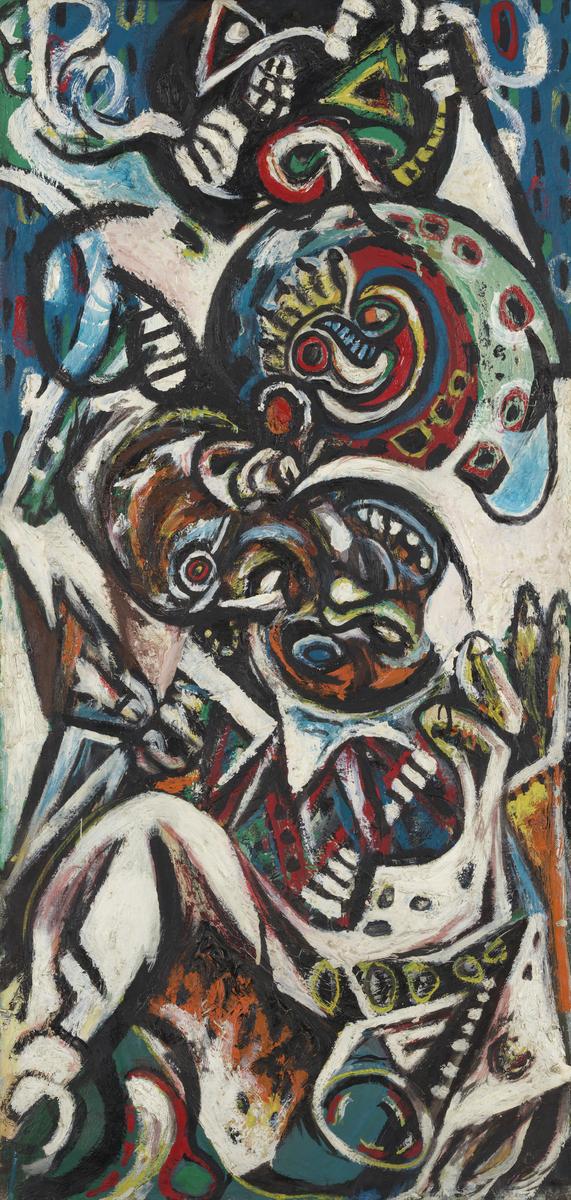 Jackson Pollock
Birth
c.1941
Leonora Carrington
Eluhim
1960
You've viewed 6/28 artworks
You've viewed 28/28 artworks